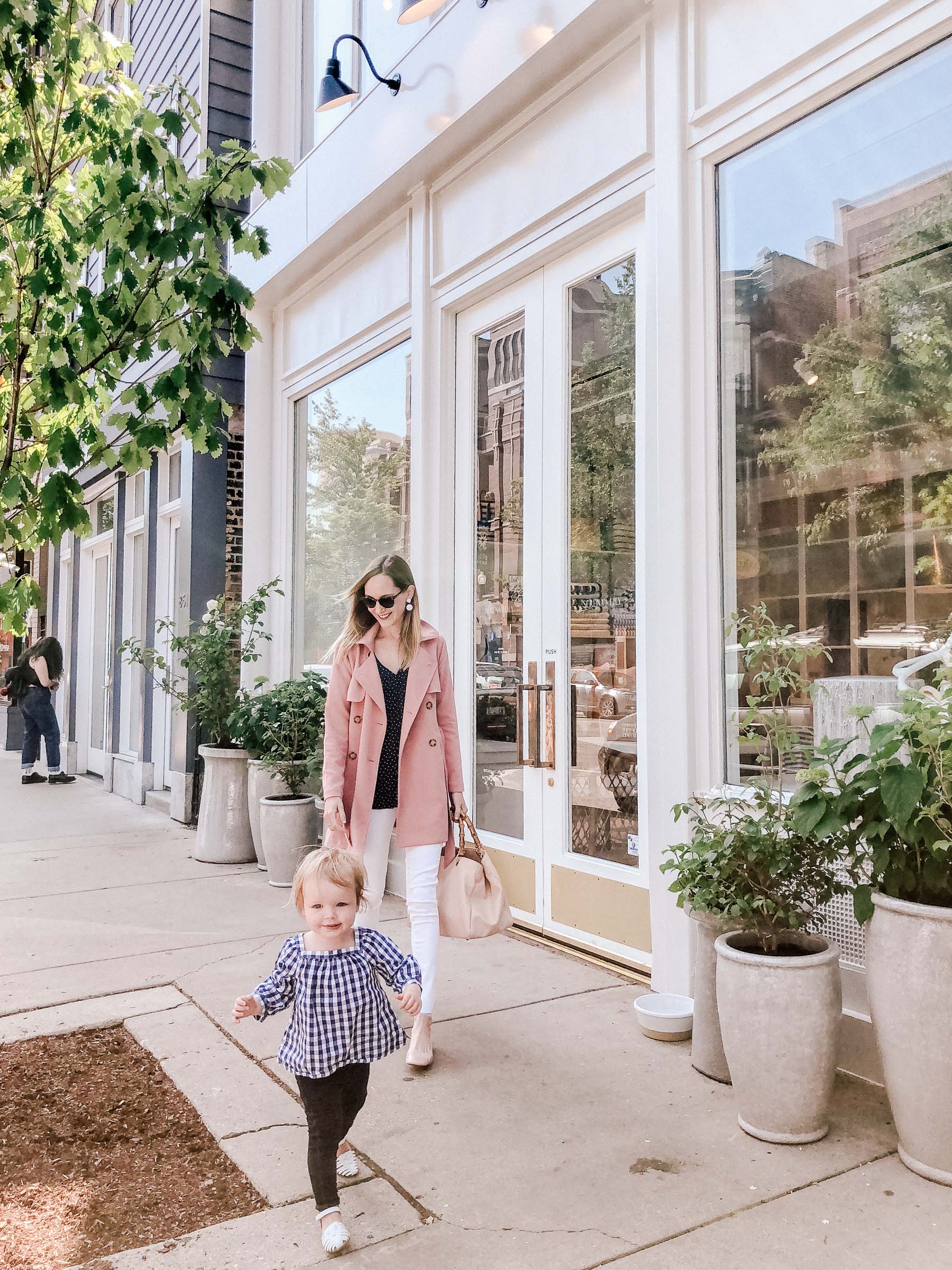 Navy Polka Dot Top (Size down.) / Everlane Pumps / Pink Trench / Elisabetta Tote / AG Jeans / Lantern Earrings
Happy Friday, Friends!
A few things before we get to today's "Recent Finds":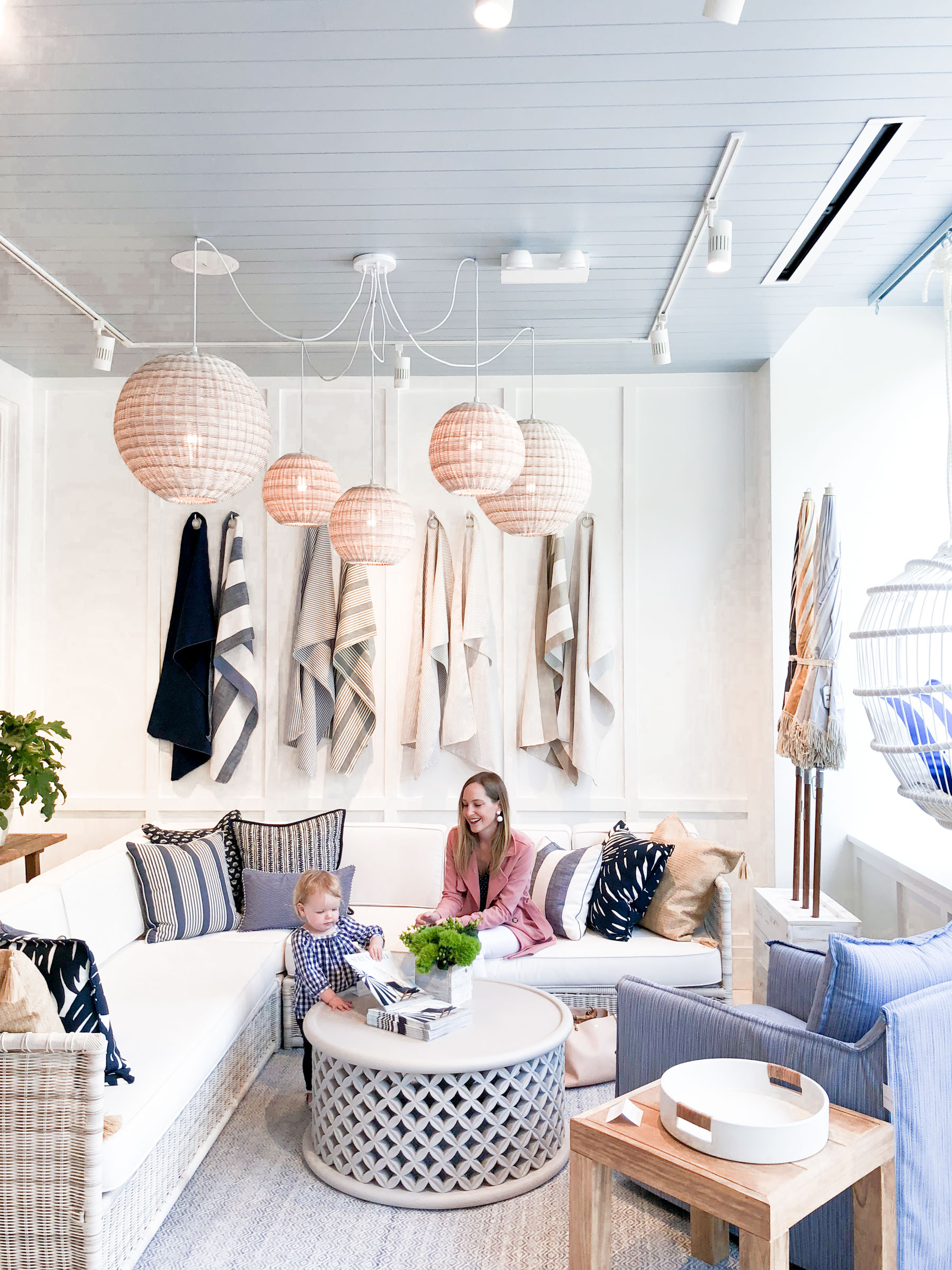 Musings
Serena & Lily opens in Lincoln Park TODAY! Yesterday, I toured the store with Danielle, Jess and Liz, and then went to a celebratory brunch at Summer House with the S + L team. It was SUCH a great time. (So lovely to see some of my favorite blogger girls, too!) The space is truly a work of art; I kept taking mental notes for my own home. I've actually teamed up with the brand to turn our third bedroom into a multipurpose room of sorts (office/playroom/guest room) and it's 99 percent done!
The last thing I need to do is settle on bedding. I fell completely in love with this these quilts for the daybed, because hello, most beautiful bedding I've ever seen. But when I put them on, I realized the bed blended into the wallpaper a bit too much… so now I'm thinking these quilts in "Flax." I tend to just go with all blue for everything, haha, but Serena & Lily has definitely taught me the important of mixing in natural accents! Excited to share the final reveal with you soon; I'm already in LOVE.
There is an AMAZING deal on the Hearth and Hand with Magnolia Dollhouse. Which sold out entirely too quickly at Target over the holidays. At the time, Emma was a little too young for one, but a few months later, she became obsessed with our neighbors' Hearth and Hand dollhouse, so I went on a mission to find one!
I tried Craigslist for a few weeks with no luck, but then stumbled upon it on eBay for a STEAL! (FYI: I bid $100 and won, but another reader told me that she bid lower and won, too! So definitely try your luck if you're in the market.) Anyway, it's GORGEOUS, and so well made. An alternative is this doll house which is on sale today, and btw: this is the little family we got for Emma, as she's obsessed with cars right now, and the hair on the Daddy doll looks just like Mitch's. 😂 (Love this line of doll house families, too!) Oh, and considering getting these pets.
I'm chopping my hair off today. It's become far too long and stringy, and I'm in the mood for a change. Will probably add some lowlights in, too, because the blonde is resurfacing. (And I have quite a few grays.) Noticed it on Insta Stories yesterday, and I was like 😬. Growing out blonde highlights is a long process, but I'm still glad I'm doing it!
Jess and Neal are going on their honeymoon-of-sorts trip in a couple of weeks and I'm SO excited for them. This is what they're doing! The last time I was in Europe was when Mitch and I were engaged, so I can't wait to live vicariously through them via our group text while they're there. Can't believe they're be married a YEAR this September! Time flies.
This week's 10 most popular products
Straw Boater Hat: This is such a great deal on an adorable hat for summer! Add a straw hat to any summer outfit and I feel like you up the cuteness level x 10. ;)
Lantern Earrings: OBSESSED, guys. I can't wear heavy earrings because my holes are too close to the bottom of my earlobes, but these are as light as a feather. Couldn't recommend them more; I wear them to nearly every event and evening out!
Burberry Jacket: I guess this reflects the chilly weather most of us have been experiencing. :( But I LOVE my Burberry jacket. It was an investment, but I wear it constantly, and I know I'll have it forever. I went up one size, btw.
Navy Quilted Jacket: This is a great alternative to the Burberry. It's a classic as well, but features a lot more detailing! Love the leather accents.
Hudson Jeans on Sale: They're such a steal right now! My favorite brands of jeans are Rag & Bone (specifically this pair and this pair) and Hudson (and this pair of AG Jeans), I'm thinking about ordering this pair of Hudsons because my current pair of dark skinnies are worn out in the knees!
Everlane Day Heel: I just did a review on the blog here, but these are faves. I have them in the Pale Rose color, but I love them in Cognac and red, too!
Chambray Bow Pants: I get so much wear out of these guys! You know how much I'm about the elastic-backed waists, and this pair is awesome. I've been wearing the pants with navy striped tees and silky camisoles; so cute!
Back Peplum Tee: This was a huge seller from the sale, and it's still on sale!
Rachel Zoe x Maxi Cosi Car Seat: This is the car seat we have for Emma, and we love it. It's known to be the safest one on the market. :)
Gingham Midi Skirt: ADORE. I get a ton of wear out of this one, too. Super comfortable and breezy for the summer.
What's on tap for the weekend
Visiting friends: We're going to see Danielle and Conor (and their new, beautiful house) at some point this weekend! I can't wait to hang out in their backyard and chat about everything that's going on in their lives. While I know we only had Emma ~two years ago, it certainly brings me back. Crazy happy for the Scanlon Family!
Flamingos: Mitch recently got Emma this framed print for her bedroom, and she is OBSESSED. The first thing she says every morning is "Daddy got Emma flamingo," and points to the frame. It's the cutest. So we're going to take her to the Lincoln Park Zoo to see the real flamingos. :) OH! I should mention that we finally decided on art for above our couch. We went with this outline of the Chicago skyline… and it looks amazing. It's downright huge, and we think it makes such a statement! Minted is the best. So quick and easy. If you're short on time and have been wanting to get art up on your walls for the longest time, I couldn't recommend it more.
Work on one home project: I think the Serena & Lily multipurpose room project has sparked a renewed interest in tackling home projects for Mitch and me! My goal this weekend is to check ONE thing off the list, though. Here's what I'm currently working on:
Organizing Emma's closet and making a few simple updates to the room.
Finding a new dining room table. Not sure if you remember, but we made our farmhouse table, and it sadly hasn't held up as well as we'd hoped. Picking a dining room table is so hard, though! I've never done it before and don't want to make the wrong decision. There are so many I love, but I worry about how they'll hold up with kids. This marble one from Williams Sonoma is LIFE, but it's expensive and I worry about the marble staining. (Though I HAVE seen it go on sale.) I love this one from Pottery Barn, but the parquet top looks like it would be stressful with messy toddlers. This one from Ballard is STUNNING but again, the top looks impractical. Right now, I'm thinking the Ballard Villa Dining Table… what do you think?
Finding art for the dining room. We moved our palm print to the multipurpose room because it was PERFECT for the space, but now we have a giant open space and I'm itching to find something. Maybe black and white? Not sure.
On to this week's "Recent Finds":
SaveSave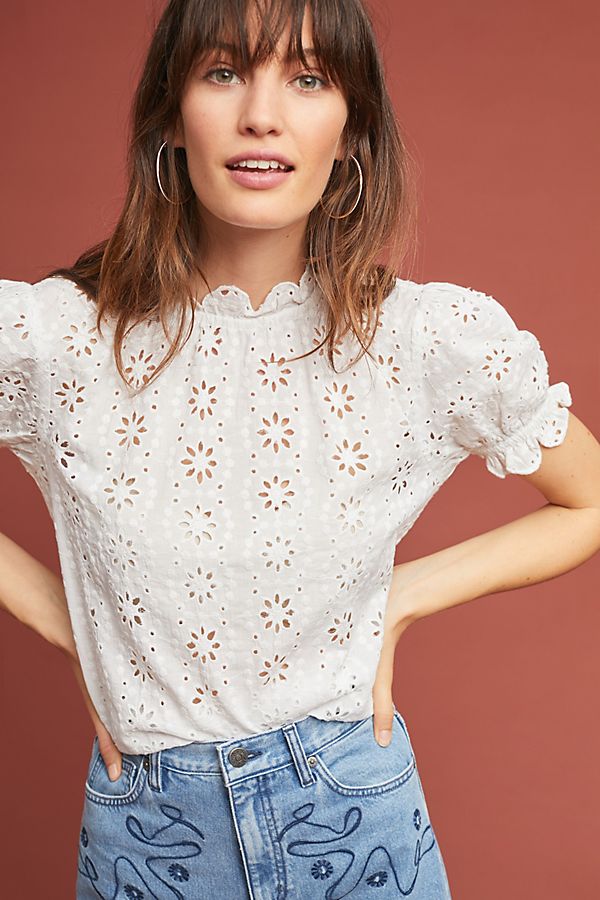 Isn't this top SO pretty?! I wonder whether bras would be see-through underneath or if I'd need to wear a c cami.