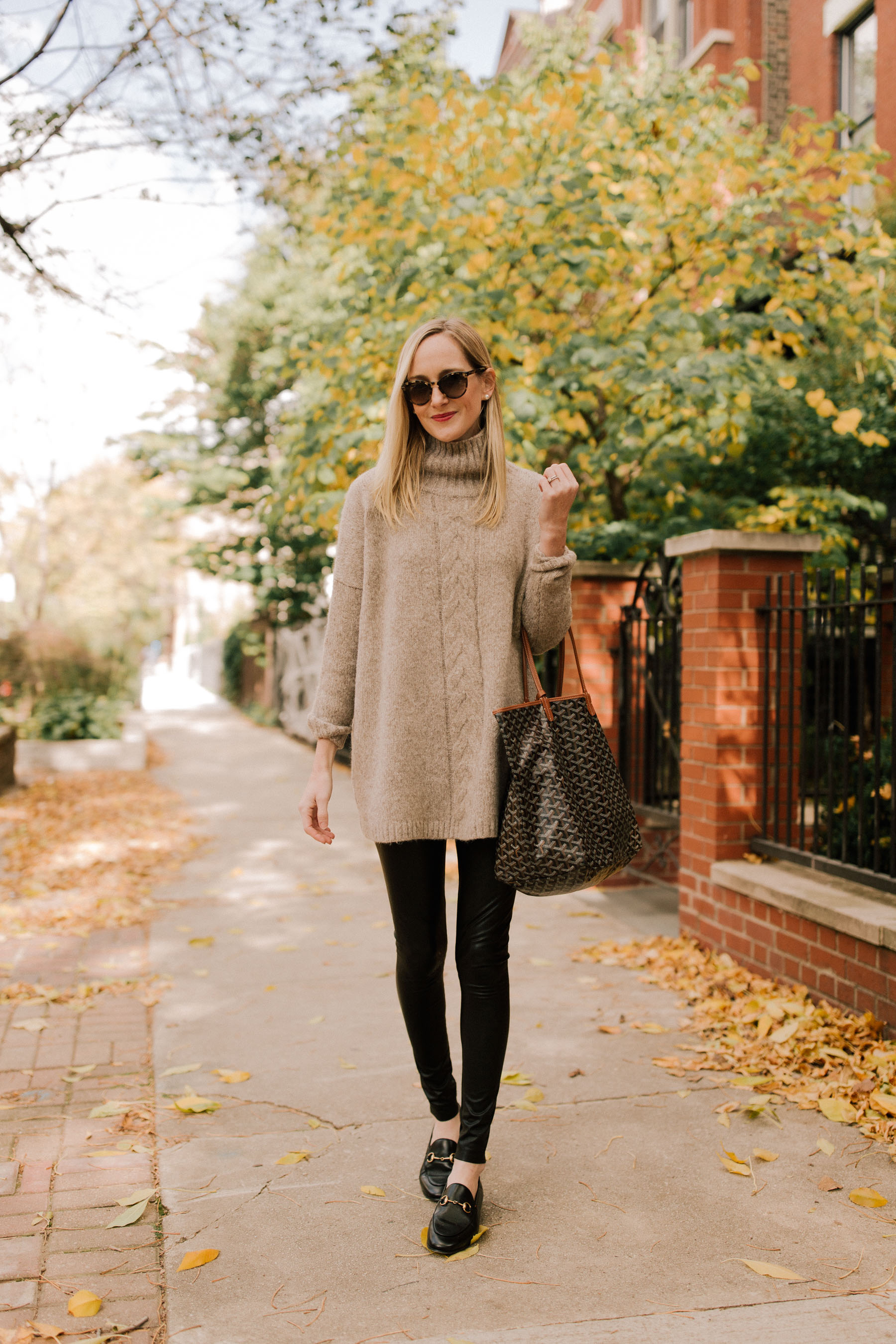 Mock Neck Cable-Knit Sweater / Faux Leather Leggings (Also love this pair and this pair. And as you know, obsessed with these suede leggings.) / Gucci Loafers (Same style but so much more affordable here and here <– So close, right?!) / Goyard Tote (Available here, here and here.) / Emma's Dress & Tortoise Shoes / Mitch's Barbour and Sweater
I'm having a tough week. Yes, I realize it's only Tuesday, but there it is. We're all still battling mild colds… and I'm behind on so much, there are a zillion little problems with our house (everything breaks at the same time!), and there are some other personal matters on my mind. I guess I'm just feeling overwhelmed.
It's Halloween, though! So I'm doing my best to snap out of my funk. I'm taking the afternoon off to go trick-or-treating with my little fam as well as Emily's fam. (So fun, right?!) Spoiler alert: we're going as a family of lobsters, haha. Hoping to post a photo to the blog tonight, but we'll see. ;)

In other news, it's COLD in Chicago! I don't know what happened. We went from summery warmth to winter temps in a matter of days, and I'm kind of in shock. That said, it's been kind of fun to break out the sweaters. In these photos, I'm wearing this oversized mock neck sweater, which has a cable-knit pattern down the middle. (Size down! I'm wearing an XS here, and as you can see, it's still big. The amazingly cozy kind of big, though.) But I have my eye on so many others this season! See 'em above or scroll down to the bottom of this post. :)
And let's talk about these faux leather leggings for a minute. I've tried a LOT this season, and these are by far my faves. They're high-rise, which I normally don't like, but they're insanely comfortable. (So much so that they feel like pajamas!) They also don't bag throughout the day. (Btw, I'm wearing a size small here, which fits everyone between 90 and 130 pounds.) I could probably stand to have them hemmed a bit, but I haven't gotten around to doing that yet, and I don't think they look that bad around the ankles. Finally, I love that they can be dressed up or down. Simply throw on a nice top at night, and you're good to go!
And yes, I should probably address the Gucci loafers. ;) Mitch gave them to me for my birthday because we had a leftover gift certificate to a department store, and I'm obsessed. (Thank you, thank you, Mitch!) But yes, they're pricey. So if you're looking for a more affordable option, I highly recommend these or these. (For sizing purposes, I went down a half size in the Gucci loafers. Promise to do a full review soon!)
Happy Halloween, all! Tune back in tonight for a potential family lobster photo. (But we'll see, because toddlers are unpredictable. 😉)
Shop the post:
Mock Neck Cable-Knit Sweater / Faux Leather Leggings (Also love this pair and this pair. And as you know, obsessed with these suede leggings.) / Gucci Loafers (Same style but so much more affordable here and here <– So close, right?!) / Goyard Tote (Available here, here and here.) / Emma's Dress & Tortoise Shoes / Mitch's Barbour and Sweater

20 Awesome Sweaters for Fall