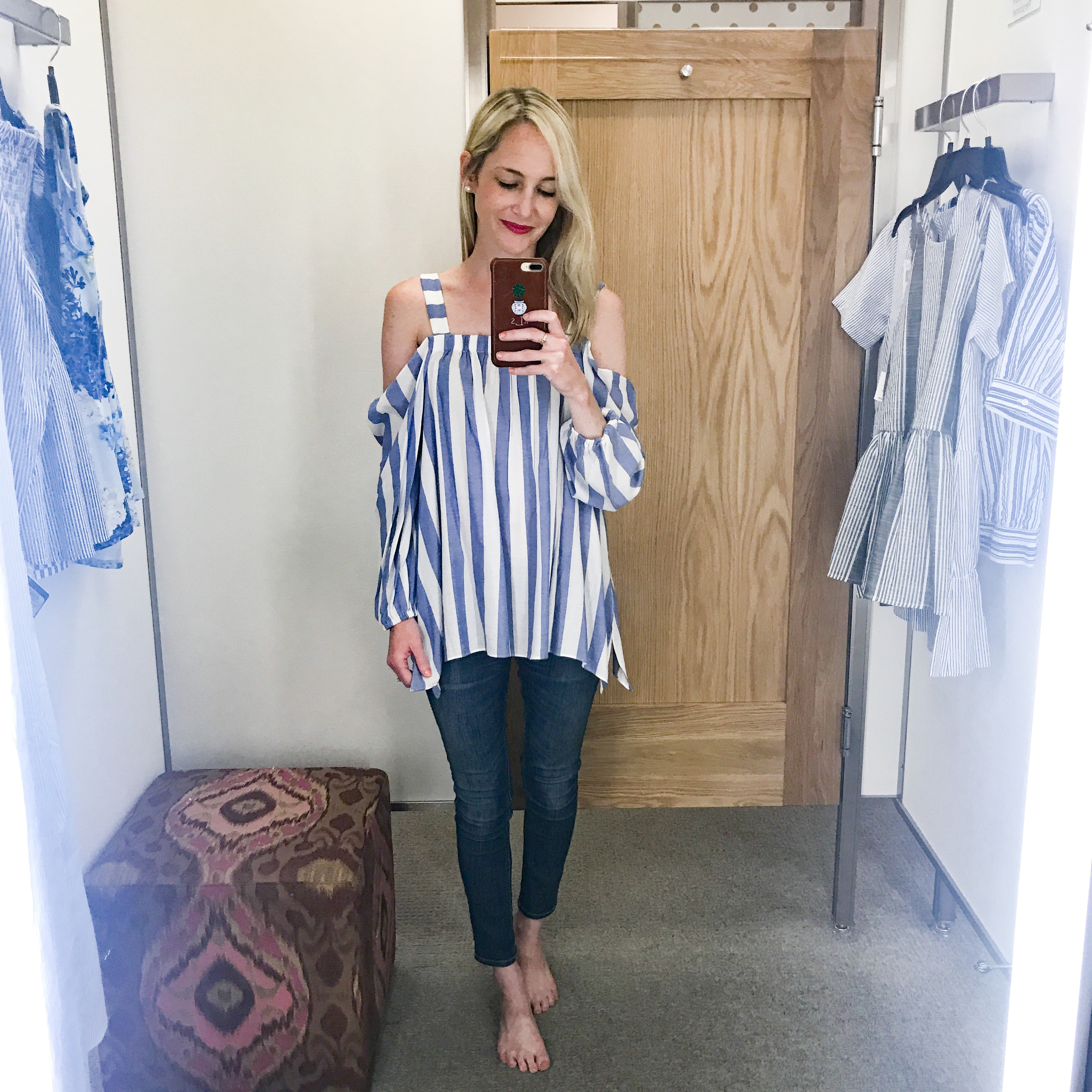 Striped Top (On sale!) / Similar sale tops here and here

A few things:
The weekly motherhood series has been postponed until next week due to extenuating circumstances. <3
I'm currently in the process of trying to get my hair to look like this without giving myself a heart attack. You probably can't tell because the lighting is terrible in these photos, but I'm slowly incorporating lowlights… and in the fall, I'm going to go the whole balayage route. Wish me luck! I need a healthy change.
I'm flying to Philadelphia tonight with Mitch and Emma and then we're driving to Ocean City. Why am I posting right now? ;) #crazypants
My cell phone case is from Kiel James Patrick.
If you caught yesterday's "favorites" post, you know that the Nordstrom Half-Yearly Sale is ON! Now through June 4th, you can take up to 40 percent off a HUGE selection of products. Turns out I "pose" the exact same way in EVERY mirror selfie (note to self to stop taking mirror selfies), but below are a few awesome finds. Most are on sale!
Anyway, on to the above photo:
LOVE this top. It's definitely oversized, so be sure to size down. (I'm wearing a small, but really need an XS.) But I love how it falls. Also, it's supposed to be loose around the arms. So know that before you order it. :) I personally love the look! (And grrrr… Where are my white jeans–on sale—when I need 'em?!) Above are some of my other sale favorites from the brand (as well as some similar-looking tops). I love this chambray top, this similar off-the-shoulder top, this chambray jumpsuit, and this lace dress.
On to the next photo!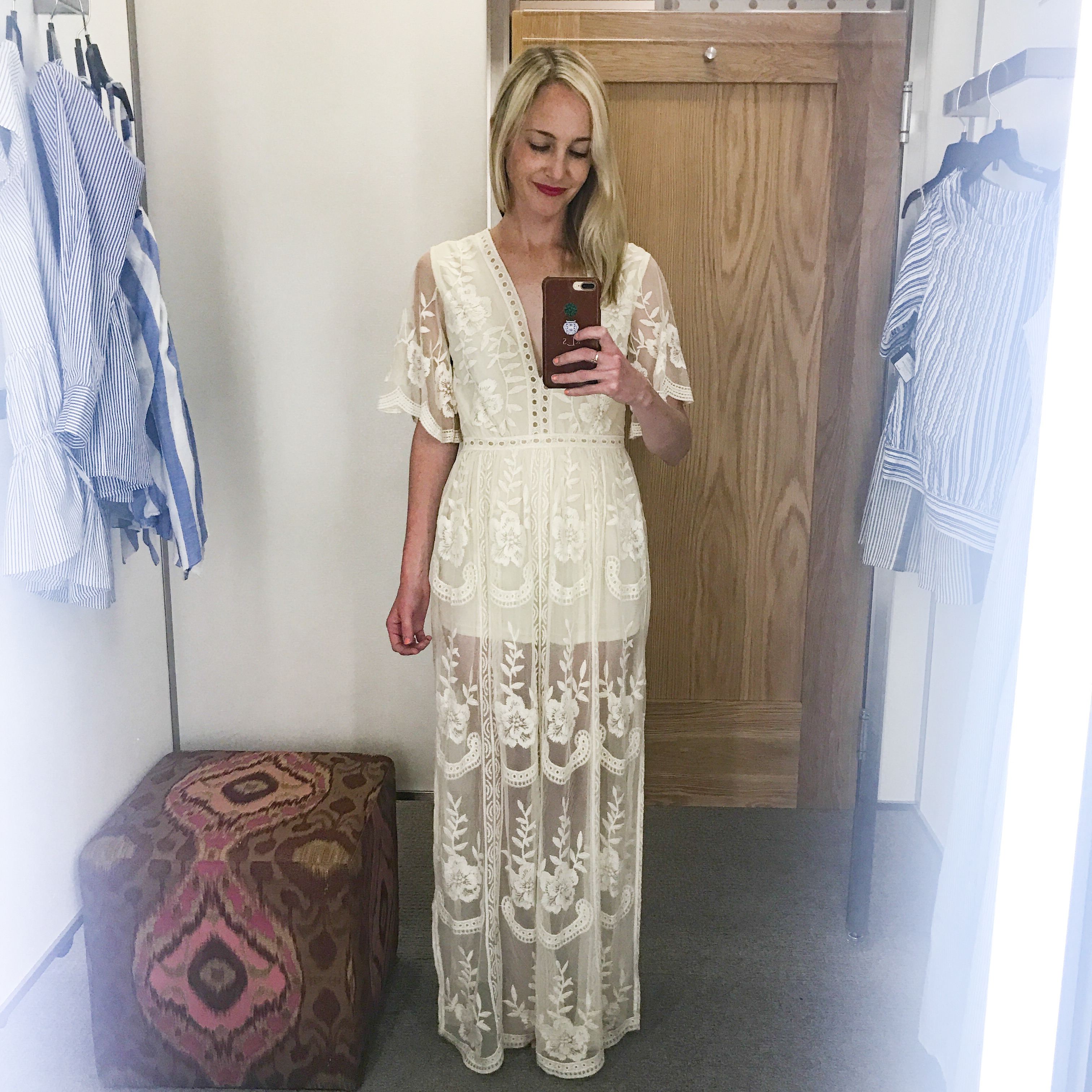 This might be a little out of character for me, but I LOVE THIS ROMPER. Yes, it's a romper, but it has this overlay thing that makes it a little more okay for conservative girls like me. ;) I'm wearing a small and it's a tad tight, so maybe order one size up?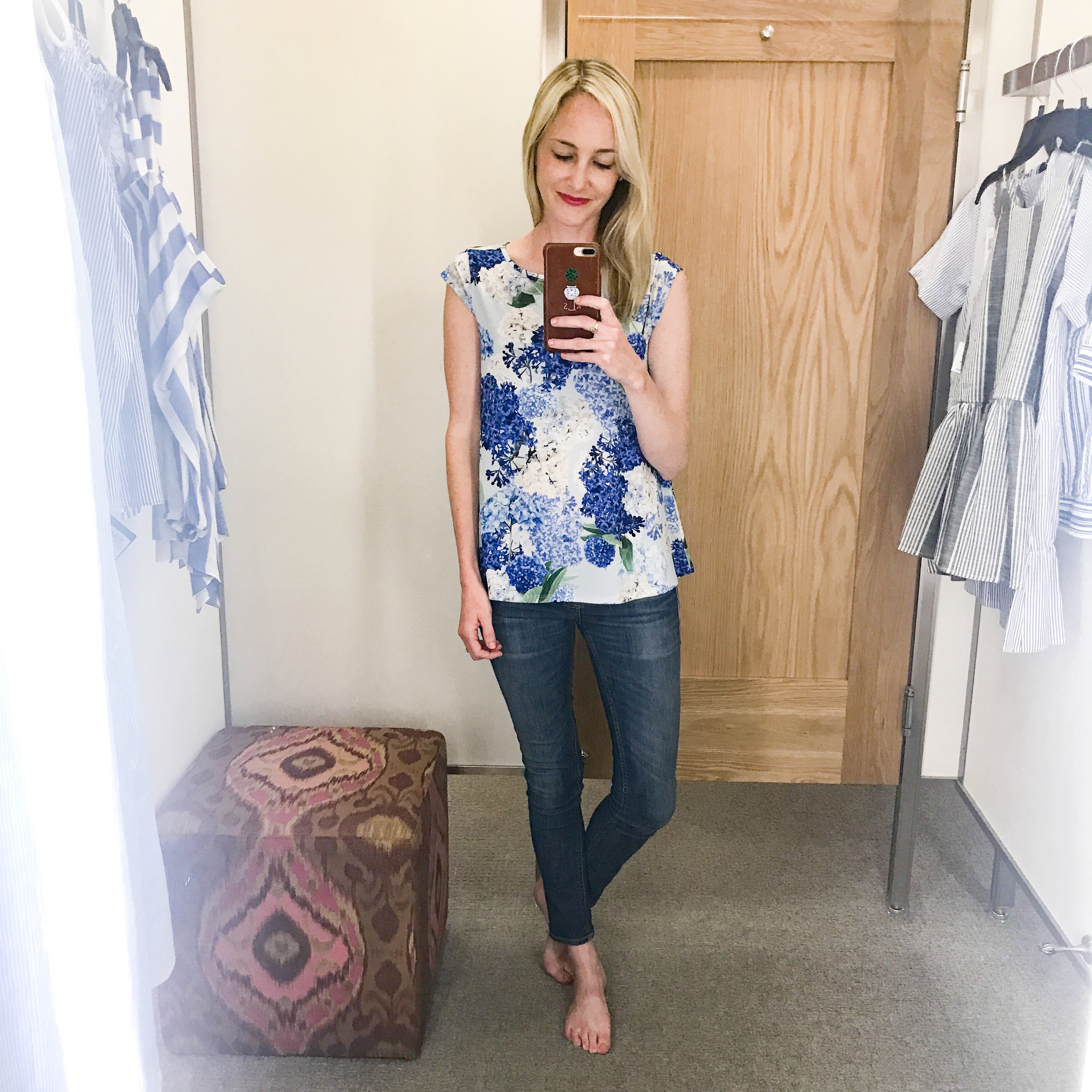 Tee (On sale!) / Hydrangea Collection <–Almost everything is discounted!

Nearly the entire hydrangea collection is on sale! I couldn't find much in-store, but I adore the skirt and the midi dress. I'm wearing a small.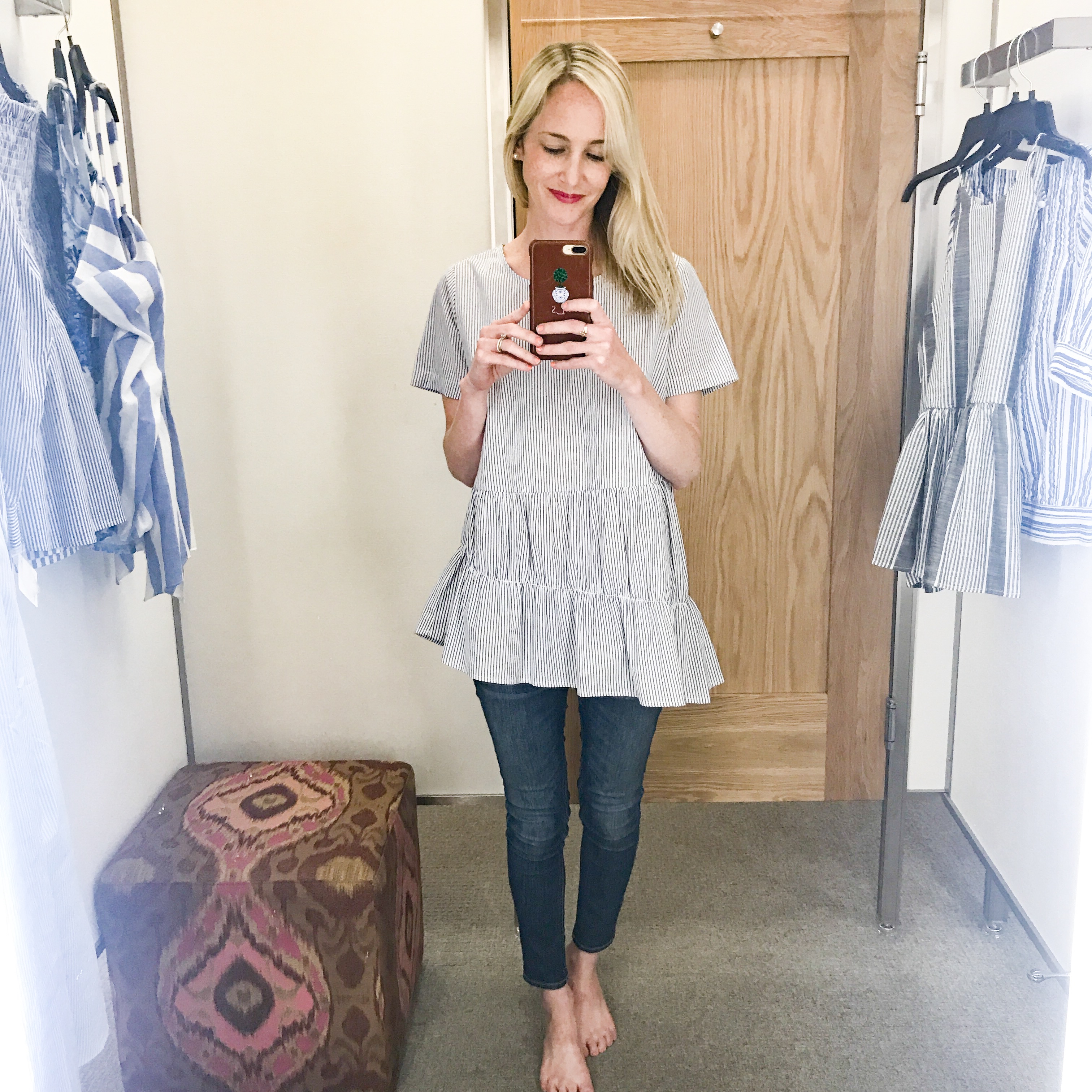 Ruffled Tiered Striped Top (On sale!)

Probably my fave. It's such a statement! But word to the wise. It runs VERY large. Size down! I also love this bow-sleeved top, this back-button ruffled top, and this top, which I've worn on the blog a bunch. :) It also runs large, so size down.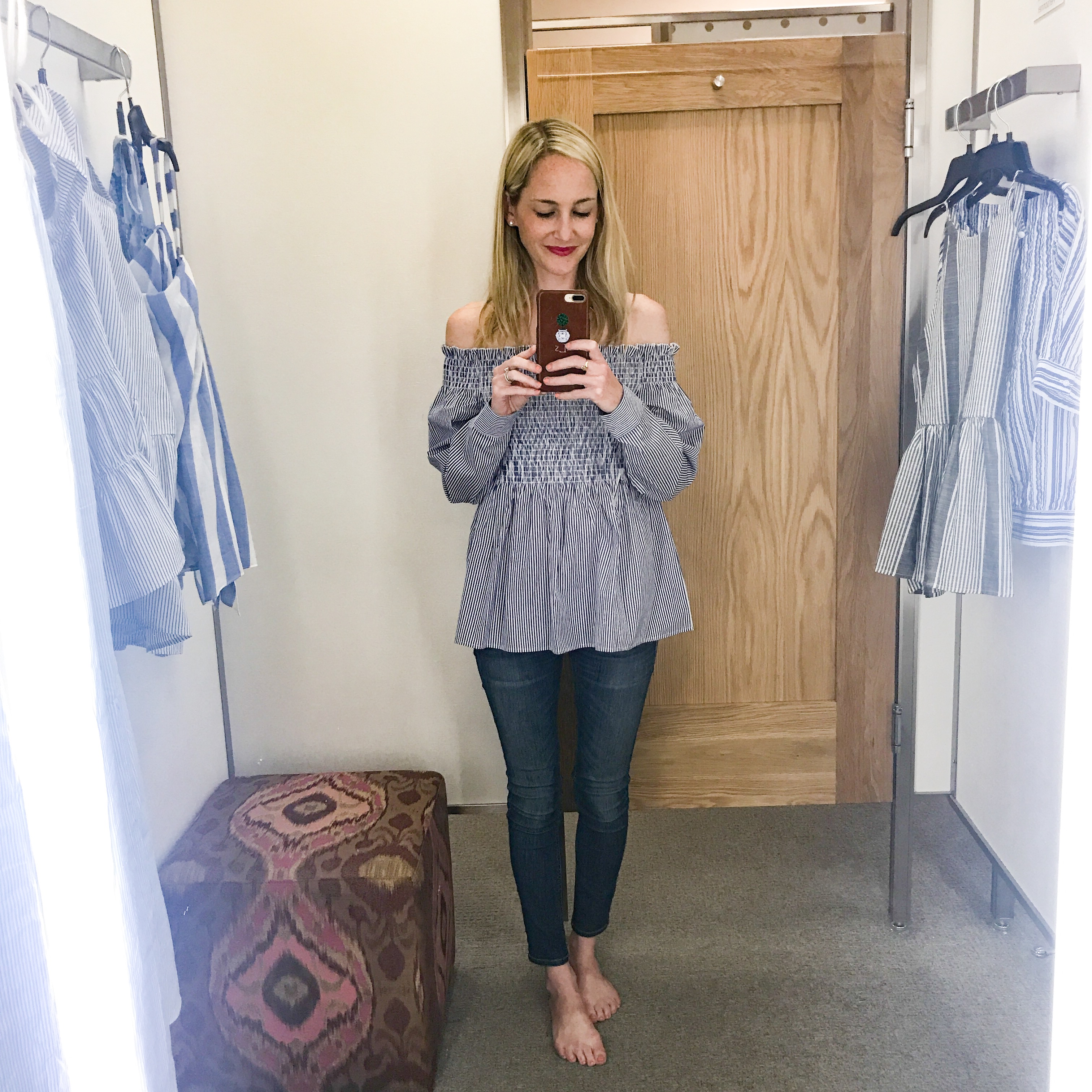 Top (Not on sale, but worth it… And have you seen the scalloped bow top?! Coming to a Kelly in the City blog post soon…)

True off-the-shoulder tops are hard for me, since I'm constantly picking Emma up. But when I saw this one, I had to try it on, if not for you guys. ;) And like I said above, OMG and DOUBLE OMG. I also own this one by the same brand and love it. I'm wearing an XS.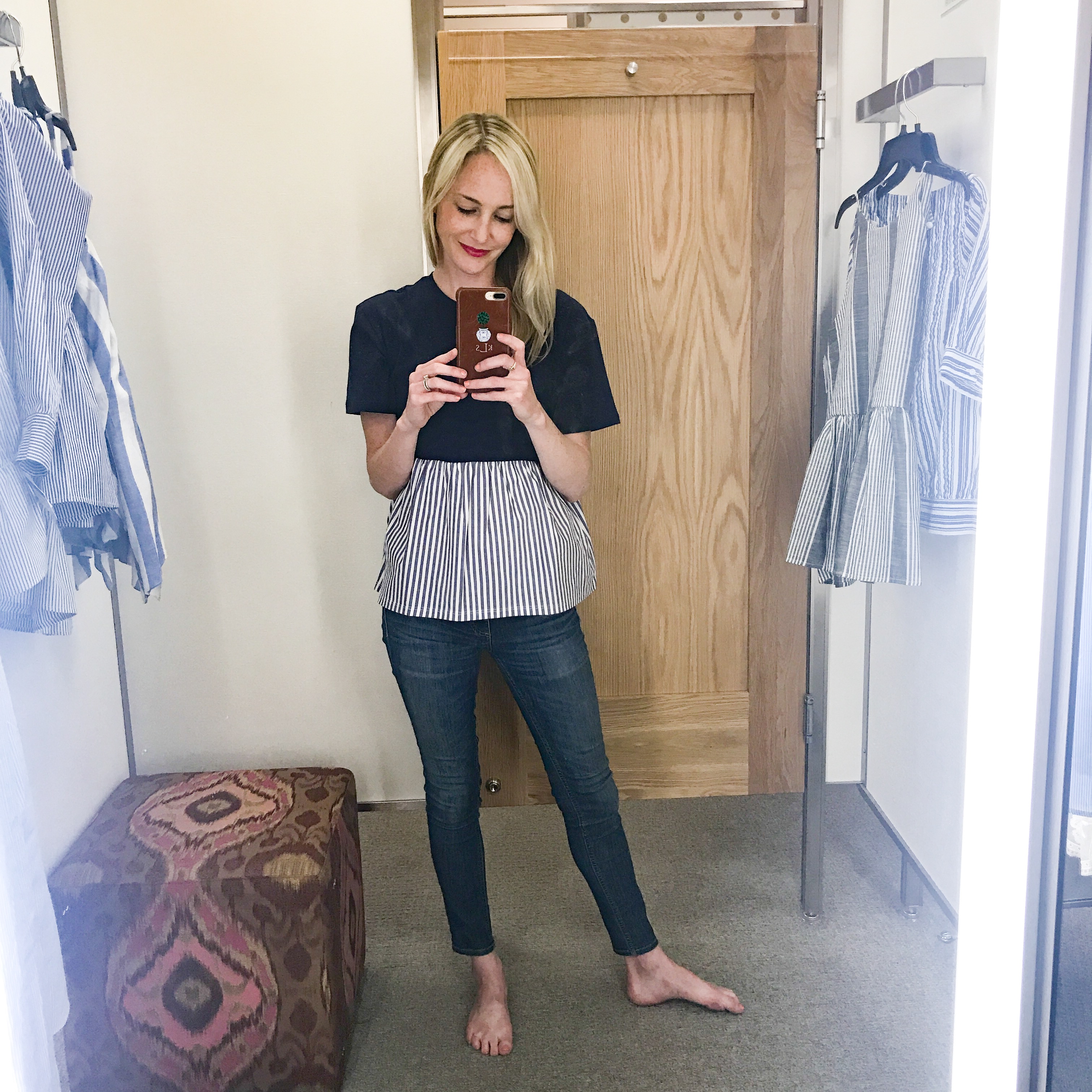 I know. It's perfect.

This top isn't on sale, but it was too good to not include in today's post. :) I'm bringing it to Ocean City, as it just screams nautical to me! Love this one, too. I'm wearing an XS.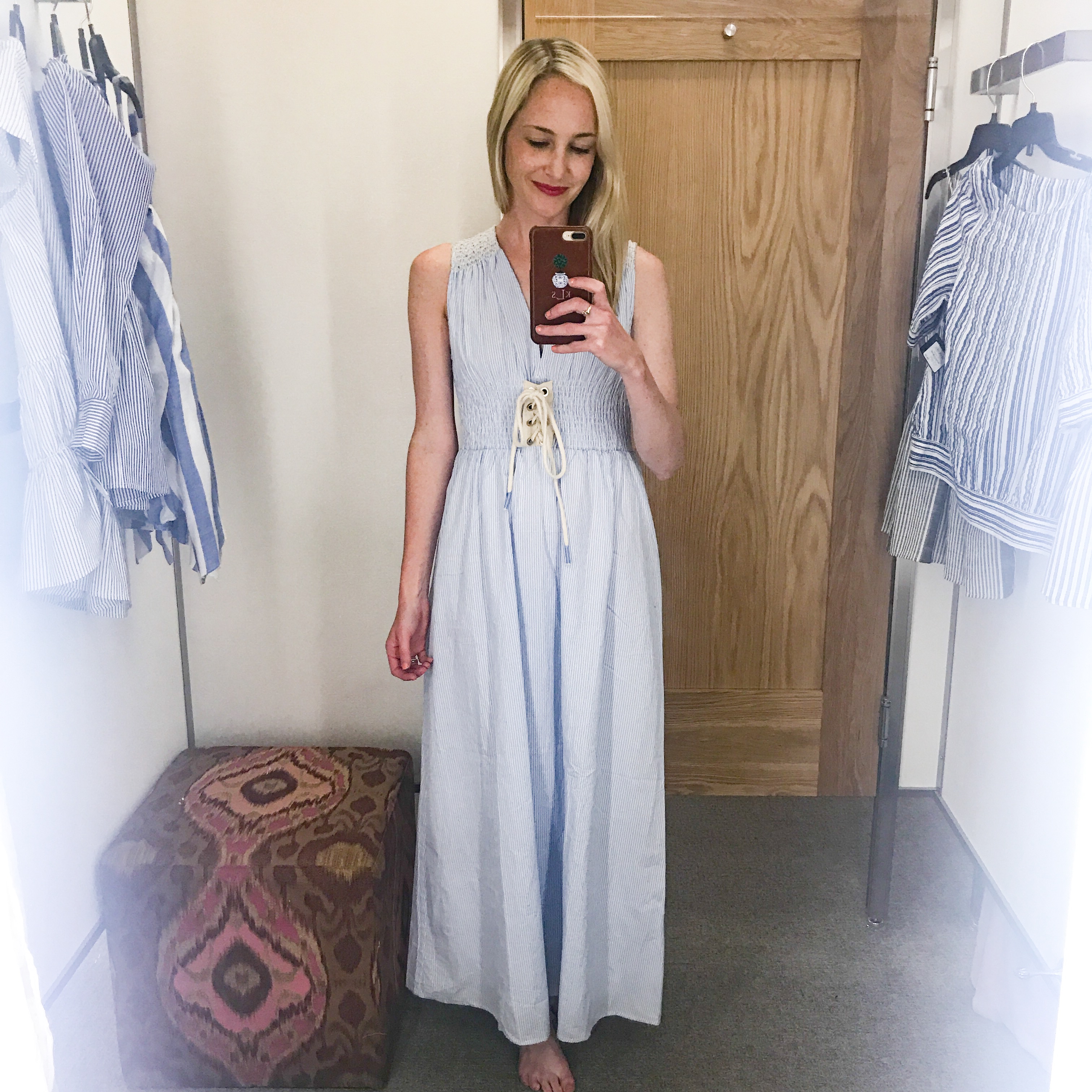 Striped Dress (Sold out at Nordstrom, but still available via ASOS!)

Guys, this was my favorite! It's unfortunately sold out at Nordstrom, but it's on ASOS and you should really get it. Yes, the models make it look very revealing. But see above! Not revealing at all in real life. Just super cute and nautical. LOVE! I'm wearing a small.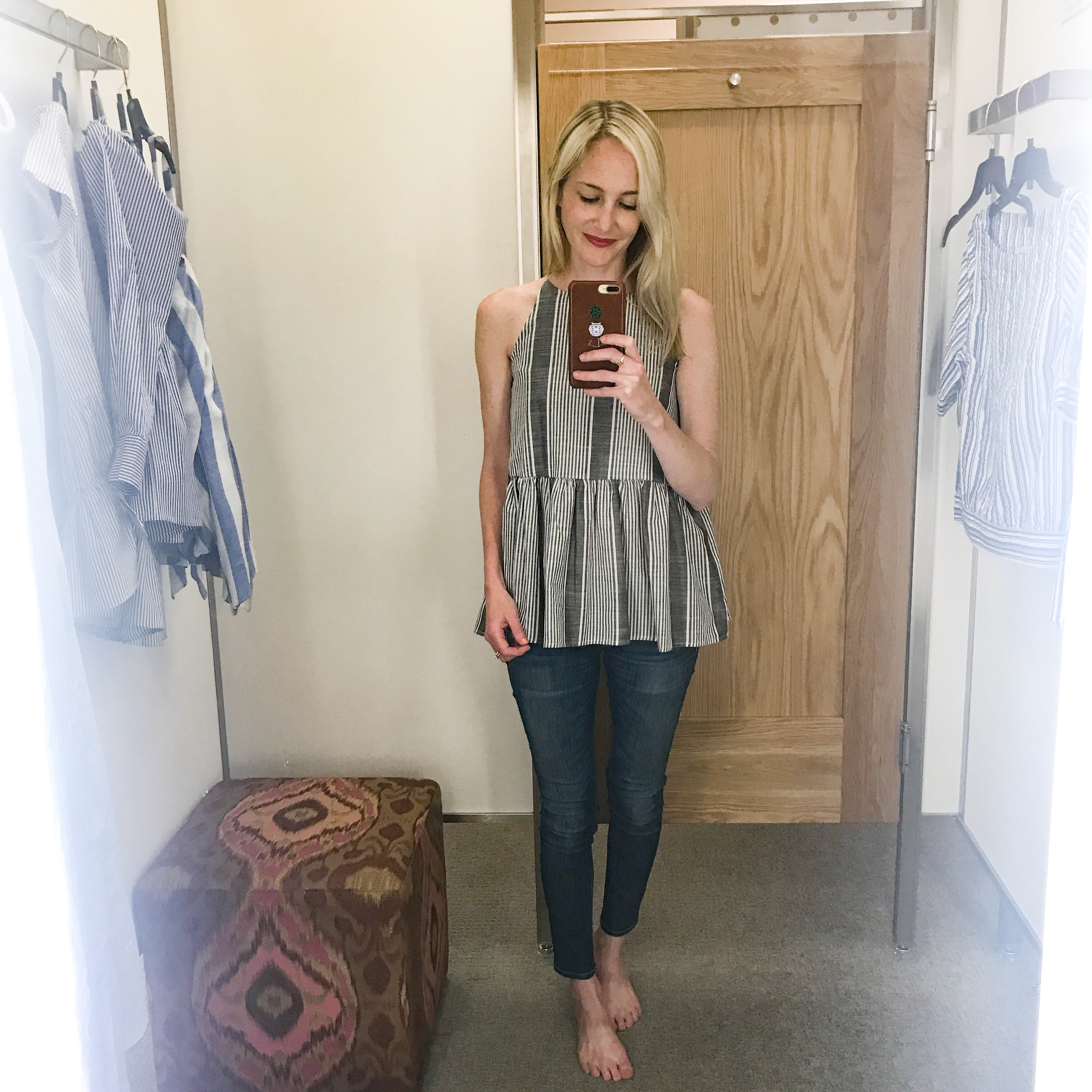 Striped Top (But I like this one even better!)

I really like the above top. But HI… you're way cuter. ;) Also, the scalloped tote is back. It's no longer under $30, but the price is great and you should scoop it up before it sells out! Oh! And the comfiest bow mules in the history of the world are now available in white, in case you didn't send out the million memos I sent out. (Sorry, haha.)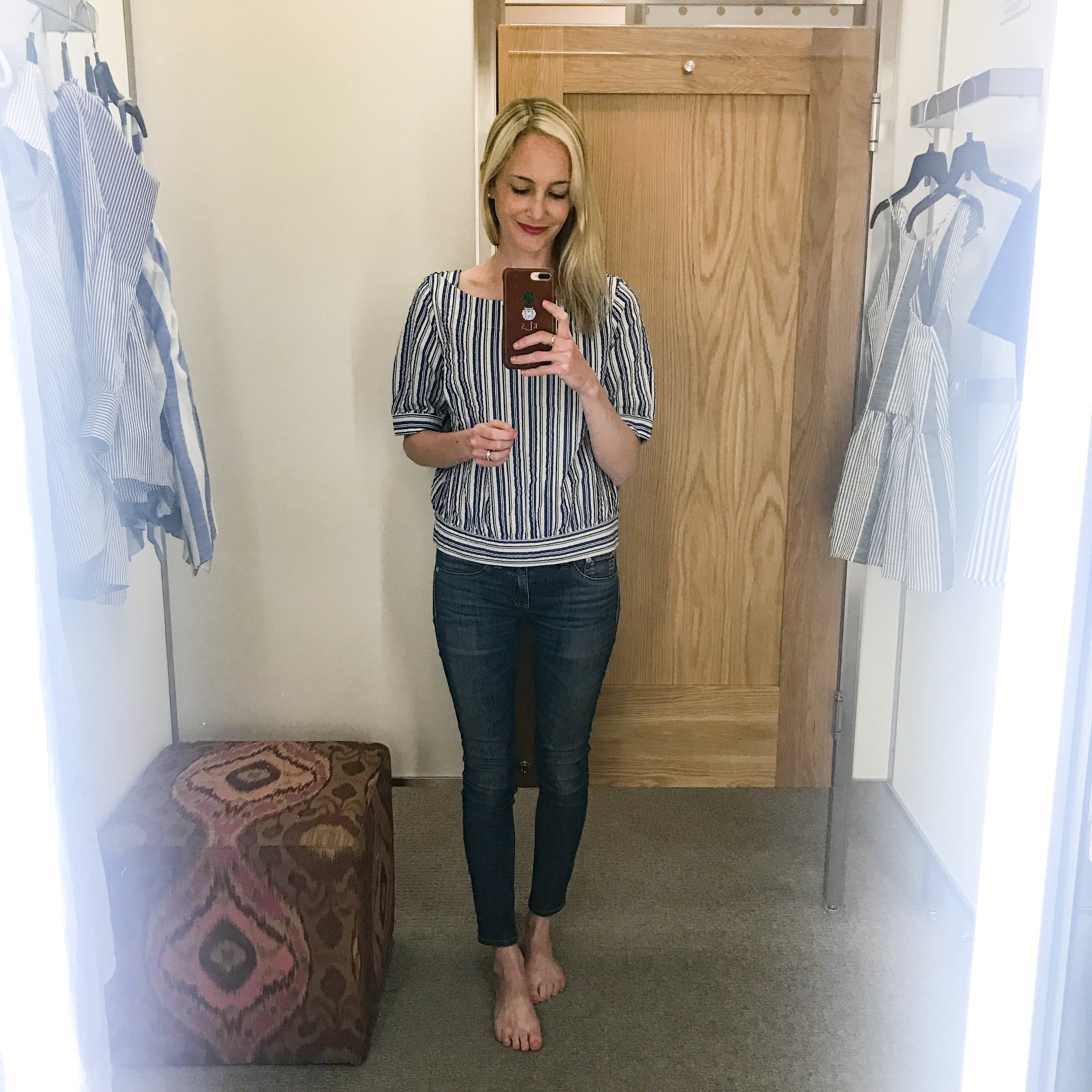 I'll be honest. I can't remember who makes this top. I think it's Halogen, but not sure. (Love this one, though!) I'm aiming to get more than three hours of sleep tonight. ;)