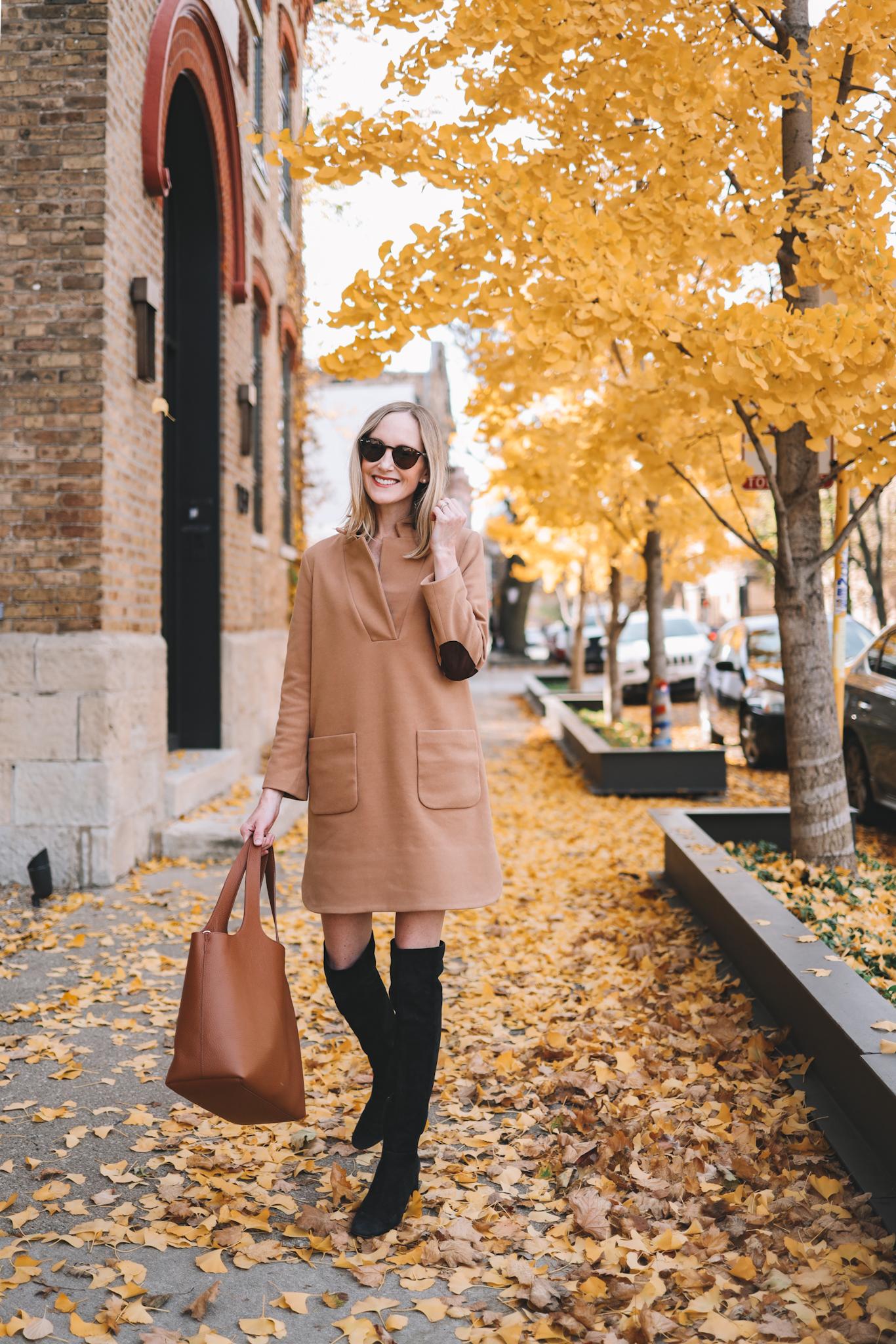 Tuckernuck Emerson Dress (It also comes in navy Ponte as well as a popover top version!) / Cuyana System Tote / Nearly Identical Boots Here and Here / Dana Rebecca Necklace / Sunglasses

Well, look at that. An outfit post!
Can we talk about the Tuckernuck Emerson Dress for a minute? Because it's so good. And if you follow me on Instagram or Facebook, you probably see me wearing it all the time!
A few things:
Material: The Tuckernuck Emerson Dress is made out of the softest, warmest fleecey-like material (though it's not actually fleece). There is absolutely zero itchiness. Because it's so thick, it does an amazing job in terms of warmth; I've worn it several times this season without a jacket! But while it's thick, it's also easy to move in. The dress is lined, which is really nice, too.
Fit: I would say that the dress runs slightly large. I normally order a size small in Tuckernuck dresses, and I went down to an XS in this one. It fits well in the shoulders and arms, which was my only concern when ordering! Really happy with the fit.
How I wear it: I'm 38, so I balance out the shorter length with over-the-knee boots. This pair and this pair are super similar to the old Cole Haans I'm wearing! (Though I don't think the dress is too short! You could totally wear it with with flats, heels or sneakers. I just have a complex about showing skin, haha, and I enjoy staying toasty in the fall/winter.)
Alternative style: If you're more of a jeans/leggings kind of gal, check out the Emerson popover top. Same style! It's 50 percent wool but it's lined, so no itchiness. Just a whole lot of warmth.
My new tote bag: My old leather tote bag had an accident at the hands of a certain three-year-old. 😆 So I recently invested in my dream tote. Isn't it stunning?! Love the original straps and that it fits my laptop.
Hope everyone has a great weekend! xoxo
Shop the post:
Tuckernuck Emerson Dress (It also comes in navy Ponte as well as a popover top version!) / Cuyana System Tote / Nearly Identical Boots Here and Here / Dana Rebecca Necklace / Sunglasses