Mitch here!
Summer is a time for road trips, and our family is doing our American duty by gassing up the car, packing our (adorable) bags, and hitting the road! A successful family road trip isn't easy to pull off these days, but with a little planning and good luck, I will traverse the eastern half of the country to safely deliver this little girl and her mom to Grandma and Grandpa on the Jersey Shore.
As a tried and true Midwesterner, it pains me to admit that I'm Jersey Shore fanatic. I'm talking about sand, salt, sticky ice cream cone hands, smudgy sunglasses wiped off on wet swimsuits, ruthless boardwalk seagulls, red watermelon cheeks, sunburn naps, the hopscotch jump across fiery hot sand to the sweet relief of beach towels, beautiful grass stains, bare feet, ice cream truck chimes, sand-removal hoses, sneaky mosquito bites on exposed ankles, sidewalk air-conditioning blasts, and flip-flop tan lines.
I love it all.
My dad was a road trip warrior in the tradition of Mad Max and Clark W. Griswold when I was growing up. He ran a tight crew, assigning each of his boys–three wide on the station wagon bench seat–with various navigational, mechanical and organizational duties. And this was a time before GPS, LTE, streaming movies and smart phone games. With steely eyes upon the road, my father showed us the nooks and crannies of the countryside in, what I can only imagine, a series of extremely inexpensive vacations. The Larkin Way.
Now that I'm the man behind the wheel, I'm challenged to accomplish the exact same feat. I somehow need to pull off a 1,000-mile road trip with a noisy one-year-old and an exceptionally opinionated (and beautiful!) wife. Here's the plan:
Five ways to ensure a successful family road trip
1. Put care into packing
Packing sucks. I'm the kind of guy who would much rather just buy new clothes in Jersey than pack a bag. In the past, I've resorted to rolling the dice and bringing the dirty laundry hamper on road trips, hoping it would all work out. Kill two birds by doing the laundry while on vacation? I like the sound of that! (Only problem was that I never did the laundry because I was too excited about being on vacation. So I was just dirty for a week.)
I put packing off until the last possible moment. Here is a typical Larkin family travel situation:
Kelly: Okay! Emma is strapped in. Noodle is walked and safely curled up under the seat. Bags are loaded. I think we're good!
Mitch: Great! I just have to go pack real quick.
Kelly: —
Mitch: I love you so much.
But not this time! We have a system!
The Official 2017 Larkin Family Road Trip Packing System
Put a plastic storage tub in the trunk. "Trunk Tub" is a game-changer. All the loose garbage that would otherwise fly around the car for 12 hours gets sealed in it. I'd put Kelly in the tub if she'd fit.
All necessary baby supplies must be within an arm's reach. We are NOT pulling the the car over to unpack the trunk because Emma wants the special toy in the back. Don't. Even. Ask, Emma.
Pack a small bag with enough stuff for a quick night's stay at a roadside hotel. This will need to be packed by Kelly because as I just mentioned, I don't pack. I mean, who are we kidding? There's no way we are making this drive in one day.
Pack wine. Not for the car. For the hotel.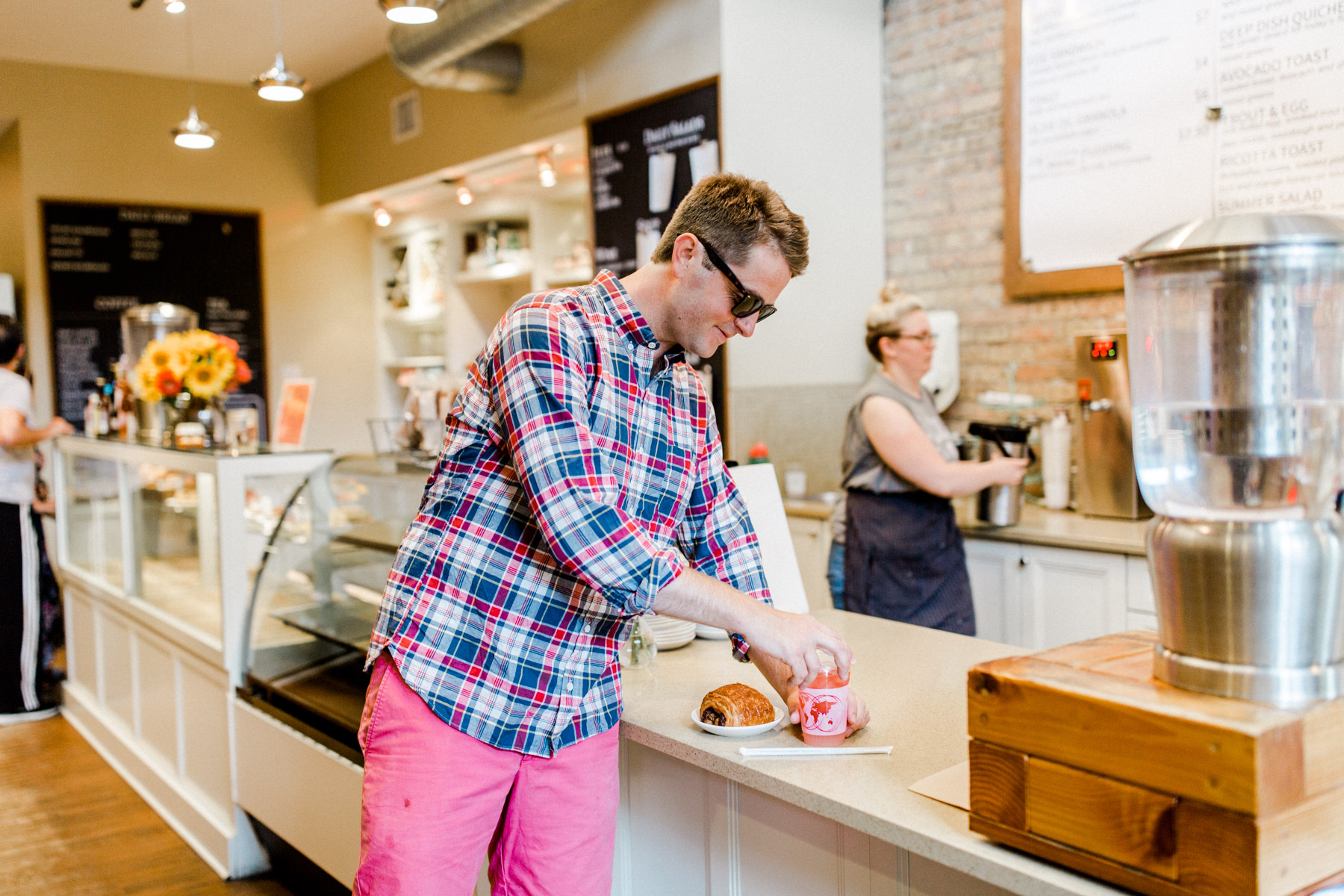 2. Make frequent stops
I have to fight the urge to blitzkrieg my way straight through to Jersey, executing professional-grade pit stops to fill up the car, sprint to the bathroom, admire the rest area for a second, and speed away to make up for lost time.
We live in a beautiful country! At least, I've heard it's beautiful. Kelly and I have NEVER strayed from the predetermined path on a drive to the East Coast. So, please, do us a favor and leave any suggestions in comment section below. I'm looking for obnoxious roadside attractions, scenic overlooks, and local diners with lemon meringue pie. That kind of thing!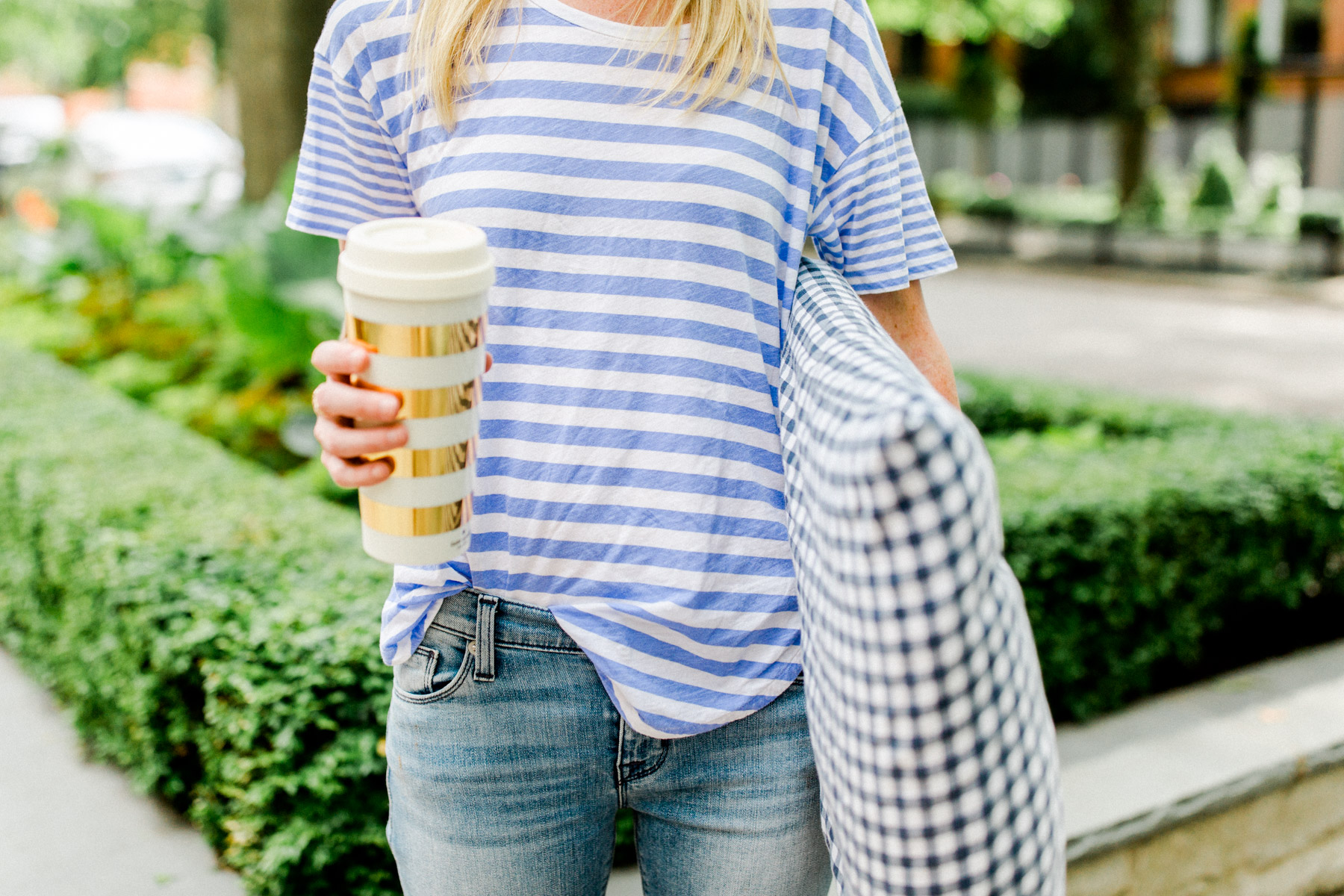 3. Leave super early
I'm talkin' early. I want to get up before the birds d0. I want to see people stumbling home from the bars. Also, I want to zip out of Chicago in the only car on a 12-lane interstate highway.
I will deal with the searing pain of too little sleep to avoid traffic. I'll endure the grumpy wife to get three hours of driving done before the baby really wakes up. I will eat two breakfasts before 9 am.
The only issue with this plan is that I typically get extremely tired midmorning. And–it pains me to type this–Kelly ends up needing to drive. I love Kelly with all my heart. But she is legitimately the worst driver in the country. It's why she's Kelly in the City. Kelly in the Country is a danger to society. It's actually drastically reduced my confidence in the government that she was ever issued a driver's license. Honestly, I would rather put Emma behind the wheel than my wife.
Love you, Kage.
If I can pull this plan off, and ignore the advice I laid out in #2 of this guide, we will pull into Ocean City in time for dinner. And, BY GOD, I am going to make that happen. As a matter of fact, I think we should just leave right now.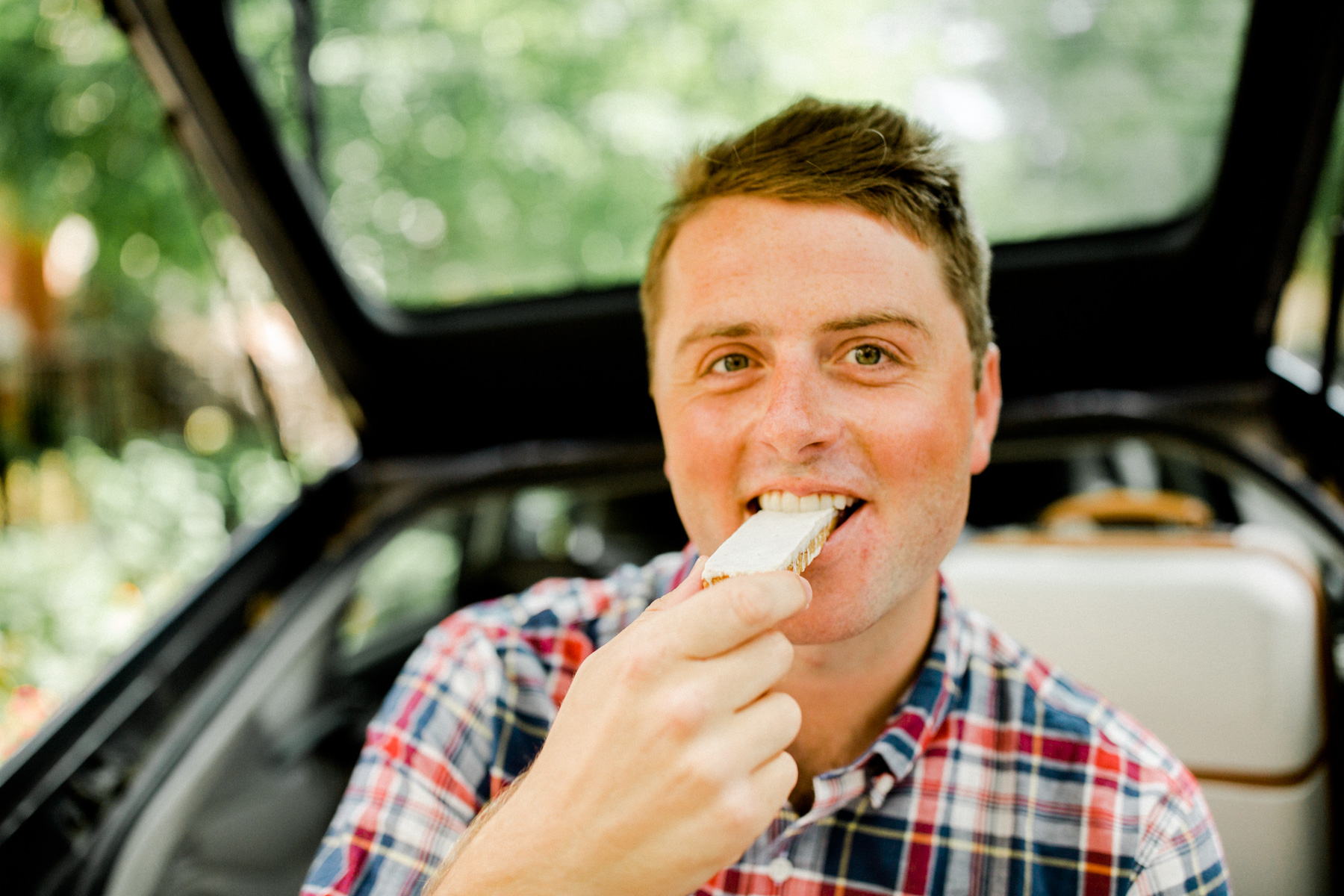 4. Bring snacks
Turns out that a 12-hour car ride is an exhausting experience. If you think about it, you just sit there, moving a wheel back and fourth all day. It's such a simple thing to do! But at the end of a road trip, I feel like I've run a marathon.
There's a way out of this mess, though. The perfect pile of snacks in the car can repair any road trip-related meltdowns. Which is why I'm happy to team up with ZonePerfect to share the news about the Revitalize nutritional bar, the snack I plan to nibble on all the way to Jersey.
ZonePerfect® Revitalize bars are delicious, with flavors ranging from Salted Caramel to Strawberry Shortcake. You can find them almost anywhere (Walgreens, CVS, Amazon), and they're good for you–which helps, because I plan on eating about 45 of them on this road trip. The bars have all the goodies: choline, protein, antioxidants and vitamins C & E. The best part? They're caffeinated! We typically drink a few gallons of coffee on a trips like this, and these bars are part of my plan to minimize bathroom breaks. Again ignoring Step 2 of this guide. Check out this coupon for a decent ZonePerfect discount. I'm thinkin' that if I keep a steady stream of these snacks going, I'll be in a great spot both mentally and physically to get this trip accomplished safely.
5: Bring entertainment
As the father of a one-year-old (her birthday is tomorrow!), I dream of days during which I could sit in a comfortable chair for 14 hours with no real obligations, distractions, emergencies or messes to clean up. I could just sit there and watch the clock progress…
But the reality of the situation is that sitting and watching western Ohio slide past your window–regardless of whether you have a baby–is extremely boring. Without a plan, you could end up playing the license plate alphabet game. Or–and this is truly Kelly's favorite–desperately waiting for a Taylor truck to pass a Swift truck on the left. (Seriously one of her life goals to see this happen.) An entertainment plan is most necessary, or the boredom could ruin your whole trip.
Thank god for smart phones, people! Hook that baby up to your speaker system and let loose. Of course, the driver gets control, which is another reason why I always drive. But my personal favorite move is to turn on hours and hours of standup comedy. Last year, I was able to stream a three-hour long Cubs game on a delightful stretch of I-76 in western Pennsylvania. The Cubs lost, but the game put Kelly into a deep slumber which meant no Ryan Adams whatsoever for me. ;)
Wish us luck!
In conclusion, I'm new at this whole family road trip thing. Please leave any of your tips in the comments because I need 'em. I can't wait to share more details of our trip! Here's a nice summer song to close this thing out, though. And and as always…
MITCH. OUT.