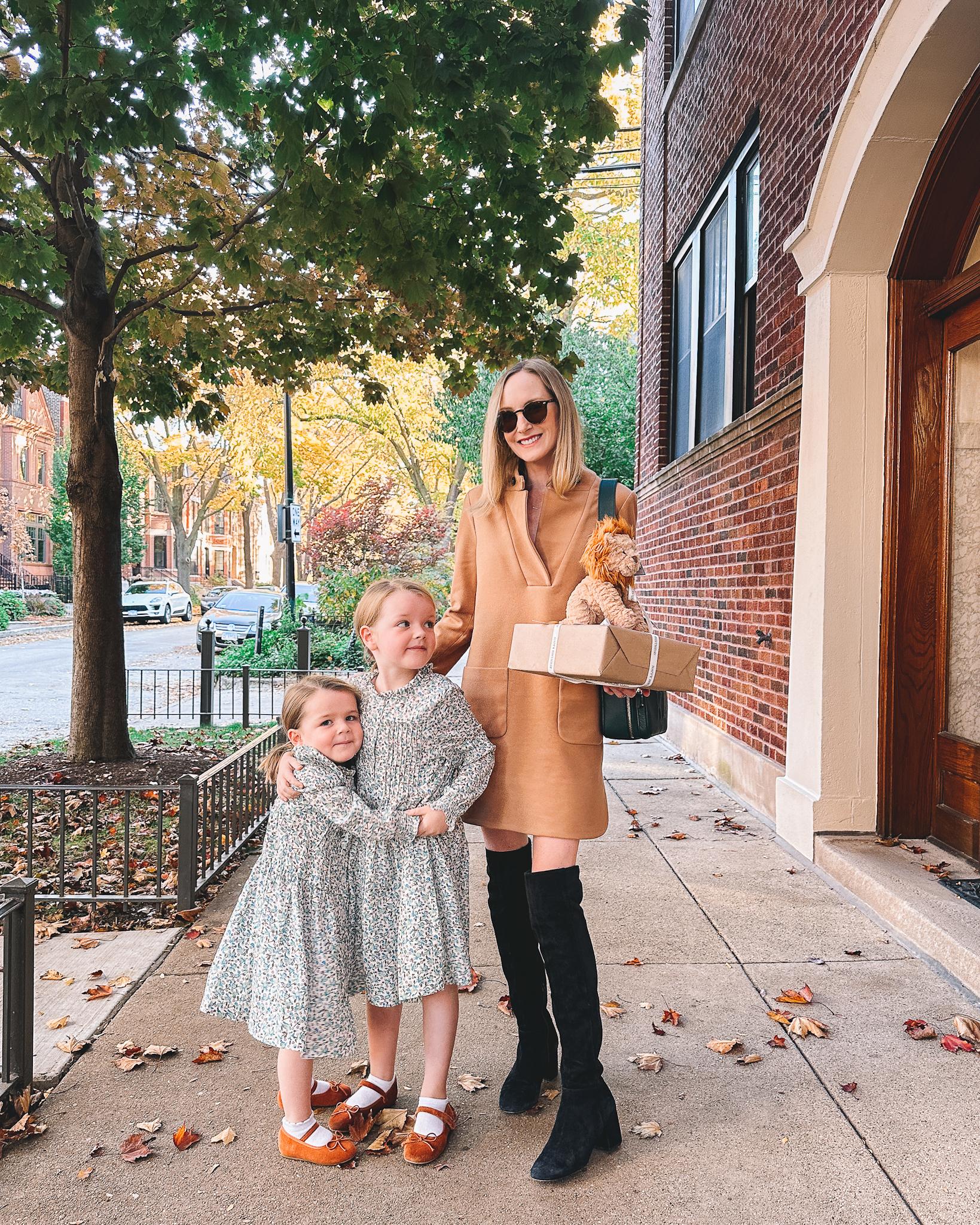 Here's what's on my mind this morning:
Holy Ghost. 👻 First, I just need to say that Halloween should not be allowed to take place on a Monday. 😆 I vote that it should work how Easter does; Halloween should simply be the last Saturday of October every year. (The 

Celtic celebration of 

Samhain

—the origin of Halloween and the night when ghosts returned to earth—occurs on Oct. 31st. But can't we just move the dressing up/trick-or-treating part to the weekend so everyone doesn't lose their mind?! Kay, thanks. 😜)
In all seriousness, it was a great Halloween. Yes, back-to-back events ran us ragged, and Mitch immediately took down all the decor on Tuesday. That's how done he is with it, haha. It was chaotic to say the least. But it really couldn't have gone better. We went trick-or-treating with a few friends, and both the kids and the parents (and the grandparents!) had a total blast. Lucy was a mermaid but she was too tired from the earlier day's school festivities so she sat in the wagon with her bestie for most of trick-or-treating, somehow getting people to bring candy to her. 😆 And Emma was her favorite YouTuber, Payton from Ninja Kidz. That one killed me. She's such a teenager! She palled around with a couple of friends and I couldn't believe how much loot they brought home. Chicago goes all out for Halloween, and residents usually sit on their front stoops with bowls of candy because their doorbells would otherwise be ringing every two seconds. I can't tell you how much candy we went through! Thank goodness we ran out just as the festivities were coming to an end. Afterwards, we had a pizza party at our house, and then stayed up with Mitch's parents and chatted over wine. (Which was very much needed. 😉) Tired Parents, unite. WE DID IT! And now we sleep.
Carly's holiday blanket collaboration with ChappyWrap is LIVE! Oh, guys. It's just so beautiful, and it's making me so excited about the holidays. If you haven't tried ChappyWrap yet, you need to. The blankets are made of the softest fleece, and they're both machine-washable and dryer-safe. Every member of our family has one! (Okay, except Noodle, haha.)
Are you looking for the perfect pair of dark, stretchy, super comfortable skinny jeans? I mean, who isn't. But look no further! I think I found them. (For a steal!) They're high-rise and feature 69% cotton/20% polyester/10% rayon/1% Lycra spandex. They look great and the reviews are stellar, too.
The girls and I started taking immune system supplements. Enough is enough with these illnesses! Do you sense the desperation? Ha. Anyway, because we already take Olly (and truly love it), I'm taking this one and the girls are taking this one. I have a really hard time swallowing big pills but the Olly ones go down so easily and I don't mind taking them—which, coming from me, is really saying something. I only take capsules and none have a weird aftertaste, IMO.
Newest Bag Obsession: The Cuyana System Tote. Lucy unfortunately dragged my old leather tote along the sidewalk and totally ruined it. It's fine, it's fine. But I'm in love with the replacement. The leather is so soft, the straps are so thoughtfully designed, and the simple gold stamped monogram is perfection. There's a mini version, too!
My first time "hosting" Parents' Night Out for Lucy's class was really fun! We did it at a nearby restaurant, and it was lovely really sitting down with everyone and chatting and laughing together. Now our kids are three- and four-year-olds, but they were certainly "pandemic babies," and we missed out on a lot of this kind of stuff. So wonderful to meet and connect with families again!
Mitch is going to New York to visit his best friend this weekend. So it's GIRLS' WEEKEND! Obviously we're sad that Mitch is leaving us. ;) But we also have big plans. You know: all the usuals, because Emma doesn't like change. 😜 Coffee shop, nails, brunch, dress shopping, etc. And then we have a playdate lined up and an arts-and-crafts birthday party to attend. Should be a solid three days with my adorable minis!

Have you purchased your faux garland yet? It's time! This is by far the best faux garland I've ever found. It's an investment, but we've used ours OUTSIDE during brutal Chicago winters in uncovered areas, and it still looks brand new. It gets my stamp of approval! Other great options above—though I can only speak to the cypress version!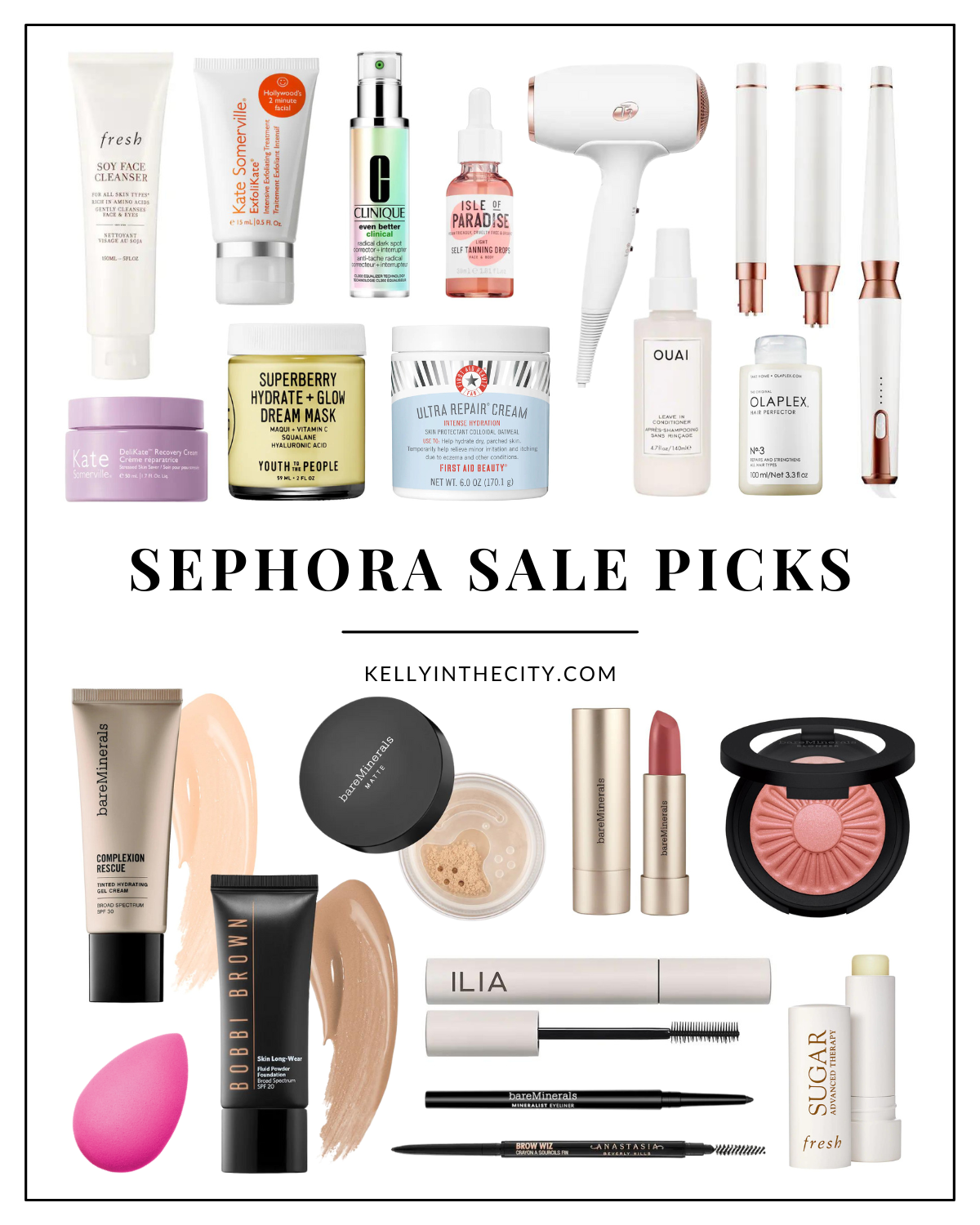 A ton of my most-used beauty products are part of the huge Sephora sale. Above are products I personally use and swear by.
My in-laws invited the girls to stay with them for a few days during Thanksgiving Break since we've been hit so hard with illnesses this year and are pretty behind on work. THANK YOU, John and Lisa! With any hope, our immunity vitamins get us in shape by then. ;)

My November Wishlist: A girl can dream, right?!
We finally have a great group of little girls for playdates and it's making life so much happier for everyone. This past year, Emma's friends from our block moved away. It was heartbreaking for everyone! But recently we found a couple of little girls from Emma's school who live in the neighborhood, and it's been working out wonderfully. We're switching off with who hosts so everyone gets a turn, and it's just brought so much joy to Emma's weekends. She always has something to look forward to. (Lucy's best friend literally lives ON our block, so she's just always happy!)
Need a good camel wool coat? This is it! I love mine. I will say that it runs a little large. If in between sizes, I would size down. But it's such a classic, and the price point is fabulous.
Emma has a piano concert coming up! Really not sure how this is going to go. 😆 I would not say that Emma is passionate about piano, though I need to give her a ton of credit and say that she's been keeping with it! We'll see if she continues with it longterm, but I'm really proud of our girls when they try new things and branch out. That's what life is all about!
Amazon Finds:
One Home Project Every Day: All I can say is that old houses require SO much work. ;) We're always fixing or working on something, but it's worth it. Here's what we did this past week!

We fixed a broken window in our bedroom. It had been broken for a year.
We installed a charging drawer in the kitchen. This is what we used. No more devices left out on the countertops! I'm nuts.
We had two leaky bathroom ceilings fixed, patched and painted. Very boring stuff but it had to be done.
We fixed the under-cabinet lighting in the kitchen. It's been broken since we moved into the house I think? It really makes things feel cozy at night!
We touched up some walls that needed it. However, there are still 100 other touch-up jobs. Old houses, man.
We installed a tilting bracket on the Ring doorbell. I'm not sure why we needed this but Mitch said the need was DIRE.
We took down the Halloween decor. The morning after Halloween, haha.