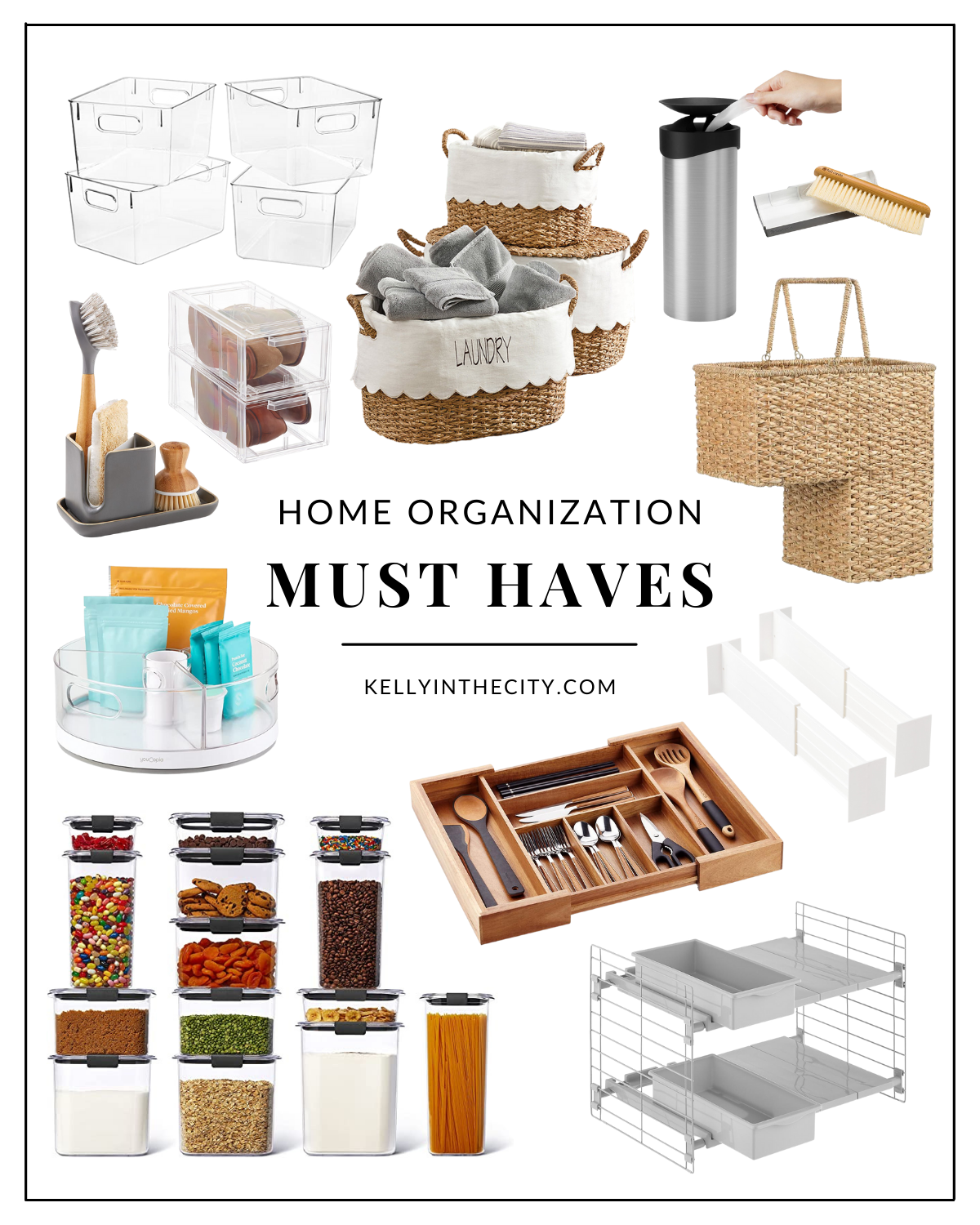 Clear Organization Bins/ Ceramic Cleaning Brush Holder / Clear Stackable Bins / Laundry Hampers / Cleaning Wipes Dispenser / Counter Sweep / Stair Basket / Turning Organizer with Bins / Food Storage Containers / Silverware Tray / Expandable Under Sink Organizer / Drawer Organizers
If you've been a reader for a while, you'll know I LOVE all things home organization. I mean, short organizational videos give me life haha. Whenever I'm in a rut with our one home project everyday, I watch a couple of videos on TikTok, and I am instantly inspired and motivated to tackle something new in our home. I know many of you will be doing some organizing and decluttering in the coming weeks, so I thought I'd share a few organizational home products that'll help you keep your home neat and tidy throughout the new year.
Clear Organization Bins: These bins can be used to organize almost anything. From your fridge/pantry to cleaning supplies in cabinets.
Ceramic Cleaning Brush Holder: A cute ceramic organizer to keep your cleaning brushes and sponges tidy.
Clear Stackable Bins: These drawers would be great for under the sink organization. They're slim, stackable and easy to access without taking out from under the sink.
Laundry Hampers: I have one of these baskets for each bedroom. Once they're full of clean, folded laundry, I deliver their contents. Then, when the hamper is full, do the laundry. I try to stick to that routine as much as possible because there's just nothing worse than having to do five loads of laundry on a Sunday.
Cleaning Wipes Dispenser: This dispenser is perfect for storing cleaning wipes out of reach. I've been wiping down our bathroom counters as often as possible. The wipes make the job doable even when Lucy is at my feet because it only takes 30 seconds. Once I started keeping disinfecting wipes (out of reach) in our bathrooms, I found that they were almost always sparkling!
Counter Sweep: Makes cleaning crumbs and spills on your counters a breeze.
Stair Basket: This has been a huge game-changer for me! A few times per day, I collect stuff that's scattered around the house and either drop it into the "going upstairs" basket or the "going downstairs" (to the playroom) basket. It's truly become a part of my daily routine. When I go upstairs, I take the contents and put it wherever it belongs, and I do the same when I go downstairs. It's made SUCH a difference.
Turning Organizer with Bins: Love this lazy susan organizer. It makes everything easily within reach.
Food Storage Containers: We used these containers for our pantry reorganization. They're clear, lightweight, and make great use of the space you have. For years, I thought food containers were unnecessarily expensive and just for "looks." But I stand corrected; they are worth every penny! Now because we can see everything in our pantry clearly, it prevents us from over-buying, and we have far less food waste as a result.
Silverware Tray: If you're looking to clean out your silverware drawer, we have one of these expandable wooden silverware organizing trays and love it.
Expandable Under Sink Organizer: For those of you who are looking at tackling the space under your sink this organizer for just that seems amazing!
Drawer Organizers: Adopting the KonMari folding method has made the biggest difference in terms of how much we can store in Emma's dresser. It makes everything visible, and as a result, Emma now wears all her clothing. (Not just the stuff on top.) These drawer organizers would be great to help keep all of the folded clothes extra neat!