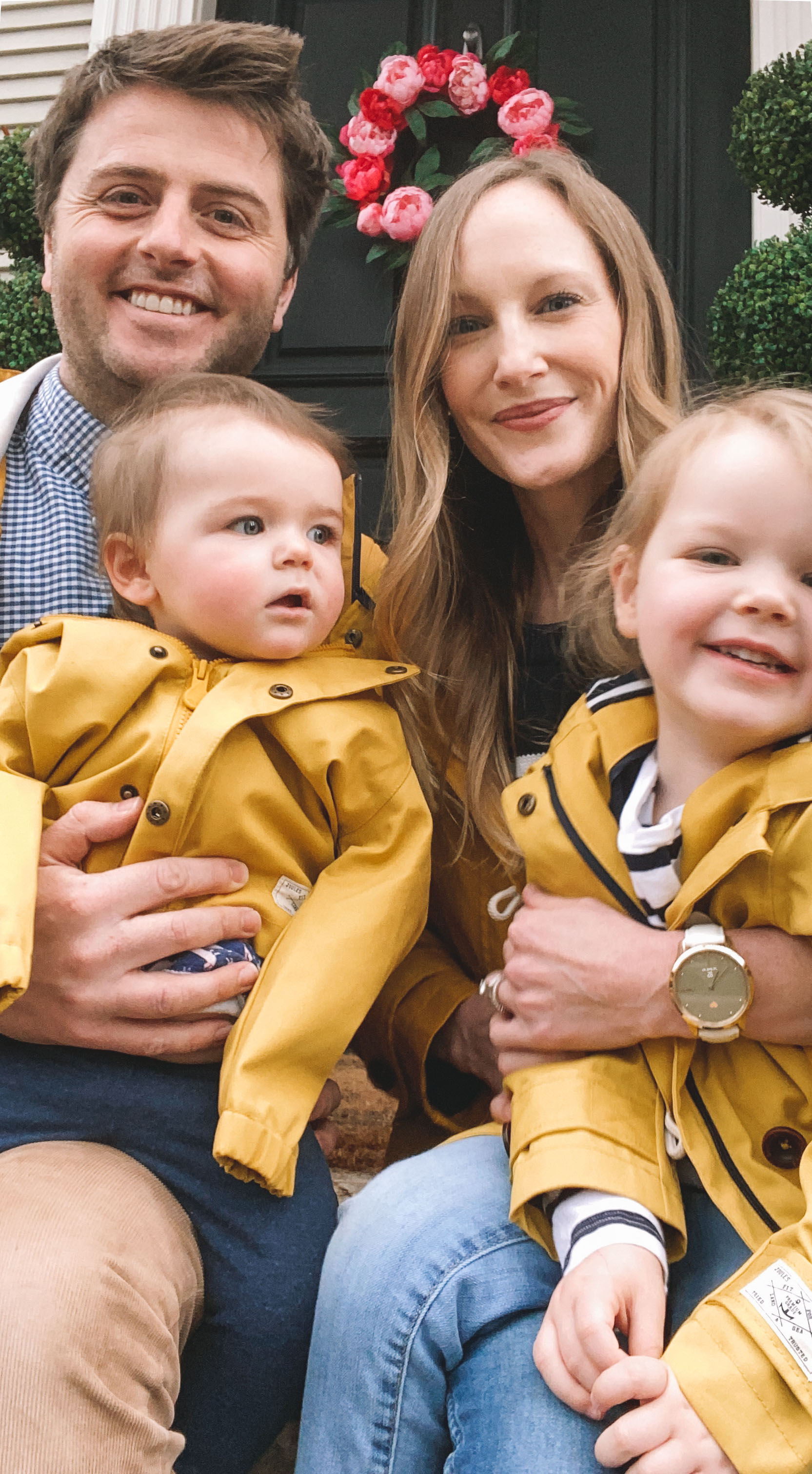 We're all wearing Coast Rain Jackets: Here's mine in the short cut and mid-length cut, and here is newer version of the girls' coat. This one is on sale at Nordstrom, too, and part of the spring sale. I'm also wearing my vívomove Luxe hybrid smartwatch from Garmin, a company that's providing critical flight information to pilots flying twin-turboprop small planes transporting essential supplies during the pandemic. Wreath is from Target and topiaries can be found here. 
Oh hey, Friends. The stars aligned and so did nap times (for the first time 😉) and here I am, staring at this blank page in a quiet room–something I haven't done in a while. So I'm just going to start typing.
Are you doing okay? Are you sleeping? Are you staying in touch with friends and family? Are you able to concentrate on work, if you're lucky enough to have some? Are you engaging in activities that take your mind off things for a while? Are you able to leave your phone in another room? Are you doing something to stay active? Is your mental health in check?
My answer, for most of these questions, is no. And I'm guessing that's the same for you?
So let's talk, and share with each other what has been helping. I'd love to hear what you've been doing because I think we could all use some assistance in that department. (And parents, please weigh in! I have next to no free time now, so self care kind of seems impossible at the moment.)
I should preface the rest of the post with the following:
I'm about to ramble. Not following a format or even going back and edit this, because I have roughly 20 minutes to write before the girls wake up. Whateevvvverrrr.
I'm constantly fighting off the same panic and worry that so many of us unfortunately feel regularly, so don't think that I'm all sunshine and rainbows over here. Every day is a struggle.
BUT THE SHOW MUST GO ON! So here are some helpful things that I sometimes do. (Emphasis on "sometimes.")
What's been helping me
Okay! I guess I'll start with making my bed. I read somewhere that during times of crisis, it's important to figure out what it is you can actually control, and then find bits of calm and order from that. I've always tried to make the bed, simply because it seems to help me feel less frazzled; just knowing it's up there in my room all nice and tidy makes me feel like I'm a little more in control of my life. It also really only takes me two or three minutes to do, and bings me a small sense of accomplishment. It's harder now that I'm a mom because mornings are all hands on deck. But if the girls get up at the crack of dawn, I simply bring 'em into my room so I can do it. No one is going to die because mom needs to take a couple of minutes to make the bed. Same thing goes for Emma's room, btw. I find that when we make her bed together, her Emma's somehow stays tidier (and I'm therefore happier) because of it. It's also a great lesson in responsibility.
The next one is kind of a no-brainer, but music has such healing powers for me. Does anyone else forget to put it on, though?! We finally set up speakers, and both Mitch and I–despite our love for music–constantly forget to turn it on. But man. When we do remember, we have good days. (Or better days, at least.) It goes without saying but we're obviously staying away from sad stuff in favor of feel-good stuff… but what have you been listening to? Kacey Musgraves and Josh Ritter are my go-to artists right now, and I've been trying to learn some of their songs on the guitar. (Slow progress over here 🙈 but it's fun and gets my mind off things. Though Mitch on the ukulele?! SO GOOD!) I've been breakin' out the old Barenaked Ladies albums, too. Brings me back to happier times.
I also like starting the day with reading some good news. It might come as a surprise that there's a considerable amount of it right now, but there is, and you should read it. You can find it all over the place, but some recent sites I've enjoyed are:
Note: I only found that I remembered to visit these sites when I saved them as icons to the first page of my phone.
And then there are REAL PANTS! About half the time, I tear off my jeans midday in favor of the Align Leggings. (Best. purchase. ever. Butter. I never want to take them off, haha. Keep in mind that Lululemon sizing is a bit weird. I'm an XS in J.Crew, for example, but wear a size 4 or 6 in Lululemon.) But seriously: I do find that I'm more upbeat when I at least start my day in jeans because it feels more like pre-pandemic life.
Showering before noon also seems to equal a sense of calm for me. I know a lot of people look absolutely stunning when they roll out of bed, but I am not one of those people. I look like a monster. It's okay; I've been dealing with it my whole adult life, haha. And yes, I realize that very few people are seeing me these days. But still! For myself, I need to not feel monsterish.
I'm realistic with myself regarding acts of kindness; I know I'm not going to be able to set up some huge charity or spearhead the production of zillions of N95 masks because my most important job right now (besides staying home) is taking care of two precious little girls. But quick things that can be done while I'm parenting–like writing letters to grandparents, donating money, sending quick "thinking of you" texts, putting up awareness posts on social media, or making doing something nice for Mitch–can make a big impact. And whenever possible, I try to involve the kiddos so that my "to do after the girls go to sleep list" doesn't light itself on fire. Right now, we're writing letters to the great grandparents, and that's been both educational and fun. (Please note: the CDC says that there is very low risk of infection from products or packaging because COVID-19 is thought to spread by respiratory droplets. That said, taking photos of letters and e-emailing or texting them is a great precautionary option, as is handling mail and packages with gloves and setting them aside for a few days before opening. ♥️)
Despite how hard it is, I really like leaving my phone in another room, too. (I don't put it on silent because I'm very worried about my brother right now, but it's out of sight, at least.) This allows for true family time, and I can focus on Mitch and the girls without the temptation to read the latest. This past week, we've been doing a lot of family movie nights, and the phone stays upstairs where it belongs. Though when I go upstairs to use the bathroom, I totes check it to make sure I haven't missed anything major. I'M IMPOSSIBLE.
All hail Zoom and FaceTime! But actually. I need to be better about it; I don't know why I still think of it as a big to-do that requires a lot of effort. (Maybe it's because I subconsciously feel bad about the dishevelment of my life, haha.) But we FaceTimed with my parents and brother (Danny) a couple of days ago, and it was SO NICE. It kind of felt like we were actually together! We talked for over an hour, and despite how grim everything is right now, we had a lot of laughs. Ah, laughter. It has tremendous healing power as well. Have you guys tried a FaceTime or Zoom happy hour yet?! We haven't because we keep passing out on the couch at night, but apparently it's awesome. ;) Oh, and Emma Zooms–is that the verb?–with her classmates and she FaceTimes with her cousin and friends a few times per week. Likewise, it really lifts her spirits. (Though don't even try to listen in on a three-year-olds' conversations. They're absurd. Most of the time they're not even talking about the same stuff. 😂)
Talking is my #1. Mitch and I both have good days and bad days, but luckily we can usually sense who is having the rougher time and then pull ourselves up by the bootstraps to help the other one through. And somehow, forced positivity often turns into real positivity for me. (Kind of like how if you MAKE yourself smile when you wake up in the morning, you'll actually be happier?!) At the end of the day, though, Mitch and I always sit down and talk… I think because we really need to. It's almost like we're temporarily taking everything off my shoulders so we can breathe for a while. We don't resolve any of the world's problems, but it's just good to put it all out there and talk. Similarly, I do this with Carly all day, every day. If I'm freaking out, I'll text her and she'll calm me down… and vise versa. And I find that when I try to make her feel better, I inadvertently make myself feel a hell of a lot better, too!
We've been doing Cosmic Kids "Frozen" yoga (on YouTube) with Emma, and that's also been nice. I've really never been a big yoga person, but it requires concentration on something that isn't the pandemic, and therefore it seems to be really great for physical and mental health. (Who would have thought?!) And Mitch and I are toying with the idea of buying exercise equipment–maybe a treadmill? We'd LOVE something that folds up and can be put away, though, as we don't want it to be in the middle of the playroom… but there are so many options and we're overwhelmed so yep probs not going to do it. 🤦‍♀️
Setting Emma up with a show or movie and then cooking dinner in peace is really lovely. I'm a downright horrible cook and I'm 99 percent sure I just make things harder on Mitch when we're in there together, but sometimes I'll kick him out so he can have some time to himself, and then Lucy and I will put some tunes on and make something really basic. (Well, she just sits there. But she's good company. Technically can't say anything at this point, haha.) It's very therapeutic.
And ahhhhh, writing. As an English major, former English teacher and former editor, I have a deep love of reading. Interestingly, though, writing has brought me more solace during the pandemic. Maybe it's because I'm creating something, or because my mind seems to wander less frequently; I don't know. THOUGH WHO CARES BECAUSE I HAVE ZERO TIME AND NEVER GET TO DO IT. 😂 (I'm thinking, though, that I might start writing while Emma is working on her assignments. I know I'll be interrupted every two seconds, but perhaps it'll set a good example and maybe even be a bonding experience?! Trying tomorrow. Will update soon.) Oh, I also highly recommend watching the Jimmy Fallon and Jimmy Kimmel "at home" shows. I look forward to them every night, and no matter how messy the house is, I make time for them. They somehow seem to provide an escape while tactfully addressing serious concerns with humor.
Moving on. Who here embraces CYAG?! (Clean As You Go. That's what we call it, though I know so many people have different names for it.) I'll be honest and say it's kind of an every-other-day kind of thing for me; I'm just not Type A enough to do it all the time and it does take a lot of effort when you have one kid that kind of helps and another who almost immediately destroys your progress. But again, this adds to that sense of calm you can achieve by controlling what you can. And while I definitely let some areas of the house go on the reg, I focus my efforts on maintaining the master bedroom, kitchen and living room since they seem to affect me the most. (It's also great not to have to spend hours cleaning the house after we put the girls down. No thanks! I'd rather spend that time passed out on the couch. 😜) Every few days, I try to clean out a closet or something, too… but similarly, it's TOUGH when you have a baby crawling around at your feet undoing everything. I seriously think it took me four days just to clean out the mudroom closet because of a certain tiny person. Still, decluttering the house also seems to declutter my mind.
So yeah. That's what comes to mind. Still, if I'm being honest, I don't do these things regularly whether because of lack of time or lack of energy. Getting out of bed is difficult… and I'm just… having a hard time. But aren't we all? Which is why, to reiterate, I'd LOVE to have you chime in here and what's been helping you. Because I'm sure I forgot a lot, and chances are someone reading could benefit from hearing from you!
Please weigh in! Sorry for all the typos k thanks byeeee.
Thank you.