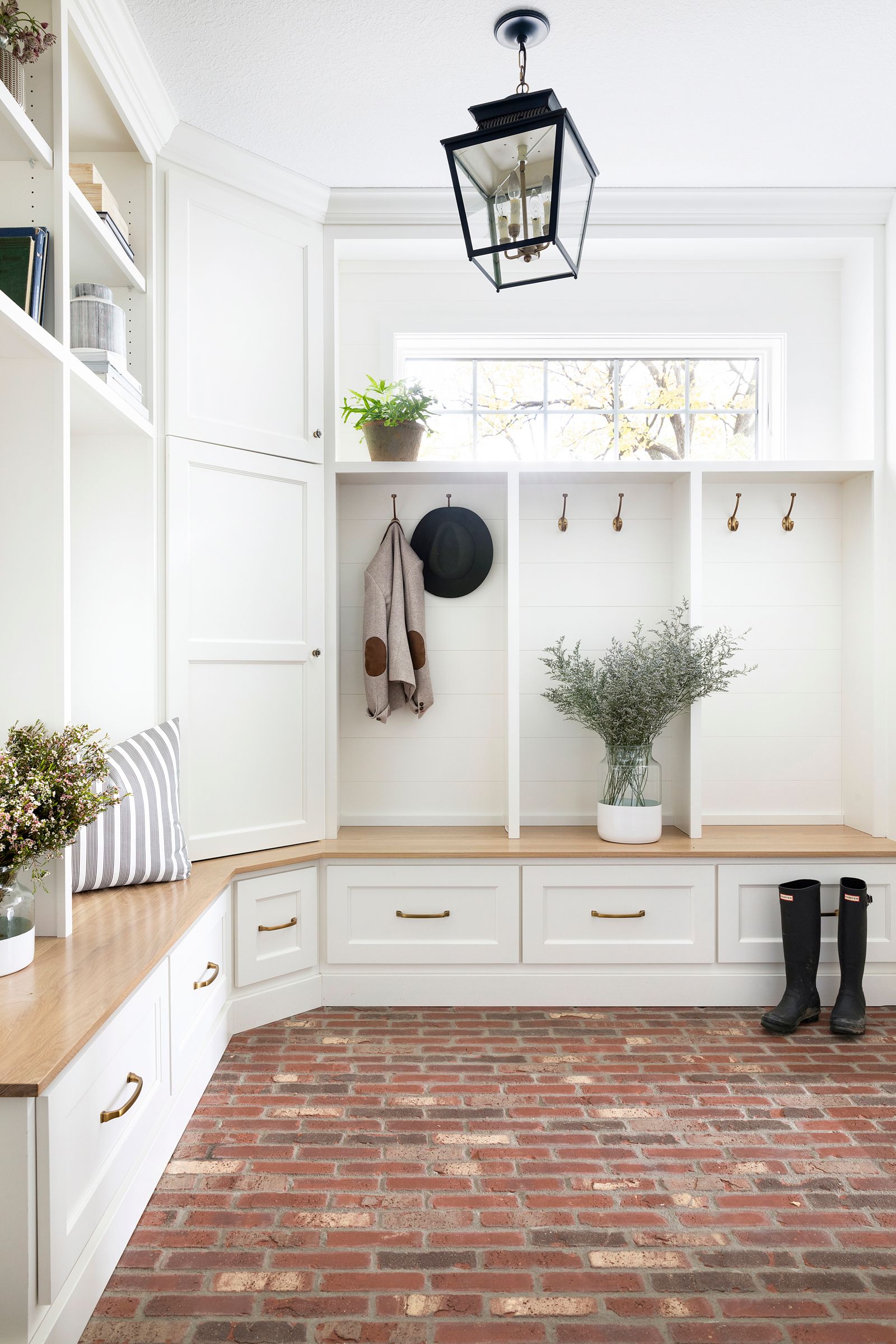 Our next big home project will likely be our tiny mudroom. (Sometime in the next year, hopefully!) It's a very small space, and the girls often fall when in there because it lacks any sort of functionality, haha.
Here's what we're thinking!
Replace current closet with cabinets: The closet that's in there now is so ridiculously deep that I can't even reach the back if it with my arm. Taking it out and putting in cabinets would recapture some floor space and give everyone breathing room when we walk in the door! For cabinetry color, probably Benjamin Moore "Ivory White" since that's what we've used in the rest of the house, including the kitchen (which the mudroom is off of). I'd love to do brass hardware to brighten things up, too!
Install a bench: This is so necessary at this stage of life with kids. Emma and Lucy are very young, and they need a place to sit down when they're putting on and taking off their shoes. We have a lot of walnut throughout our home—the mantles and the dining room buffet are all made out of it—so I'd like to continue that look here.
Hang hooks for coats: Ideally, it would be great to have five hooks—one for each member of the family, including Noodle!
Replace flooring with slate: We have slate in the girls' bathrooms and I love how classic it is. It's also fairly bulletproof. I'm thinking herringbone to give it some character!
Apologies for including so many inspiration photos, but I'm admittedly going to be using this post for inspiration when I sketch a rough plan. (I'll then give that plan to Kira David Design, and she'll fix all my mistakes and make it beautiful. 😆)
Do you have a functional mudroom that you love? Anything we should consider while planning things out?! Thanks!