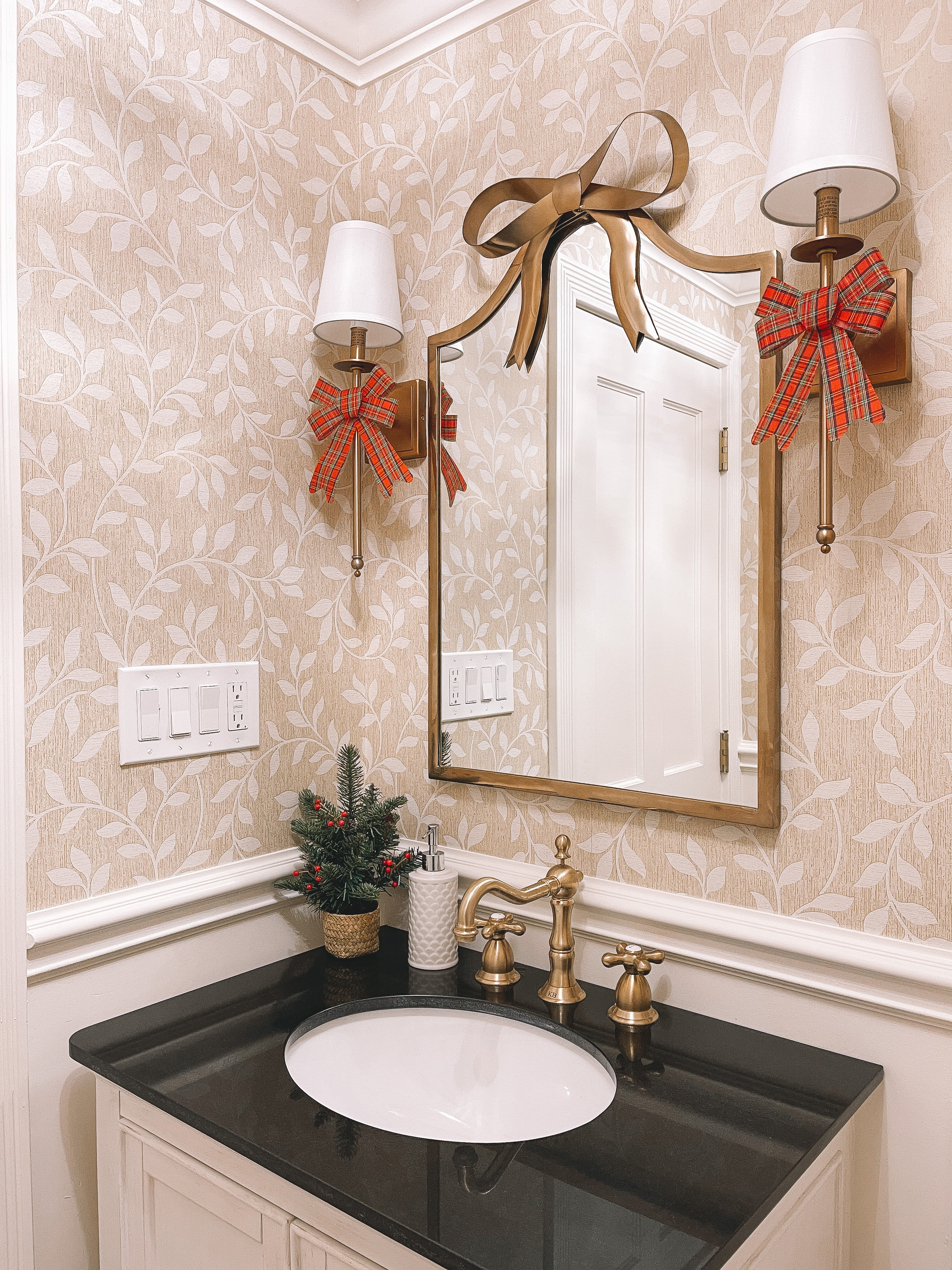 $26-Per-Roll Wallpaper (In "Wheat." Our bathroom took three rolls, which totaled $78!) / Bow Mirror / Sconces / Vanity (This one and this one are both really beautiful, too!) / Faucet / Knobs / Soap Dispenser / Mini Christmas Tree / Towel Bar + Matching Fixtures / Flush-mount Chandelier / Similar Waste Basket / Similar Christmas Tree Hand Towels
THE POWDER ROOM IS DONE.
Just in time for Christmas! :)
A few notes:
The wallpaper is only $26 per roll! Or it is while I'm writing this, at least. It's CRAZY. I spent months combing over options, and I realized pretty quickly that I wanted a creamy florally look—something you'd find in a really chic grandmother's home that could stand the test of time? I'm not sure if this is that, but I fell in love with it at first sight. I was admittedly a little apprehensive because of the ridiculously affordable price, but turns out you don't have to pay a small fortune for wallpaper. (As evidenced by my recent discovery of Magnolia Home's grasscloth wallpaper!)
The bows are a lot to take in. But it's Christmas, guys, and it's a sad year, and my mom and I both love bows. So here we are. ;) Honestly, no plans of getting rid of the mirror, either. I adore it for the space, even though it was designed for a child.
The faucet is a total steal. If you're looking, the company Kingston Brass is amazing. Looks like a million bucks but is quite affordable compared to competitors. A random Amazon find!
I may want to paint the vanity. It's a slightly distressed white, and I love it, but I might want it to match the trim. (Benjamin Moore "Ivory White #925.") Anyone have any advice on this? (Haha! I'm so bad at this stuff.) Would I need to sand?! Prime?! Or just paint? #help (Let's be serious. This likely won't happen anyway.)
I'm kind of proud! I designed this on my own! I've learned so much from Kira (of Kira David Design) over the years, and her influence and guidance is definitely the reason I felt somewhat confident tackling on my "myself." Of course, she handled installation and would have stopped me from doing something stupid because THAT'S THE KIND OF FRIEND SHE IS, but woo! Really excited. If I've learned anything from working with a designer, it's that a good one not only helps you with whatever project you're working on but imparts knowledge for future ones. And Kira's a good one. (Love you.)
Do you have any fun home projects on the horizon for 2021?!
Before ^
Shop the post:
$26-Per-Roll Wallpaper (In "Wheat." Our bathroom took three rolls, which totaled $78!) / Bow Mirror / Sconces / Vanity (This one and this one are both really beautiful, too!) / Faucet / Knobs / Soap Dispenser / Mini Christmas Tree / Towel Bar + Matching Fixtures / Flush-mount Chandelier / Similar Waste Basket / Similar Christmas Tree Hand Towels