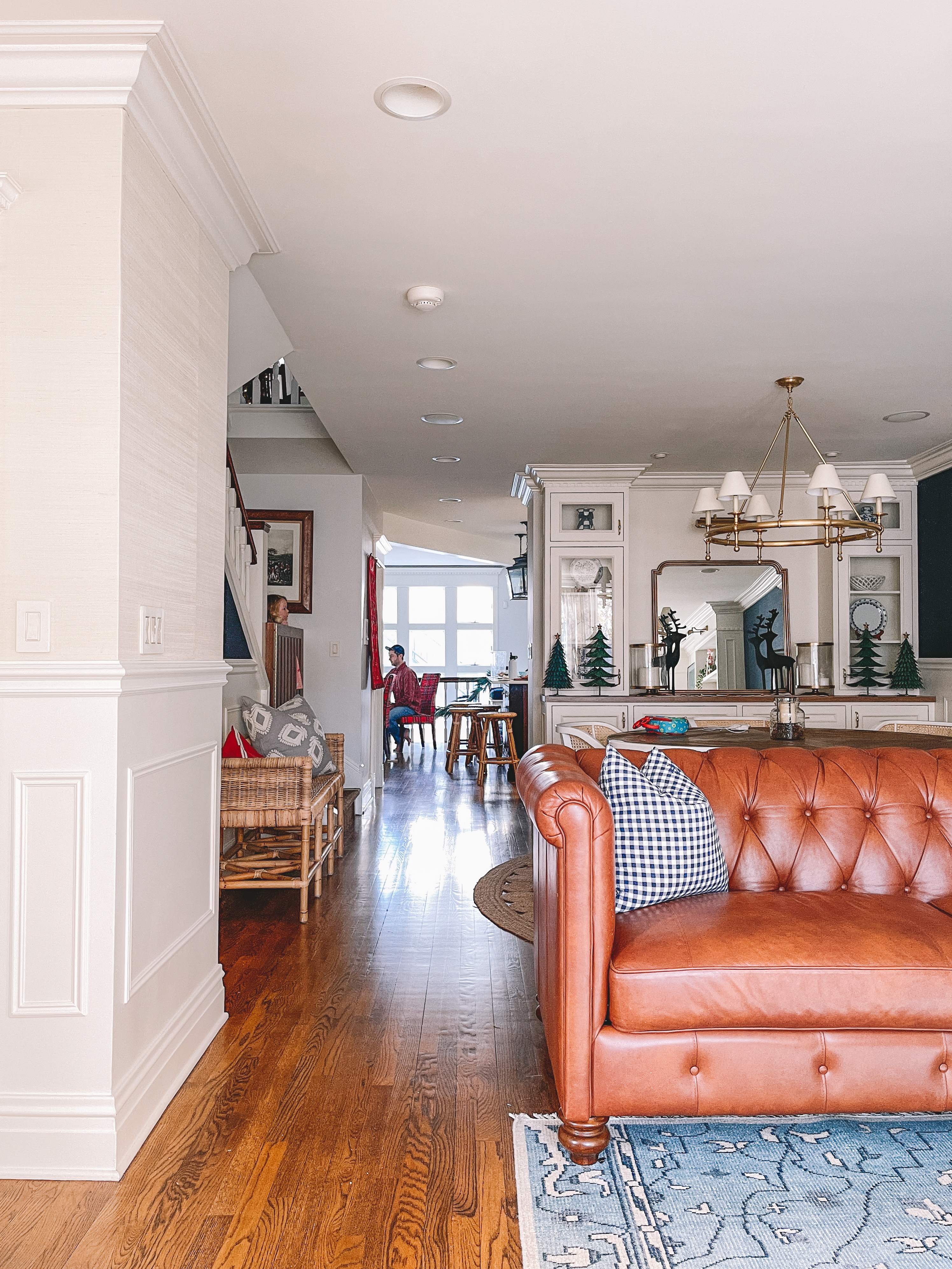 Hand-Knotted Blue Rug / Cream Grasscloth Wallpaper / Navy Grasscloth Wallpaper (Also available at Lowe's) / Chesterfield Couch (In "Steamboat Chestnut") / Round Dining Room Chandelier / Foyer Flushmount Chandelier / Bench / Similar Picture Light / Gray Pillow / Similar "JOY" Pillow (in "Merry") / Round Dining Room Rug / Dining Room Table / Dining Room Chairs (Adore Pottery Barn's version!) / Dining Room Mirror (Also have and love this option.) / Dining Room Hutch Pulls / Iron Reindeer / Metal Christmas Trees / Hurricane Candle Holders / Newer Advent Calendar / Kitchen Stools / Secretary Desk / Red Berry Trees / Artificial Cypress Garland / Similar Gingham Pillow / Toile Curtains / New Yorker Print and Frame / Trim Paint Color: Benjamin Moore "Ivory White" #925
It took me almost a year to decide on wallpaper for the living and dining rooms. 🙈 But with that one-year anniversary looming over my head, I finally ordered it.
And I'm in love! It also feels great to not be looking at unfinished walls, with the top portion painted gray and the bottom wainscoting area messily sprayed white. It really makes the place feel like home.
The reason for this post, though, is to call attention to a new-to-me wallpaper company. I did end up going with Annie Selke grasscloth for the living room grasscloth as I've loved the "Cream" color for a long time and I didn't have too much wall space to cover with it. (Serena & Lily's "Ecru" was a close second.) But woo-ee. Grasscloth can be expensive.
However, Magnolia Home carries a grasscloth option (also available at Lowe's) that's amazing—and roughly a third of the price of others out there! I've long been a fan of the Heath & Hand with Magnolia line at Target, and my mother-in-law has actually visited the Magnolia Market in Texas! So this was a great find.
And we're thrilled with the quality. There aren't quite as many color options as the Annie Selke line offers, but the Magnolia grasscloth is just as gorgeous. (We obviously went with the navy blue color!)
Note: One thing to keep in mind when installing grasscloth is that there will *always* be seams. This is just something you have to be okay with. Yes, this goes against many personality types, but luckily I'm a hot mess and it doesn't bother me! I just consider it charming. 😜
Anyway, I haven't taken a ton of photos of the "finished" spaces, but here are a few. ♥️
And if you're in the Chicagoland area and looking for wallpaper installation, try Rich Siepak! I randomly found him on Facebook years ago and he's the BEST and very affordable. He wears a mask; Mitch and I simply decided to have him come on a warm day—luckily we've had a bunch of those this month!—so we could air the place out and also leave the house during installation. (When we were home, we stayed upstairs.) We've known him for years so we really trust him! You can e-mail him at wppi98@gmail.com.
Before
Before
Shop the post:
Hand-Knotted Blue Rug / Cream Grasscloth Wallpaper / Navy Grasscloth Wallpaper (Also available at Lowe's) / Chesterfield Couch (In "Steamboat Chestnut") / Round Dining Room Chandelier / Foyer Flushmount Chandelier / Bench / Similar Picture Light / Gray Pillow / Similar "JOY" Pillow (in "Merry") / Round Dining Room Rug / Dining Room Table / Dining Room Chairs (Adore Pottery Barn's version!) / Dining Room Mirror (Also have and love this option.) / Dining Room Hutch Pulls / Iron Reindeer / Metal Christmas Trees / Hurricane Candle Holders / Newer Advent Calendar / Kitchen Stools / Secretary Desk / Red Berry Trees / Artificial Cypress Garland / Similar Gingham Pillow / Toile Curtains / New Yorker Print and Frame / Trim Paint Color: Benjamin Moore "Ivory White" #925