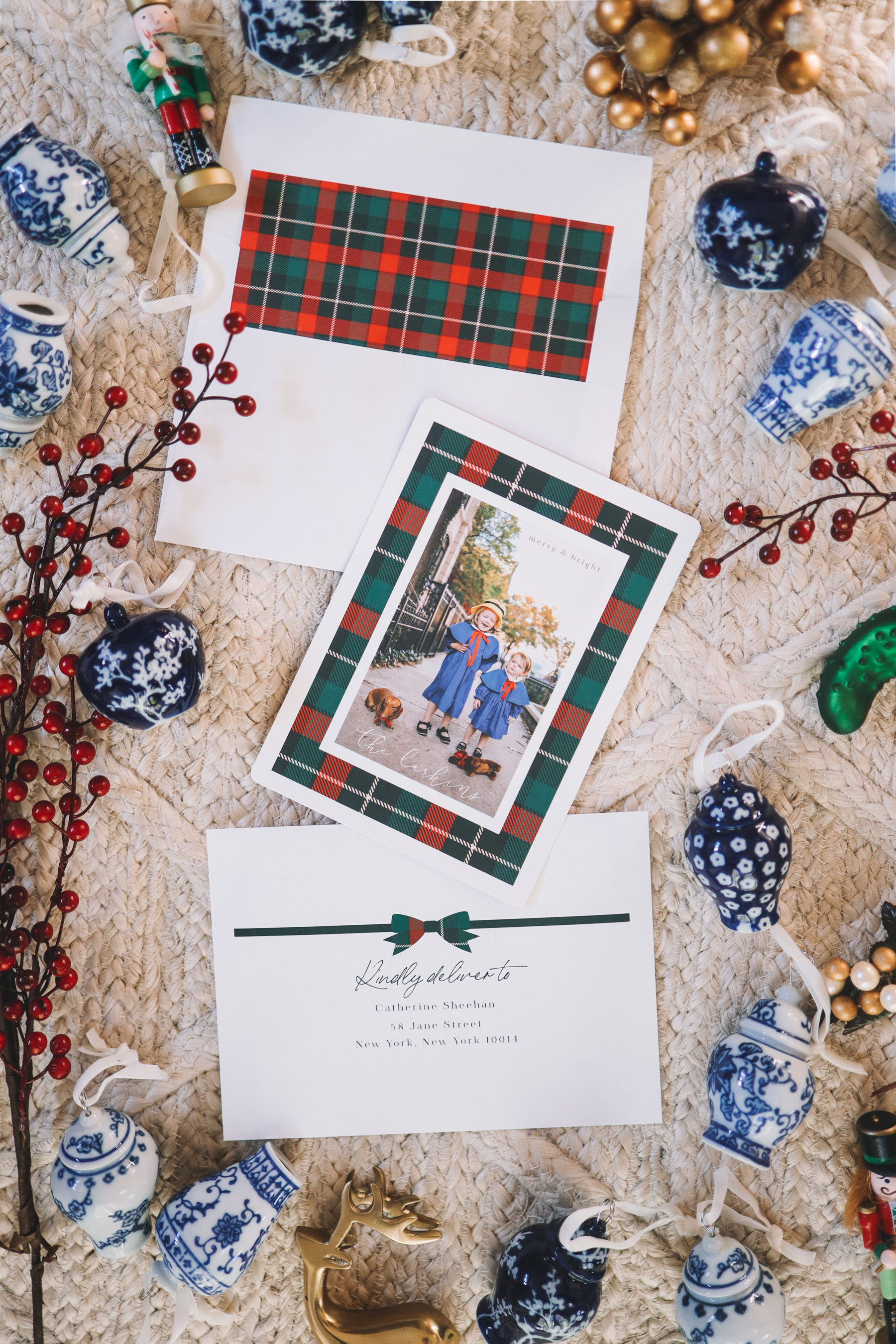 Plaid Holiday Cards c/o (20 percent off Minted holiday cards when you choose recycled paper. 15 percent off all other cards with code "JOYFUL." Ends Tuesday, 11/24.) / Artificial Christmas Tree (The Crate & Barrel Cypress line is INCREDIBLE. So lifelike!) / Ginger Jar Ornaments
Oh my GOODNESS.
I'm so unbelievably thrilled with how our holiday cards turned out! (Credit to Carly for finding them for us. ♥️)
I'm going to be writing a guide to capturing family holiday photos soon, but in the meantime, you can read this 2018 post on that subject! Obviously, though, I just kept things really easy this year and used our Halloween photos. (What? I'm tired! 😆) No regrets. I love them, and think the front picture—Lucy's expression specifically, in regard to my feelings on 2020—is perfect. 😉
We made them through Minted for an Instagram collaboration. (HAD to put them up on the blog, though, since I teared up when I opened them, haha!) Minted is a platform through which the world's premier independent artists use to sell their incredible designs. And they make holiday cards easy. Seriously, if you're overwhelmed by the thought of sending cards this year, don't be! Because you can have this little project done in the next 15 minutes.
(20 percent off Minted holiday cards when you choose recycled paper. 15 percent off all other cards with code "JOYFUL." Ends Tuesday, 11/24.)
Let's walk through the process together:
Scroll through your phone and find a nice photo of your kids, your partner, your pets, or yourself. Don't get wrapped up in this part for too long; a quick way to find gems is to check your social media accounts. That's where people typically posts their favorites, so think of it as a nice little collection of the year's best!
Peruse the thousands of custom designs available on Minted, and use the site's search function to narrow choices. Don't overthink this part, either. See something you love? Go for it. It's just a Christmas card. ;) Christmas cards that exist > Christmas cards that don't.
Utilize the customization options, which include different color themes, foil sheens, silhouette shapes, card stock, fonts, card back patterns, envelope inserts, and even stamps. Once again, do not spend hours on this. Go with your gut and commit.
Upload your mailing list and select the option to have the addresses printed on the envelopes for you. (DO IT. If you have kids or are ever busy, it's likely the only way that you'll ever actually mail them! The coolest part is that you can e-mail your friends and ask them to input their addresses for you. And people do it! It's wild. Thank you to all my cousins who participated in this. You guys move a lot, and this was very helpful. Also, Cassidy, your Tribeca address is INSANE. #jealous)
If you're an organized person, choose standard shipping. If you're like me, expedite.
Receive, put cards in envelops, stamp 'em, and drop in the mailbox.
Pop the champagne. Or wine. Or tequila.
Are you doing holiday cards this year?! Have you ever ordered them and not sent them out? In an effort to be totally transparent, I've done that twice thus far, and Emma's only four years old. :)
Good luck!
(Oooooh! I should note here that one of the coolest parts about the company is that anyone can become a Minted artist. Our friend Blair actually challenged herself to learn to paint a few years ago, and today, she's an award-winning member of the community! It's so impressive, and so cool that Minted provides her with discoverability. Fantastic, right?!)
Shop the post:
Plaid Holiday Cards c/o (20 percent off Minted holiday cards when you choose recycled paper. 15 percent off all other cards with code "JOYFUL." Ends Tuesday, 11/24.) / Artificial Christmas Tree (The Crate & Barrel Cypress line is INCREDIBLE. So lifelike!) / Ginger Jar Ornaments