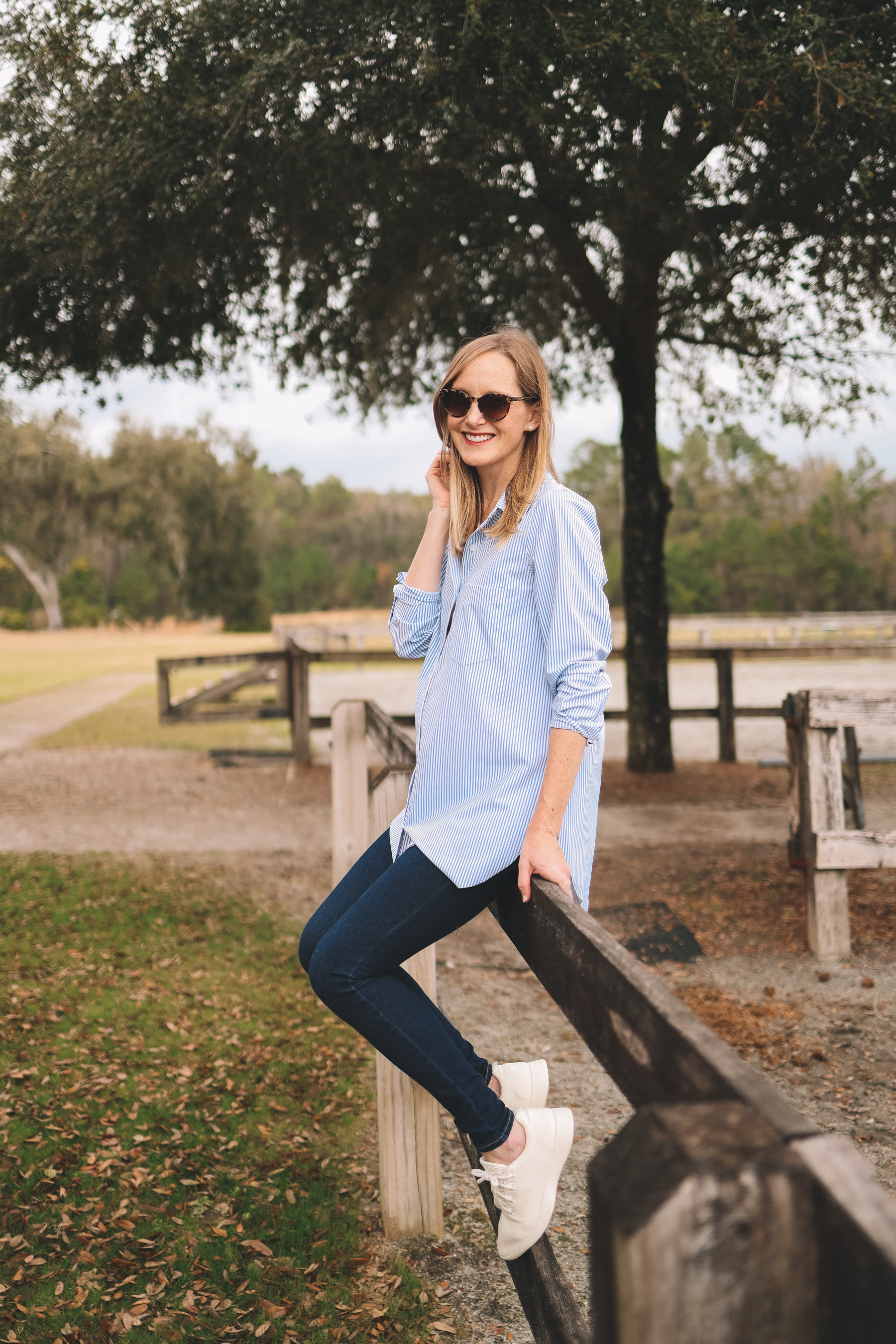 No-Wrinkle LYSSÉ Schiffer Shirt (On sale here for only $27! Great for travel! Full review here. Also available via Zappos, Nordstrom, Tuckernuck and Amazon.) / Allbirds Machine-Washable Sneakers / Old Navy Rockstar Jeans (Maternity version here. SWEAR by these!)
Hello from Sea Island, Georgia! We're guests of Sea Island Resort this week, and we're having a total ball. I'm going to do a ton of posts on what we've been up to because there's so much to for families (and I have a zillion photos to share 😜). But I wanted to quickly hop on today to talk about my new Allbirds sneakers, since I told you recently I was going to purchase them to see what all the excitement was about!
Allbirds Sneaker Review
First, I should note that yes, I wore white sneakers to visit horse stables. 😂 (Sea Island has over 60 horses! More on the experience soon.) I normally wouldn't have done this, but I admittedly didn't pack for an equestrian day, and sneaks seemed better than flats, pumps or sandals. ;) And I have to say: it was great not worrying about them, since Allbirds are machine-washable.
But let's get to the FAQS:
Allbirds are machine-washable, soft wool sneakers that are ultra comfy and cozy.
Because they're made of wool, are they itchy?
This was my #1 concern when I bought them. I'm pretty sensitive to wool, and I itch all over in a wool sweater, for example, unless I have a shirt on underneath. I figured the same would be for Allbirds, but I was so pleasantly surprised! The material doesn't feel like wool at ALL; it more so feels like a soft felt. I've experienced absolutely no itch or discomfort.
Do you wear them with or without socks?
Both ways! I've worn no-show socks with them (namely while going through security at the airport), and I've worn them without anything. I can't say I really have a preference! Because Allbirds are so soft and cozy, it kind of feels like I'm wearing socks even when I'm not.
Do your feet overheat in them?
Mine don't. (It was in the 70s here in Georgia when these photos were taken yesterday, btw.) The Wool Runners are designed to keep you warm when it's cold, and cool when it's hot!
I will say, however, that I'm almost always chilly. If you tend to overheat easily, you might want to try the Tree Runners, which are designed for warmer temps.
Do they eventually start to smell if you don't wear socks with them?
While a couple of readers have told me that theirs have, mine haven't yet. (That said, it's February and I've only owned them for a couple of weeks.) The material minimizes odor and wicks moisture, which is really nice. If they do start to smell, though, you can throw them in the washing machine!
How do you machine wash them?
It's really easy! All you do is remove the insoles and laces, and then put the sneakers in a delicates bag. Wash on gentle (or "wool") with gentle detergent. (My favorite is Arm & Hammer because it smells SO good.) Just make sure to air-dry them, as the dryer will wreck them.
I've washed my Allbirds once so far because I spilled coffee on the left shoe almost immediately. They came out looking brand new, which was awesome! I can't believe I'm a mom who can wear her white sneaks without worry!
How do they run?
Allbirds run in full sizes, so if you're in between, size up. I wear a size 7.5 and went up to an 8, and they're perfect. They don't feel too big at all!
How comfortable are they?
VERY. Up until this pregnancy, I haven't really been a sneaker-wearer, but I think I'm a convert. I can't get over the fact that when I wear them, I don't notice that I'm wearing shoes. Normally, my biggest problem with shoes is rubbing around the toe area or in the heel, but I haven't experienced that with my Allbirds at all. So nice! They also provide a good amount of support, which was a lovely surprise, and the padded insole has been super helpful in the third trimester. :)
Can I wear them while working out?
They're not recommended for workouts. They're really just a "see the world and be comfy and look cute" kind of sneaker. Still, you can get by with 'em if you're in a pinch. (For example, forget your running sneakers while on vacay? Allbirds are fine for a day or two. Though why are you working out on your vacation?! Kidding. I wish I had your dedication. 😜)
I'm going to do a full comparison soon, but in short, I think it's mostly a style preference. Both are machine-washable and made out of soft, comfortable fabric… and both are adorable. But the Allbirds are obviously way more sporty, and the Rothy's are a bit preppier and more classic-looking. At this point, I'm kind of leaning towards saying that I like the Rothy's sneakers more, only because I'm not the most athletic girl, haha… but I do think Allbirds keep my feet warmer back home in Chicago, and that they provide for better mobility. (Great for running after Emma at museums or playgrounds, for example!) Either way, though,  you can't go wrong.
Can I get them for my husband and children?
Why yes, you can! Here are the men's shoes and here are the children's. I'm hoping they come out with white kids' sneaks, as I think they'd look adorable on Emma. :)

Additional questions? Let me know in the comment sections below!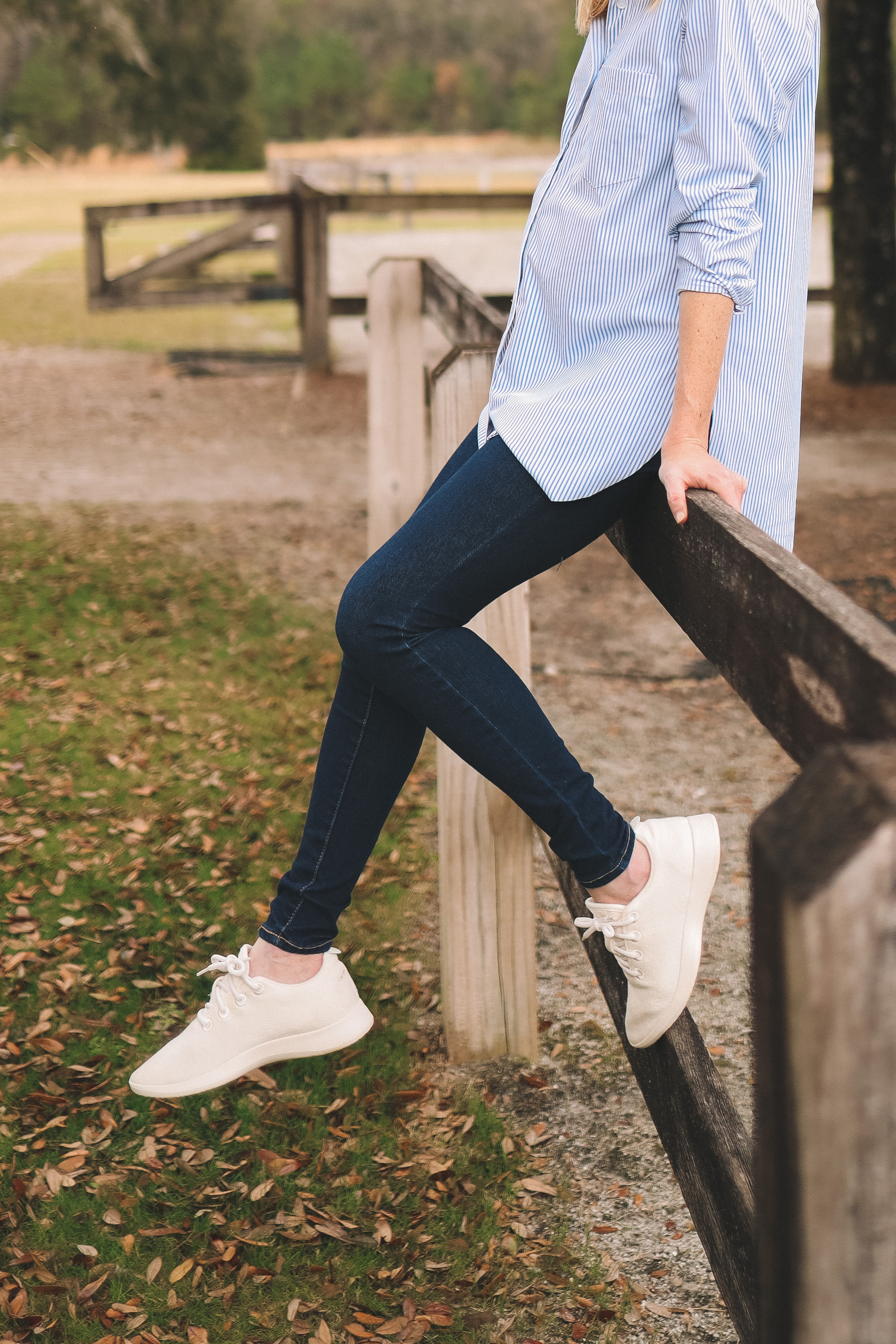 Shop the post:
No-Wrinkle LYSSÉ Schiffer Shirt (On sale here for only $27! Great for travel! Full review here. Also available via Zappos, Nordstrom, Tuckernuck and Amazon.) / Allbirds Machine-Washable Sneakers / Old Navy Rockstar Jeans (Maternity version here. SWEAR by these!)