My approach to Christmas outfit ideas this year is to keep it simple! That's why all of these Christmas outfit ideas are made up of mostly versatile pieces that can be reworn throughout the rest of the winter.
A Touch of Tartan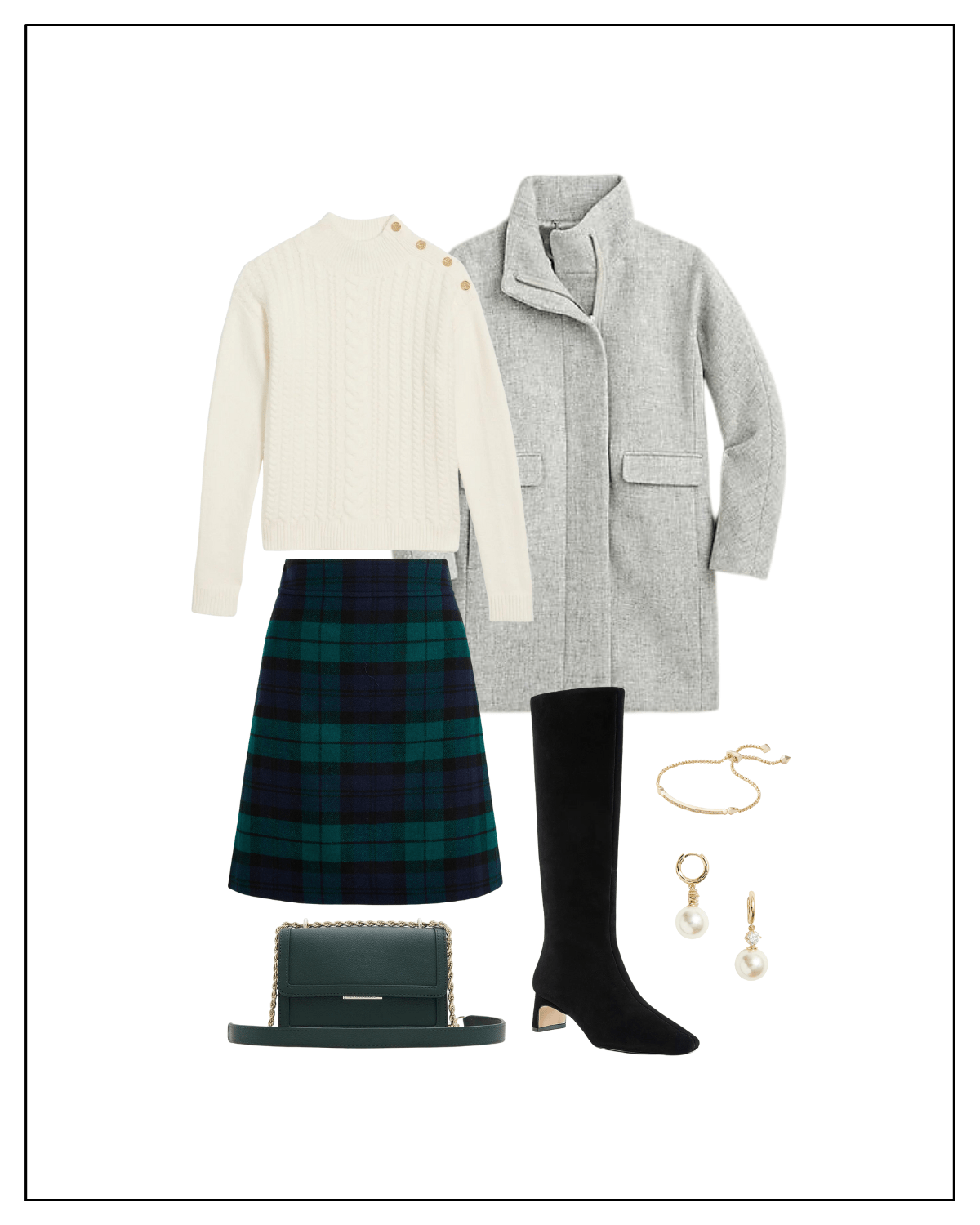 Cream Cableknit Turtleneck Sweater / Black Watch Plaid Skirt / Grey Cocoon Coat (50% off with code SHOPNOW) / Crossbody Bag / Black Suede Boots (30% off with WINTER30) / Gold Bracelet / Pearl Earrings
This black watch plaid skirt is under $40 and is such a wonderful winter staple. I love how it looks styled with tall black suede boots, which are on sale for 30% off. Pair it with a cream cableknit turtleneck sweater; the gold buttons on this sweater are a gorgeous accent. Layer a grey wool coat for some warmth; this coat is also on sale for 50% off. And accessorize with a crossbody bag (under $100), a gold bracelet, and pearl earrings.
A Little Faux Fur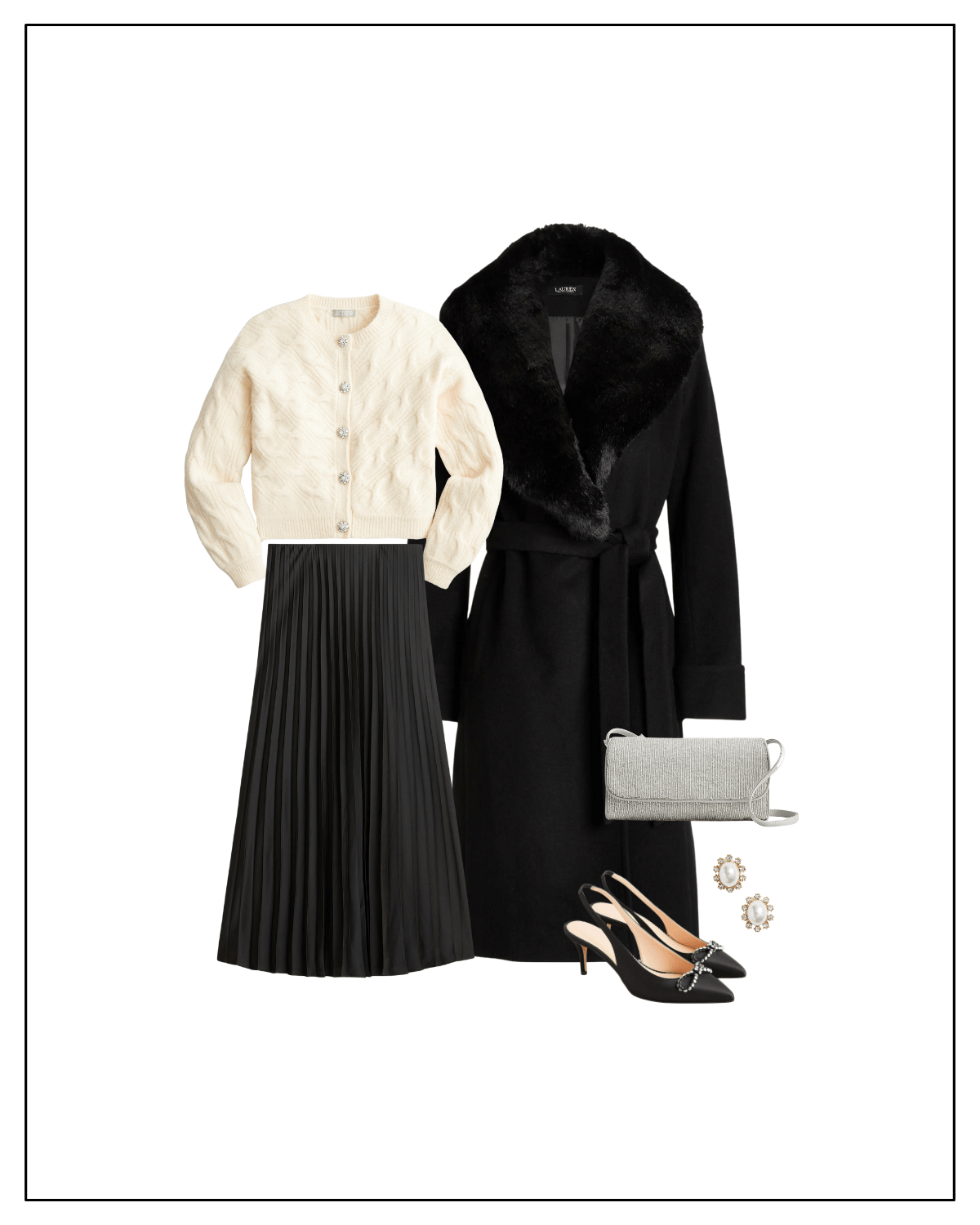 Cable Knit Cardigan Sweater with Jewel Buttons (30% off with code SHOPNOW) / Black Pleated Midi Skirt 30% off with code SHOPNOW) / Black Belted Faux Fur Collar Wrap Coat / Silver Clutch (50% off with code SHOPNOW) / Black Bow Heels (50% off with code SHOPNOW) / Crystal and Pearl Stud Earrings
A black and white outfit is always elegant. Start with a cable knit cardigan sweater; the sparkly jewel buttons are a lovely festive detail. Wear it with a black pleated midi skirt, another wonderful piece you can rewear throughout the rest of winter, and a faux fur collar wrap coat. Accessorize with a silver clutch, pearl earrings, and black bow heels to tie together the look.
Festive Red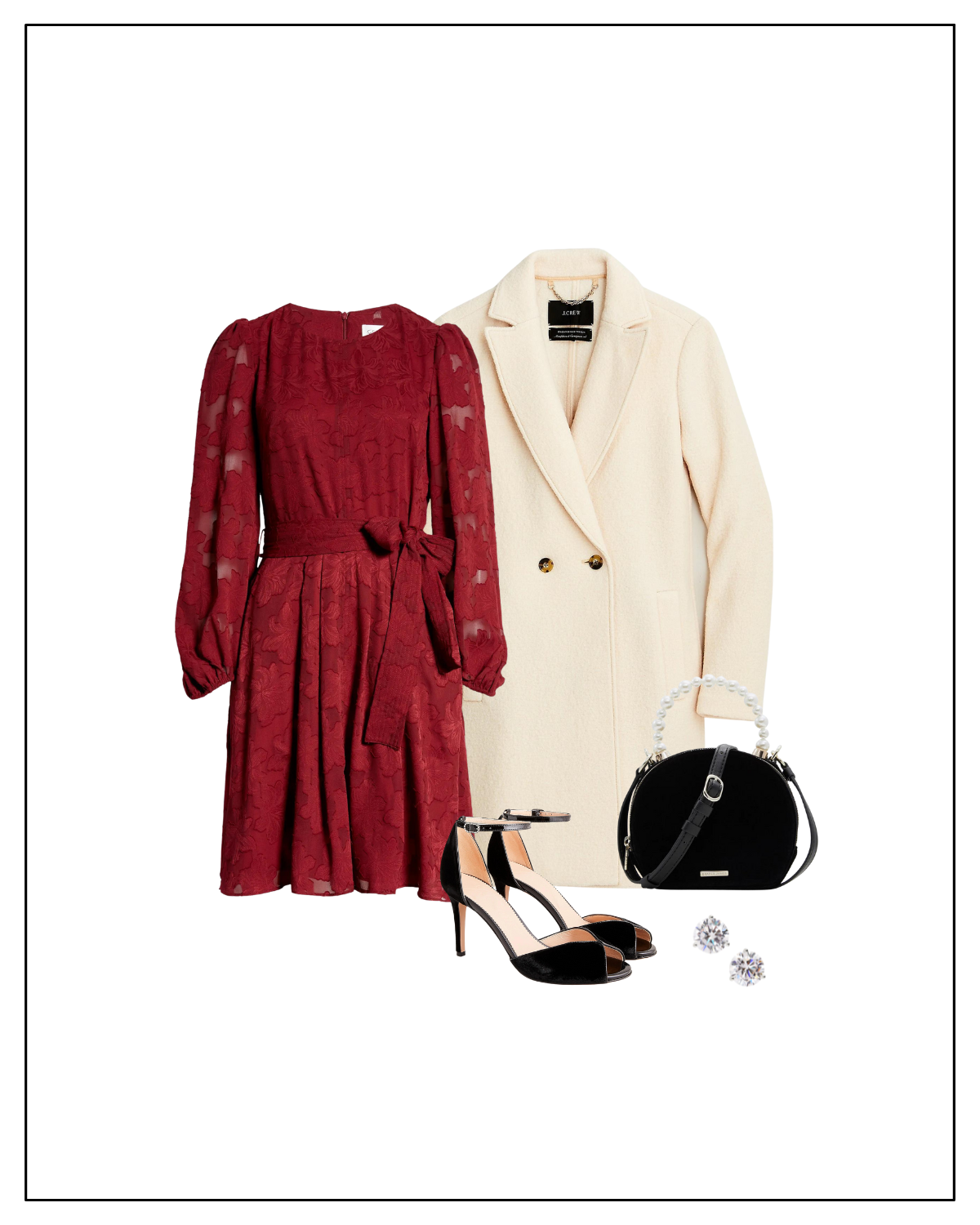 Red Floral Long Sleeve Dress / Ivory Wool Topcoat (50% off with code SHOPNOW) / Pearl Top Handle Crossbody / Black Velvet Heels (30% off with code SHOPNOW) / Cubic Zirconia Stud Earrings
This red floral long-sleeve dress is a beautiful holiday dress, but it can also be worn in the fall and winter. Style it with an ivory wool topcoat; this one is wonderful and 50% off. Accessorize with black velvet heels, a matching pearl handle velvet bag (under $100,) and sparkly cubic zirconia stud earrings. For even more outfit ideas check out these 3 Holiday Party Outfit Ideas.