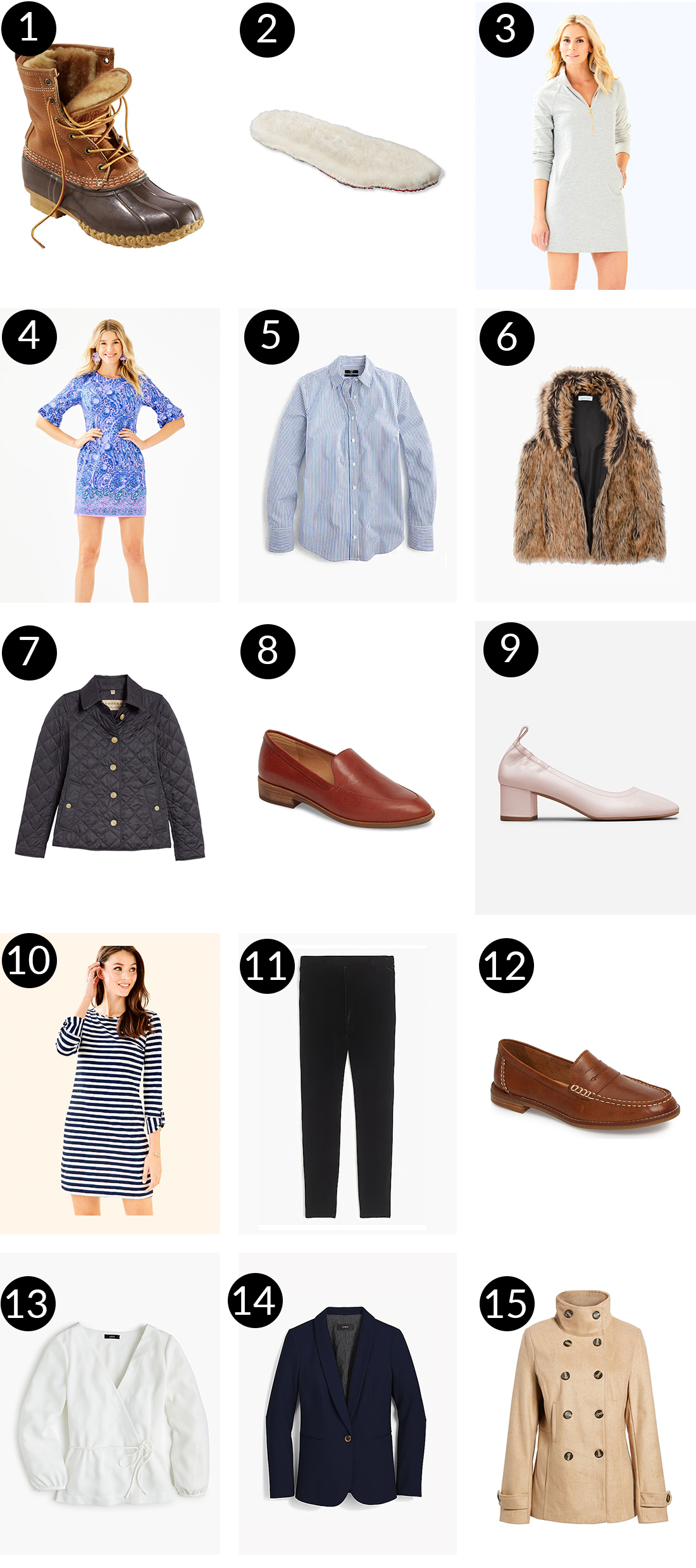 I'm a little late to the game, but I wanted to put together a post of my readers' most-loved products from 2018. It's so interesting to go back and look, and I loved that your favorites are my favorites! So, without further ado, here are the top 100 products! (Mostly broken up in sets of 15 to make things a little more digestible. 😜)
100 Most-Loved Products of 2018 – 1 to 15
1. L.L. Bean Shearling-Lined Tumbled Leather Boots: I'm a broken record here, but these are the best boots that L.L.Bean makes. They get me through the *toughest* and coldest Chicago winters, and yes, they're as warm as my Sorel boots! (Which are on sale, btw.) For the L.L.Bean boots, size down. If you're a half size, go down a half size… and if you're a whole size, go down a whole size. (Sounds wonky, but this is what L.L.Bean recommends, and they're spot on.) So if you're a 7.5, size down to a 7. If you're an 8, size down to a 7. Here's my full guide to buying Bean Boots.
2. Shearling Insoles: These just make them even cozier!
3. Lilly Pulitzer Popover Dresses: My go-to dress when I'm down the Shore because it can be dressed up or down. (I typically wear mine with flip flops!) They run large, so size down.
4. Lilly Pulitzer Fiesta Dress: One of the most flattering dresses I own; always get a ton of compliments when I wear it! It's a great cut.
5. J.Crew Slim Stretch Perfect Shirt: This shirt comes in a ton of different colors/patterns, and it's a staple in my closet. I go up one or two sizes because I love my button-downs oversized!
6. Madewell Frances Loafer (Available here, too.): If you don't own these loafers, you're missing something from your life. Wildly comfy and appropriate for the office, you'll never want to take them off! Here's my full review.
7. Tuckernuck Biltmore Faux Fur Vest: I searched for YEARS for the perfect fur vest, and this is it.
8. Burberry Quilted Jacket: I've had this jacket for so long, and I know I'll always have it. Yes, it's an investment, but you'll never need to replace it. So worth it!
9. Everlane Day Heel: This is one of Everlane's top-selling shoes, and for good reason! I will say that the backs start to bother me after hours upon hours of wear, but it's really not that bad. The leather is unbelievably soft and that chunky heel provides for ultimate comfort. Here's my full review. (And here's my full review of the Day Boot.)
10. Lilly Pulitzer Marlowe Dress: Every girl needs a classic striped t-shirt dress in her closet. The Marlowe is my favorite cut!
11. J.Crew Velvet Leggings: They look fancy but in reality they're just super warm PJ pants, haha. WIN!
12. Sperry Seaport Loafer: Okay, these are even comfier than the Frances… making them my #1 loafer pick. They have more of a casual, preppy, university feel. The classic loafer! But yeah: they're like walking on clouds.
13. J.Crew Drapey Crepe Faux Wrap Top: Love that J.Crew keeps bringing this top back because I rely on it for nights out so much when the weather cools off. It comes in a ton of colors, and looks adorable with a cute bootie or chunky heel… or paired with a blazer!
14. J.Crew Parke Blazer: I actually don't own this one, but it's super popular and such a classic.
15. The $38 Pea Coat: The price is unreal! This is not a winter coat; it's more of a light fall/spring piece. But I'm obsessed with it. Here's my full review!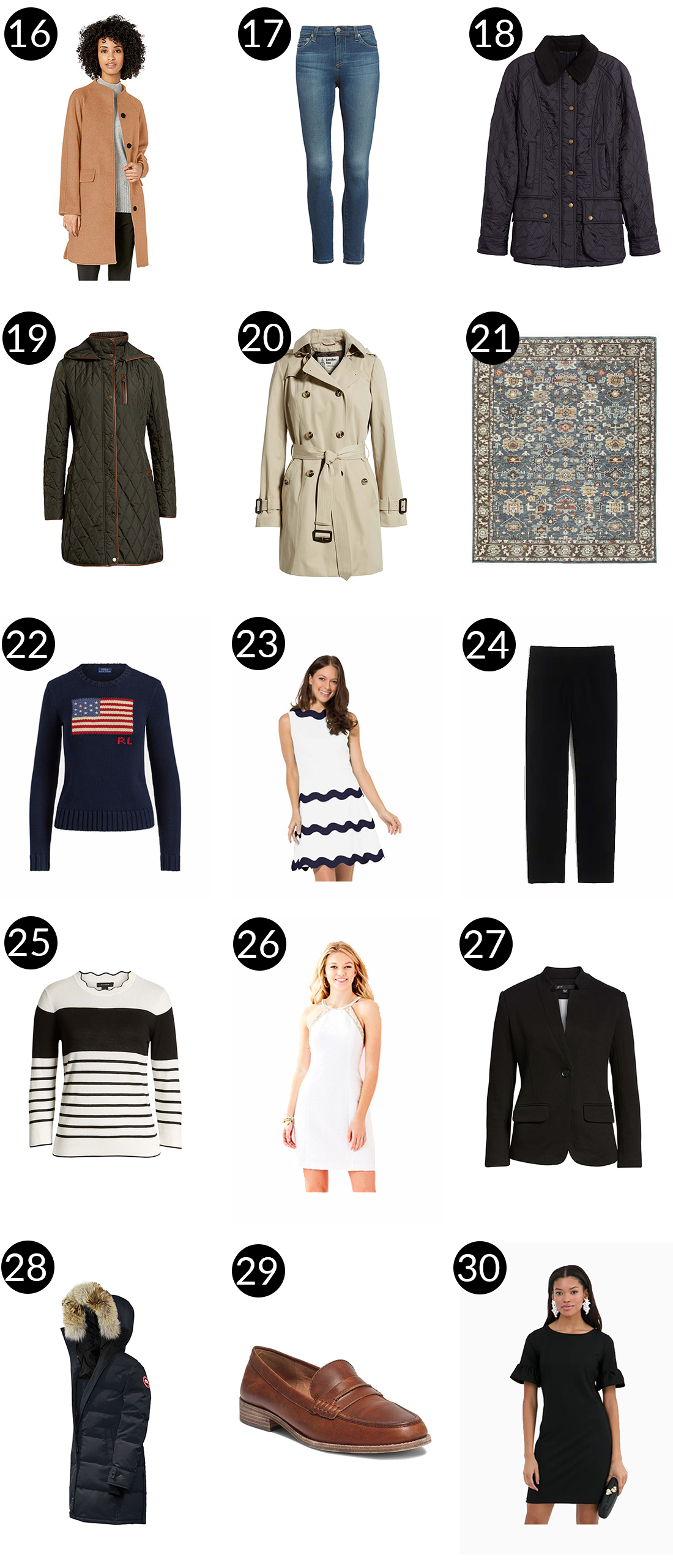 16. The Camel Topcoat: I have a J.Crew one, but I recently discovered this one on Amazon and I adore it. What a steal!
17. AG "The Legging" Ankle Jeans: I can't wait to wear these jeans again! They're crazy comfy and flattering; definitely the nicest pair of jeans I own.
18. Barbour Quilted Beadnell Jacket: YOU NEED THIS. I've been lucky enough to have worked with Barbour many times over the years, and because of that, I've tried a lot of Barbour jackets, haha. This is, without a doubt, my absolute favorite. It has the same cut as the classic Beadnell, but because it has a polar-quilted liner, it's SO MUCH WARMER. I really can't recommend it enough. It goes everywhere with me!
19. Ralph Lauren Quilted Jacket: This is a great jacket, and Ralph Lauren brings a version of it back every year. It's so slimming and polished-looking, which I feel like is hard to do with a quilted jacket.
20. Super Warm London Fog Trench Coat: Best trench in the world, because it has a quilted liner. I love the look of trench coats, but until I found this one, couldn't wear them because I shivered too much in them. The best part about the London Fog trench is that the liner surprisingly doesn't add much bulk, but *does* add a ton of warmth. Huzzah!
21. Pottery Barn Blue Rug: Mine is slightly different, but sold out. But this, though, is so close, and it's gorgeous! Pottery Barn rugs are so worth the money, IMHO. We have ours in a crazy high-traffic area and it's held up wonderfully. Life-saver!
22. Polo Flag Sweaters: Definitely my favorite Ralph Lauren product of all time. :)
23. Sail to Sable Ric Rac Dress: It's back! I wore it in this post, if you missed it. I'll always love it!
24. J.Crew Factory Drapey Pull-On Pant: These are my favorite dress pants of all time. Here's my full review.
25. Nordstrom Scalloped Sweater: It comes in a bunch of different colors and goes with everything!
26. Lilly Pulitzer Pearl Shift Dress: This is my favorite cut of fancier Lilly dresses. It's unbelievably flattering! My go-to dress for summer weddings. :)
27. Nordstrom Cozy Blazer: I struggle with blazers sometimes because they don't provide as much warmth as sweaters do. This one is the perfect compromise! I can wear a cami with it and remain cozy and warm. :)
28. Canada Goose Parkas: Yes, they're insanely expensive, but if you live in Chicago where temps sometimes dip into the -50s (?!?!), you kind of need one. I find that they run small; I went up one size.
29. Madewell Elinor Loafer: Another great loafer option!
30. Tuckernuck Wrinkle-Resistant Sailor-Sailor Dresses: These are great for travel since they come out of my suitcase wrinkle-free. I hate ironing while on vacation!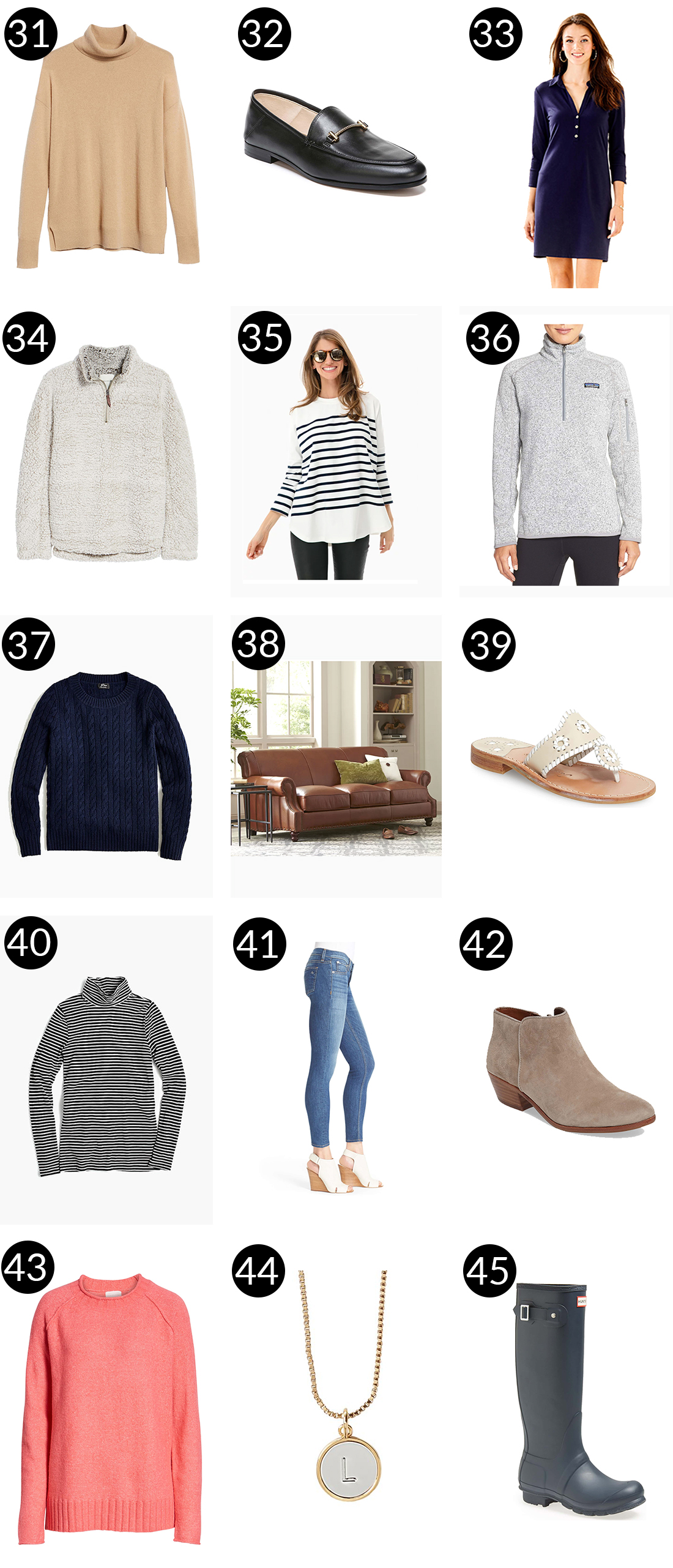 31. Nordstrom Halogen Cashmere Sweaters: Most of my cashmere sweaters are Halogen. You can't beat the price!
32. Gucci Loafer Lookalikes by Sam Edelman: Very comfortable and look SO much like the real thing.
33. Lilly Pulitzer Timeless Navy Dress: I wore this dress constantly this past summer. Love that it can be dressed up or down.
34. Wubby Fleece Pullover (Also here): Yes, it adds a little bulk to one's frame, but it's SO COZY. Makes for such a great gift, too.
35. One-Size-Fits-All Tuckernuck Stripe Swing Top: It's BACK! It's just as wonderful as everyone says it is. I wear mine year-round, and it goes on every trip I take.
36. Patagonia Better Sweater Quarter Zip: Another staple. (Actually, Mitch and Emma have one, too!) Runs a little small; I recommend going up one size.
37. J.Crew Cable-Knit Cashmere Sweater: Was so happy when J.Crew brought back the classic cable-knit cashmere sweater without an emblem on it. They're hard to find!
38. Birch Lane Landry Leather Sofa (Also here): MAGIC COUCHES. We've had ours for several years now, and they don't have a single scratch. And we have a miniature dachshund and a toddler! They honestly look brand new. They're so awesome that my parents, brother and best friend from NYC all bought them, haha. (Also, you don't have to worry about spills anymore with these couches. Emma spills stuff on them all the time, and we just wipe 'em off! It's wonderful.)
39. Jack Rogers Whipstitch Sandals: Everyone needs a pair. I wear mine to the beach, to casual events and to fancier ones. They're so versatile! Jack Rogers also improved the soles a few years ago, and they're now so much comfier. I'm loving the "bone" pair right now, but my white pair is what I usually reach for. Thoughts?!
40. J.Crew Tissue Turtlenecks: What I wear when I need something that'll tuck in. You need a striped one, a navy one, and a black one–at least!
41. Rag & Bone Ankle Jeans: The comfiest jeans I own. They are LIFE, and I couldn't survive motherhood without them. They're called "Capri" jeans, but they're not capri jeans… they're ankle jeans. (Terrible name, haha.) Fantastic!
42. Sam Edelman "Petty" Chelsea Bootie: This was my most-worn bootie for years. Love it in both colors. That said, my current obsession is the Everlane Day Boot.
43. Caslon Cozy Crewneck Sweater: A hidden gem! It's SO soft and cozy. A great basic.
44. Mark & Graham Stamped Charm Necklace: This is my most meaningful necklace, as it has all three of our initials on it. I've given this as a gift so many times, and it always goes over so well! It's reasonably priced, too. I can't wait to add a fourth initial!
45. Hunter Boots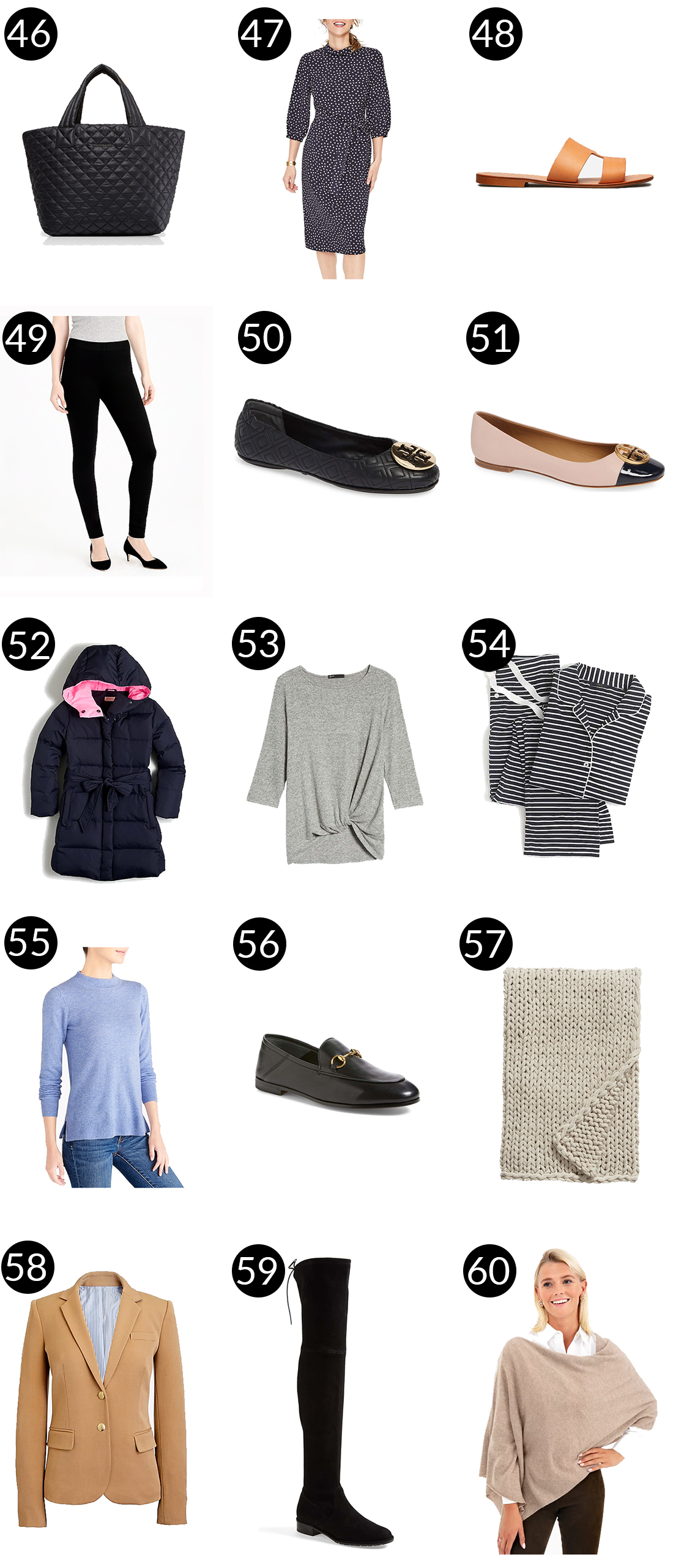 46. MZ Wallace Metro Tote: Sorry I keep talking about this bag, but it's BACK IN NAVY In both medium and large! I use the medium as a day-to-day bag, and the large as a travel and/or baby bag. Love that the large fits perfectly under an airplane seat or under any stroller, and that it doubles as a pillow. ;) MZ Wallace doesn't advertise this, but I've also machine-washed mine several times and it comes out looking like new, even with the tiny leather accents. I'm such a fan! Be sure to grab the navy before it sells out again.
47. Boden Dresses at Nordstrom: Fantastic classic and conservative (yet super fun!) dresses. I always get a couple of new ones every year; the t-shirt material ones with pretty detailing are my favorite because they're amazingly comfy yet look fancier than an ordinary t-shirt dress. Great for date nights!
48. Everlane Bridge Sandal: BRING THESE BACK, Everlane! Don't worry. They will. ;)
49. J.Crew Factory Gigi Pants: Awesome ponte pants.
50. Tory Burch Minnie Flat: I'm still SO into Tory Burch shoes. Thoughts?
51. Tory Burch Cap Toe Flat: Chanel look-alikes for a fraction of the price! Great quality, too.
52. Girls' Navy Puffer Coat on Major Sale: So fun that Emma's favorite coat made the list! This is a must for any tiny Chicagoan. ;) It's wonderfully soft!
53. Nordstrom Twist-Front Cozy Pullover: A fun twist on a casual weekend/lounge top.
54. J.Crew Dreamy Pajamas: The only pajamas I wear. They're so soft and cozy yet I don't overheat in them!
55. J.Crew Factory Cashmere Mock Neck Sweater: One of the most flattering and more substantial cashmere sweaters I own! I have it in gray and light blue, and I think I need the black… Non-maternity, but they work great with the bump, too.
56. Gucci Brixton Loafers: HOLY MOLY. They're a fortune. But they're butter shoes. Here's my full review.
57. Treasure & Bond Rope Throw Blanket: Here's the blanket you see all over Pinterest and Instagram!
58. J.Crew Factory Schoolboy Blazer: This is the most classic-looking blazer ever. I wore it here! (Some of my favorite photos ever. I can't wait for warmth to return to Chicago!)
59. Stuart Weitzman Lowland Boots: Another splurge purchase. They're amazing; they don't fall down, even if you have slim calves, and they're by far the comfiest OTK boots I've ever tried. That said, I was gifted them through a blog collaboration, and I'll readily admit that I would never spend this much $ on suede boots on my own. Looking for an alternative? I have and love these from Cole Haan (on sale!), and I'd also look into this Sam Edelman pair and this Steve Madden pair, which is on CRAZY SALE.
60. Tuckernuck Cashmere Topper: This has survived every closet clean-out! I wear it over cute white tops, and it really makes the outfit. One size fits all. Stunning quality. Another great gift idea!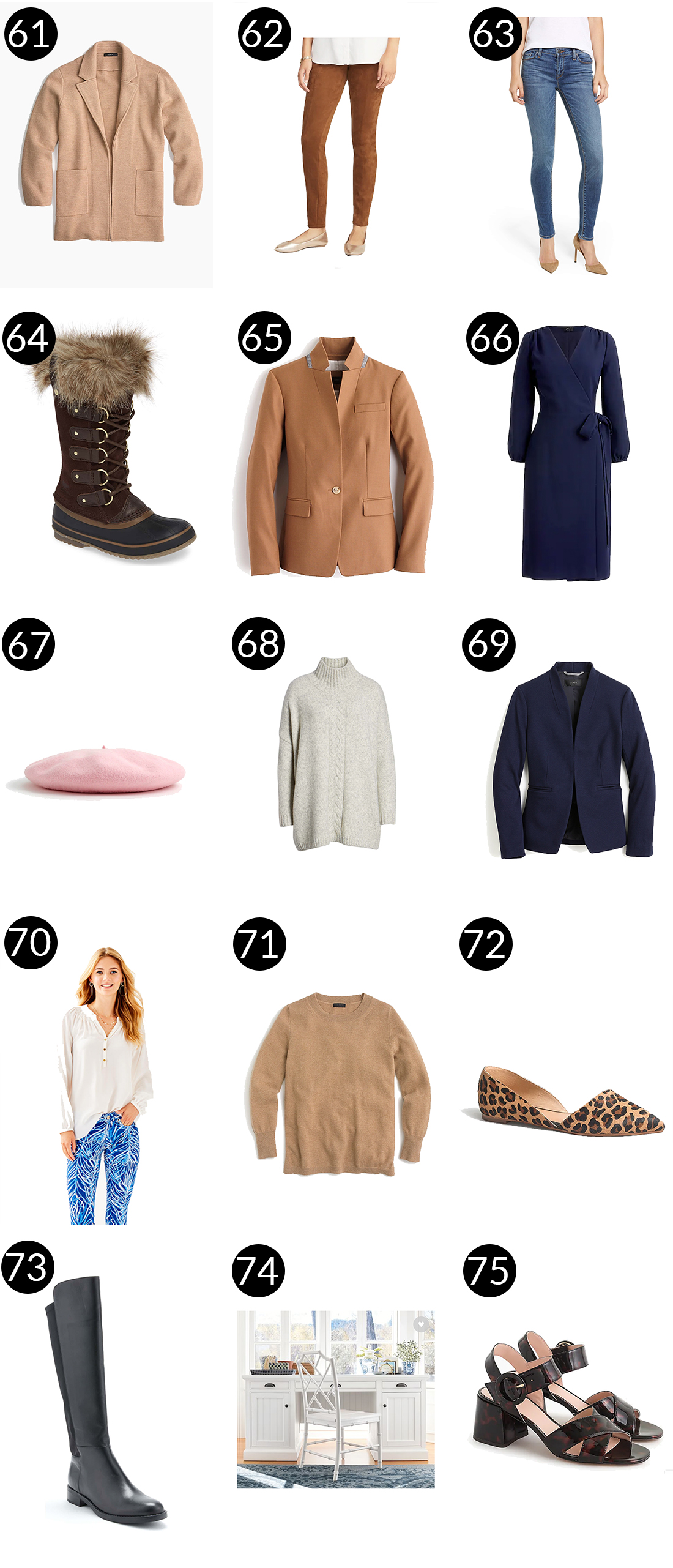 61. J.Crew Sweater Blazer: LOVE. Have it in camel and light pink, and just ordered the gingham. Keeps you warm but gives you that polished blazer look. Runs big; size down.
62. Old Navy Stevie Pants: The best deal on suede pants EVER! They're insanely comfy, too. Great job, Old Navy. (You can get them in non-suede, too.)
63. Hudson Krista Skinny Jeans: Another favorite pair of jeans. The Krista cut is so, so good.
64. Sorel Boots: They're on sale! These are the boots I wear when we're under a ton of snow and up against scarily low temps. My dad used to wear the men's version when he flew for the Air Force, and he swears that they're the only reason he still has his toes. ;)
65. J.Crew Regent Blazer: My personal favorite blazer of all time!
66. J.Crew Wrap Dresses: These are great. They're perfect for the office, but you can also wear them to dinner, events and even weddings! I love the leopard and navy.
67. J.Crew Wool Beret; Don't think you can pull off a beret? You CAN. Just put it on! I swear it'll make your outfit look a zillion times cuter. Do it!
68. French Connection Ora Sweater: My heaviest sweater, I believe, and what I reach for when things get dire in Chicago. ;)
69. J.Crew Going Out Blazer: I actually do wear this when I go out, haha.
70. Lilly Pulitzer Elsa Top: My favorite silk top. I have it in white and navy, and they're always on rotation. Non-maternity, but great for the bump, too!
71. J.Crew Cashmere Camel Sweater: Fabulous quality! I usually wait for it to go on sale, but I have a lot of colors… It's a basic that goes with everything!
72. J.Crew Factory Leopard Flats: Leopard is a nuetral. ;)
73. Blondo Waterproof Suede Boots: Rain boots that look and feel like regular boots! This brand is a lifesaver when you're not up for or can't wear rain boots.
74. Pottery Barn Aubrey Desk: My dream desk. I WILL have this one day when I have the space!
75. J.Crew Tortoise Sandals: I always struggle with what to wear to fancier events in the summer, shoe-wise. Picked these up last year and they saved me on several different occasions! Love that they go with black, brown or navy.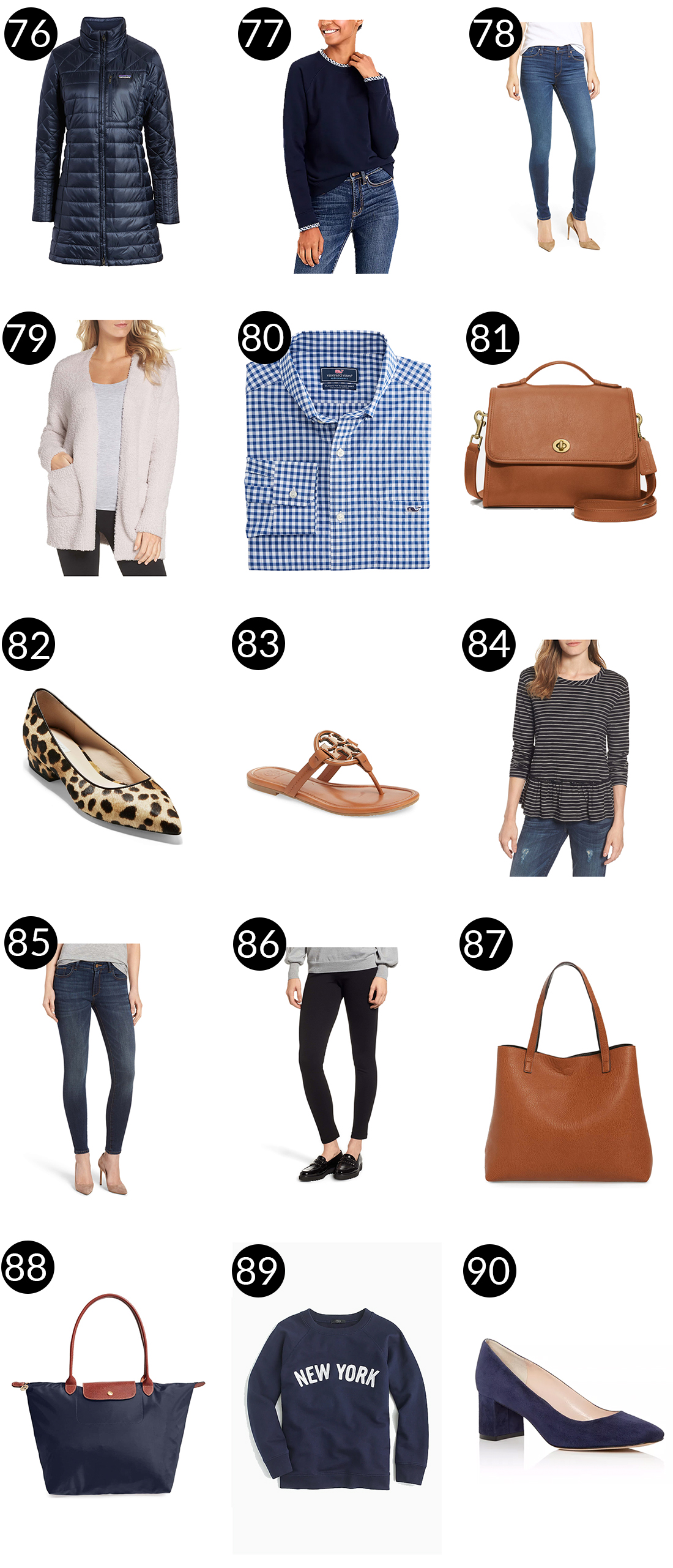 76. Patagonia Radalie Water-Repellant Parka: A great coat for those in-between times, when you feel ridiculous wearing a puffer but you kind of want to. ;) Runs small; size up!
77. J.Crew Factory Gingham Woven-Neck Pullover: Look at that neckline! Sad that it didn't work for me with the bump so I need to live vicariously through you guys for now. :)
78. Hudson Nico Skinny Jeans: Love these, too. Oh, man. I sure do miss my regular jeans…
79. Barefoot Dreams Cardigans: SO SOFT. They feel like heaven. I keep one on the back of my office door!
80. Vineyard Vines Performance Clothing: Fun that Mitch's favorite menswear product of all time made the list, too! He swears by this stuff because it's wrinkle-resistant and cooling. He wears it year-round!
81. Vintage Coach Court Bags: Sigh. Coach, bring back the original stuff. In the meantime, at least we have eBay…
82. Cole Haan Leopard Skimmer Shoes: Cole Haan makes a great shoe, and this one is the cutest.
83. Tory Burch Miller Collection: Perfect for beachy vacations right now! I go up a half size.
84. Caslon Peplum Tops: A t-shirt with a little sass. ;)
85. DL1961 Emma Jeans: Super skinny and form-fitting jeans but very comfortable due to the stretch.
86. Seamed Leggings: Look great paired with sweaters and boots. I wear these more often than jeans in the winter! Will pair them with pumps and nicer tops for date nights, too.
87. $49 Faux Leather Tote: GET THIS! I've had mine for several years now and it looks brand new. The faux leather is super soft, and the bag is reversible. I honestly like it more than my tote that's made out of real leather!
88. Longchamp Le Pliage Tote: I mean, how could this classic NOT make the list?! I have the navy one, and love that it folds into a tiny square for travel.
89. J.Crew New York Sweatshirt: YAY! Guys, I'm so glad you loved this one, too. Oh, how I miss New York…
90. Kate Spade Suede Pumps: My favorite pumps. Like, ever. They runs TTS and I can wear them for a full day without any pain. #Winning (You can also find them at Nordstrom.)
91 – 100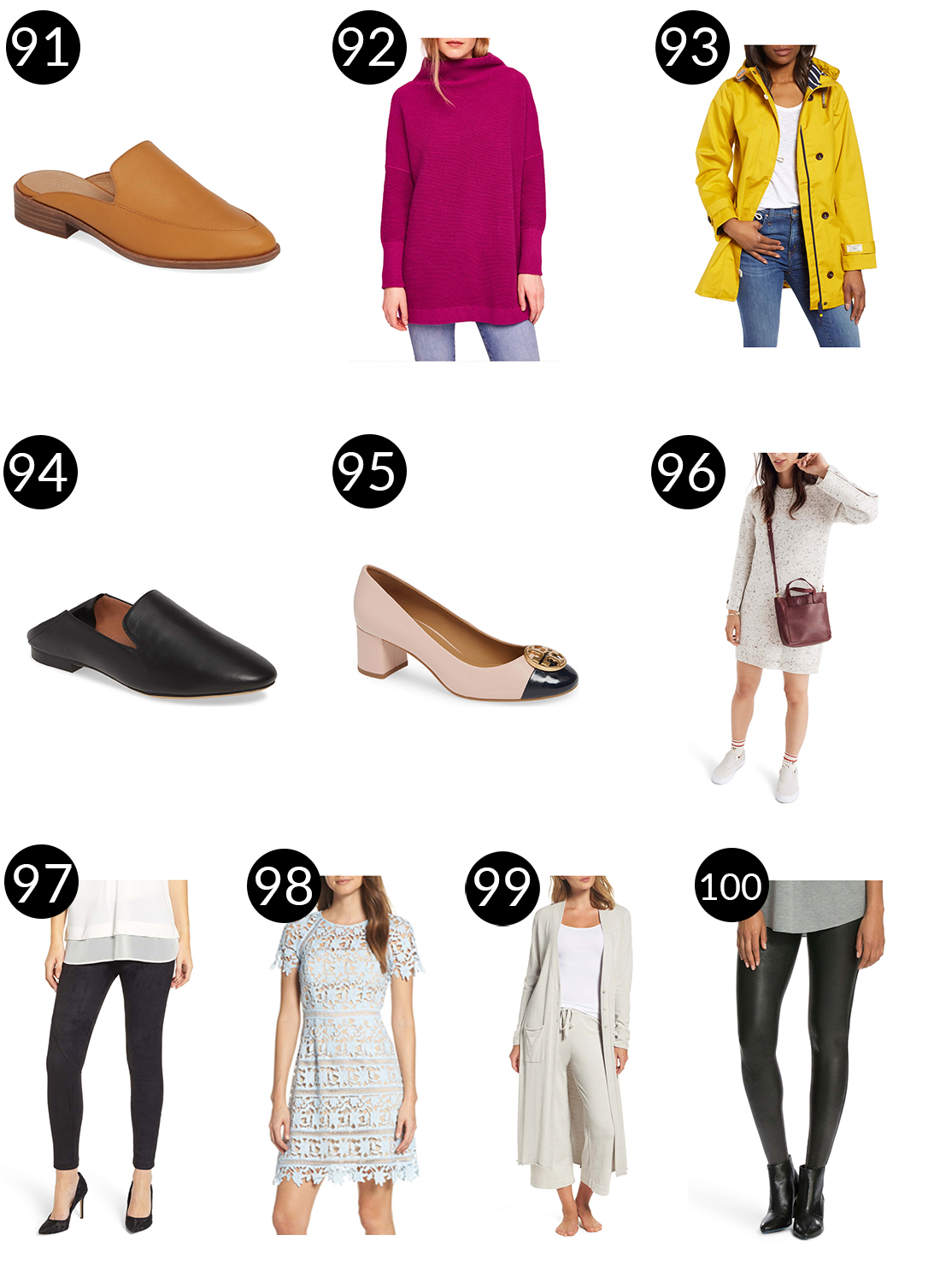 91. Madewell Mules: Cute! These are new. I haven't tried them yet, but I'm guessing they're very comfy considering how awesome the loafers are.
92. Free People Sweaters: I know: Free People isn't exactly preppy. But I LOVE the brand's sweaters because of their oversized and cozy nature. I always get so man compliments when I wear them!
93. Joules Rain Gear: The yellow and navy striped rain coats are my faves.
94. Halogen Collapsible Back Loafer (In leopard here.): They don't even feel like you're wearing shoes. The leather is buttery soft and feels almost like material–yet they hold up really well! I wouldn't collapse the back; just think of the backs as no-rub backs since they're so malleable.
95. Tory Burch Chelsea Pump: More Chanel look-alikes and I love it.
96. Madewell Sweater Dresses: The only sweater dresses I buy! They're flattering and warm, and look great paired with riding boots for the extra warmth.
97. Suede Leggings: My favorite suede leggings. They're pricier, but they hold up. I've had mine for years.
98. Eliza J Dresses: Where I go when I need a last-minute dress and can't find anything I like. Eliza J always has a bunch of options that I fall in love with!
99. Duster Sweater Cardigans: LOVE this look. Cozy yet it kind of looks like you're wearing a nice wool coat, almost?
100. Spanx Leggings: My favorite leggings! I love the leather pair, but the basics are all great, too.
Anything you think should've made the list but didn't?! Let me know! I'd love to put together a second "reader-recommended products" post… including stuff from this year! Thnx. ;)