White Jeans / Ralph Lauren Button-Down (Love this one, too.) / Mitch's Vineyard Vines Shirt / Emma's Ralph Lauren Dress (Similar.) / Mom's J.Crew Dress (Old.) / Mom's Sandals (In brown here.) / Packable Bow Hat
Hello from my couch! ☺️
I've been battling a persistent bug over the last week, and after desperately trying to get through it without slowing down, I finally decided to lay low for a few days. This is certainly the sickest I've been in my two years of motherhood, and goodness: It's been tough. I realize, though, that I have it so much easier than true stay-at-home parents who are without backup for most of the day, even when sick. If you're one of those people, I am amazed by you!
My parents and brother actually flew out to Chicago for Emma's birthday party on Friday, and despite not getting in to the city until around 2:30 a.m. and missing the celebration (ugh, planes ✈️), they were SO helpful while I was under the weather. (Mitch was a rockstar per usual, too.) Of course, I'm feeling a little bummed that I wasn't able to be a better hostess… and that I wasn't able to "do it up" with them while they were in town. But it's also a great reason to get another trip on the calendar, right?!
Anyway, since I'm feeling very grateful in that department right now, I thought I'd write a post about my immediate family. I recently realized that while I share a great deal about Mitch, Emma and myself, you probably don't know very much about everyone else. And they're pretty fabulous. ;) So today, I'm formally introducing you to the Sheehans!
These photos were taken in Ocean City last month. We're rarely in one place at the same time because everyone is so spread out, but the stars somehow aligned and everyone was able to get to the Shore for a few days to celebrate my parents' 60th birthdays. Over Christmas (at my brother's place in New Orleans), my mom was desperate for family photos but we just couldn't make it happen. Patrick was working nights and Emma was in the screaming phase of "toddlerhood" — and the one time we did get everyone lined up for a pic, Emma pulled my shirt down. 😂 Fail.
We made it happen in OC, though! As a surprise, we all packed white outfits… and my dad even picked out a white dress for Mom. After dinner one night, we told her what we were doing, and I really can't tell you how happy she looked. :) We quickly changed and ran out onto the beach, and took all the photos you see here in under 15 minutes. I know that family photos like these are often torturous–anyone else have traumatizing memories as a kid?!–but we had SO much fun taking them. Everyone was laughing, Emma was having the time of her life, and the lighting was magical. Everything was magical, really. So much so that we decided we should do it every year! (Whoa.)
But let's get to the introductions:
The Sheehan Family
I'll skip Mitch, Emma and myself, since you probably have a good sense of who we are at this point. ;) But let me introduce you to Dad, Mom, Patrick, Danny, Kim and Molly.
Dad
My father is my hero. He's the guy who's always able to make sense out of things and whose advice is consistently spot-on. He cares so deeply about us, and has taught me the importance of putting family first, no matter what. At the same time, the guy is the life of the party. He has the loudest voice in the room (and the heaviest footsteps, haha), and he brings people together with his sense of humor and sunny outlook on life. I don't know anyone more positive than Dad, and this quality undoubtedly brings out the best in others!
Dad used to be in the Air Force, flying F-111 fighter bombers. (He actually helped to design the cockpit of the Stealth Bomber when I was a kid!) After a couple of close calls, though, he decided to leave the military. We left California and moved back to my parents' hometown on Long Island… and today, he works in finance in New York. (After Long Island, we moved to Princeton Jct., and we finally landed in Bucks County, Pennsylvania where my parents still reside.) Dad loves playing golfing with my brothers, traveling, spending time at the Shore house, going to concerts, playing the guitar, photography and woodworking (a new hobby).
Mom
Mom is commonly referred to as "the nicest person in the world." I can't tell you how many people have said that about her, and it's true. She's unbelievably sweet and selfless, and just like Dad, she puts family first. She and I talk on the phone almost every day, which really helps with homesickness, and I love that she's turned into a friend over the years. I think one of her best qualities is that she's such a good listener. Yes, she helps whenever she can, but she also understands that sometimes I just need to unload and vent. 😂 I suppose this is why her phone is always ringing off the hook, haha!
Mom used to be an emergency room nurse at New York Presbyterian on the Upper East Side. (We lived within a few blocks of each other, albeit 20-some-odd years later!) Today, she works part-time as a school nurse so she can also volunteer at shelters and homes for the disabled. So nice, right?
I adore her timeless, classic style–both in fashion and home decor–and it's definitely the inspiration for so much of this blog. I also love that as I get older, I get more and more like my mom, and my rooms and closet start to look more and more like hers!
Patrick
Patrick is two years younger than I am, but I'm so happy that as we've grown older, those years have essentially disappeared. Many of my friends here in Chicago (and elsewhere) are his age, after all! While we definitely fought as kids, something changed in high school. Our friend groups converged, and he turned into one of my best friends. Some of my fondest memories are palling around with Patrick down the Shore, throwing secret parties together (sorryMomandDadloveyousomuch 🙈), and attending indie rock and alternative country concerts with him.
Patrick lived in Philadelphia for many years during medical school and residency, but today, he's an emergency room doctor in New Orleans. When he told our family that he and his wife, Kim, were moving down there, we were all a little shocked. But they wanted an adventure and warmth–and they'd always loved New Orleans. And now we totally get it. Life is a little slower down there; a little easier. They have palm trees in their backyard, and it never snows. (Except last year, but that was weird, haha.) They also have a puppy! Life is good, and I'm so happy for them.
Patrick is a Notre Dame graduate, and is ND-obsessed. (Very fun for the family; we're all big Irish fans and have traveled out to the university more times than I can count for games!) He's also amazing at planning trips. Mitch and I joke that we should ask Patrick to come along every time we travel, because he always finds the best deals on flights and hotels and does SO much research on attractions, restaurants and activities!
Danny
Danny (who's five years younger than I am) is the funniest person I've ever met. I often struggle to breathe when I'm with him because I'm laughing so hard. 😂 He's so smart and quick and witty–and his jokes are intelligent and downright hilarious. They also just keep coming in rapid fire. I've said this a million times to him, but he'd be an incredible standup comedian. He was Patrick's best man, and during his toast, people were laughing so hard that they started crying. I almost fell off my chair, haha. I guess it makes sense, though! Danny is such a great writer. I used to edit his stuff in college, just as a second pair of eyes before he submitted the work, and I couldn't believe how flawless it was. I'll calling it now: the man will be published during his lifetime.
On a more sentimental note, Danny brings people together, much like Dad does. He makes whomever he's talking to feel like a million bucks, and he's able to get everyone to smile and laugh. I'm not sure he even realizes what a wonderful effect he has on people! It's a true gift.
Right now, Danny is living outside of Philadelphia, and he's pursuing a career in hospital administration. I love that he's enjoying it so much, and I can't wait to see all that he does. When he's not working, he's either surfing, snowboarding or playing golf. He's also really into sharks. (He inspired this post.) But yes: he's a fabulous athlete, and always active in some capacity!
Kim
Finally. I have a sister! Kim married Patrick a couple of years ago, and we were all like 💃. (That's the dancing emoji, in case you can't see it on your device.) They met in Philly through a friend of a friend and instantly hit it off. ;) Kim also instantly hit it off with the family. We adored her from the getgo, and when Patrick told us he was proposing, we were all ecstatic.
The proposal was the cutest, by the way. Patrick was so excited that he pretty much told EVERYONE he was doing it, and he went with the same ring that Mitch got me, which was so special! (He came into New York and Mitch and I went with him to pick it out. He gave it to me for safe keeping when he went out with friends that night, and called to "check in" on the ring every hour or so. Loved it.) He proposed while on vacation in New Orleans. :)
Anyway, Kim is a PA, and she specializes in lung transplants at a different hospital in Nola. I truly can't get over the work that she does on a day-to-day basis, or her amazing bedside manner. She has a way with people; she's down-to-earth and makes everyone feel at ease. (Just don't ask her to tell you a story. Hahaha — Love you, Kim. 😘) She and Mitch are also very close, which I love!
Recently, Kim and Patrick bought their first house and brought home their first puppy ("Charlie"), so they've been busy. I love how the house has been coming along, and can't wait to visit soon and see it in person!
Molly
Molly is a yellow lab who joined us last year. We lost Reilly, our beloved black lab, when I was still living in New York area, and it was so hard. My parents weren't sure whether they should get another dog, as their kids were so spread out and they wanted to be able to hop on a plane whenever they wanted… but ultimately, they decided that someone was missing. :) They have a great vet who takes Molly whenever they come to Chicago or New Orleans, and it's been working out very well! Molly has the sweetest disposition, and she's super well-trained. It's so fun to have a lab around the house again!
I know this was a bit of a different post, but hope it was a fun read!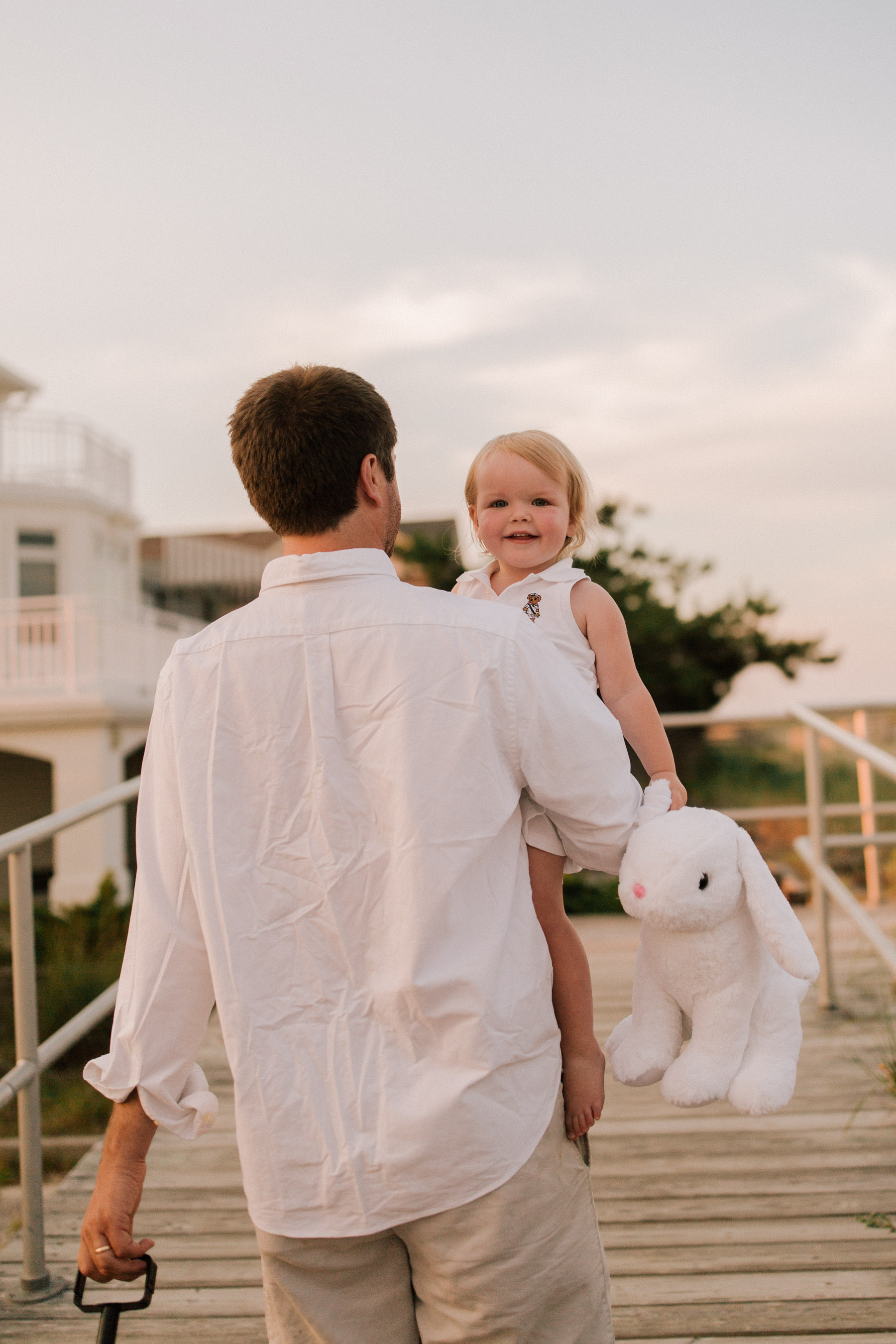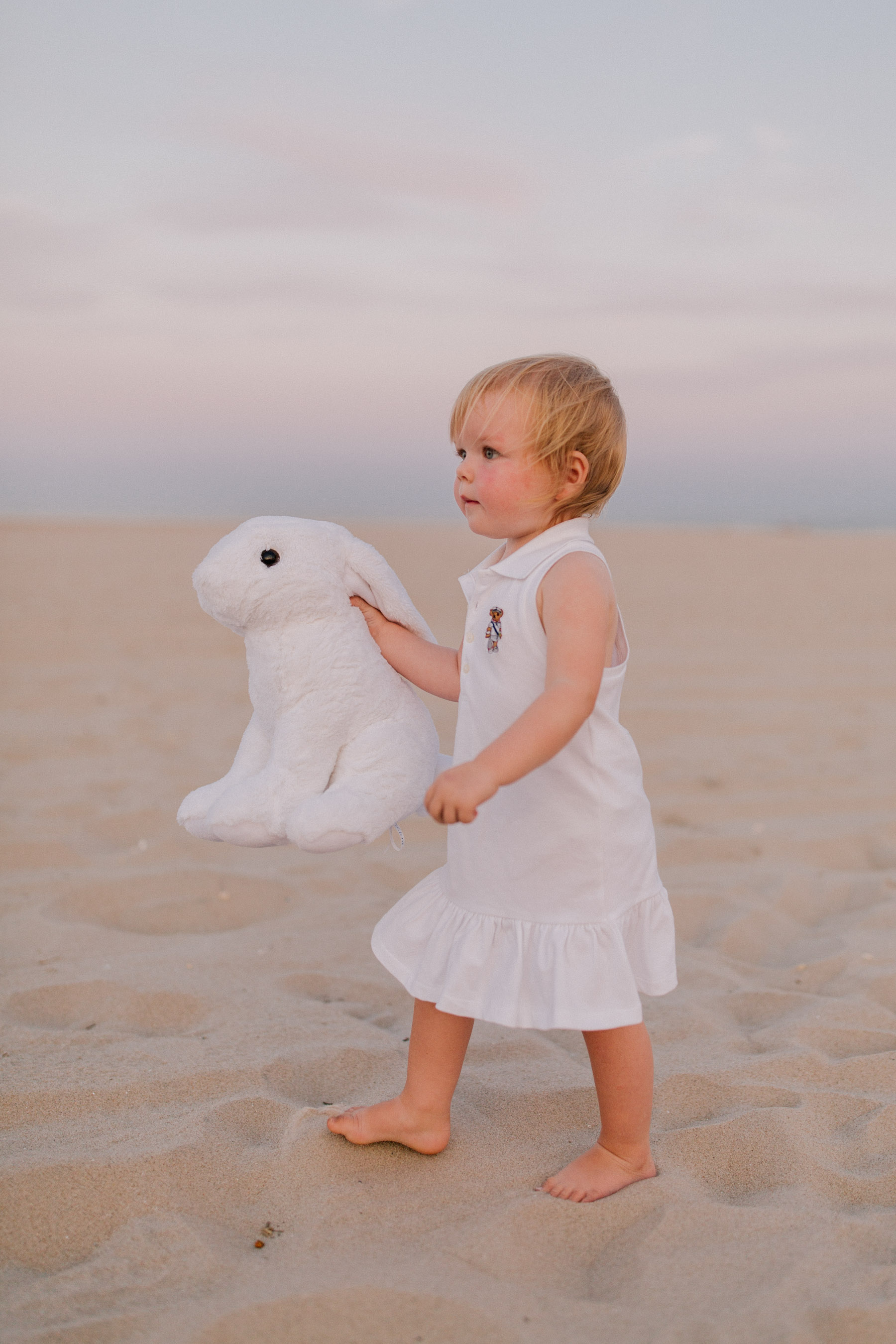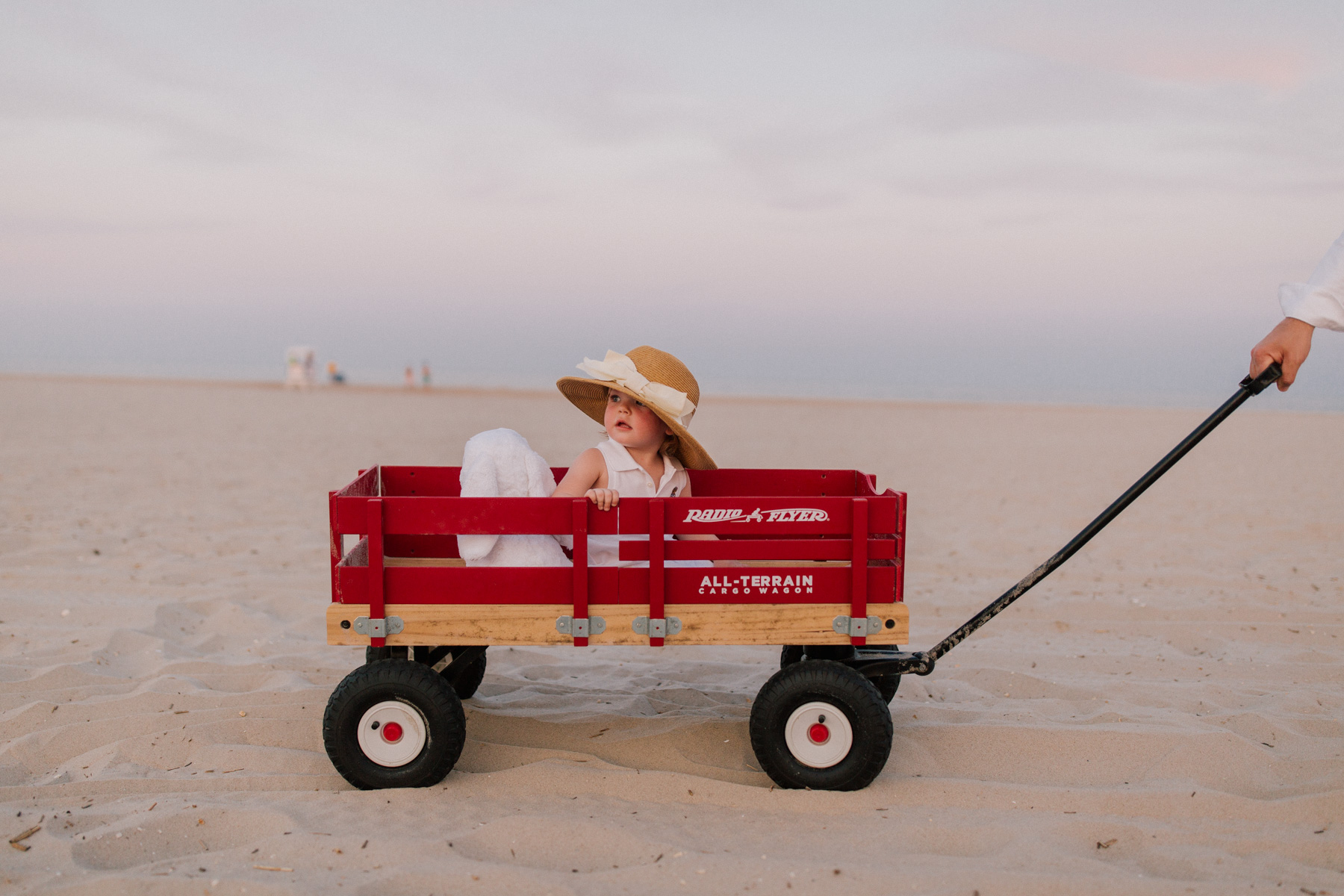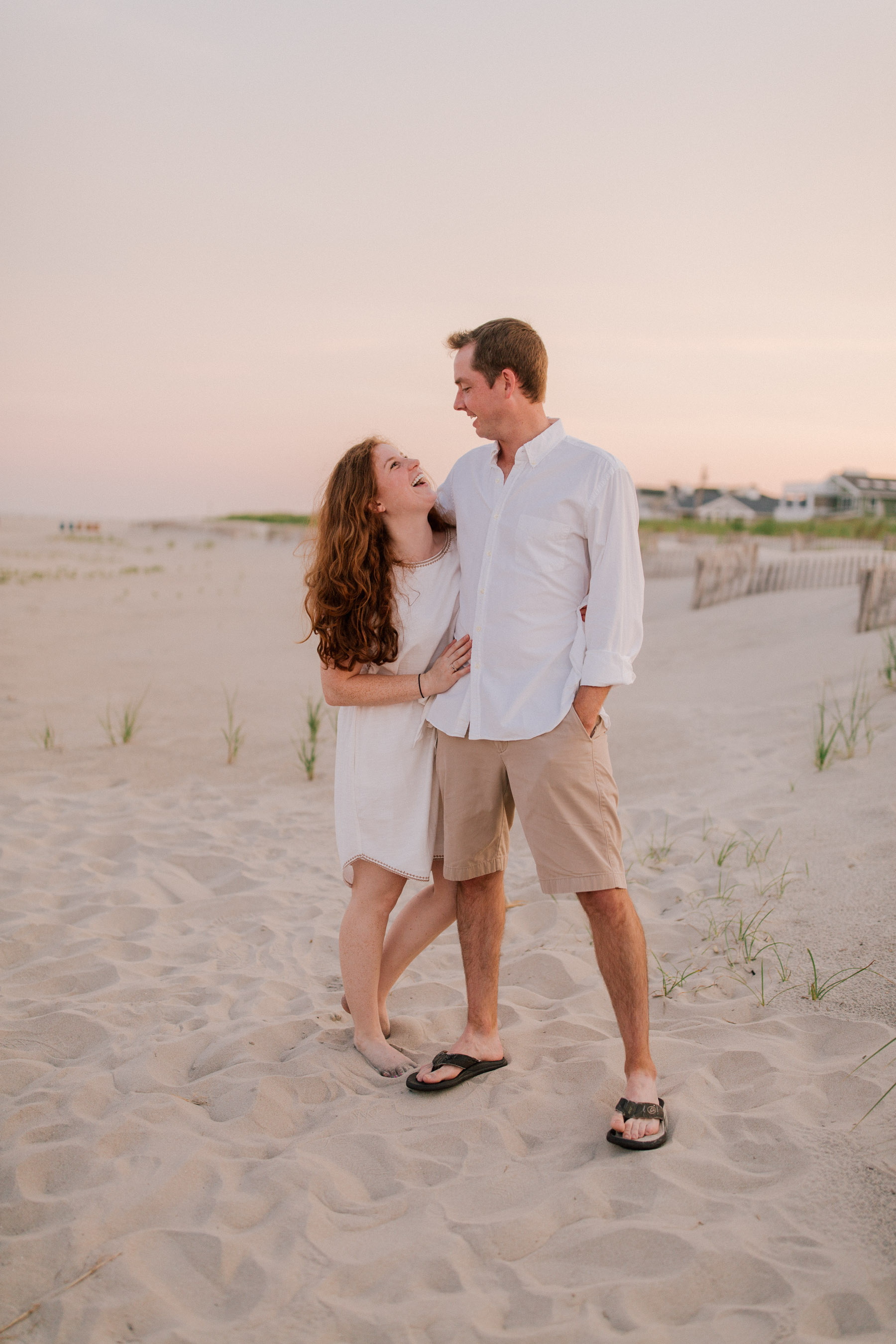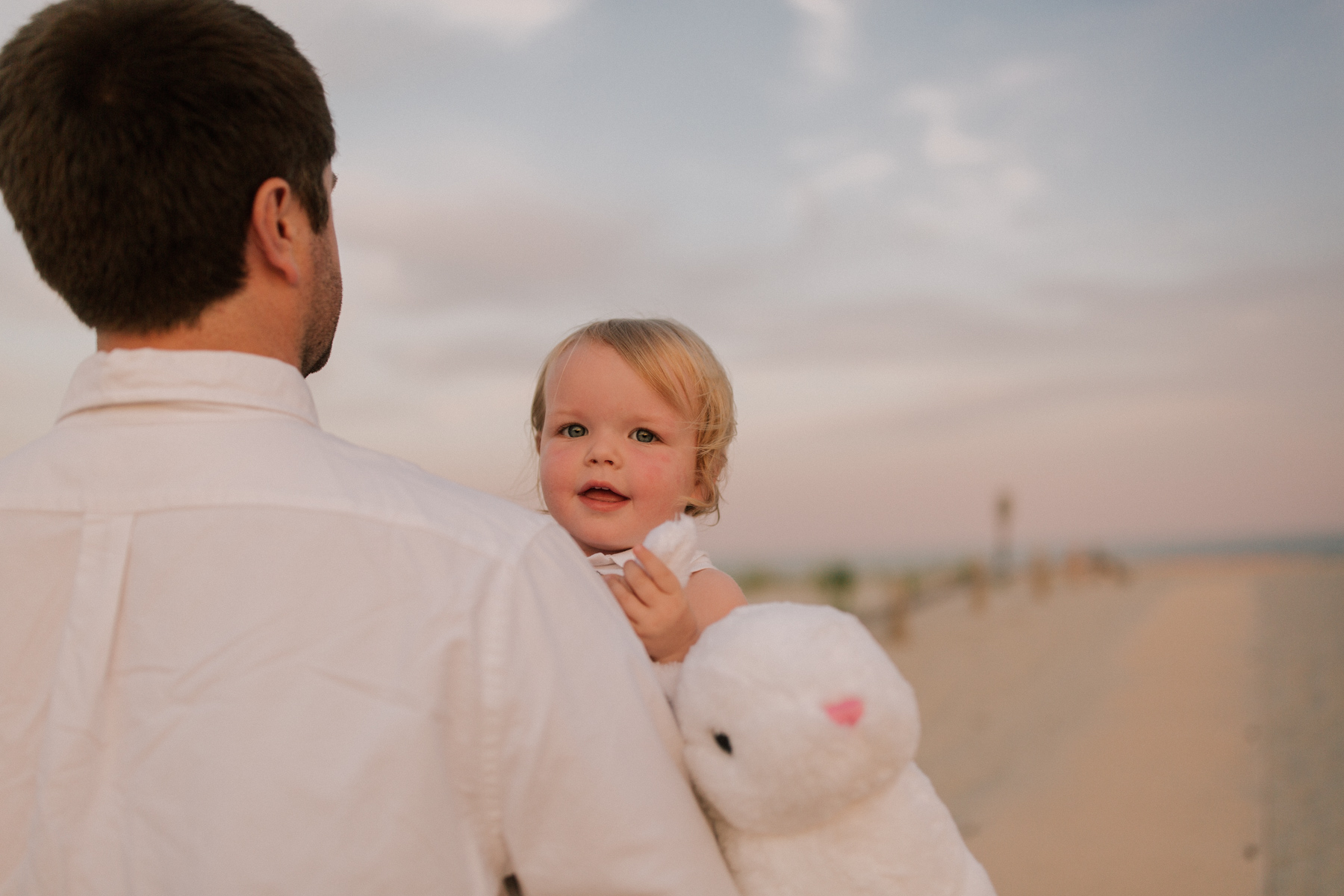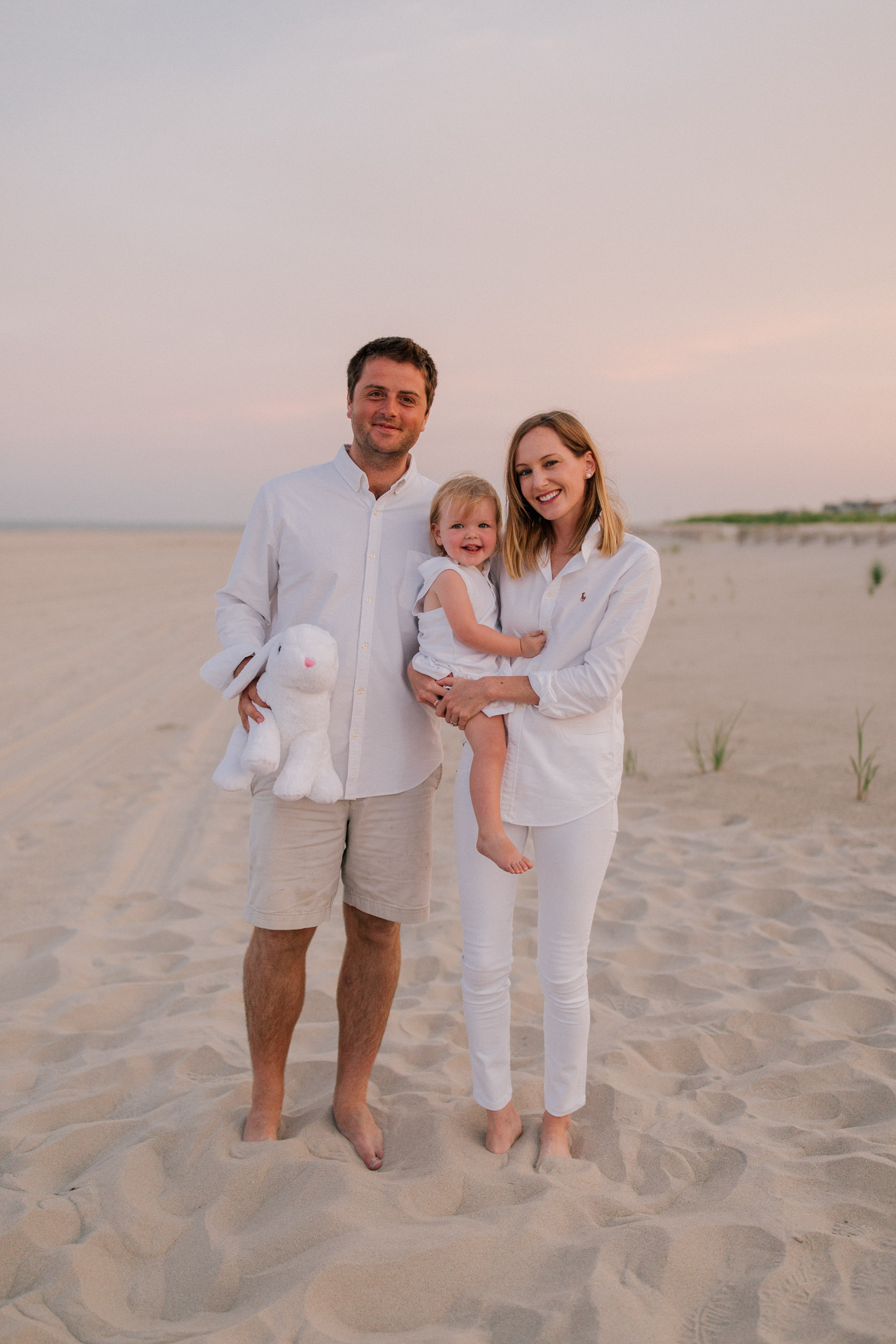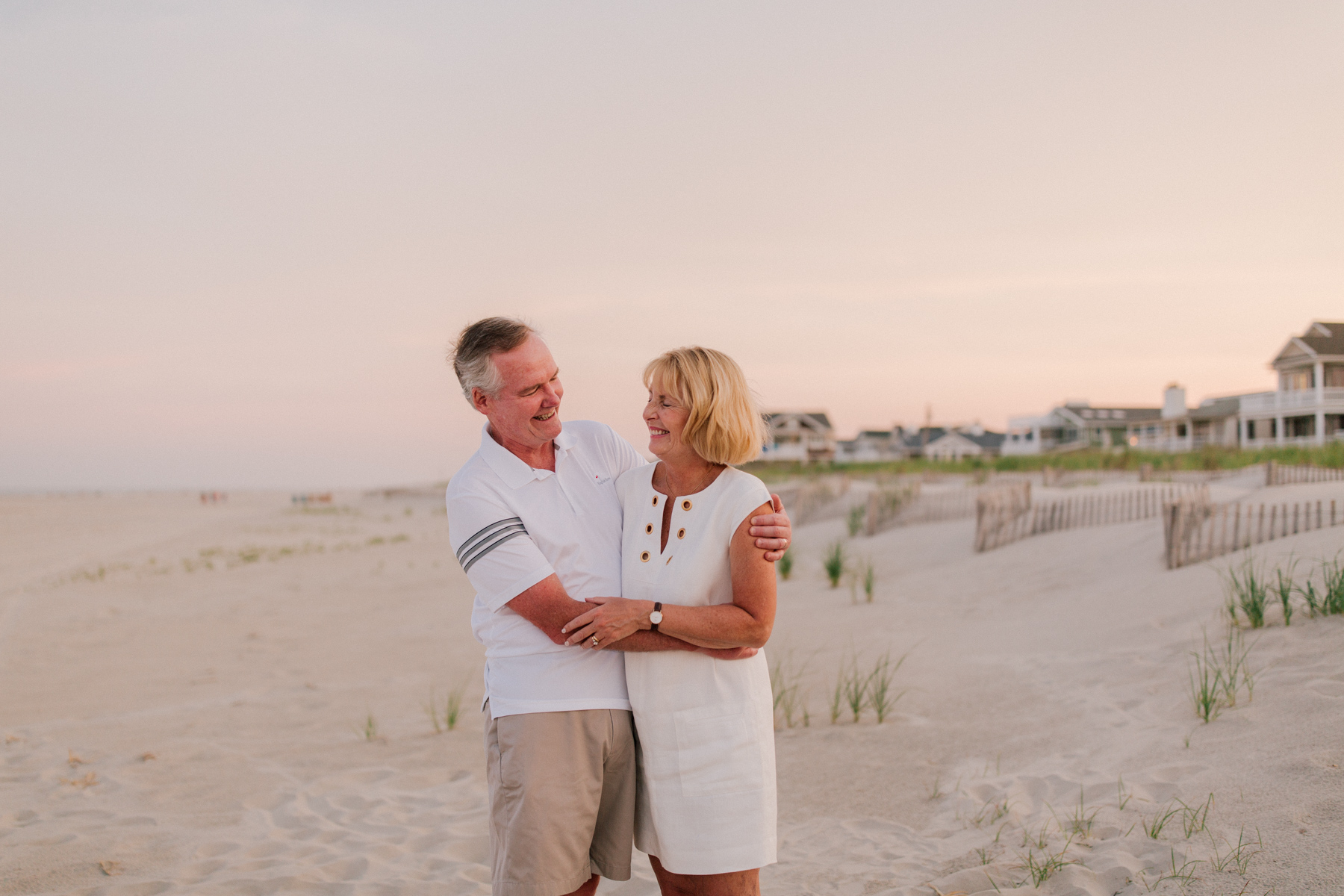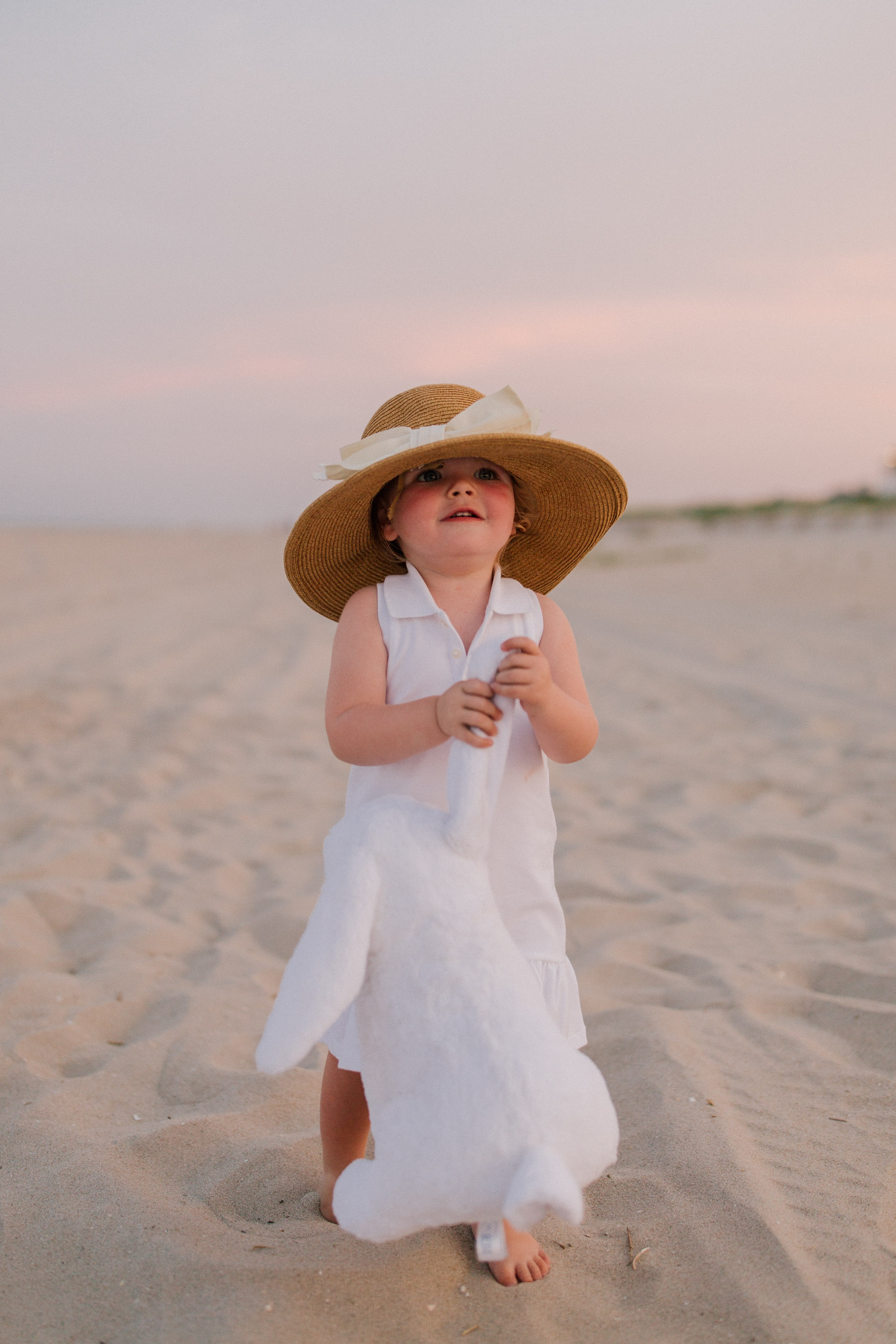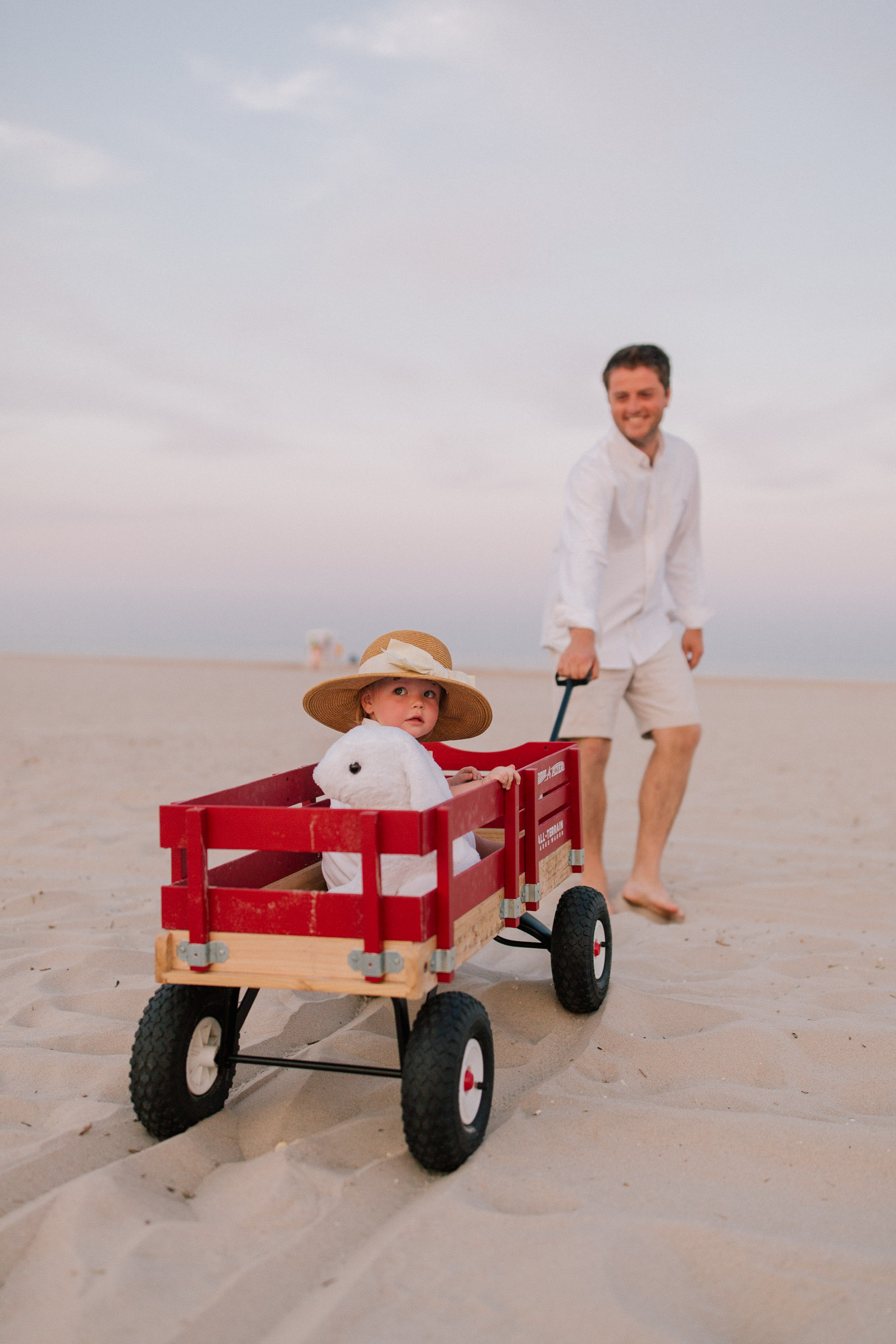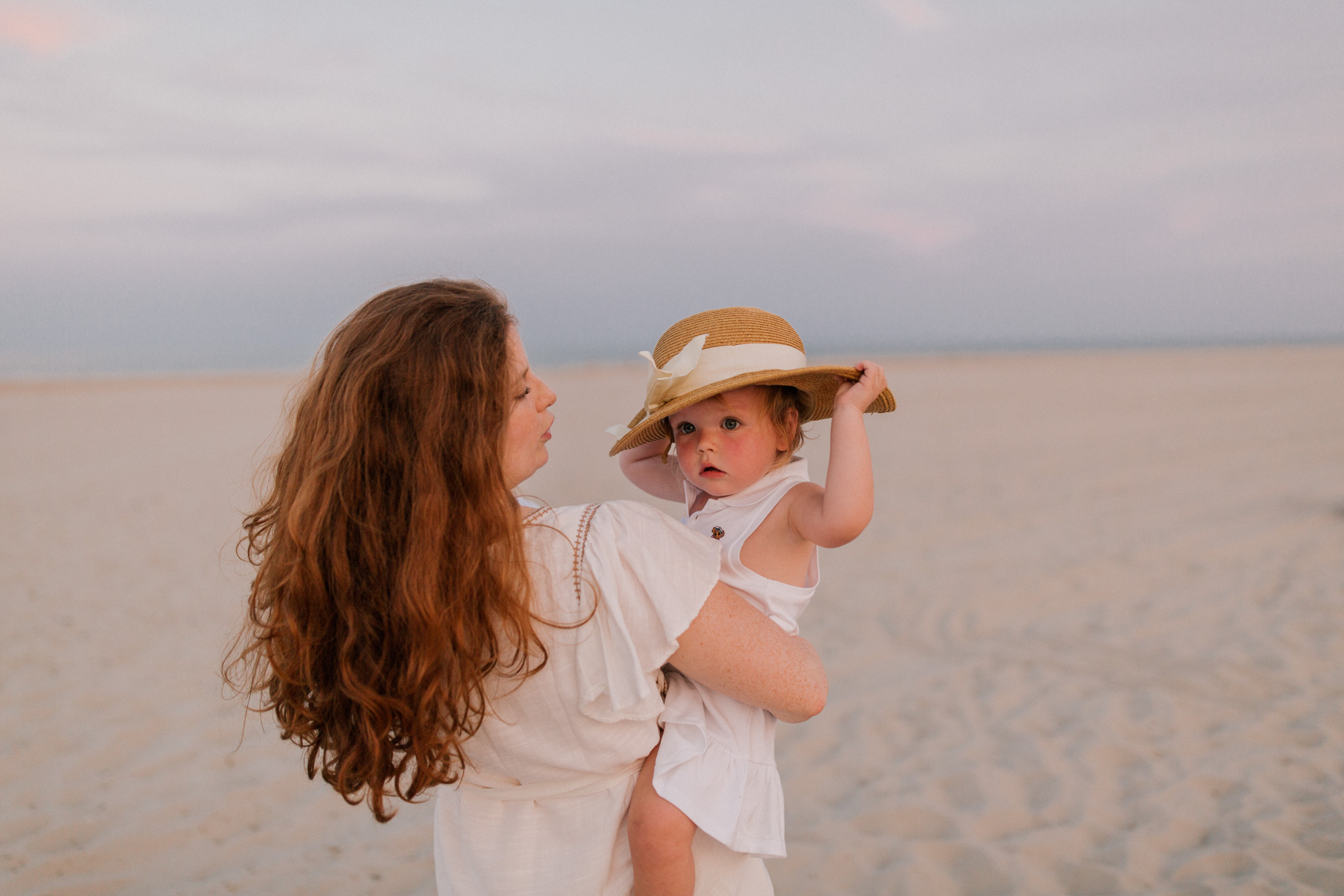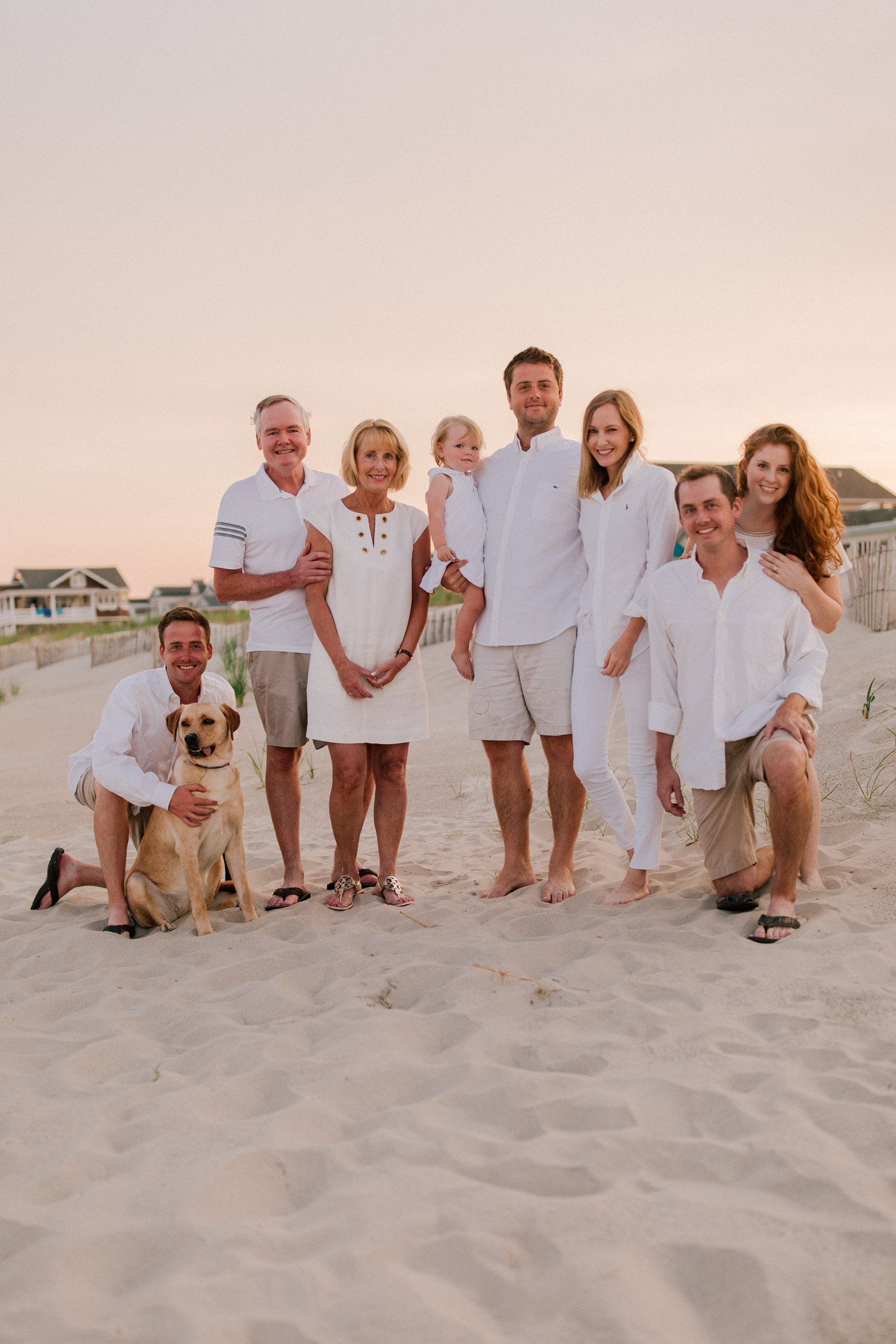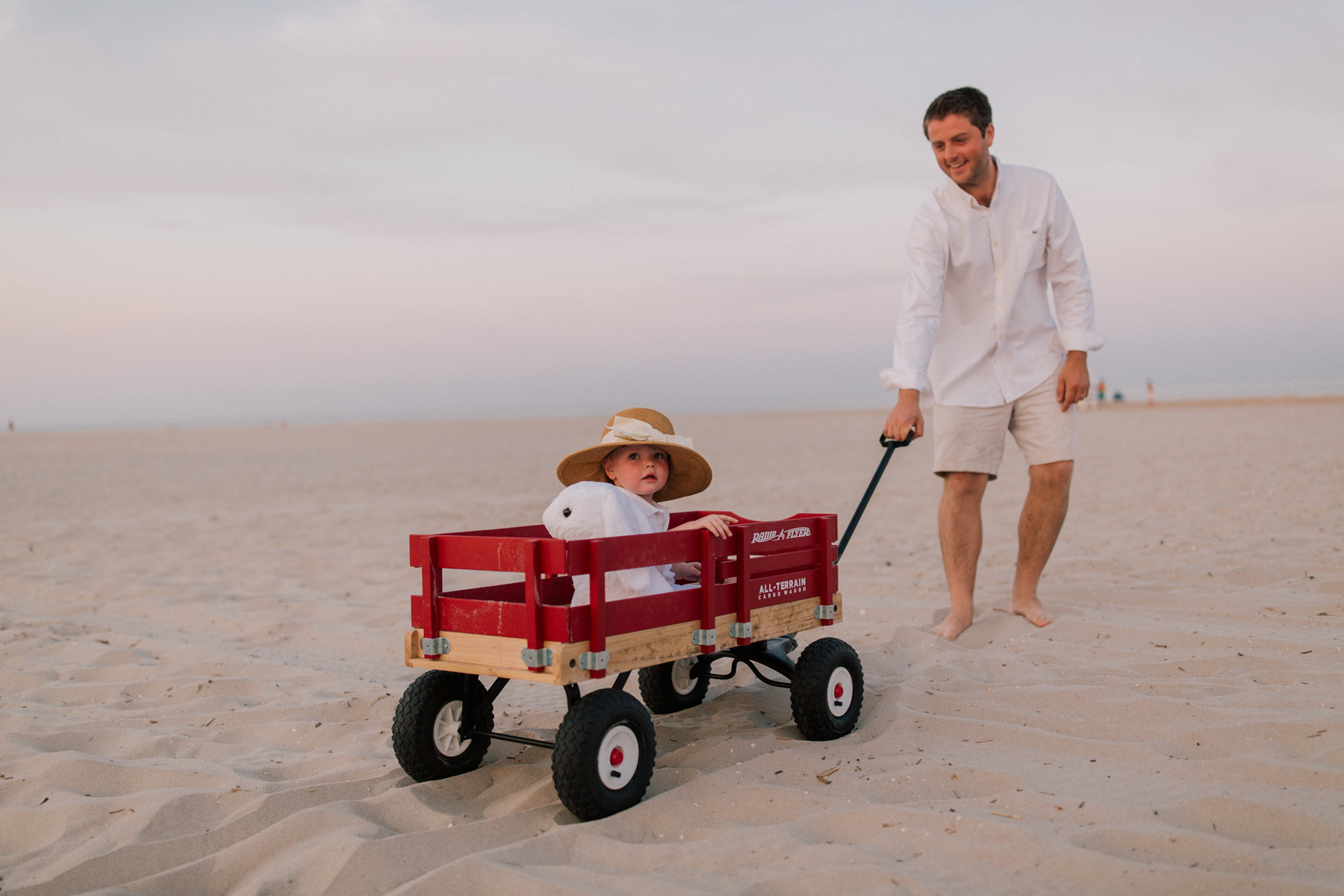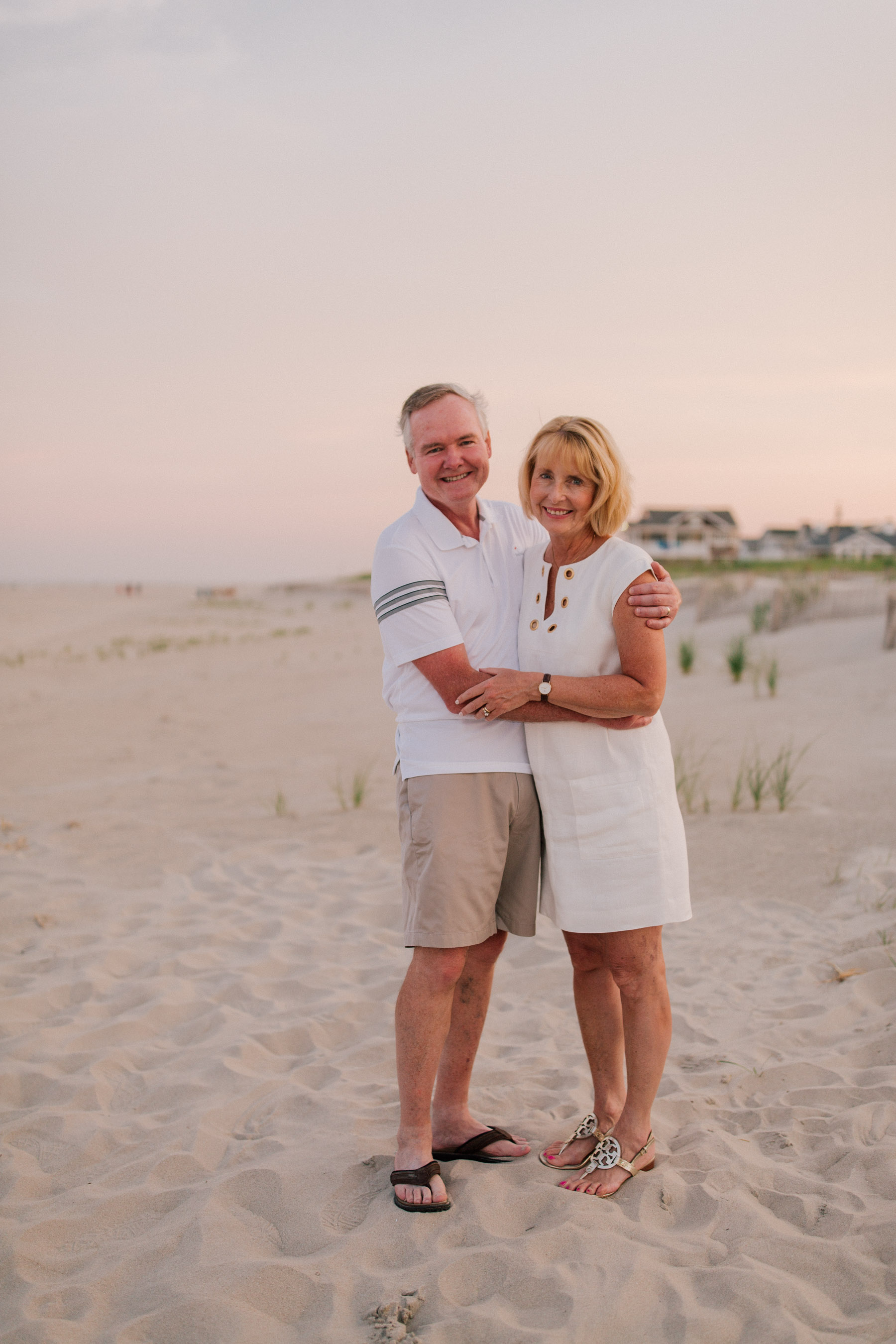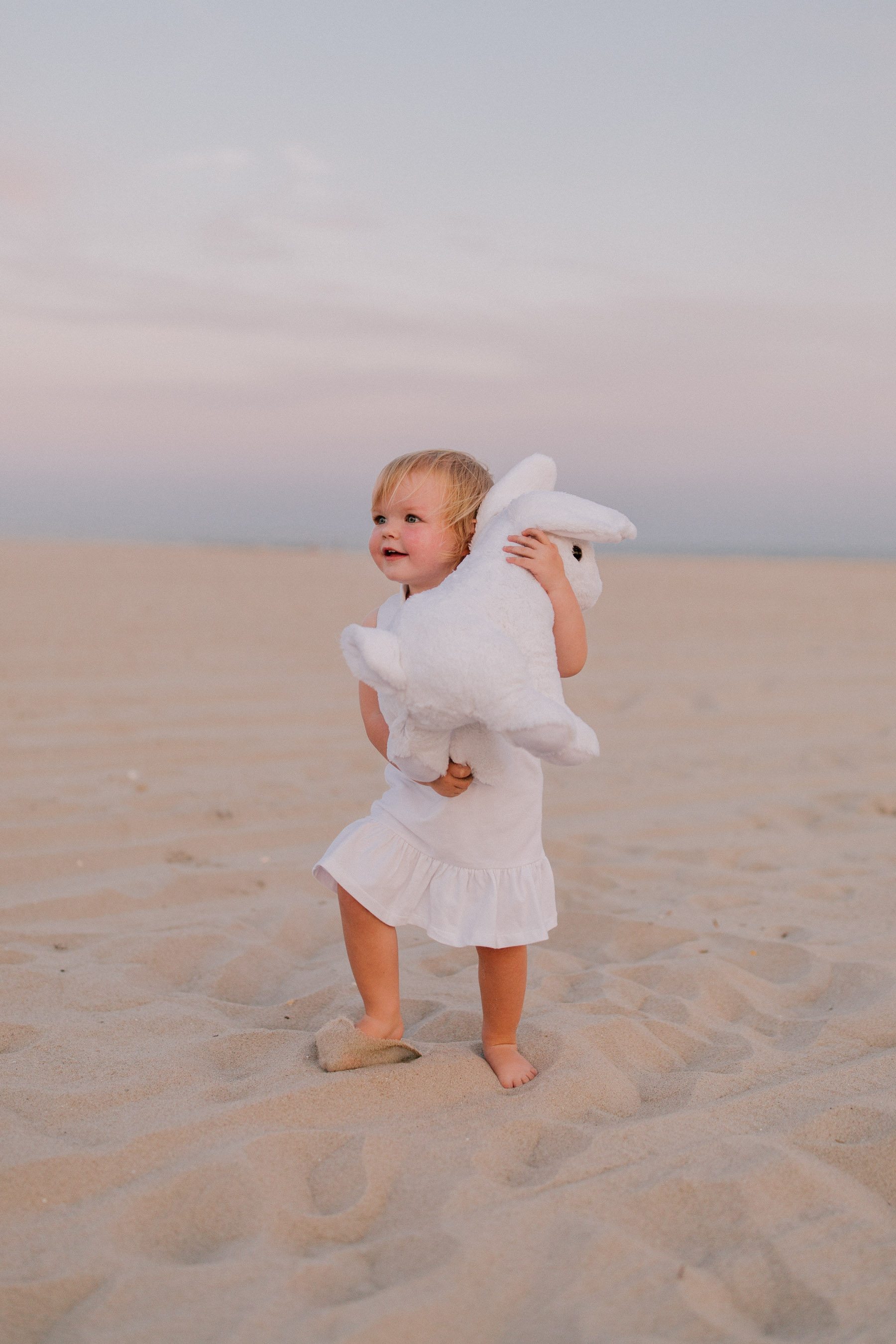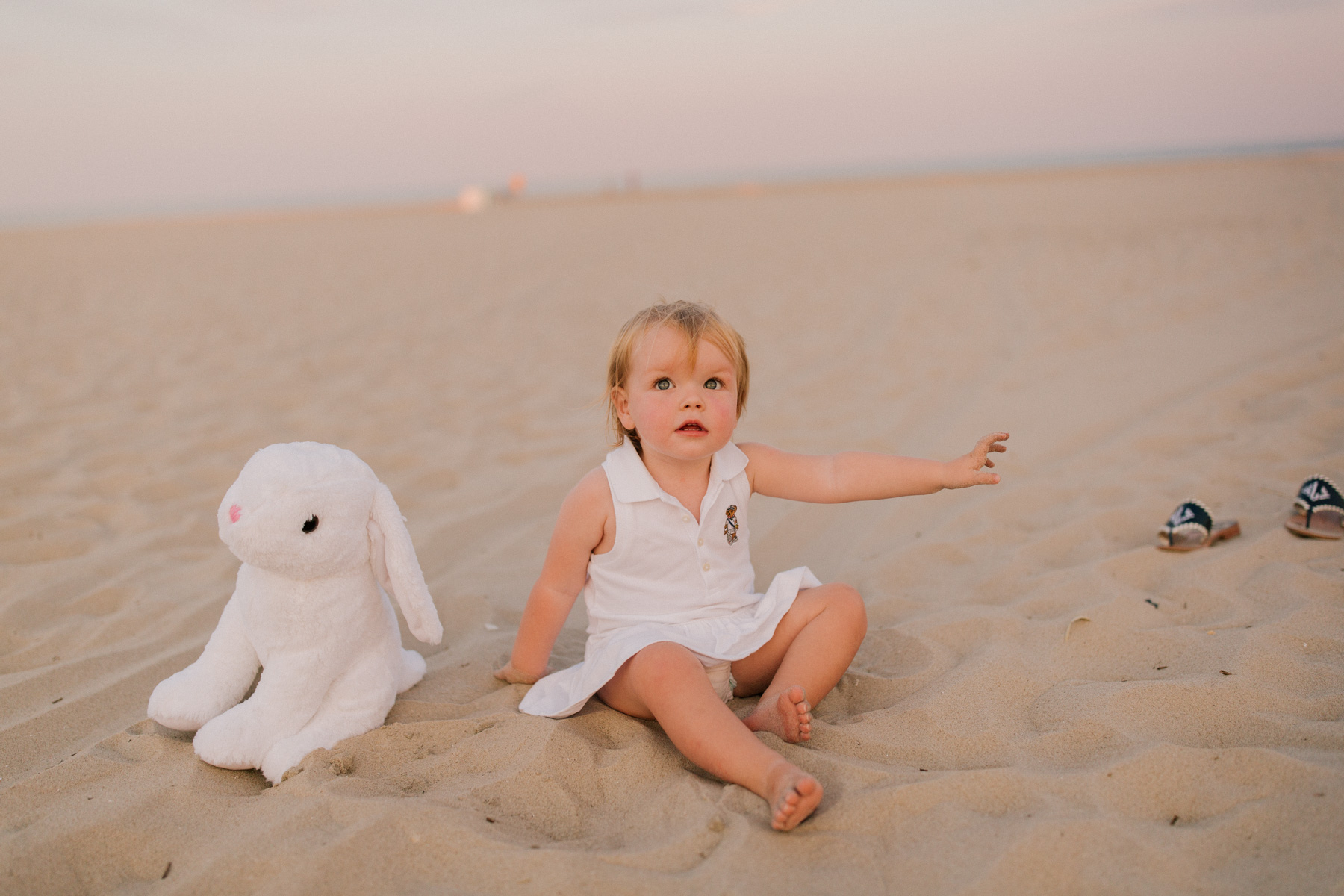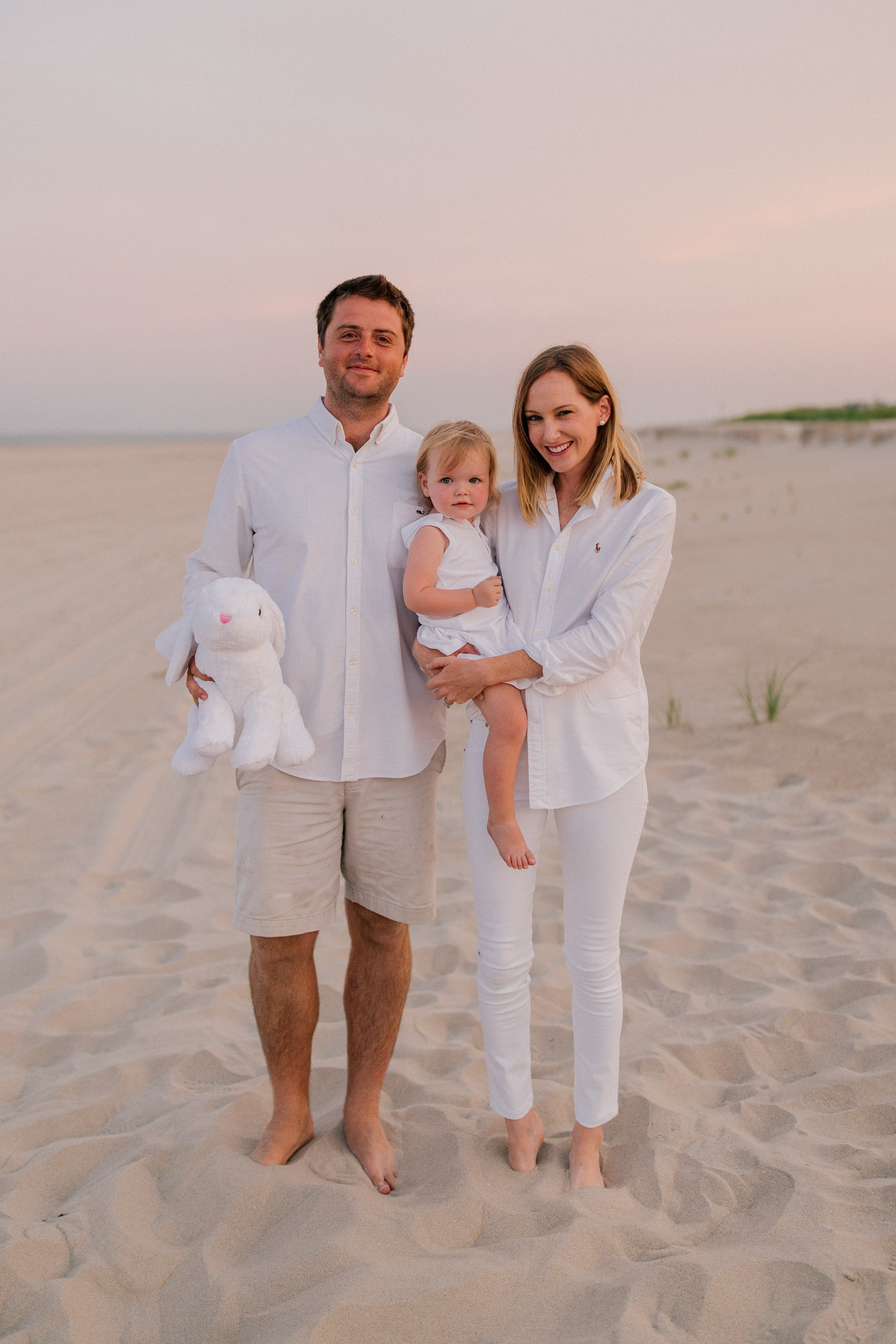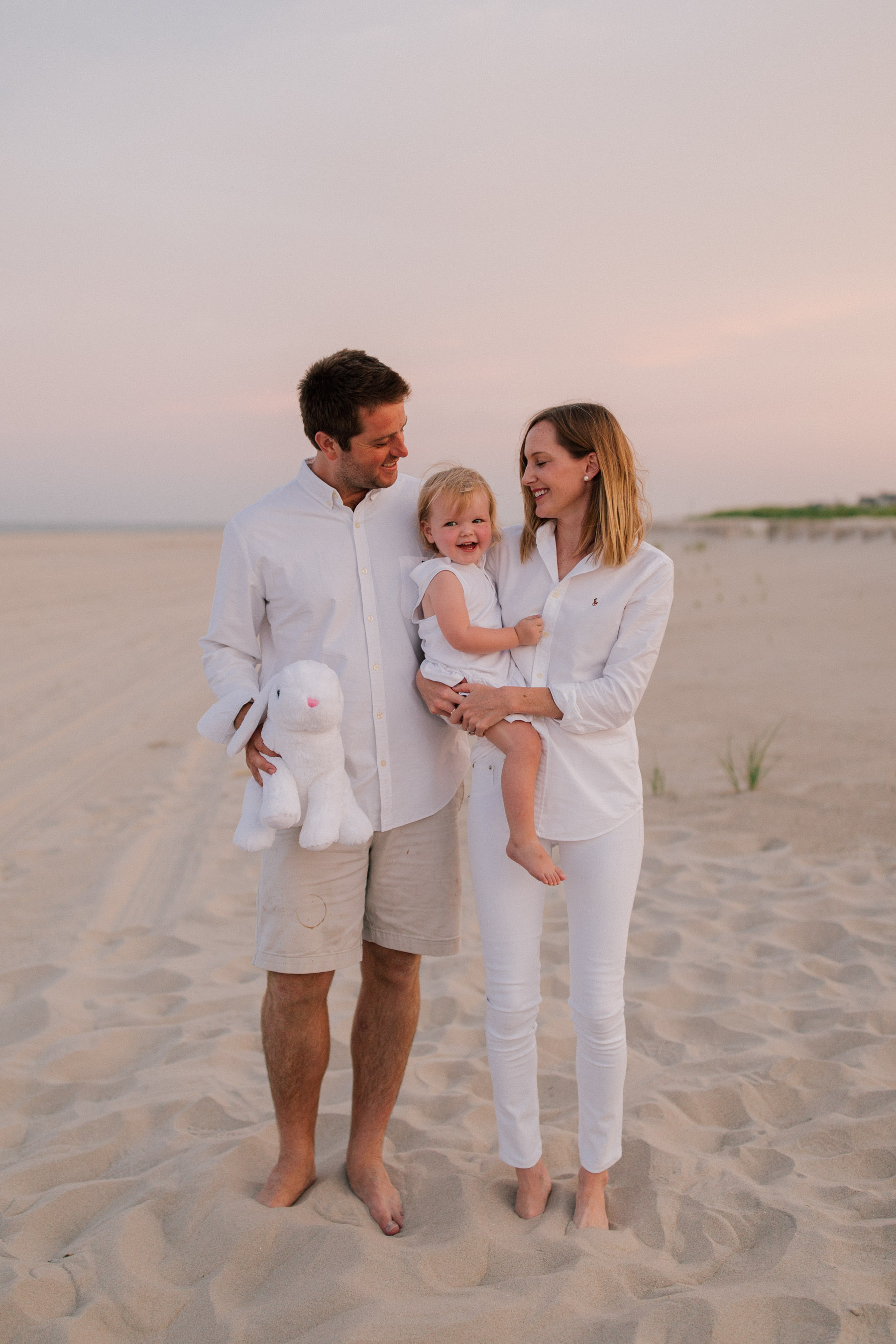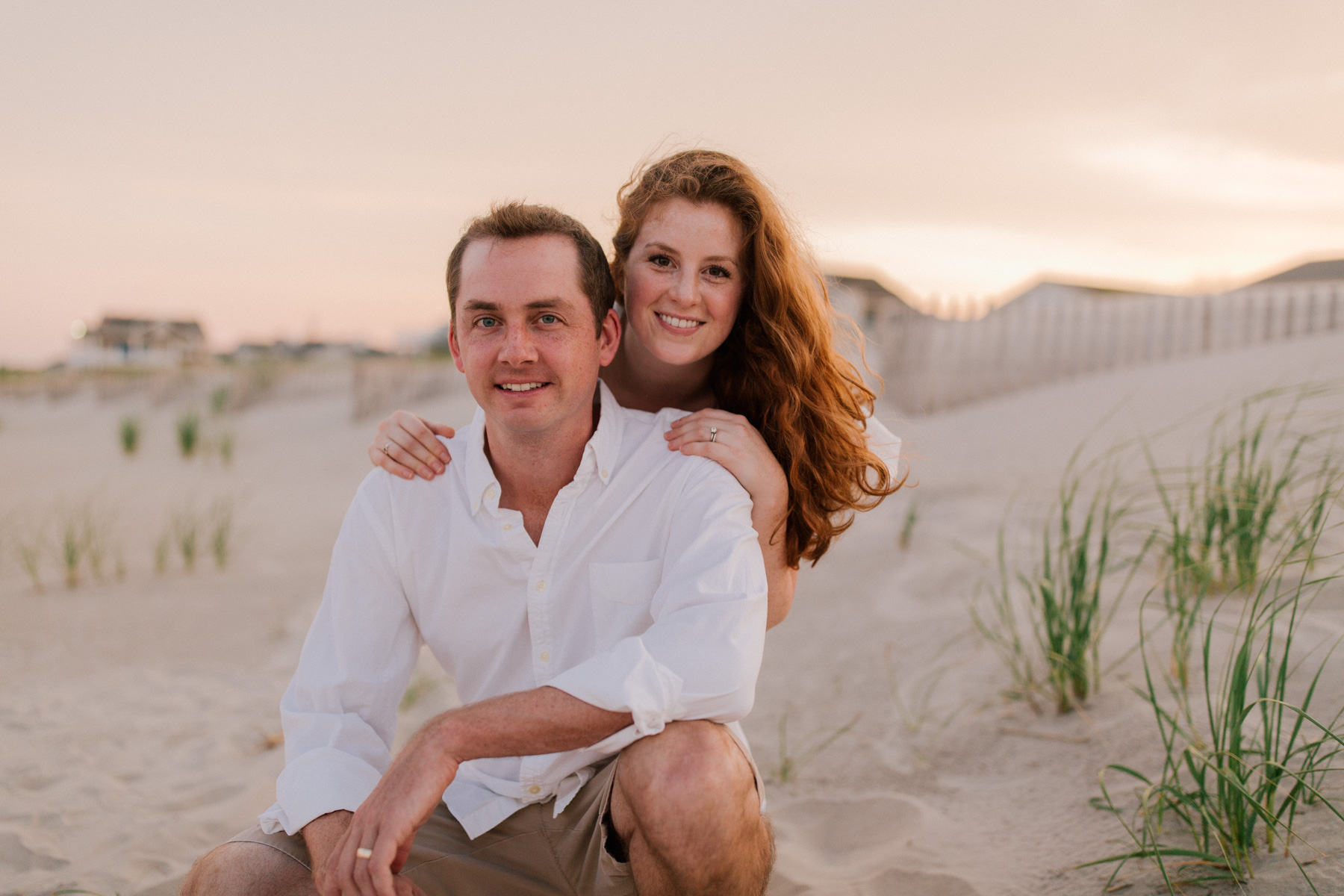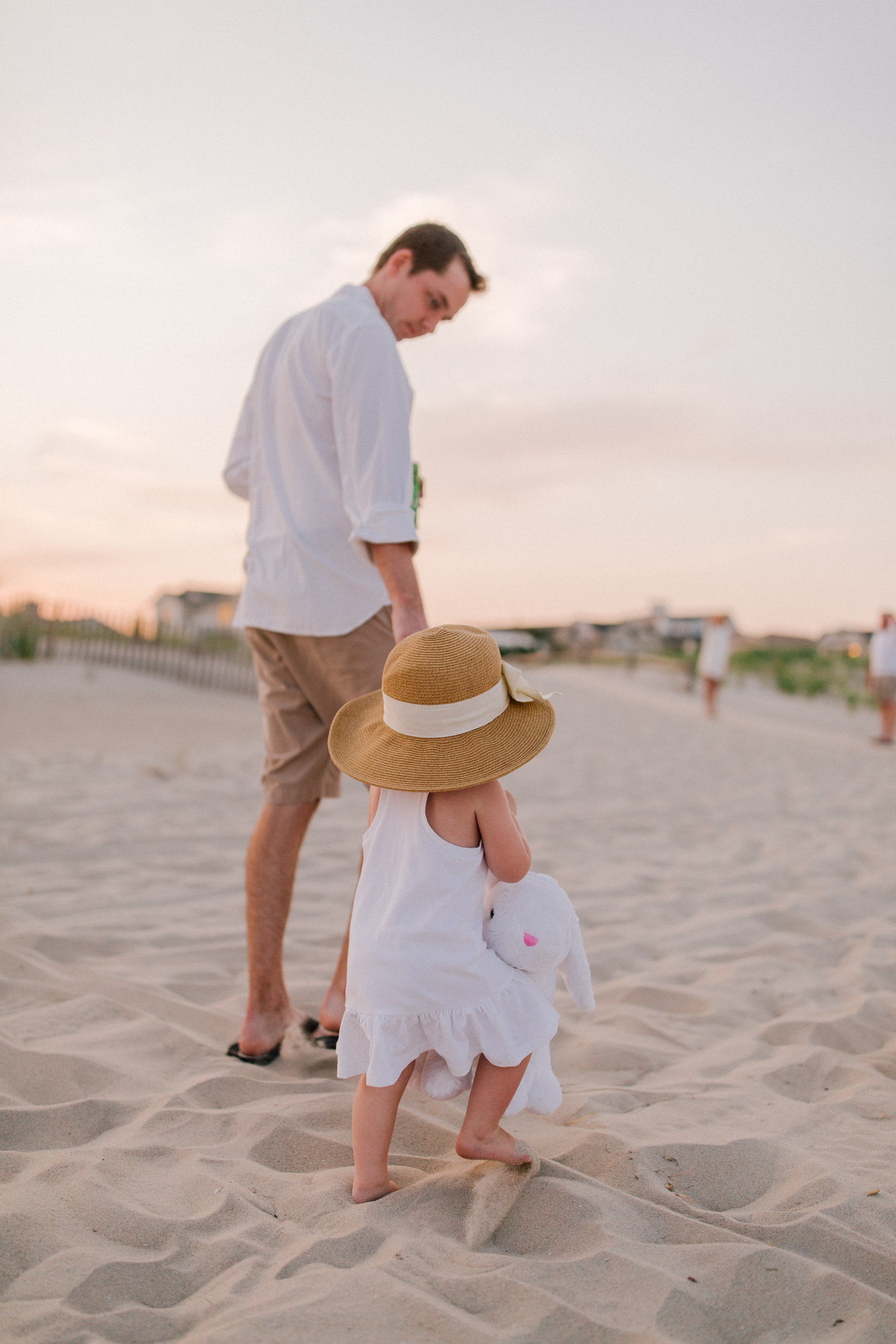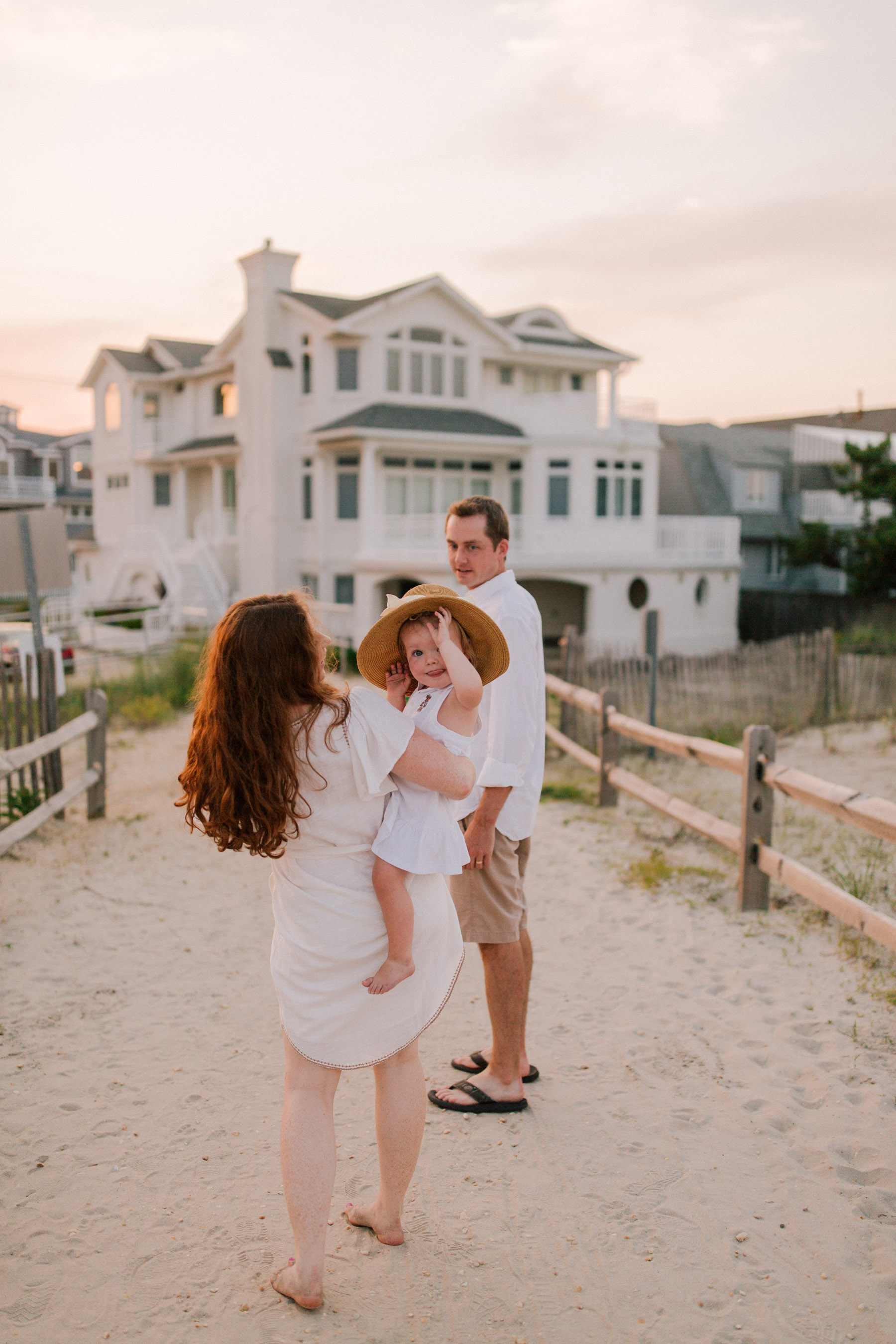 Shop the post:
White Jeans / Ralph Lauren Button-Down (Love this one, too.) / Mitch's Vineyard Vines Shirt / Emma's Ralph Lauren Dress (Similar.) / Mom's J.Crew Dress (Old.) / Mom's Sandals (In brown here.) / Packable Bow Hat