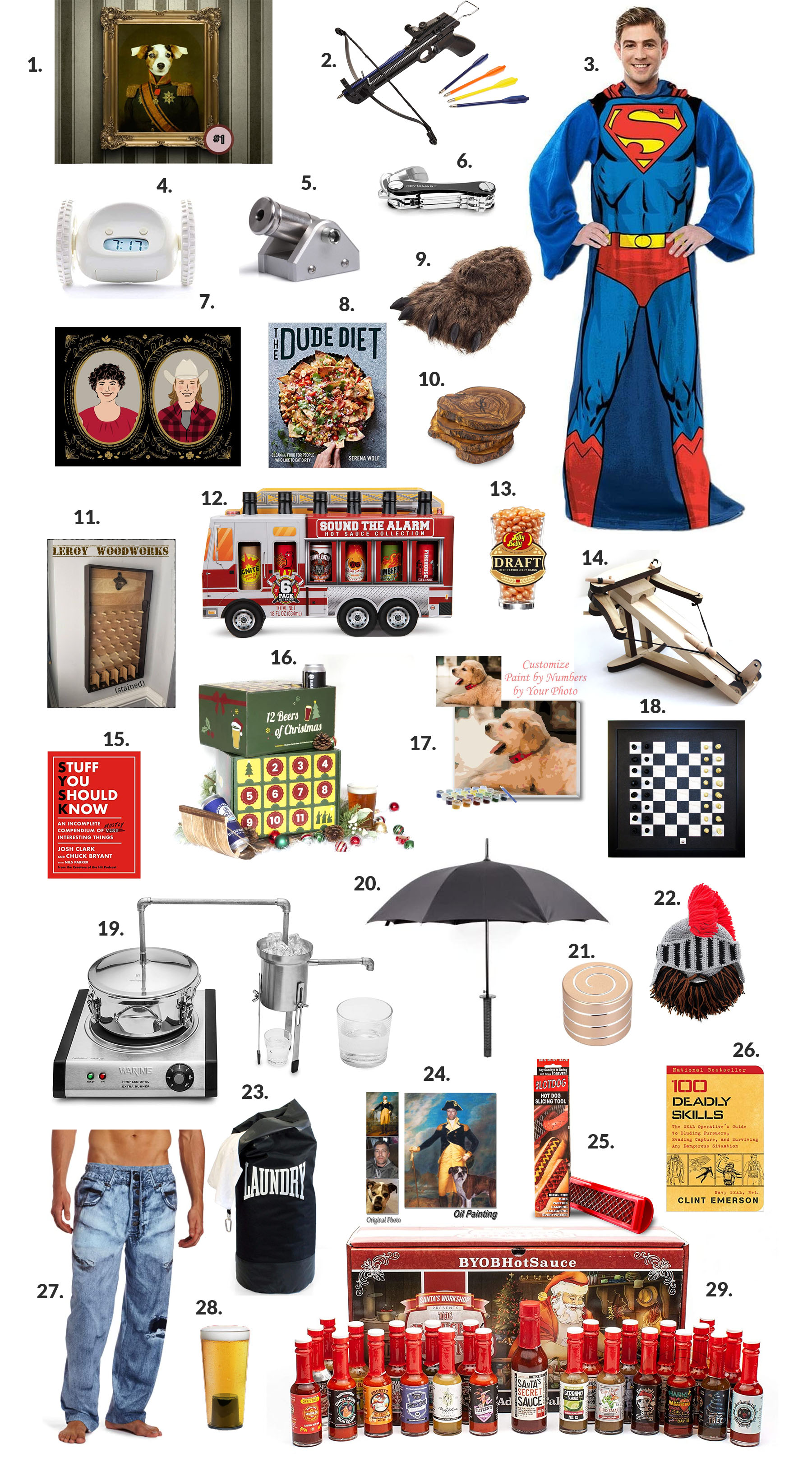 One / Two / Three / Four / Five / Six / Seven / Eight / Nine / Ten / Eleven / Twelve / Thirteen / Fourteen / Fifteen / Sixteen / Seventeen / Eighteen / Nineteen / Twenty / Twenty-One / Twenty-Two / Twenty-Three / Twenty-Four / Twenty-Five / Twenty-Six / Twenty-Seven / Twenty-Eight / Twenty-Nine
Mitch here!
If you're as screwed for gift giving as I am right now, a goofy or irreverent gift can easily substitute for a thoughtful or meaningful gift. Most of these items are two-day shipping and the rest aren't worth buying.
Let's see if you get lucky!
1. Regal Pet Portrait: Getting an anthropomorphic painting of a pet is one of life's great joys. At least I've heard it is; I don't have one. 😢
3. Superman Snuggie: I'm willing to go out on a limb and state that a blanket donning Superman's logo and arm holes—undoubtedly the laziest invention ever—is officially ironic. Cue Kelly telling me that I'm wrong.
I feel like it would really be ironic if it *didn't* have arm holes. No?
5. Desktop Canon: Just once in my life I'd like to swivel a tiny canon on my desk to gain the upper hand in a tense negotiation.
7. Custom Couples Portrait: My guess is that if you're shopping for the kind of person who would enjoy a painting of him or herself, they probably already have one. This "goofy" gift is more designed for someone who wouldn't enjoy a painting of themselves. Bonus points if they'd outright hate it.
17. Custom Paint-by-Numbers Canvas: I prefer to paint pictures of my dog freehand, but this would be a great gift for a first-timer.
20. Samurai Umbrella: This of this less as an umbrella and more as an excuse to carry around a samurai-looking thing all day. I personally haven't used an umbrella in over a decade. And I don't really want to talk about why.
Please enlighten us because it's so confusing to me. This is Kelly obviously… but I must include "btw" here.
23. Laundry Punching Bag: Encourage any lazy slobs on your list to do their stinking laundry for once and work out while they're at it. Get off the couch, you bum! DO SOMETHING!
28. Magic Eightball Pint Glass: If anyone needed another excuse to empty a pint glass this year, they have one now!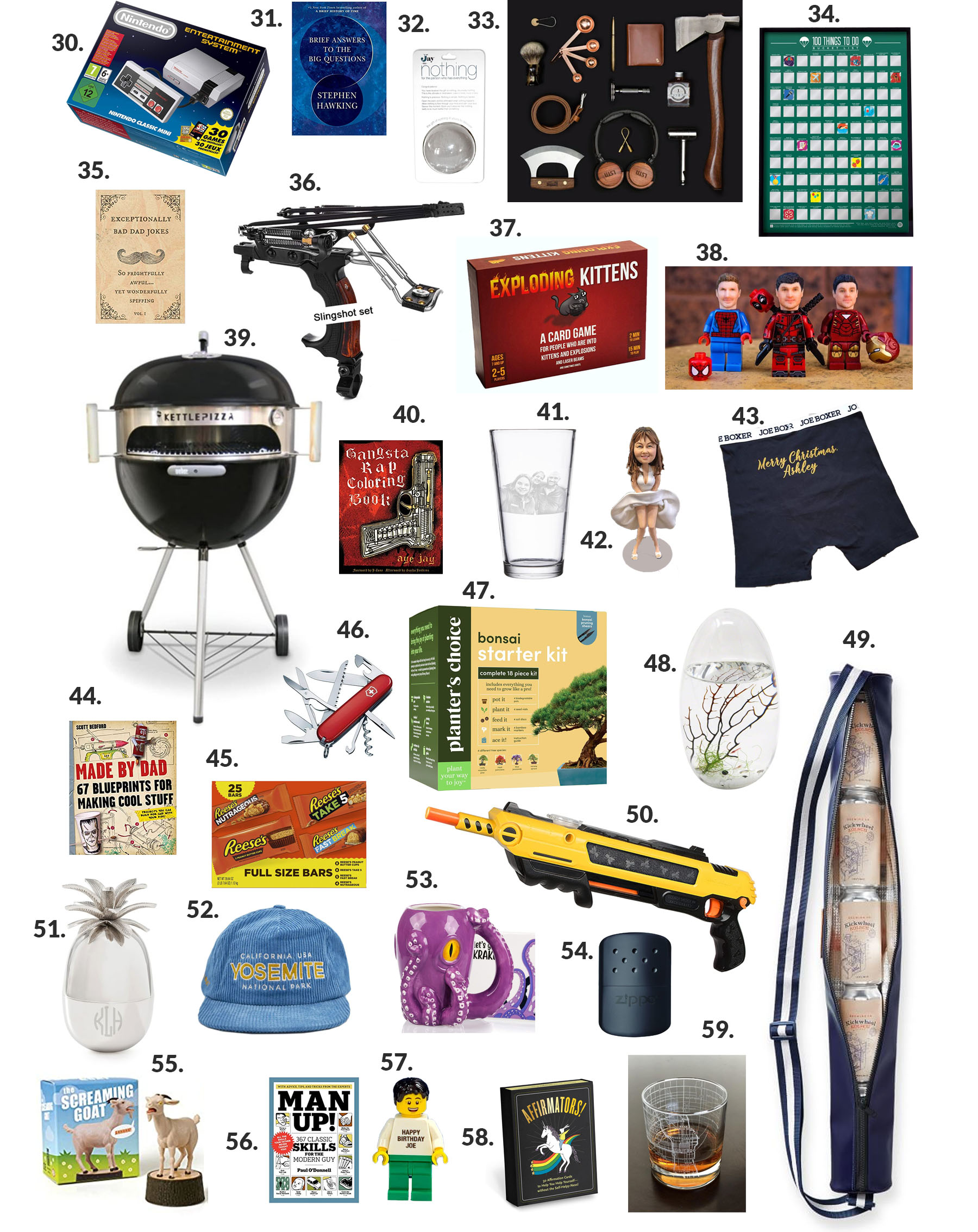 Thirty / Thirty-One / Thirty-Two / Thirty-Three / Thirty-Four / Thirty-Five / Thirty-Six / Thirty-Seven / Thirty-Eight / Thirty-Nine / Forty / Forty-One / Forty-Two / Forty-Three / Forty-Four / Forty-Five / Forty-Six / Forty-Seven / Forty-Eight / Forty-Nine / Fifty / Fifty-One / Fifty-Two / Fifty-Three / Fifty-Four / Fifty-Five / Fifty-Six / Fifty-Seven / Fifty-Eight / Fifty-Nine
30. Classic Nintendo: They'll think this gift is a joke when they open it and then they'll go play Mario for three hours. Just watch.
32. Nothing: I spend most of my free time thinking of product ideas and I've never come close to anything this good.
35. Book of Dad Jokes: What's brown and sticky? A stick. If my kid refuses to sleep during nap time, is she guilty of resisting a rest? When does a joke become a dad joke? When it becomes apparent. I could go on…
41. Custom Pint Glass: It is not appropriate to give alcohol as a gift, but giving beer glasses totally works.
43. Monogrammed Boxers: Be careful who you gift boxers to. A certain kind of guy will wear them until they fall off.
45. Box of Reese's Candy: If you take all the gifts in the world from now until December 26th and arrange them in order of best to worst according to all the proper criteria, the gift at the top of that list would be a box of Reese's Peanut Butter Cups. It's just a fact.
53. Octopus Mug: The right novelty coffee mug can really amplify a guy's personality. I'm not sure if you know anyone who would benefit from drinking out of an uncomfortable octopus every day, but if you do, this one is for you.
55. Screaming Goat Statue: My wife loves watching videos of screaming goats on YouTube. To be fair, though, who doesn't? They're hilarious. Commemorate your shared affection for screaming goats with this gift which will undoubtedly sell out fast.
Mitch. OUT!