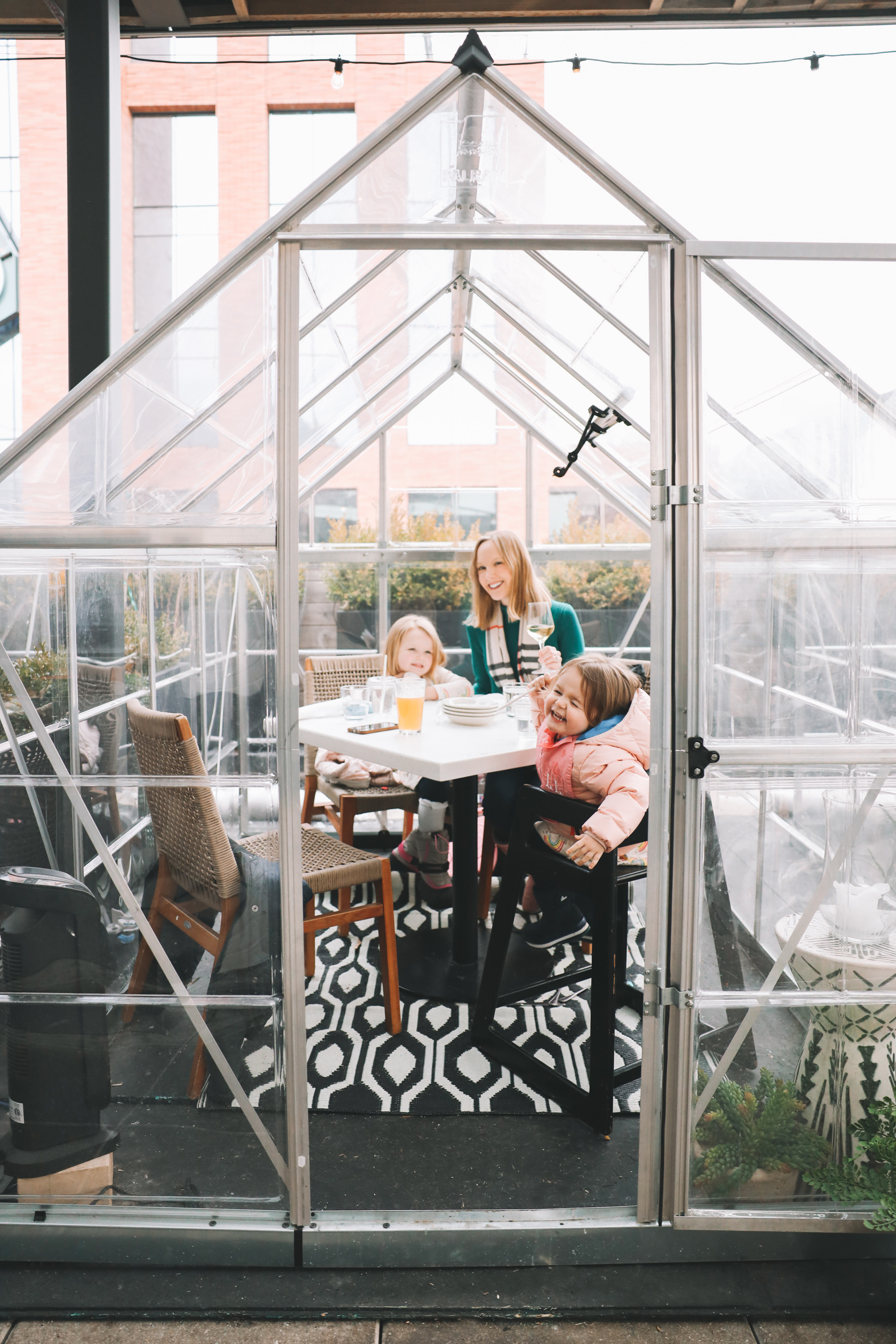 J.Crew Roll Neck Sweater / Burberry Scarf (Perfect for spring! Here's the classic.) / Hunter Insulated Boots available via Zappos, Hunterboots.com and Free People in black, too! / Girls' Rainbow Dresses (So cozy. Short-sleeved here. And omg the bunny print! And this bunny sweatshirt!) / Lucy's Patagonia Hi-Loft Jacket / Emma's Sorel Snow Boots (Also available via Zappos.) / Emma's Patagonia Hi-Loft Down Jacket / Lucy's Insulated Boots (Similar. Hers are hand-me-downs.) / Emma's Vineyard Vines Masks / Mitch's Vineyard Vines Pullover / Mitch's Waterproof Boots
WE WENT OUT!
Tock sent us to dinner in a greenhouse on Aba's rooftop. (More on that to come.) It was incredible and I can't recommend it more. It'd been a while since we'd gone anywhere, and we really needed it. :)
For now, I'm just going to leave you with some cute photos. OH, I did get my hair highlighted! (Needed that pick-me-up too, haha.) My friend Nicole did it. If you're looking for someone in Chicago, she's the best!
So that's fun. Byyyyye.
Shop the post:
J.Crew Roll Neck Sweater / Burberry Scarf (Perfect for spring! Here's the classic.) / Hunter Insulated Boots available via Zappos, Hunterboots.com and Free People in black, too! / Girls' Rainbow Dresses (So cozy. Short-sleeved here. And omg the bunny print! And this bunny sweatshirt!) / Lucy's Patagonia Hi-Loft Jacket / Emma's Sorel Snow Boots (Also available via Zappos.) / Emma's Patagonia Hi-Loft Down Jacket / Lucy's Insulated Boots (Similar. Hers are hand-me-downs.) / Emma's Vineyard Vines Masks / Mitch's Vineyard Vines Pullover / Mitch's Waterproof Boots