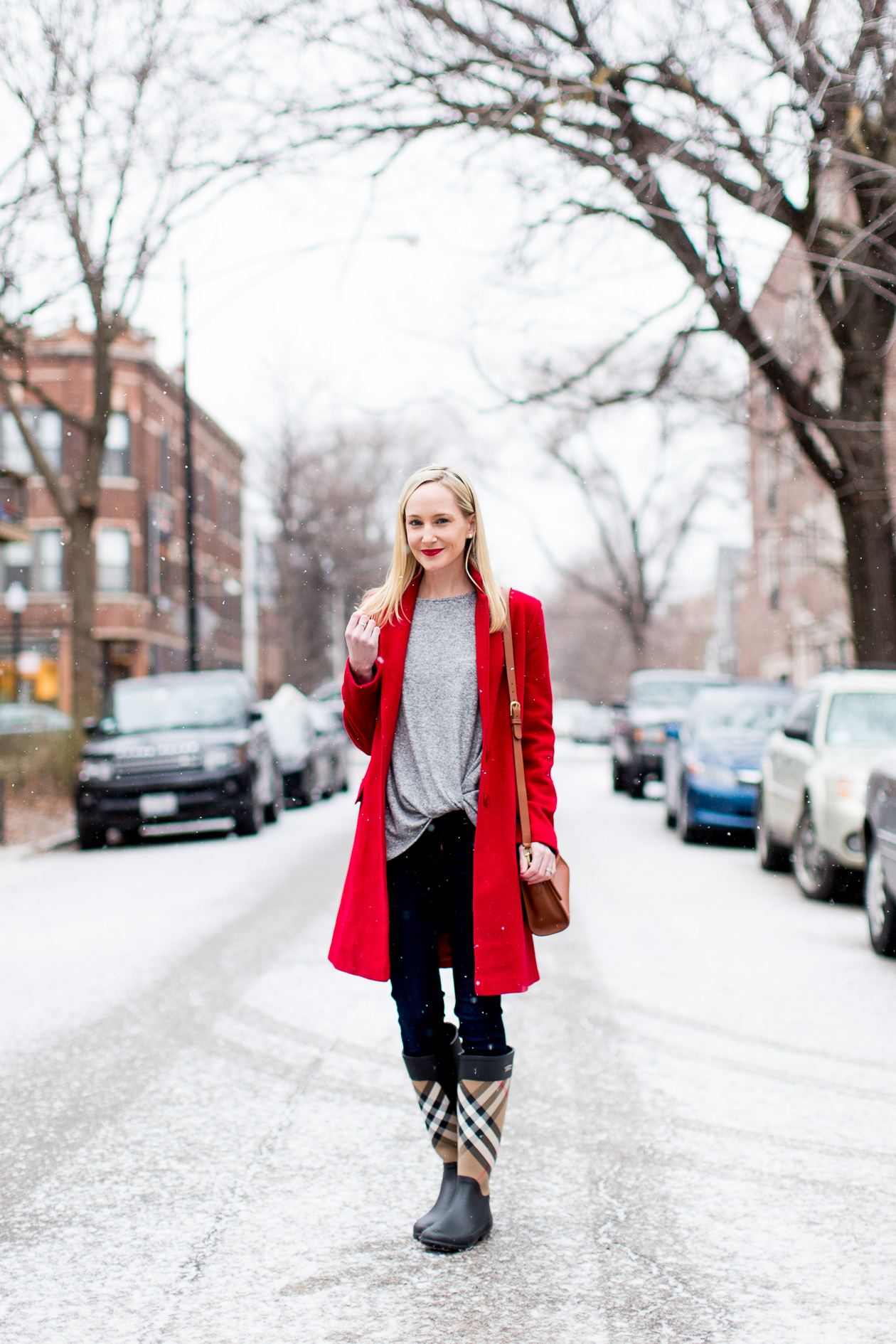 Helene Berman Wool Coat (And LOVE this similar one! This J.Crew one is a fave, too.) / Gray Twist Top (So many other favorites from Gibson below!) / Burberry Boots (Also available here. Love these, too.) / Rag & Bone Jeans (And these are my favorite jeans of all time. They come in black, too! And these are new!) / Coach Bag (No longer available. But I love this similar bag and this similar bag! And side note: Tuckernuck makes a more affordable version of the Clare V. clutch. Grab it!) / J.Crew Headband
I hear that there's a crazy snowstorm headed for New York today, so what better time to share some snowy pics from last week?
Wait: I have a lot more to say, but before I start, let's just talk about this twist top for a hot minute. I picked it up a few weeks ago, and it's been on constant rotation. (I wore it in black here, in case you want to see!) It's almost like a mix between a sweater and a shirt, and I find myself reaching for it whenever it's clean, simply because it's ridiculously soft and cozy and passes as something fancier than it really is. ;) I don't know about you guys, but I'm just about fed up with winter, and a top that makes my chilly days even the teensiest bit nicer is a winner in my book!
Gibson, by the way, is the king of super soft and cozy clothing. I just can't get enough of the line. While I obviously adore the twist top, I'm also obsessed with the peplum top, which I wore here in navy. Thanks, Gibson, for getting me through another Chicago February! ;)
Anyway.
Here's what I've been up to this week:
I watched the Super Bowl with friends at Jess' place. It was so fun to see everyone! I loved catching up with Maura, Neal's sister, and Emma was such the little trooper. She napped for several hours in Jess' bedroom, and then joined the party at the end of the night. Though I have to admit: I still can't remember which teams played… ;)
I attended Paint Nite at Glascott's Groggery. I LOVED IT. If you didn't see my Insta Stories from the night, I'll be publishing a post on the experience next week. Needless to say, we'll be doing it again! (Also our first true date night in a long, long time. A big thank you goes out to my mother-in-law for babysitting!)
I went to see Hamilton with girlfriends a couple of nights ago. It was ah-mah-zing. The king was my favorite part; couldn't stop laughing. I will say, however, that the second act might have affected me a bit too much. I mean, I knew what was going to happen, haha, but all I wanted to do was go home and hang out with Mitch and Emma and soak up all the moments. But I suppose any great production will make you feel all the feelings!
I shot with my friend Cassandra and spent a lot of time in coffee shops. My mother-in-law came up this week to help out, and I got SO much done. One of my favorite parts of the couple of days that she was here was having my friend Cassandra (who's moving back to Chicago in a couple of weeks!) snap some pics of her and Emma together. Cassandra, thank you! Those photos will always mean so much to us.
I shot and wrote Emma's nursery reveal. I'd been meaning to do it forever, but whenever the time was right, Emma was napping in said nursery. ;) I finally did it, though, and I'm so happy it's up–if only to preserve it for memory's sake!
I've been working on a website redesign. Okay, I'm not psychically working on it; my developer is. And truth be told, the final product will look a lot like what the current site looks like. But there are a ton of improvements being made, and it'll be SO much much faster. I'm really excited to share it with you!
I've been planning for this weekend. Emma is being baptized, and we have quite a few people heading in for the big event. I can't wait to see everyone! And fingers crossed that my family's flights, scheduled for Friday, are unaffected by the blizzard. Eeee!
And with that, I'm off to bed. Emma and I have a somewhat easy day tomorrow, and I'm looking forward to cuddles and playtime. :) Over and out!
Shop the post:
Helene Berman Wool Coat (And LOVE this similar one! This J.Crew one is a fave, too.) / Gray Twist Top (So many other favorites from Gibson below!) / Burberry Boots (Also available here. Love these, too.) / Rag & Bone Jeans (And these are my favorite jeans of all time. They come in black, too! And these are new!) / Coach Bag (No longer available. But I love this similar bag and this similar bag! And side note: Tuckernuck makes a more affordable version of the Clare V. clutch. Grab it!) / J.Crew Headband