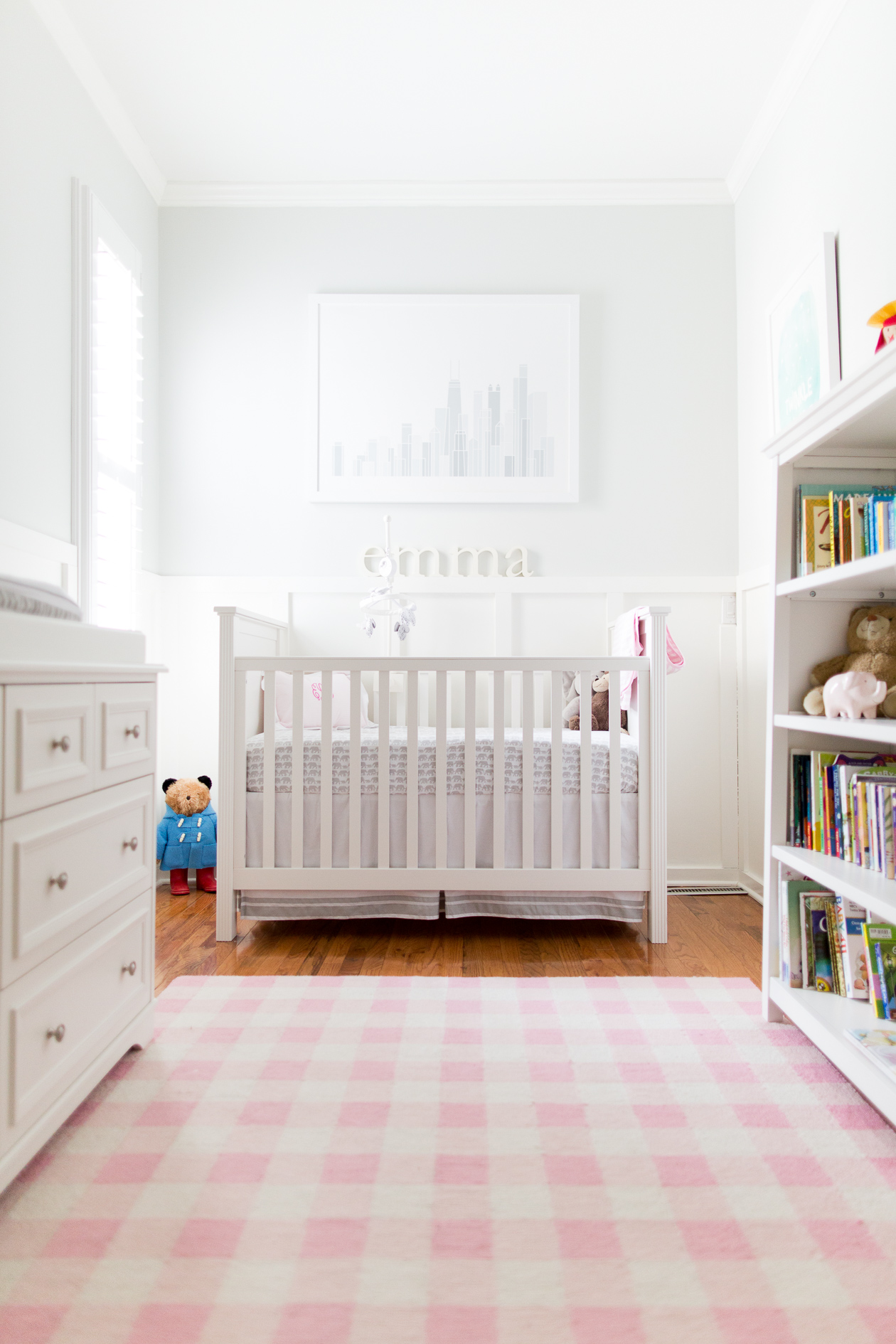 Pottery Barn Kids' Crib, Dresser and Bookshelf / Restoration Hardware Sheets (But we also have this set and love it!) / Birch Lane Gingham Rug / Giraffe, Chicago Skyline, Seal and "Twinkle Twinkle" Prints c/o Minted / Pottery Barn Kids' Crib Skirt, Changing Pad Cover, Quilt (Great deal here!), Mobile, Lowercase Letters / Pier 1 Chair (Ours is an older version but I love the newer one!) / Other room details at the end of the post
If you've been following along with this blog for a while now, I'm sure you wanted to kill me last summer, since pretty much all I did was stress about whether the nursery would be done in time for the baby's arrival. SO sorry. The nesting instinct was very real for me, haha.
If you're new to this site, the short story is that Mitch and I went through a solid year of renovations after our house flooded and we found out we were pregnant. First, we had to rebuild our master bedroom and master bathroom after the flood, and after that, we (crazily) decided to renovate our fireplace before the baby arrived. And then–since everything took months longer than we thought it would–we started construction on splitting the nursery and guest room about a month before my due date. (Here's my "one year of homeownership" post, which shows the true craziness of 2016!)
I sadly didn't take "before" photos of the nursery/guest room layout, but you can see the problem with it at minute 13:10 of this home tour video, which I filmed when we first moved into the house. Basically, it was railroad style; you had to walk through the (door-less) guest room in order to get into the nursery. And this was no bueno, as we wanted our parents and friends to be comfortable and have some privacy when staying with us.
So in one month, here's what we did:
And by "we," I mean the contractor. ;)
Closed up the french doors to the nursery.
Installed a new door to the nursery outside of the guest room.
Ran wiring through the nursery wall to install a Nest thermostat.
Installed a door to the guest room as well as crown molding.
Ripped up the carpeting in the nursery and installed hardwood floors.
Installed board and batten in the nursery.
After that, Mitch spent a few days painting the nursery and guest room, and he put together the furniture. (I, admittedly, only ironed sheets and crib skirts and positioned cute things around the room, as I was nine months pregnant and waddling at that point.) I think everything was done roughly two weeks before Emma's arrival, and I was one very happy mother-to-be.
Because we didn't know the baby's sex, we made the nursery "gender neutral" back in July. But over the last six months (can't believe our little girl is six months!), we've added some pops of pink to girlify it a bit. ;)
Anyway, I know it's taken me FOREVER to post this, but here it is! While we still have some things we want to do, we love Emma's nursery, and it's truly become our favorite room in the house–where so many memories have already been made. Scroll down to read and see more!
The furniture
For the crib (which converts to a toddler bed) and changing table (which converts into a dresser), we went with Pottery Barn Kids' Fillmore collection. If I'd known that Emma was going to be a girl, I think I would have wanted to go with this collection… but if we're lucky enough to have a second child, we won't find out the sex ahead of time, either. So I'm glad we went with a line that can go either way! This is the bookshelf. :) As for the chair, it's from Pier 1. I've been meaning to get a white cushion for it for the longest time!
The artwork
Giraffe, Chicago Skyline, Seal and "Twinkle Twinkle" Prints c/o Minted
We went with Minted for the artwork because we absolutely loved how our gallery wall and dining room projects came out. I'd actually fallen in love with this giraffe print from Little Darlings originally, but I just couldn't justify the price. The Minted print was so similar, though! The Chicago skyline print was Mitch's pick, and we love that we can tell her that she was born downtown in one of those big buildings. The seal reminded us of our trips to San Francisco and Nantucket, and it made us excited about future trips to the aquarium. (Which we just recently did!) And "Twinkle Twinkle"? We just thought it was really pretty. ;)
If you haven't heard of Minted yet, it's a site that connects you with some of the best independent artists across the world to bring you unique art for affordable prices. Minted is constantly hosting ongoing design competitions to source new pieces/designs, and as a result, there's just SO much on the site to choose from! In terms of the actual experience of shopping with Minted, I couldn't recommend it more. The quality is off the charts, the customer service is outstanding, and the speed of delivery is always shocking.
Minted, thank you for making this part of the design process a cinch!
The details
The paint color: It's Benjamin Moore's Gray Owl diluted by 50 percent. Which most of our house is painted in. ;)
The rug: My mom found this gingham rug online, and I immediately fell in love with it. I'd originally planned on going with a light pink oriental one, but when I saw this, I was sold. I mean, it's gingham.
The monogrammed pillow: It was a gift from my dad's broker and his wife, who my parents are incredibly close with. We'll always treasure it! (It's from a small boutique in Long Island, New York, but PBK makes a really cute similar one!)
Magic Bunny: I can't even tell you how much I wanted the Magic Bunny when I was pregnant, haha. I was obsessed with it. It's from this book, which tells the story of a bunny that stays up all night to protect the baby while he or she sleeps, and then falls asleep in the morning when the baby wakes up. Adorable! It was a gift from my aunt and cousins, and it sits on Emma's chair. Anyway, the bunny is made by Jellycat, and there are so many other bunnies in tons of sizes and colors. I love all the other animals, too! I sound like a psychopath.
Sonos: If you know Mitch, you know he's obsessed with Sonos. And I have to admit that having it in Emma's nursery is pretty great. We use it for lullabies and white noise. The sound is amazing and it's easy to use!
The bedding: In these photos, we have Restoration Hardware sheets on the crib, but we also have this set and love it! The crib skirt, changing pad cover and quilt (great deal here!) are all from Pottery Barn Kids, too. The quilt is from my grandmother, so it's super special. :)
Other blankets: The pink monogrammed blanket hanging over the crib is from my friend Danielle and it's from Monica + Andy. The gorgeous gray alphabet blanket hanging over the chair was hand knit by my friend Rebecca. (Happy birthday, Rebecca!) And we have another stunning blanket hand knit by one of my best friends from high school, Katie, but Mitch and Emma were cuddling with it on the couch when these pics were snapped. ;) Thank you so much, guys! We love you!
"Emma in the City" Frame: My friend Chelsea sent this (along with so many other thoughtful gifts!) when Emma was born. I'm astounded by how talented–and thoughtful–she is. Thank you, Chelsea!
The stuffed animals: The monkey (from Jellycat) was a gift from Erica, our best friend from New York, and Emma is CRAZY about it. It's the cutest thing! Paddington and the other teddy bear on the shelf were Mitch's when he was a little boy, and Raggedy Ann was a gift from Grammie. Emma got Madeline from my in-laws for Christmas!
The books: Emma LOVES story time, and we owe my mother-in-law a HUGE thanks for most of these, as she started collecting books for us the moment she found out that we were pregnant. Right now, Emma's favorite book is Pat the Bunny. Scratch, scratch.
The wooden letters: These came from PBK as well. ;) We'd initially intended to hang them above the ledge, but we fell in love with how they look just resting there. (And yes: I bought the letters for the boy's name, too, and ended up returning them!)
The mobile: We'd be lost without this thing, as it's often the only thing that gets Emma to settle down at bedtime. :)
Thank you so much for reading! Did I miss anything? If you have questions, feel free to leave 'em in the comment section below or email them to mitch@kellyinthecity.com. I'd say you can email me, but I'm a few months behind on emails, haha, and you have a much better chance at getting a speedy reply if you email Mitch. ;)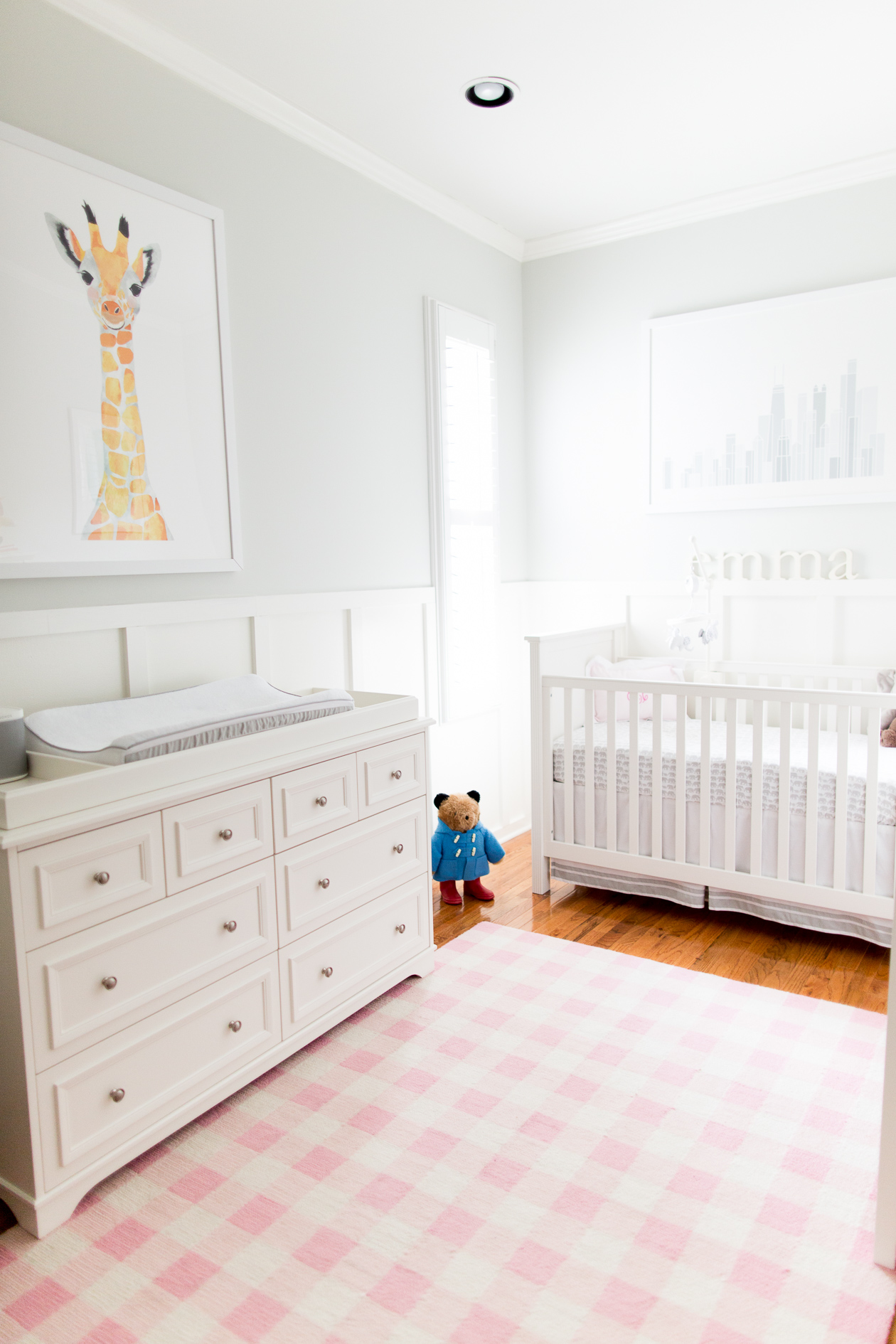 Shop the rest of the post:
Pottery Barn Kids' Crib, Dresser and Bookshelf / Restoration Hardware Sheets (But we also have this set and love it!) / Birch Lane Gingham Rug / Giraffe, Chicago Skyline, Seal and "Twinkle Twinkle" Prints c/o Minted / Pottery Barn Kids' Crib Skirt, Changing Pad Cover, Quilt (Great deal here!), Mobile, Lowercase Letters / Pier 1 Chair (Ours is an older version but I love the newer one!) / Other room details above