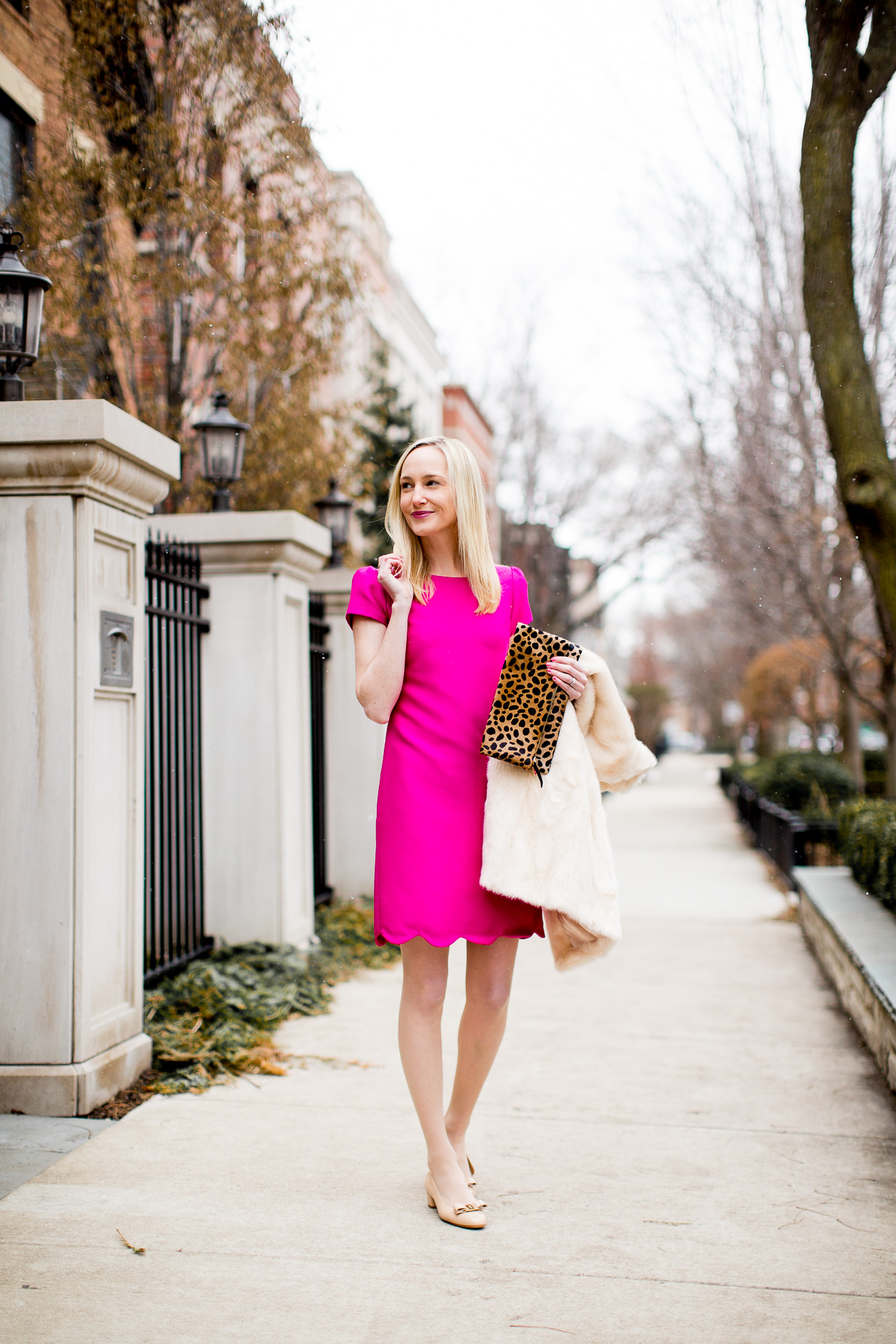 Camilyn Beth Dress c/o (Mine's actually an older version, but I love the newer one! I'll be wearing it in navy on the blog soon.) / Clare V. Clutch (Love this version and the Tuckernuck version.) / Salvatore Ferragamo Pumps (Flat version here) / Faux Fur Jacket (Sells out quickly, but I love this one, this one and this one!)
Hi friends! I know that this post was supposed to go up yesterday afternoon, but things got crazy quickly. ;) Emma and I shot with my friend Cassandra in the morning; my mother-in-law arrived in the early afternoon; I had a work session at a local coffee shop in the actual afternoon; I met up with Kira and her parents for coffee in the late afternoon; I had dinner with Mitch, Emma and my amazing MIL in the early evening; and I ended the day with Paint Nite (and Mitch) at Glascott's Groggery in Lincoln Park. (SO much fun. A ton of photos coming later this week!)
Phew! But back to the point of this post:

To RAVE about Camilyn Beth dresses–especially the scalloped ones–for Valentine's Day. They're the most well-made dresses I've ever owned, and they're absolutely stunning; unlike anything else you'll see on February 14th! I've worn a lot of CB dresses (also available via Tuckernuck) on the blog over the years, and I'll be featuring this "Saturday Dress" soon, but this pink one (newer version here) is my absolute fave. Shop the rest of the collection above!
All right: back to that coffee shop again, to squeeze in as much work as humanly possible before Lisa hits the road. (You're the best, Lisa. Thank you!) Have I mentioned that things have been going SO much better than they were when I wrote this post? I've cut back significantly, but I've also revamped how I run my little businesses, and I've started doing things like hiring photographers and developers. Mitch is also still going strong with the business side of things. I'm so, so happy that I (finally) realized that all of this was too much for me and started looking for help. Life is good again, and I feel like I can (almost) handle everything–even if I'm a solid six months behind on correspondence. And I can't thank you enough for your support while I learned a few hard lessons. :) Really, thank you!
Here's to another positive day. :)
Shop the post:
Camilyn Beth Dress c/o (Mine's actually an older version, but I love the newer one! I'll be wearing it in navy on the blog soon.) / Clare V. Clutch (Love this version and the Tuckernuck version.) / Salvatore Ferragamo Pumps (Flat version here) / Faux Fur Jacket (Sells out quickly, but I love this one, this one and this one!)
Shop Camilyn Beth:

Shop Faux Fur:

Shop Scallops: