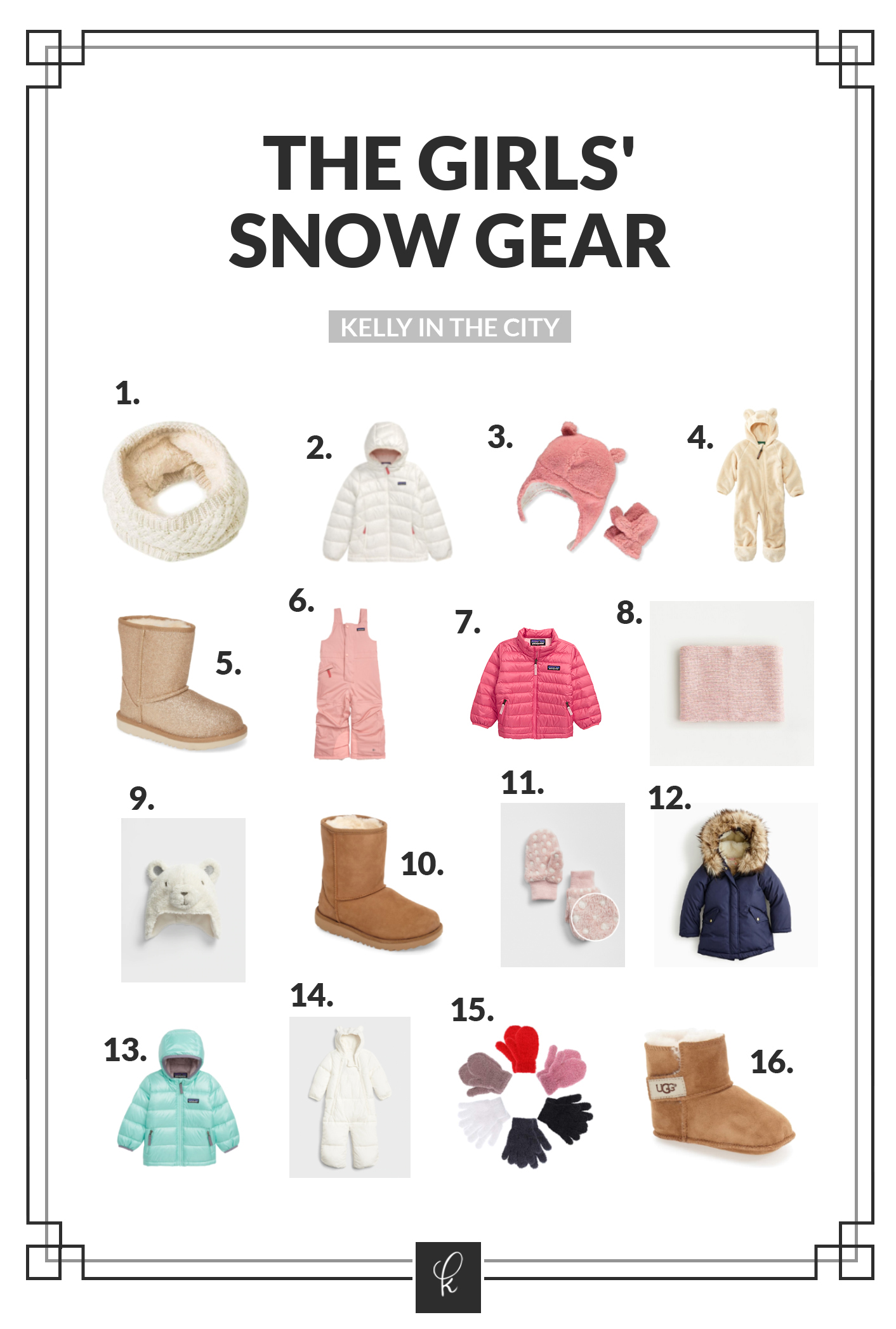 One / Two / Three / Four / Five / Six / Seven / Eight / Nine / Ten / Eleven / Twelve / Thirteen / Fourteen / Fifteen / Sixteen
We're in Disney right now (!) but today on the blog, I'm sharing the girls' everyday winter and snow gear. Because after 3.5 years of being a mom, I've finally figured out what we need to get through the colder months!
I'll start by saying that since Lucy was a born, I've transitioned to mostly buying higher quality products that are two or three sizes too large so that we get use out of 'em for a LONG time. My goal is always to have Emma wear a jacket, for example, for three years, and then have Lucy wear it for three years once her sister has outgrown it. I bought a few nice, well-made things–like Emma's baby Patagonia jacket–that have worked this year, and I'm certain that I actually saved money because they lasted. I also appreciate not having to shop as much this time around because #momlife. (So tired, haha.)
Anyway, above is what we rely on! A few favorites to highlight:
Fishtail parka: We've worn this for three years! It's incredibly warm, and Emma loves the faux fur around the hood.
Amazon gloves: For a while, I was buying mittens from the Gap, and Emma would lose them and I'd be bummed. (So much money, haha.) Now we buy these from Amazon, and because they're so affordable, it's not a huge deal if one goes missing!
Bear suit: This is everything. Dealing with a baby kicking off her boots outside is not my idea of fun. (Though we do have them.) This suit fixes that problem! It's great. It's kept Lucy VERY warm in single-digit-degree weather. Game-changer!
Down jacket: This is Emma's play jacket for those truly freezing days in Chicago. It's lightweight yet so, so warm. It's machine-washable, which keeps it looking clean, and it's really soft. I bought it in a size 5/6 for Emma and simply cuff the sleeves. (She's three.) This is the baby version that Lucy has!
Waterproof Uggs: I realize that this seems like a crazy purchase for a child, but they're totally waterproof and you can't stain them. (Emma literally spread butter all over them and it came right off!) Worth every penny. Her toes are never cold.
Snood: Another Amazon find. Emma was always losing her scarf; this thing can't fall off!