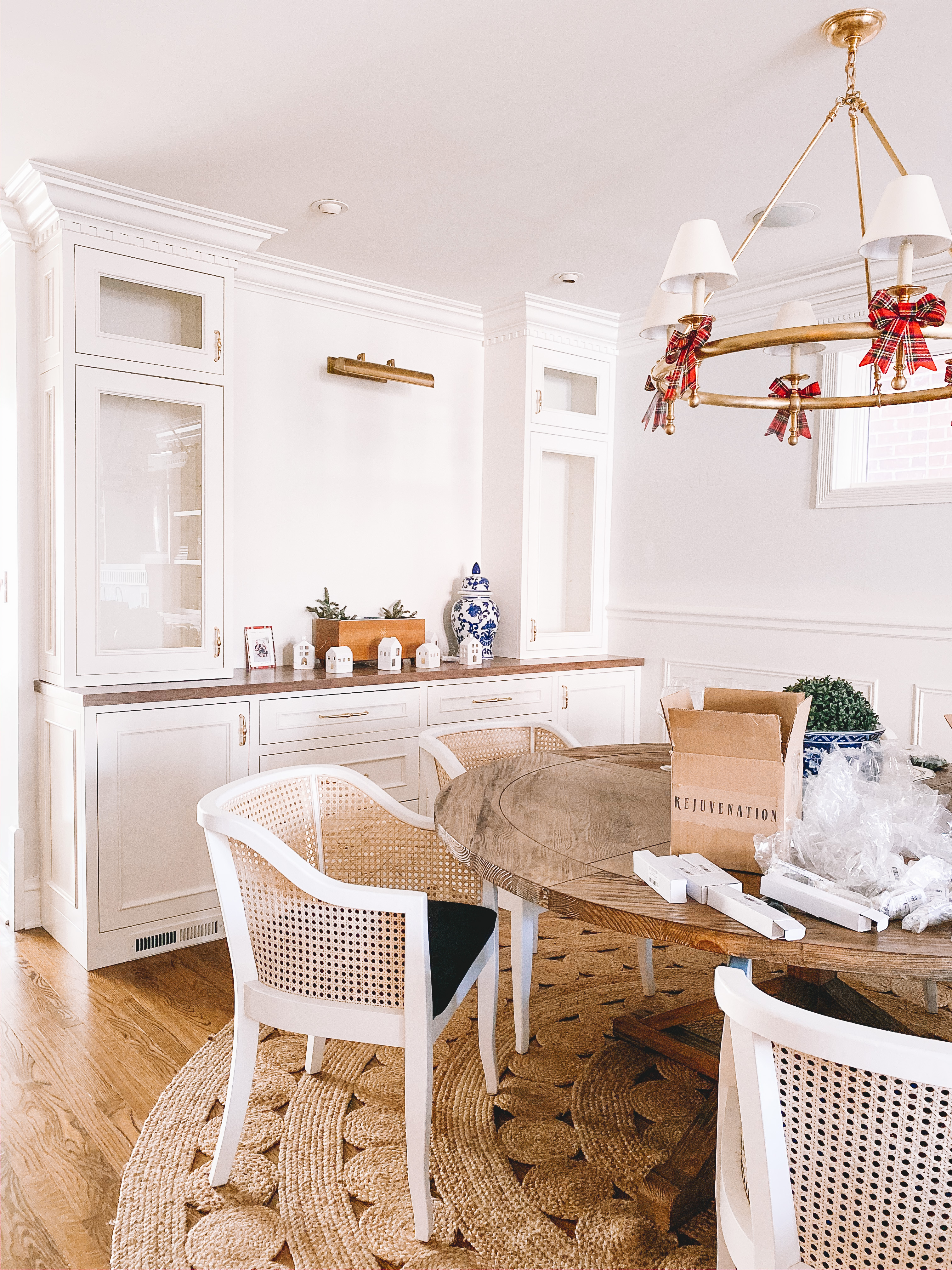 Rejuvenation "Opal" Pulls / Serena & Lilly Round Jute Rug / Cane Dining Chairs (Also see these. Here is the original inspiration.) / Pine Dining Table (Also available here.) / Williams Sonoma Planter / Serena & Lily Chandelier (Also carried at One Kings Lane, Bellacor and 1800Lighting. Williams Sonoma has a very similar one, too.) / Restoration Hardware Light Fixture over Buffet / Future Mirror / Similar Ginger Jar / Cathy's Concepts Wine Trough / Holiday Bows (Obviously need to take them down, haha)
I'm just starting to feel like it's a new year. I can't lie: I was somewhat shellshocked from the holidays, and was completely overwhelmed by the mere thought of getting back into the groove of things once we returned to Chicago. And then hearing everyone's resolutions only made it worse. 😂 I couldn't even catch up on laundry, much less map out the next year of my life to maximize productivity and embrace wellness and commit to all the other things I was supposed to be committing to.
But here I am! Alive and not deathly ill and tired but chugging along, all the while slowly putting my life back together and considering thinking about thinking about (not a typo) my goals for 2020… because I do think it's a worthwhile endeavor. I'm not there yet, though. 😜 Isn't keeping two tiny humans alive enough?!?! (Kidding but also serious.)
If you're having trouble with the whole finding-intrinsic-motivation thing as well, I have a little advice. :) I'm not sure I even realized I was doing this before I sat down to write this blog post, but since we arrived home, Mitch and I have been devoting 15 minutes every day to one "home task" that's been bugging us and it's been thebomb.com.
For example, last week we ordered this thing to organize wrapping paper and then put it together and shoved it into the utility closet so we're not tripping over all the supplies every time we go down into the basement. Seems like a ridiculous thing to commit time to, but I can't tell you how much happier I am every time I go down there now, haha. One of the problem areas of our home is no longer a problem area!
Tackling one small project every day has made a big impact on our happiness, too. Yesterday, I rolled out a rug. But when I hit the hay, I felt good about the house. Is it still in need of organization? Heck yes. But we're getting there. My problem has always been that when faced with a disorganized home, I tend to shut down and put it off because it's overwhelming. But 15 minutes per day? I can handle that. I'm also incredibly surprised as to how much I can get accomplished in that timeframe. Slowly but surely, things are starting to fall into place!
(I really need to do a Marie Kondo update, btw, because this is an extension of all of that!)
Let's talk about these pics, though. We finally called KDD to have her crew install the hardware that we picked out for the built-ins that Kira designed for us. All in all, the "process" probably took about 20 minutes, from placing the phone call and selecting an install date to letting the guys in and chatting about placement with them.
And BEHOLD! The house is now better than it was before we tackled this task. Sure, it was a small task. But it's already made a difference in terms of our quality of life. We're no longer stressed that the blue painter's tape is going to fall off the next time we try to open a drawer or cabinet! And we're just generally in love with how finished the hardware makes the space feel.
BOOM! All the positive feels.
Tomorrow's task? Organizing the coat closet. It's a disaster.
Wish us luck!
Have you been struggling with starting the year off on the right foot? If so, let me know if anything's been helping!
Shop the post:
Rejuvenation "Opal" Pulls / Serena & Lilly Round Jute Rug / Cane Dining Chairs (Also see these. Here is the original inspiration.) / Pine Dining Table (Also available here.) / Williams Sonoma Planter / Serena & Lily Chandelier (Also carried at One Kings Lane, Bellacor and 1800Lighting. Williams Sonoma has a very similar one, too.) / Restoration Hardware Light Fixture over Buffet / Future Mirror / Similar Ginger Jar / Cathy's Concepts Wine Trough / Holiday Bows (Obviously need to take them down, haha)