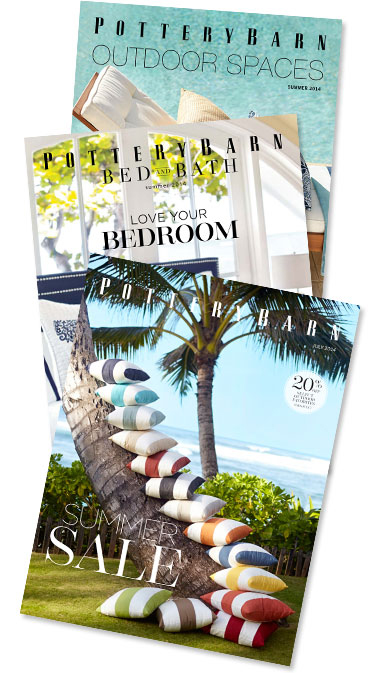 Every time the Pottery Barn catalogue arrives, I spend an hour drooling over the perfect spaces featured in it. And then I slap myself. ;) While Mitch and I have a few PB products that we purchased on super sale or that we received as wedding shower gifts (thank you, wonderful friends and family!), decking out our tiny pad in the brand just doesn't make sense at this stage in our lives. (No matter how much I love it.) It's expensive, and in our opinion, not a great investment for a not-so-permanent home. Random Craigslist guys shuffle our stuff from place to place every year or so, after all. (#risky)
But over the years, I've learned that a lot of the PB "looks" can easily be replicated for a fraction of the cost. Does it take extra time and work tracking down lookalike products? Yes. But if you're committed, it's worth it!
Over the last week, Mitch and I have been working on our "back porch," which is really just a glorified wooden fire escape, painted a lovely shade of gray. The good thing about it, though, is that it exists. In my eight years in New York, I never once lived in an apartment that had access to an outside space. (My last apartment didn't even have windows!) So you can imagine how incredibly grateful I am to have this little oasis.
We knew we could easily throw a couple of lawn chairs out there and call it a day, but we really, really wanted to make it comfortable and cozy–like a miniature second living room. A place to read, eat, entertain, and relax. Anyway, here was the inspiration: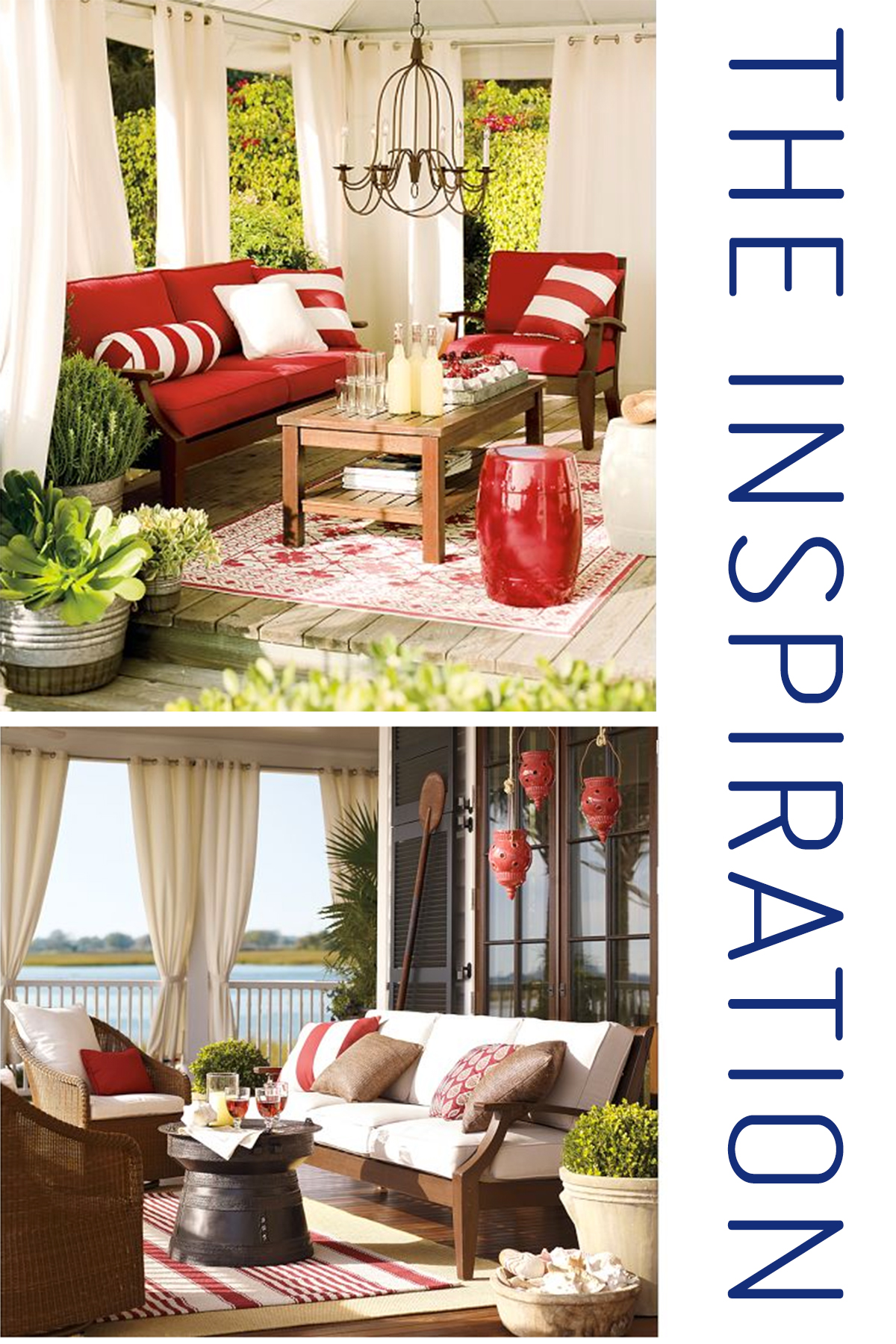 The products I lusted after were the Chatham Sofa (and red cushions), the Chatham Armchair (and red cushions), the Chatham Coffee Table, the Oxford Stripe Indoor/Outdoor Rug, the Indoor/Outdoor Stripe Pillow in navy, the Indoor/Outdoor Paisley Pillow (unavailable), and the Portsmouth Wooden Lantern. Total price? Roughly $2,000. Ouch. To work with, we also had the below space: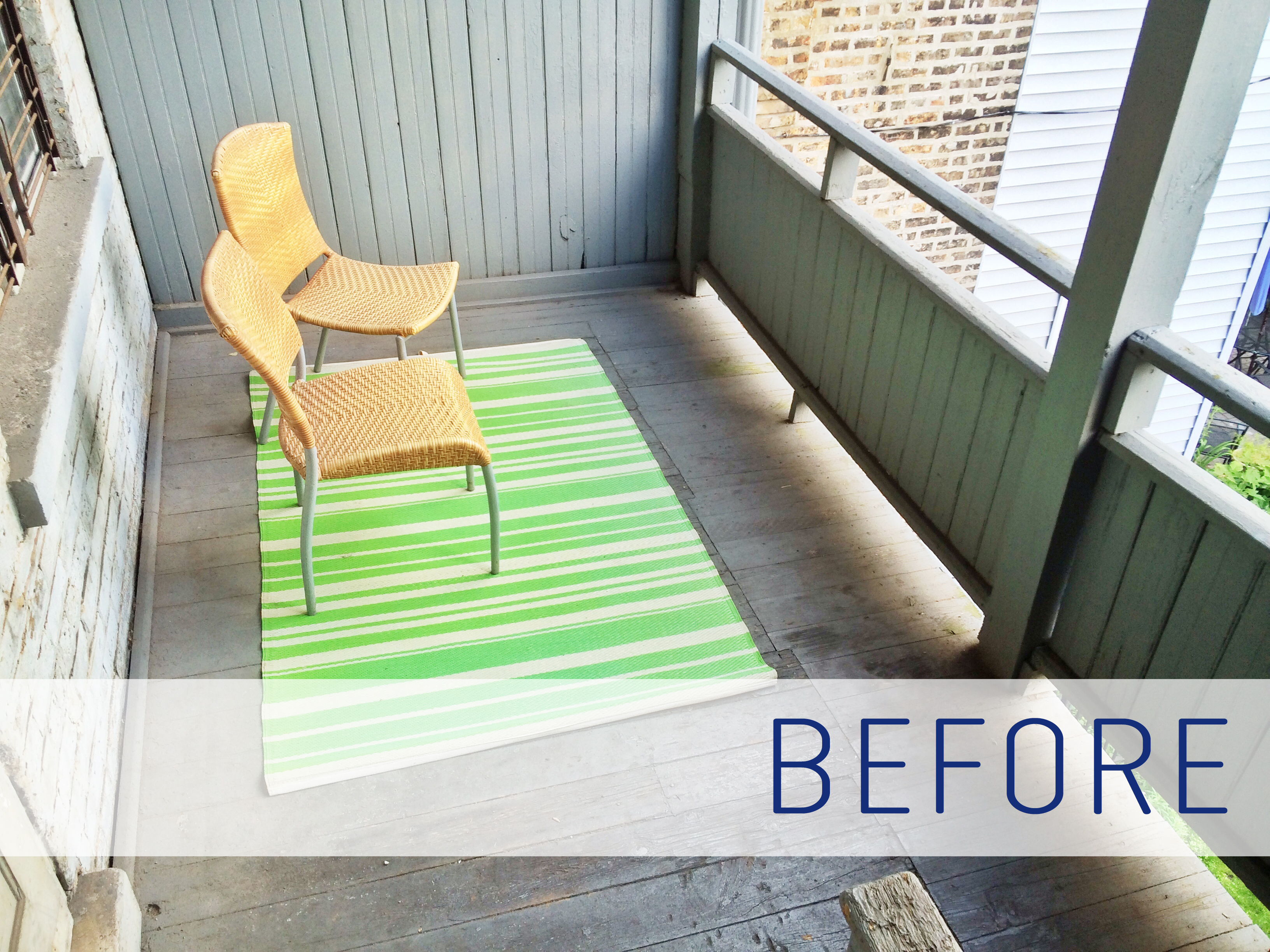 Not quite as gorgeous as the PB spaces. (Actually, that's a photo of another porch in our building, right after the old tenants moved out. I always forget to take "before" photos!)
As a city girl, I didn't exactly have the knowledge or experience to tackle major construction projects, but we managed to bring our vision alive after hours of online research; a few trips to discount furniture stores, a local hardware store and an Ikea out in the suburbs; and resolving to put together the furniture ourselves in an effort to cut costs.
Admittedly, it's not as perfect as my Pottery Barn catalogue, but we love it. It's comfy and inviting, and we spend hours out there every day. And we did it for under $500!
Couch, cushions and striped pillow: $230 (Menards)
Armchair, cushions and striped pillow: $129 (Menards)
Coffee Table: $60 — even cheaper in-store! (Menards)
Rug: $9.99 (Ikea) — Join Ikea Family to get the discounted price… It's free!
Lantern: $7.99 (Ikea)
Planter: $6.99 — Ours was discounted because it was scuffed (Home Depot)
Flowers: $3 (Home Depot)
Mat: (Pottery Barn — wedding shower gift)
Paisley Pillow: (Pottery Barn — housewarming present from my parents)
Where do you find design inspiration? And how do you tackle design projects on a budget?