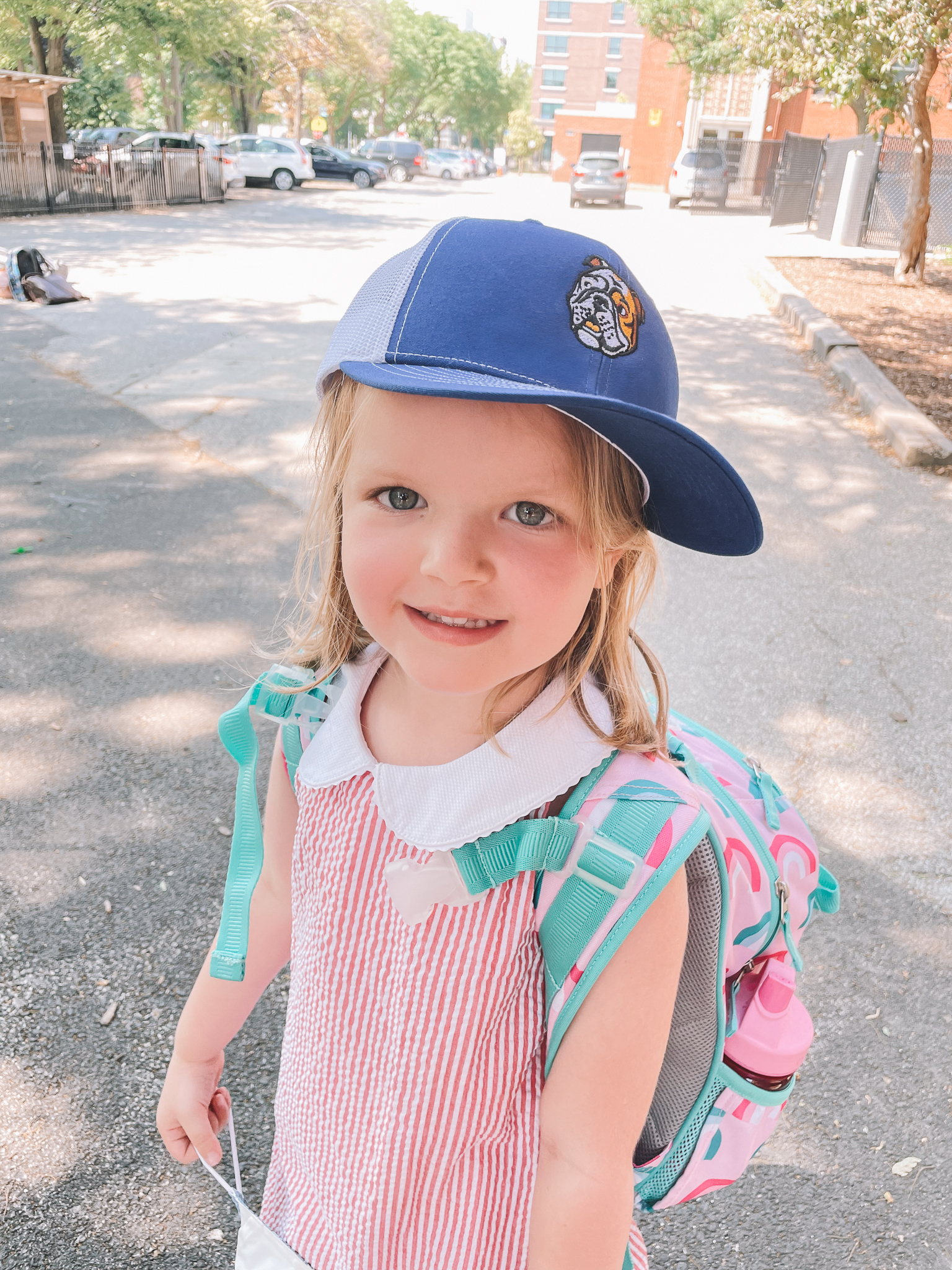 A little late here, but congratulations to Emma Larkin for graduating from Pre-K! This is her dress (for "Stripes Day") and this is her backpack, according to my wife.
Mitch here!
I'm back with another 10 things post.
Welcome Baby June! I'm also a little late on this one, but it'd be ridiculous to publish this post without mentioning my new favorite baby, June Loftus. Big congratulations to Jess and Neal for having the most beautiful baby on record. Thanks for sharing the experience with us, guys! We love you.
We got tagged… by the City of Chicago. I'm not sure exactly what's going on, but when leaving my house this morning, I found an abstract art exhibit of spray-painted lines from the City Water Department and Gas Company all over the sidewalk. I have absolutely no idea what they plan to do but they've blocked off parking for half of our block for the next MONTH, and all the activity seems to be centered on my house. As you might expect, they've told me exactly nothing so I guess I'll just hope for the best.
I found a warehouse! If you follow Kelly's Instagram Stories closely, you've probably noticed a few dozen giant piles of boxes filling up our home. I run a small business that invents, designs and manufactures products, and the 2020 online shopping spree caused my business to grow faster than I'd anticipated. (Which is a good thing, no doubt!) This resulted in me storing tens of thousands of units of inventory anywhere I could find. That included filling my garage to the brim, piling products from floor to ceiling in my office, and desperately looking for warehousing space. But I'm happy to report that I've finally found a solution, and while I realize this is only a big deal for me, it's such a big deal that I wanted to write about it here. Thanks for obliging me, haha.
Time to hit the garage sale/Craigslist circuit. I'm a big fan of Sweet Shady Lane on Instagram. While I realize I'll never have a lake house in Minnesota, it's fun watching someone who does and daydreaming. Yesterday, I sent this English Pine Dresser post as inspiration for our front entryway,  and Kelly said, "Yup. I literally just saved the same thing!" So now I'm on the hunt for an English Pine Dresser.
On a somewhat related note, we've been playing an adult game of musical chairs. Due to a manufacturer's defect, Kelly has swapped out our dining room chairs. I LOVE the new look, but I now have a garage full of chairs that I don't know what to do with. It looks like I'm setting up for a ghost meeting in there. Thank goodness for Craigslist.
Emma and Lucy's absolute favorite activity is preparing plastic food in their play kitchen. It's adorable, but much of my day is spent being handed plates of plastic food, fake nibbling on it, saying "Mmmmmm" and then repeating for hours and hours. I'm not really complaining, I'm just in a weird place right now.
I'm terrified of flying with my children this summer. Not traveling for a year has me shook. I know that I'll forget to pack something and it'll result in an epic meltdown at an inopportune time or that our flights will be delayed or cancelled. (#LarkinLuck) Now that Lucy is two, she'll have her own seat, which should help… though she'll probably opt to sit in my lap anyway. Flying with kids just makes everything so complicated. For example, we have too much stuff to cab to the airport, so we'll drive… but we'll have too much stuff for the shuttle from the parking garage, so I'll need to drop the family off, go get parking, and cab back to them. And all that is just getting to the airport to start the trip. It's going to be interesting. Wish us luck. (Many thanks to my father-in-law, who makes everything better when he appears at baggage claim every.single.time. You're the best, Chris.)
I guess what I'm really getting at here is that I've reached a level of frustration with parenting that I haven't experienced before. I pride myself on my patience and discipline with my girls, but the level of complaining, temper tantrums and neediness they're exhibiting now that they're out of school has me totally worn down. And it's only been a couple of weeks! I try hard to keep a positive attitude and to remember that they're only 4 and 2, but good god they are putting me through the wringer so far this summer. (Am I a bad father for vocalizing this?)
Maybe we should go easy on ourselves and slow down. Kelly and I planned to take advantage of her parent's generosity in watching the kids this week and sneak away for a quick trip to either DC or NYC. But if I'm being honest, the prospect of a "trip within a trip" on top of all the other travel we've been doing this summer has me exhausted. I think some date nights would do the job just as well!
In other parenting news, DJ Emma insists on playing Kids Bop Kids throughout the house and I must admit it's fire. People don't really talk about this but much of parenting young children is tolerating the most obnoxious music imaginable: Sesame Street, The Wiggles, Little Baby Bum, and Cocomelon on repeat month after month. Kids Bop Kids, on the other hand, is just remixed top 10 pop songs with kids as the vocalists—and it's such a relief to have an approximation of real music on for a change. I like it. And Emma and Lucy are so cute singing and dancing along.
Mitch. OUT!