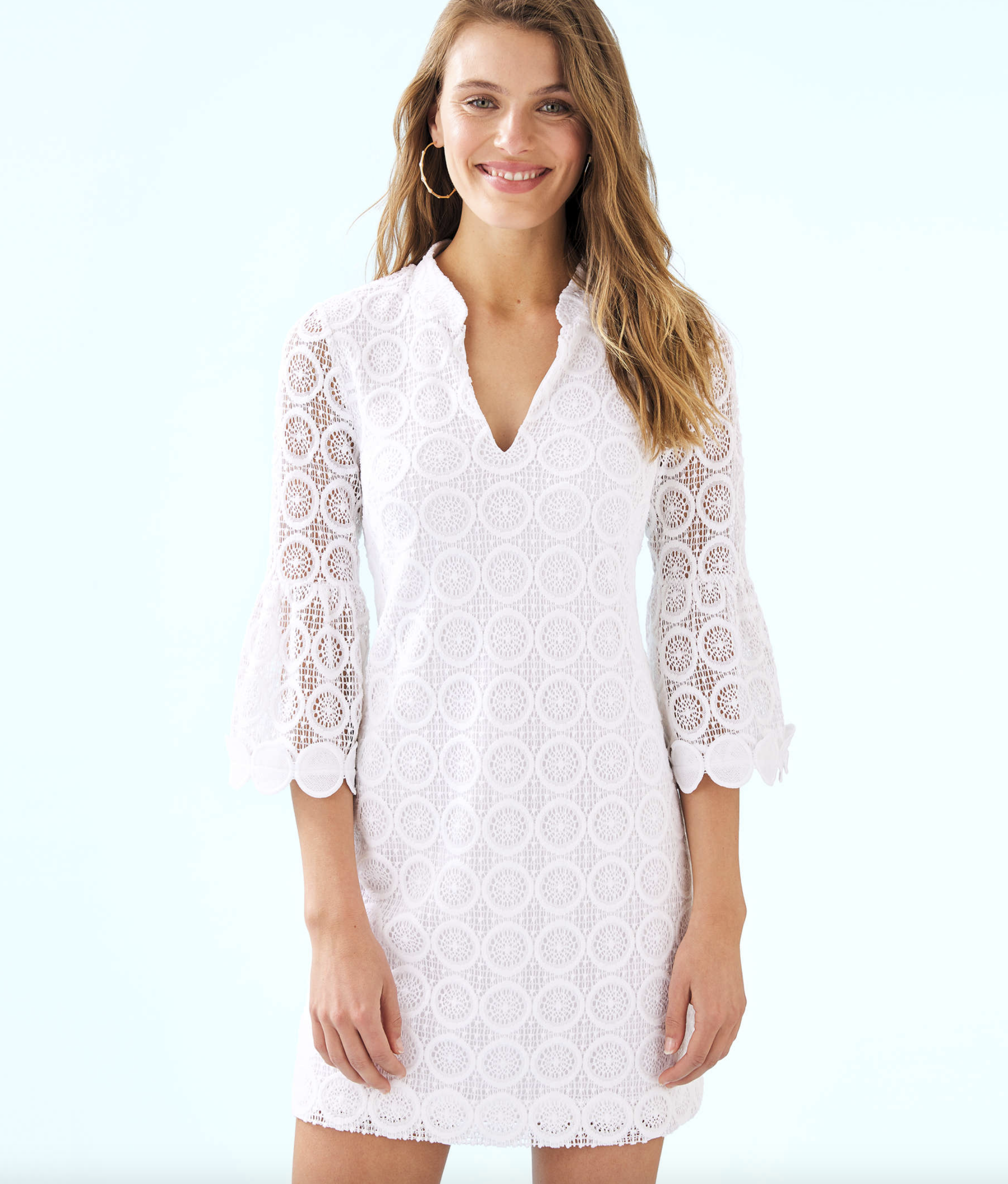 Zelle Lace Dress: My #1 pick from the sale! Apparently this dress is incredible for travel as it's wrinkle resistant and very soft. Love that you could wear it with flip flops and make it casual or dress it up with pumps. Huge fan!
Wow! I feel like Lilly Pulitzer After Party Sale shoppers were let into the site very quickly this morning. I think it took about 15-20 minutes for me to get through, though that's right in the middle of kiddie drop-off, so I wasn't surfing until a bit later in the morning. But over the last few years, Lilly has really upped its game in terms of inventory, so I really never worry! Honestly, even if I couldn't browse until the evening, I wouldn't think twice about it! There's a LOT. :)
But let's pause for a second to announce the $500 (randomly selected) giveaway winner. Drumroll please!
Congratulations to:
SUSAN GROWE! (Susan, expect a message from me shortly. CONGRATS, Lady!)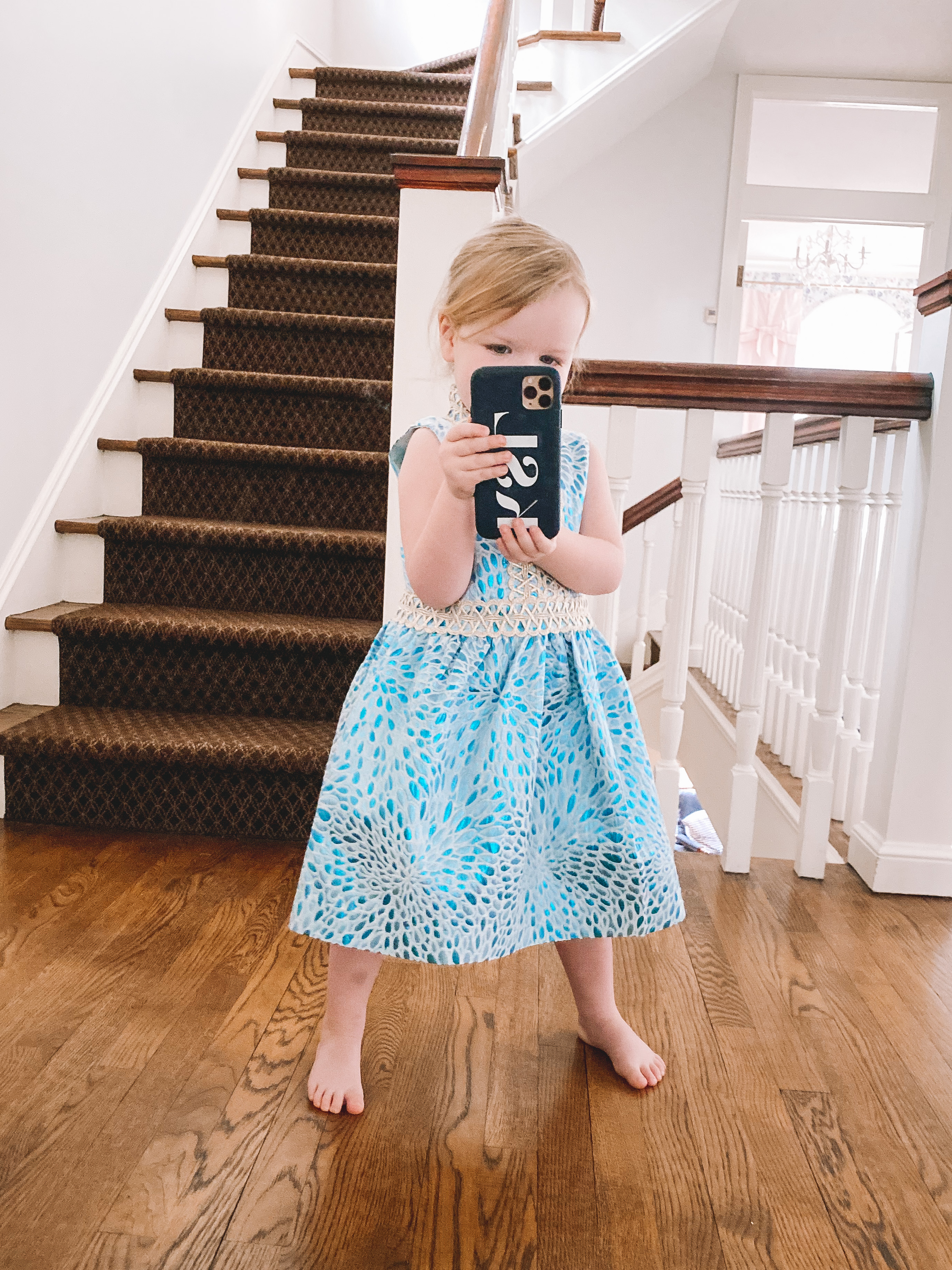 Mini Franci Dress in "Bermuda Blue Lagoon Jacquard" / Tde. Phone Case
PS: Over on Instagram Stories, I'm also teaming up with some friends and giving away an additional $700 to shop the sale! We'll likely announce the winner tonight or tomorrow morning. All you have to do is follow the girls who are hosting it, and then slide this little slider thingy over so we know you entered. Definitely do it! So quick and easy!
Anyway. When I shop Lilly sales, I tend to go slowly and add favorites to my cart as I comb through each section… and narrow it down to a handful of pieces after that! Generally, I shop for girls' clothing for Emma and Lucy, and casual everyday dresses I can wear on vacation and in Ocean City. Lilly t-shirt dresses–specially the Brewster Dress, Marlowe Dress, Skipper Popover Dress and Harper Shift Dress–are my staples… and for the girls, I typically go for the Little Lilly Classic Shift Dress, Mini Harper Dress, and Infant Shift Dress.
After I narrowed things down, here's what remained in my cart:
And below is everything I had my eye on!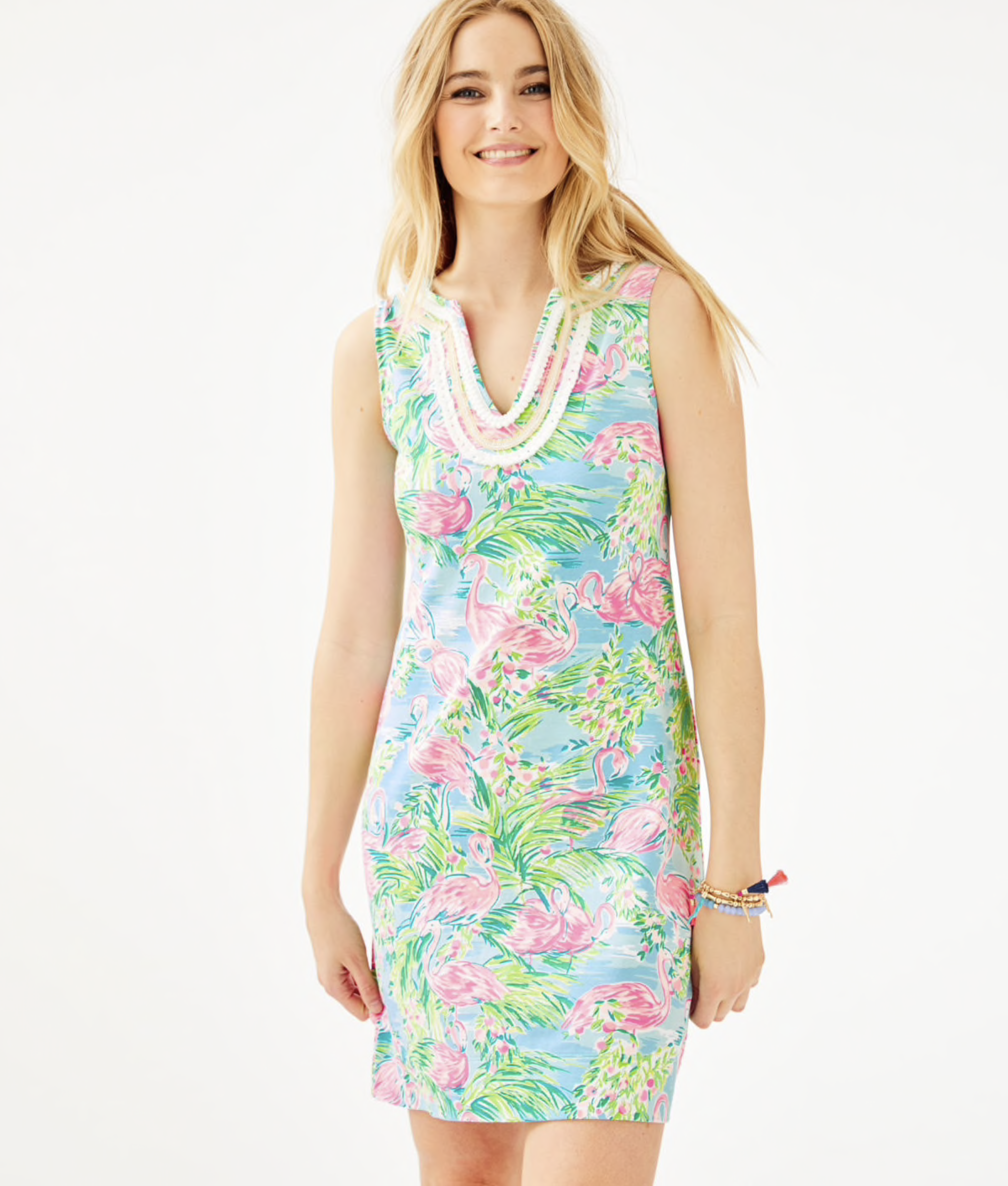 Harper Shift Dress: I can't tell you how much I love this dress. I actually own three! Lilly's been making it for a long time, and it's no wonder. It's lined with a wonderfully soft Terry material, and because it has spandex in it, it doesn't wrinkle like other cotton dresses do. It's always in my suitcase when I'm traveling. I do wish it came in solid colors, but for now, I just rep the patterns that look iconic and classic! (Btw: There's a little girls' version, too. Emma has a couple and is obsessed with them because they're so comfy! I always order her two sizes up that way she can get a few years' wear out of them. Since they're shifts, it totally works.)
Sizing: TTS.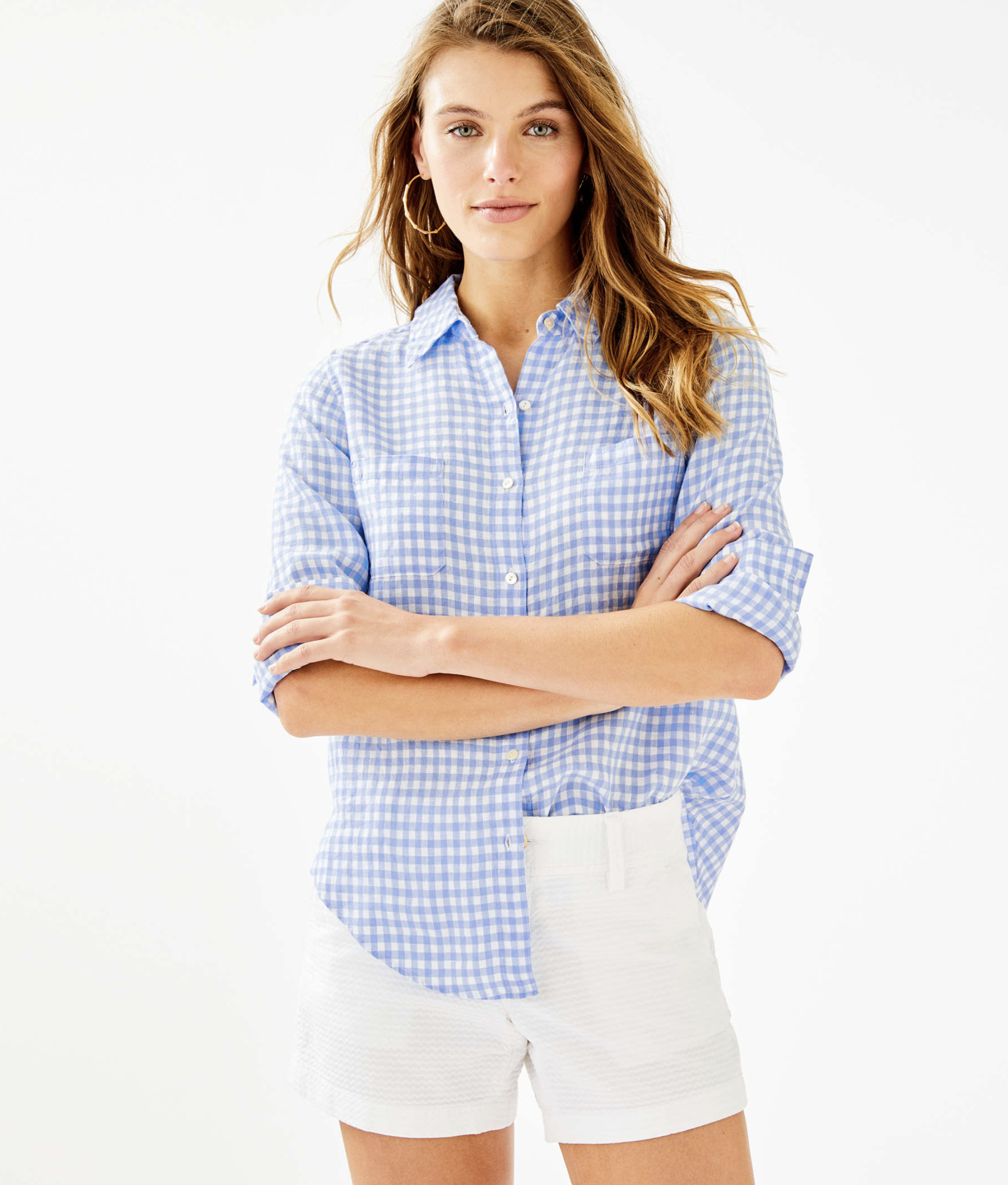 Sea View Button-Down: I love the Sea View Button-Down, and there are a bunch that are included in this year's APS. It's a great everyday shirt for the summer or vacation. Isn't the gingham version adorable?!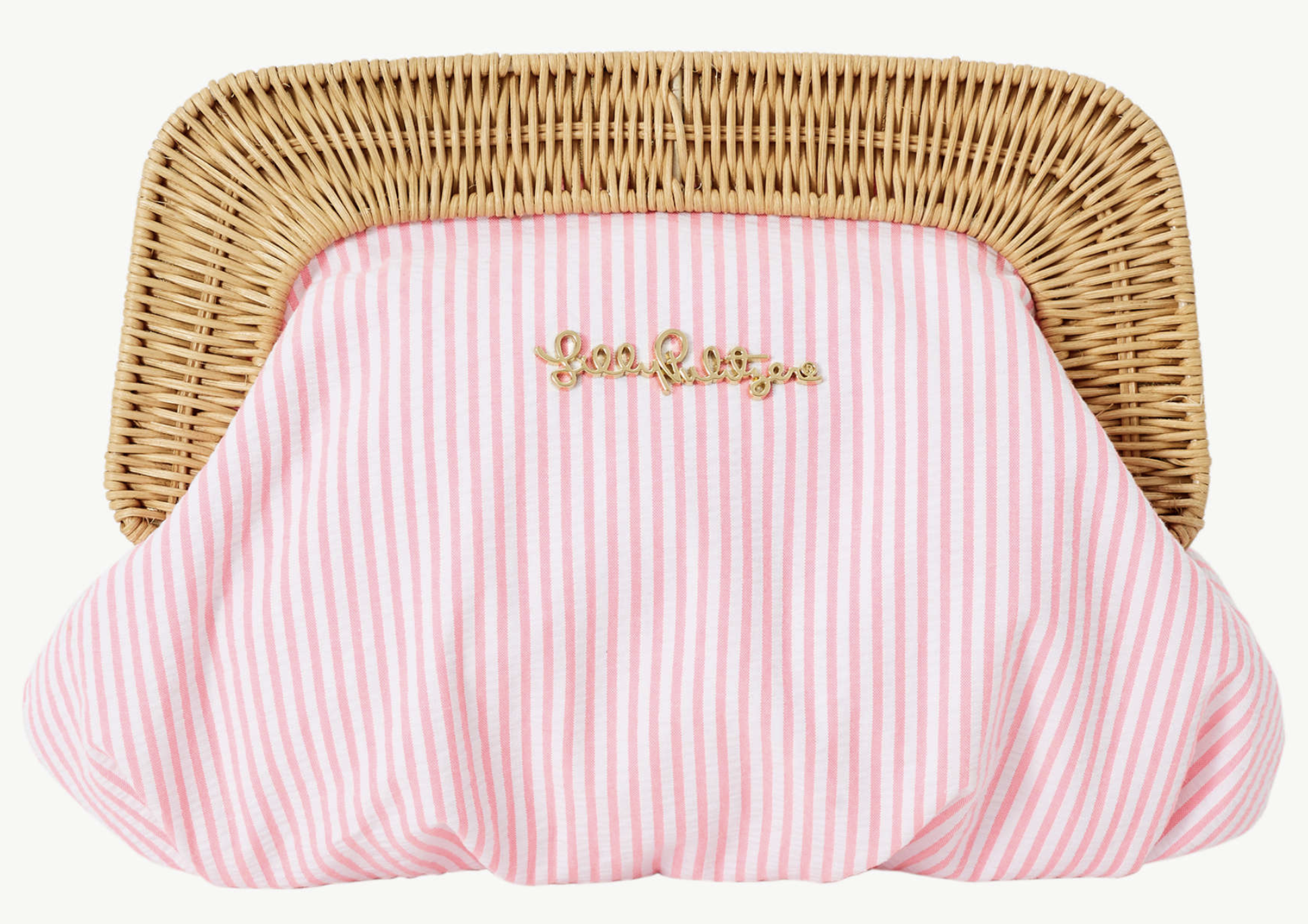 Cayo Clutch: MY GRANDMOTHER HAD ONE THAT LOOKED JUST LIKE THIS and I'm very nostalgic right now. Grammie is the epitome of class, so you know it's a winner if Grammie's a fan. Definitely something you'll have forever!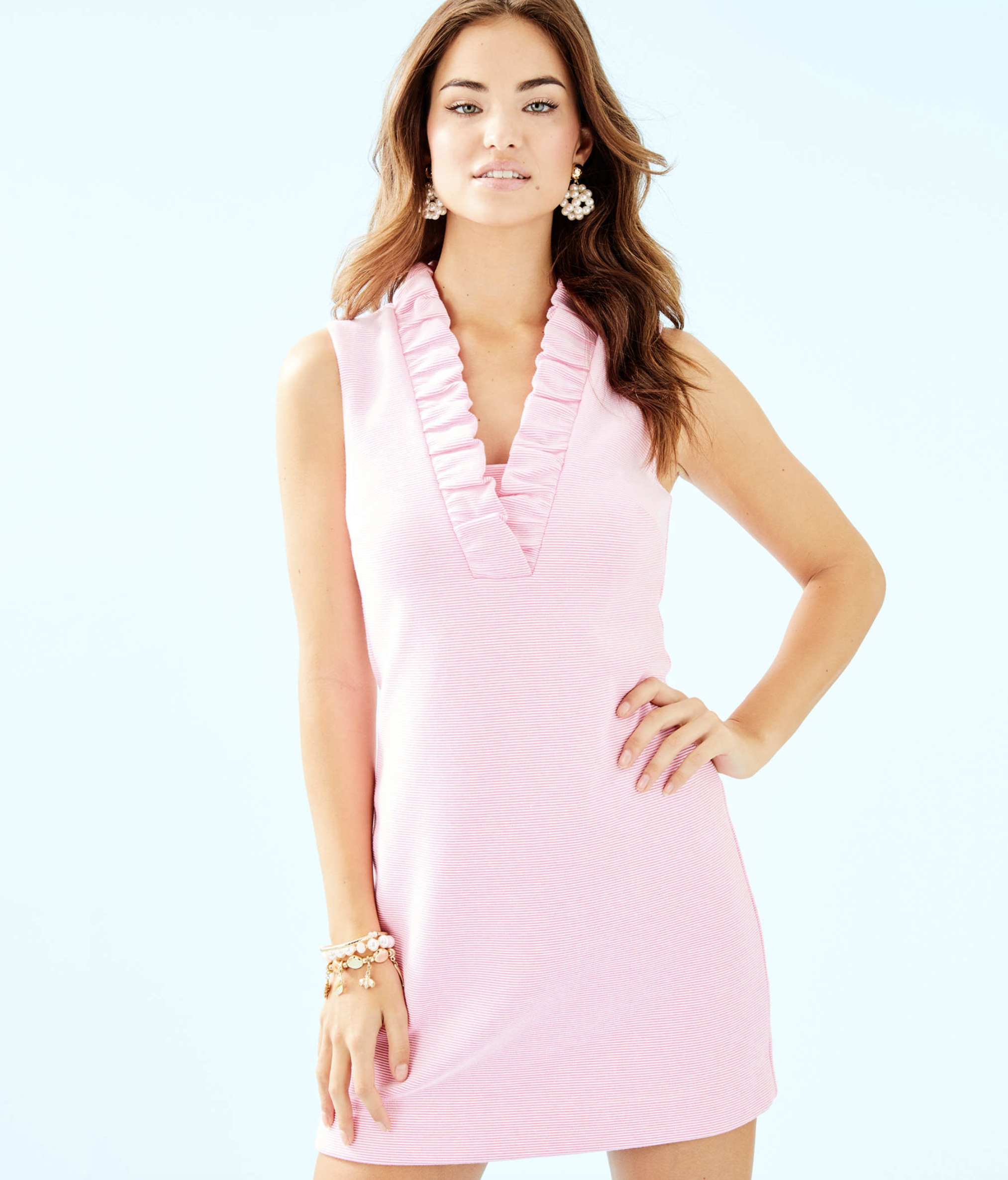 Tisbury Shift Dress: Oh, and a matching dress? Don't mind if I do. In all seriousness, love the seersucker look and the ruffled collar.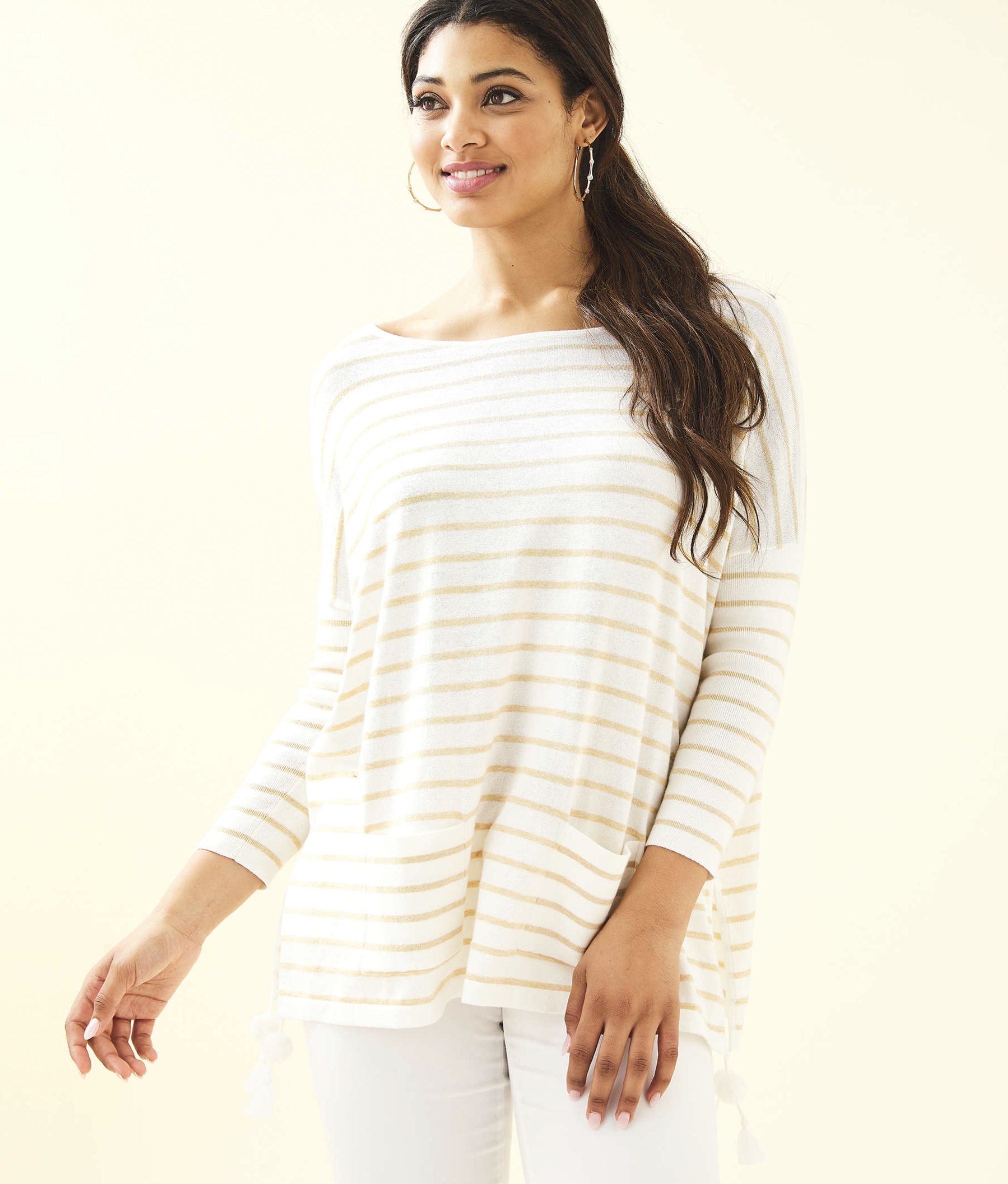 Elba Sweater: The Elba Sweater is, in my opinion, Lilly's best sweater. It just looks fantastic on everyone–including preggos! (I wore it constantly when I Was pregnant with Lucy!) I will say, however, that it runs very large, so I would go one size down. (I always do, even when pregnant, and I can wear it through the third trimester!) It has a flowy look, though, so your normal size would probably work, too!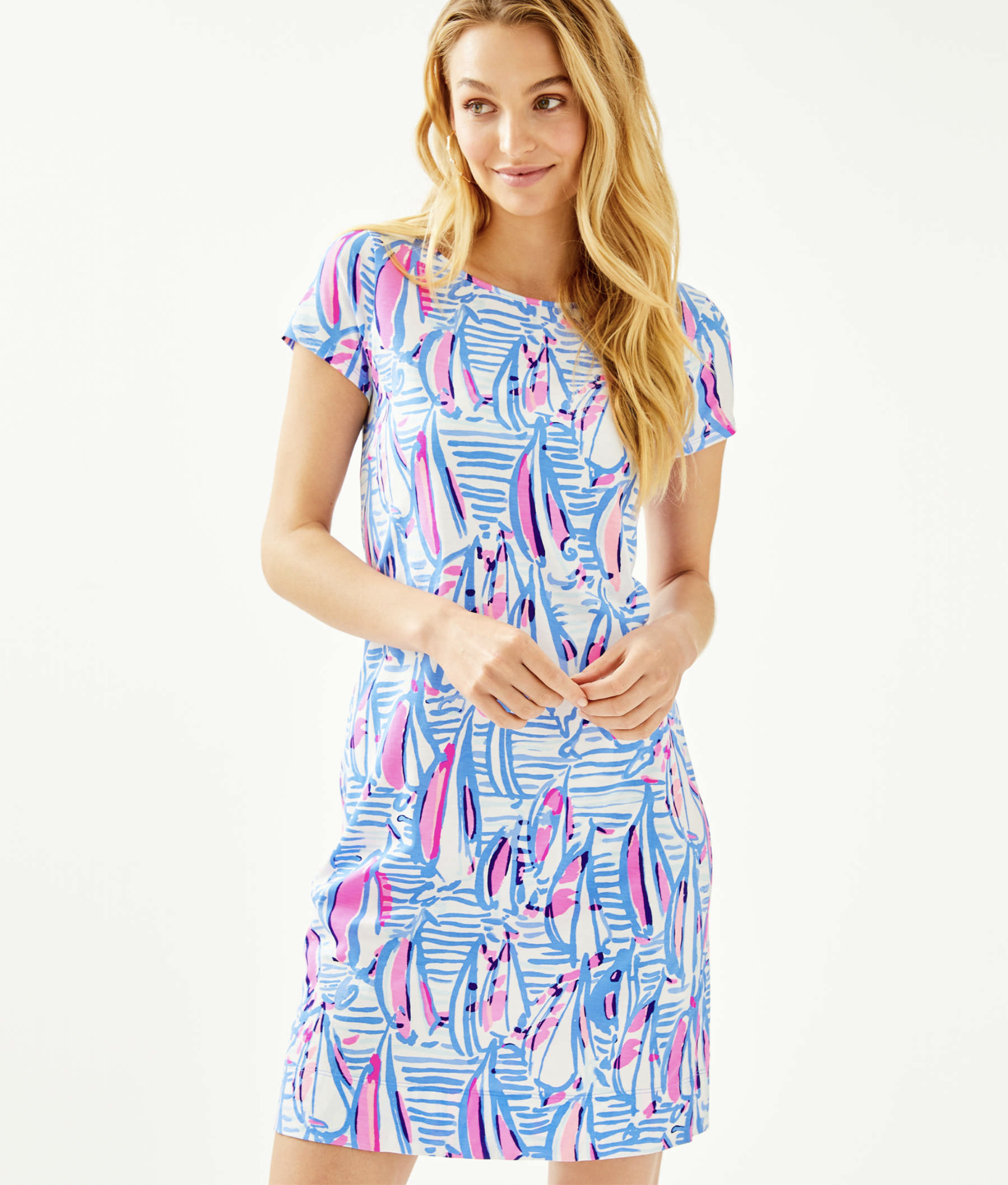 Marlowe Dress: The. Best. It's my go-to everyday dress during the summer. It's very lightweight and hangs great. Perfect for days when it's sweltering, or you just need a no-fuss outfit. TTS. I always go with the size small!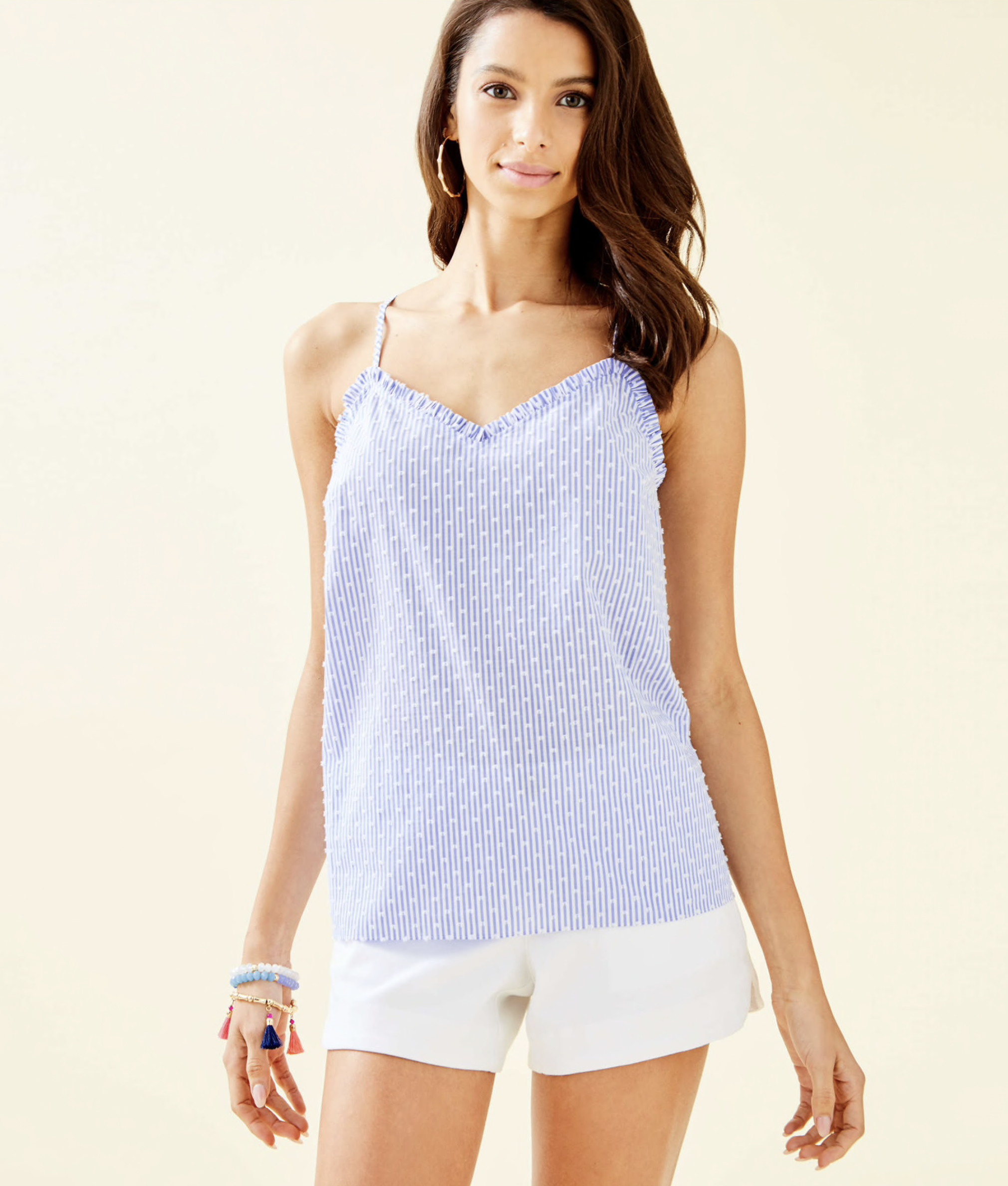 Dusk Ruffled Tank Top: This is adorable. I don't have it but I love it!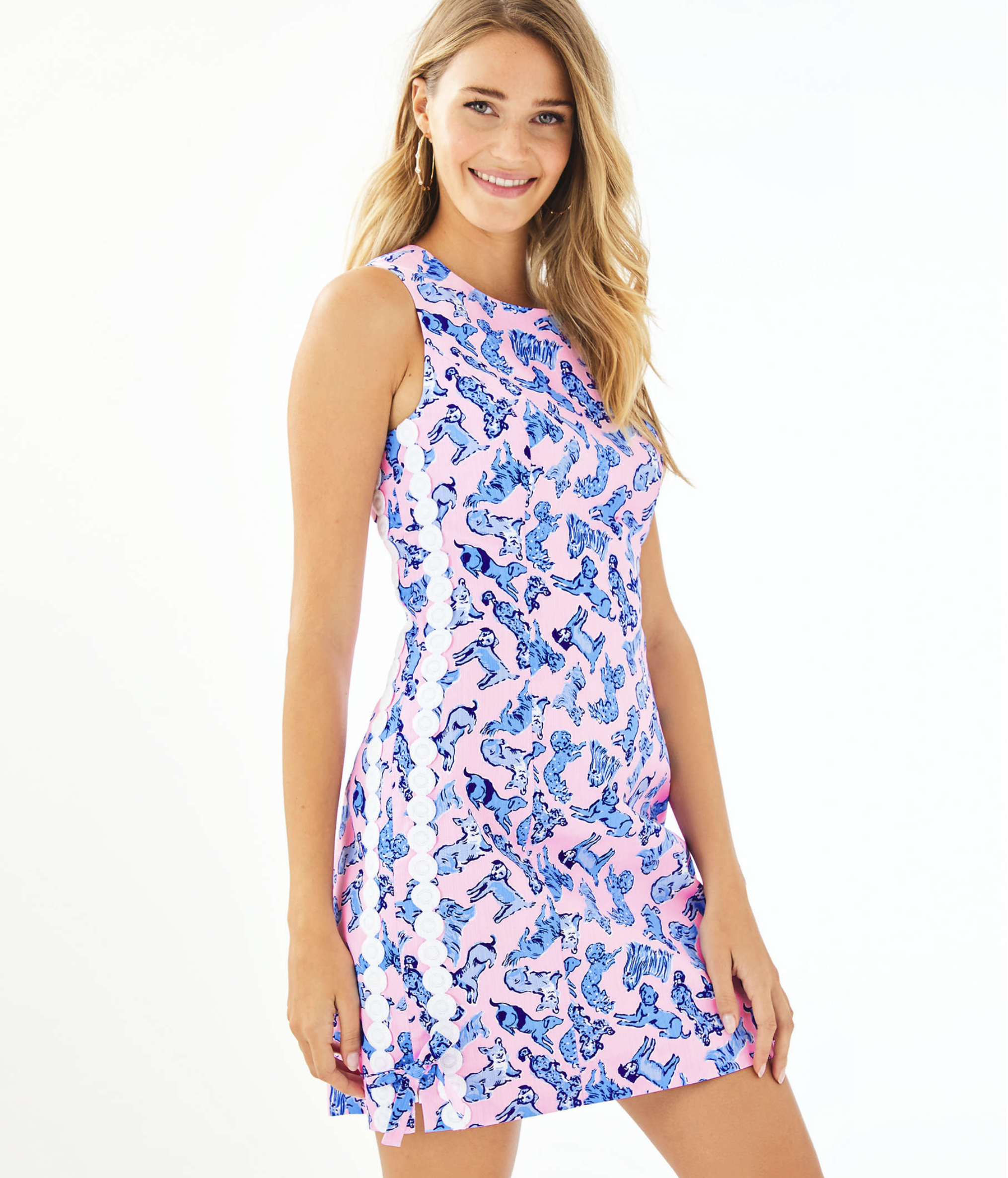 Mila Stretch Shift Dress: This reminds me of Noodle and therefore I love it, haha. I didn't end up buying it, but I did get it for Emma in the mini version! (Love that the Mila is stretchy, btw. Hard to wrinkle!)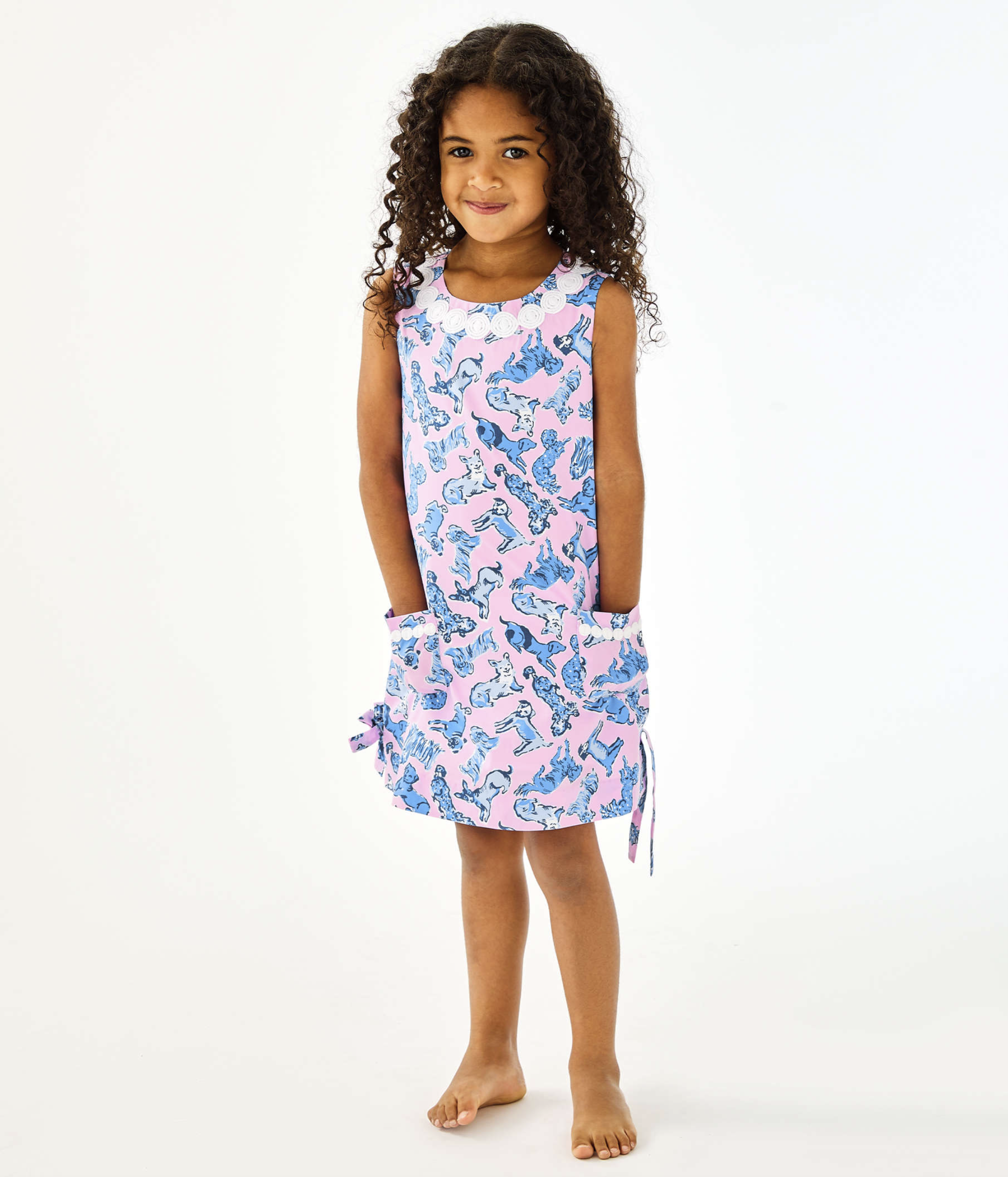 Little Lilly Classic Shift Dress: Here's the one I got for Emma! Isn't it SO SWEET? I know it's going to be a favorite, so I ordered it in a size 5 so she'll be able to wear it for a couple of years. (She's currently three.) I tend to always order two sizes up in Little Little Classic Shift Dresses and we get a ton of wear out of them this way!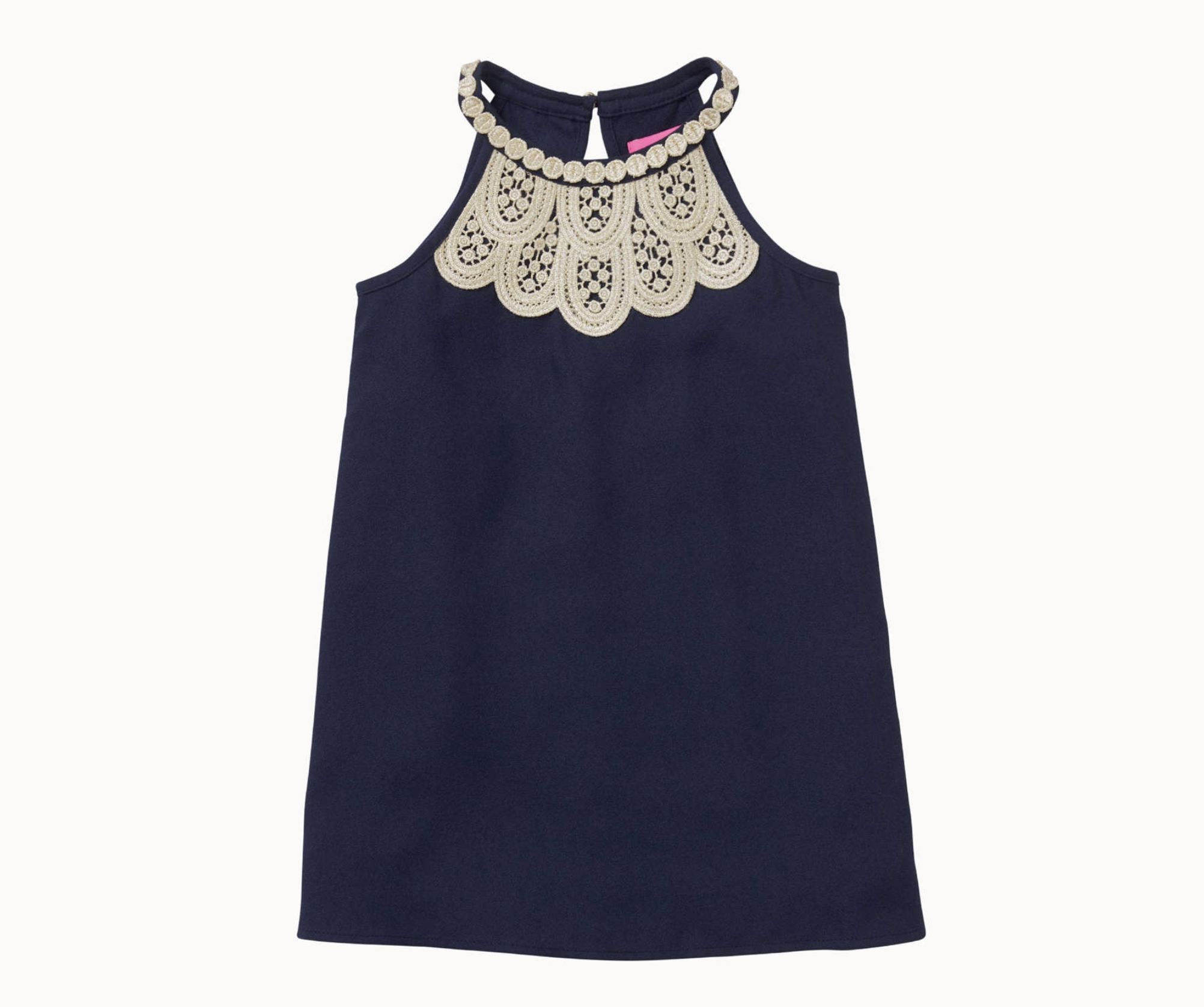 Mini Pearl Dress: Yes yes yes. I can't believe the price on this one. We have a big family in early fall and I think Emma will wear this to the rehearsal! It's another one that doesn't wrinkle easily; ideal for kiddos.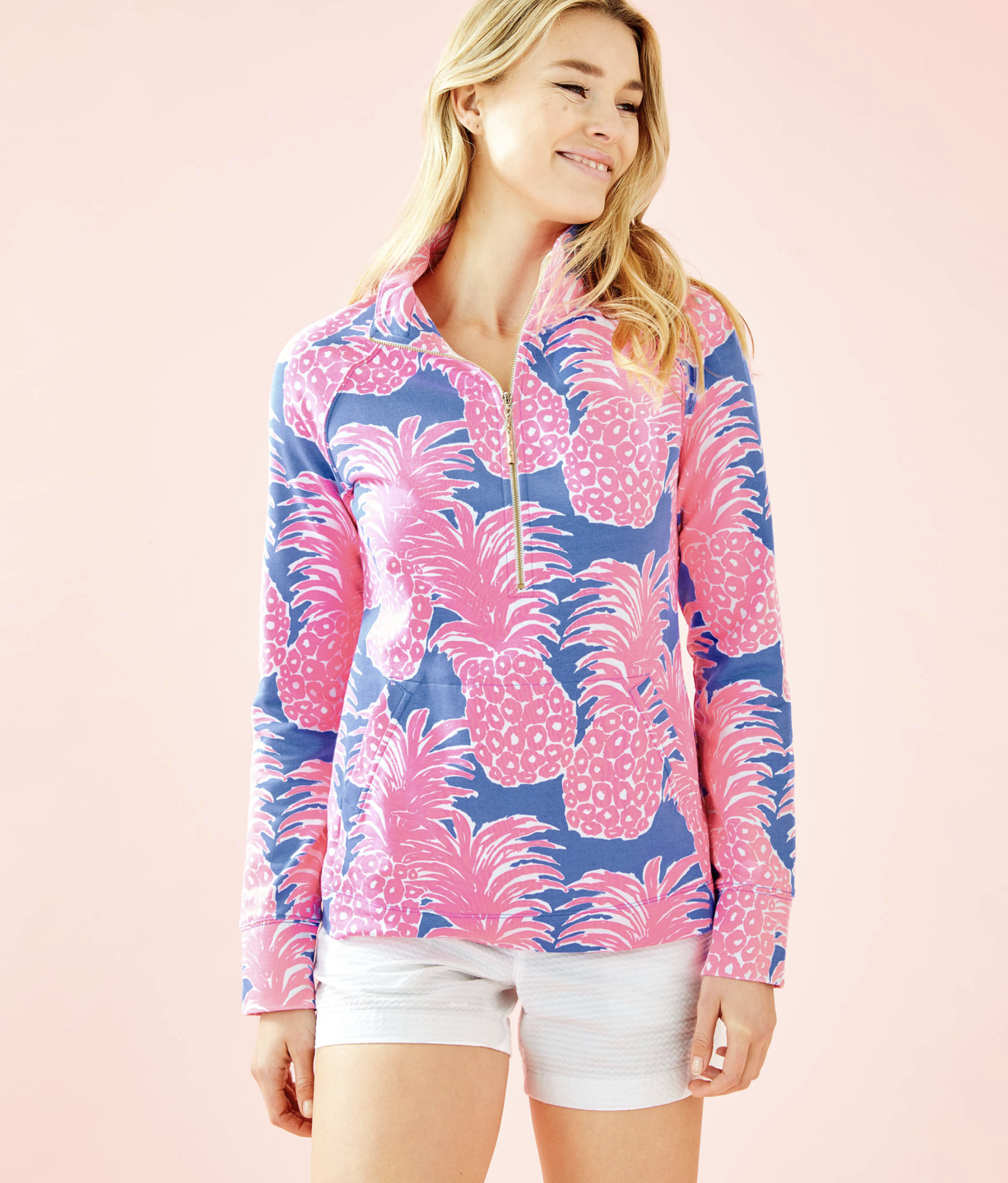 UPF 50+ Skipper Popover: This is a classic, and I've owned quite a few over the years! I can't believe how many are included in this year's sale. They run TTS, but order one size down if you like your pullovers more fitted. (I like pretty much all my tops and sweaters/sweatshirts on the looser side.)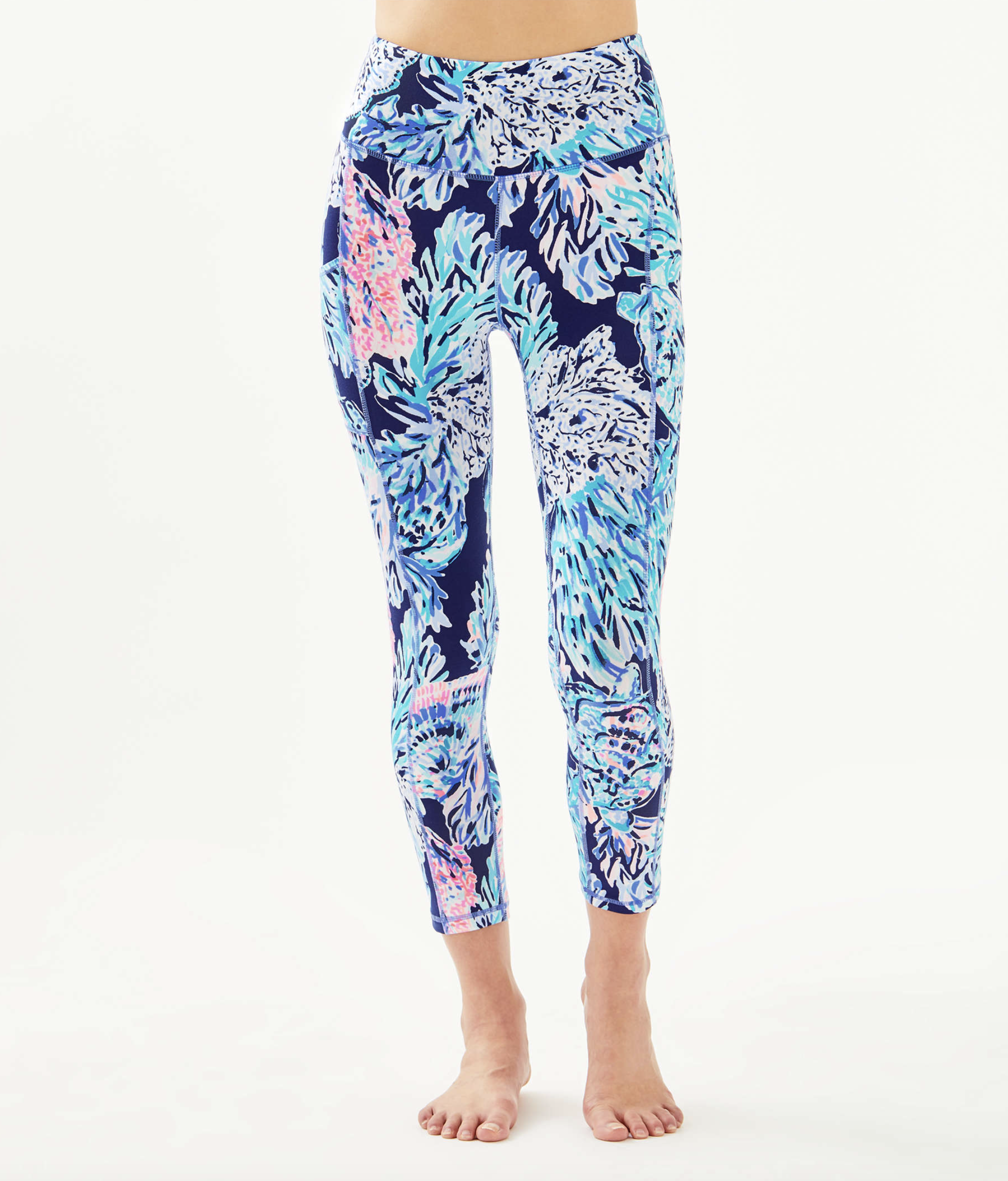 Luxletic Weekender Legging: The best leggings. I'm sure they're going to sell out VERY quickly, but they're crazy comfy and I love the happy patterns for workouts and travel. TTS.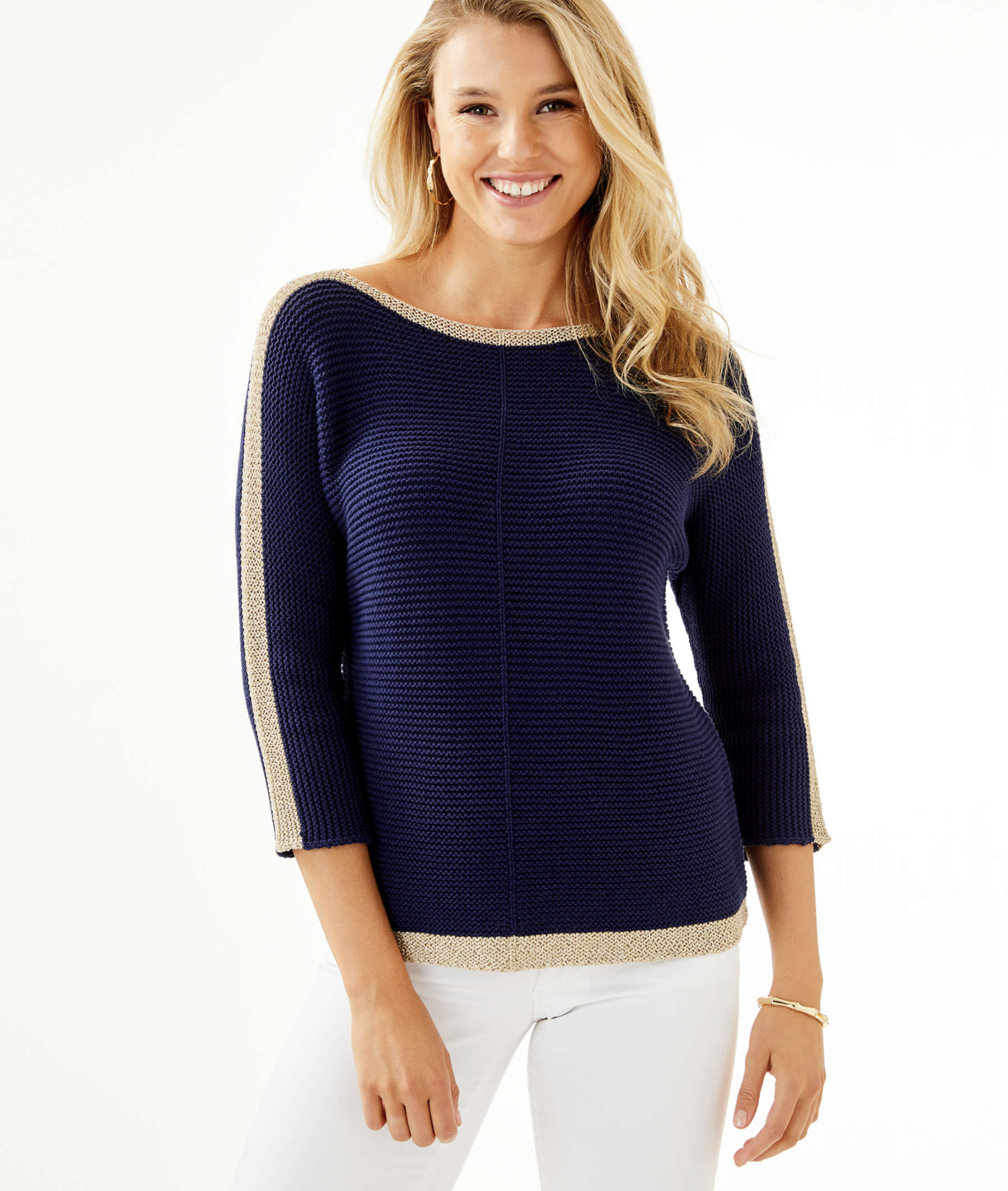 Deona Sweater: I've never seen this before but it's gorgeous! Mom, YOU SHOULD GET THIS.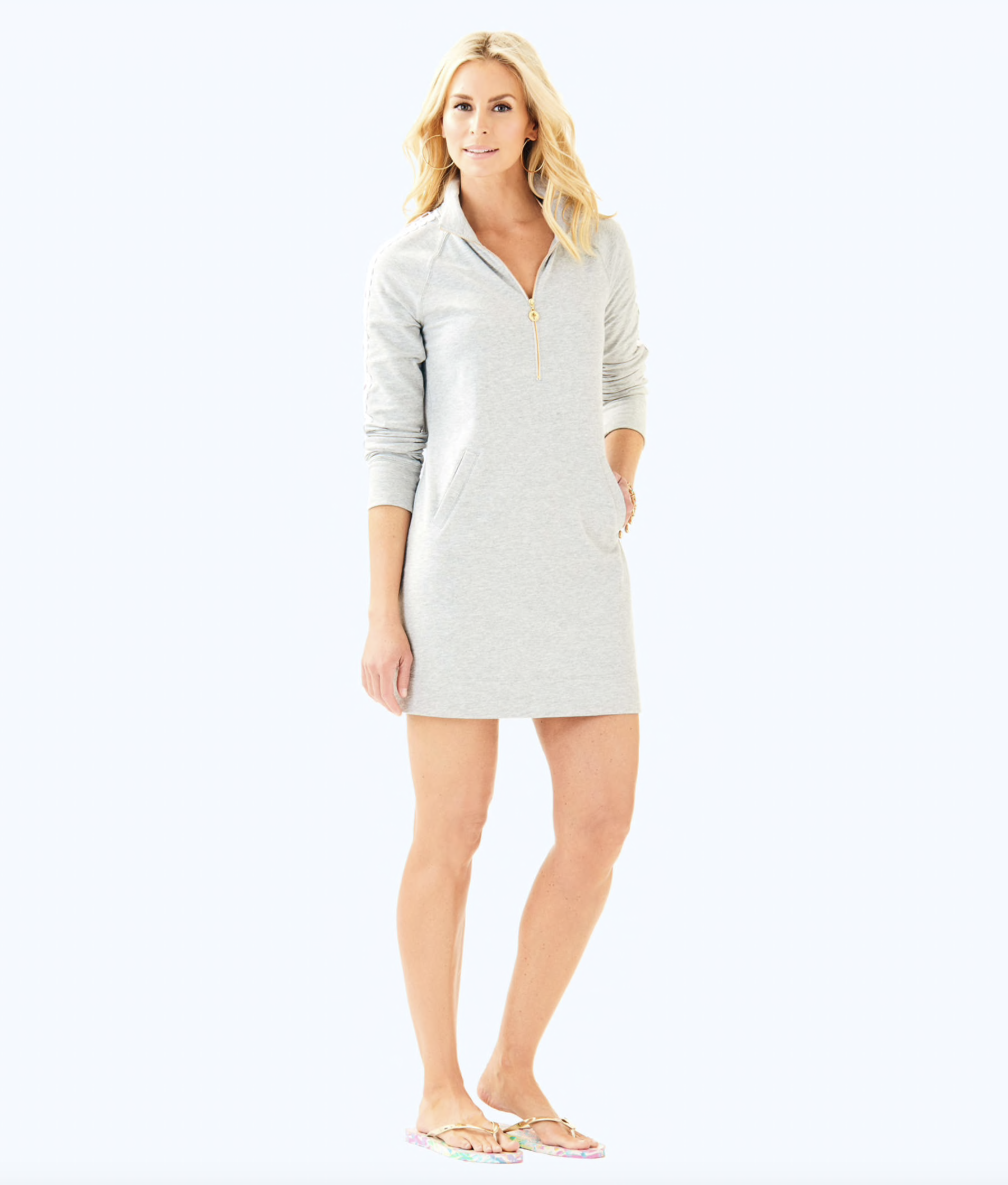 Skipper Popover Dress: It's back, it's back! And in a few colors! This runs large; size down. It's a favorite during the summer. I wear it at night or to the beach when there's a slight breeze, haha. It's ridiculously cozy and I always get so many compliments when I wear it!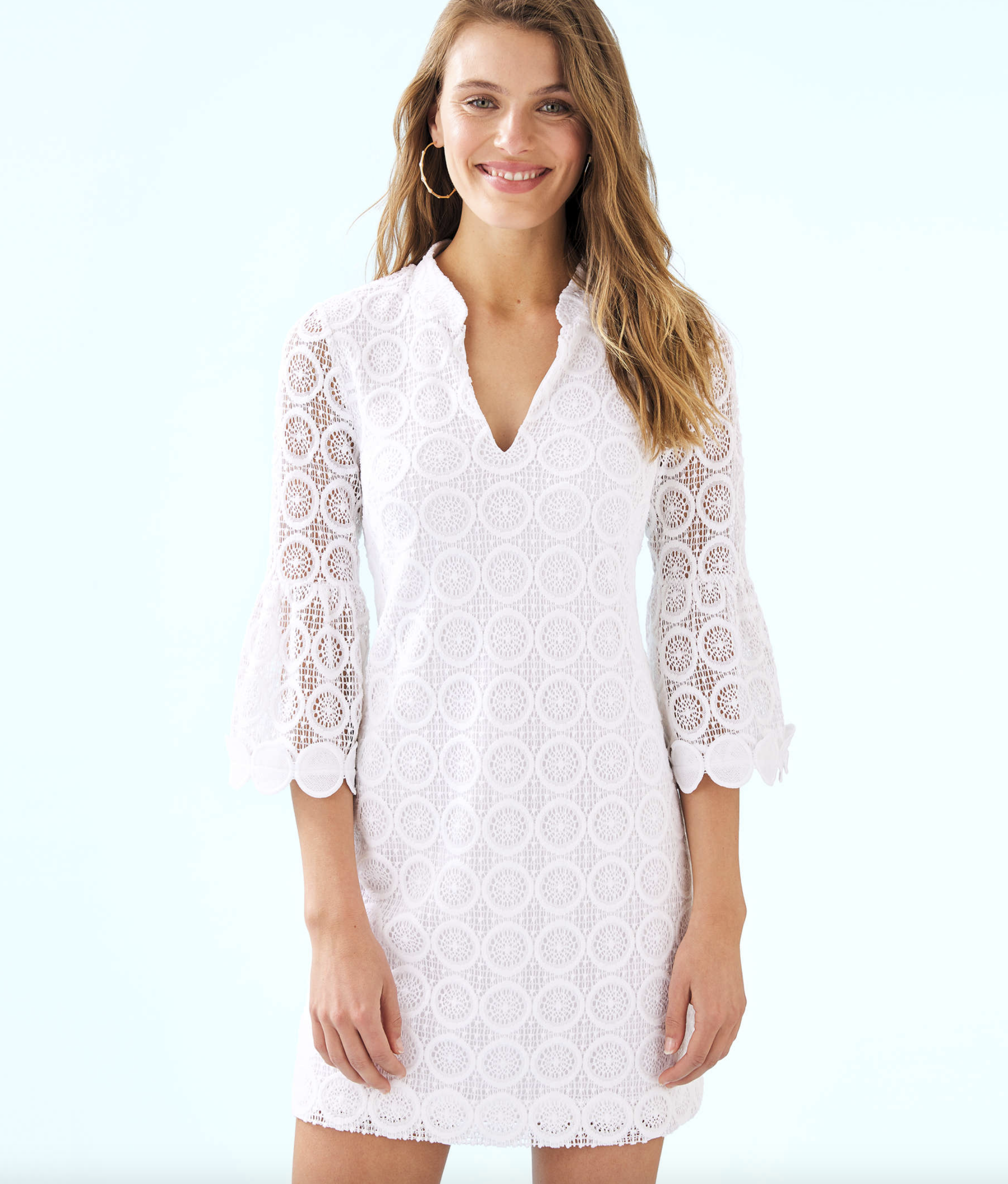 Zelle Lace Dress: Again, this is my #1 pick from the sale. SO EXCITED TO WEAR IT TO FLORIDA NEXT MONTH!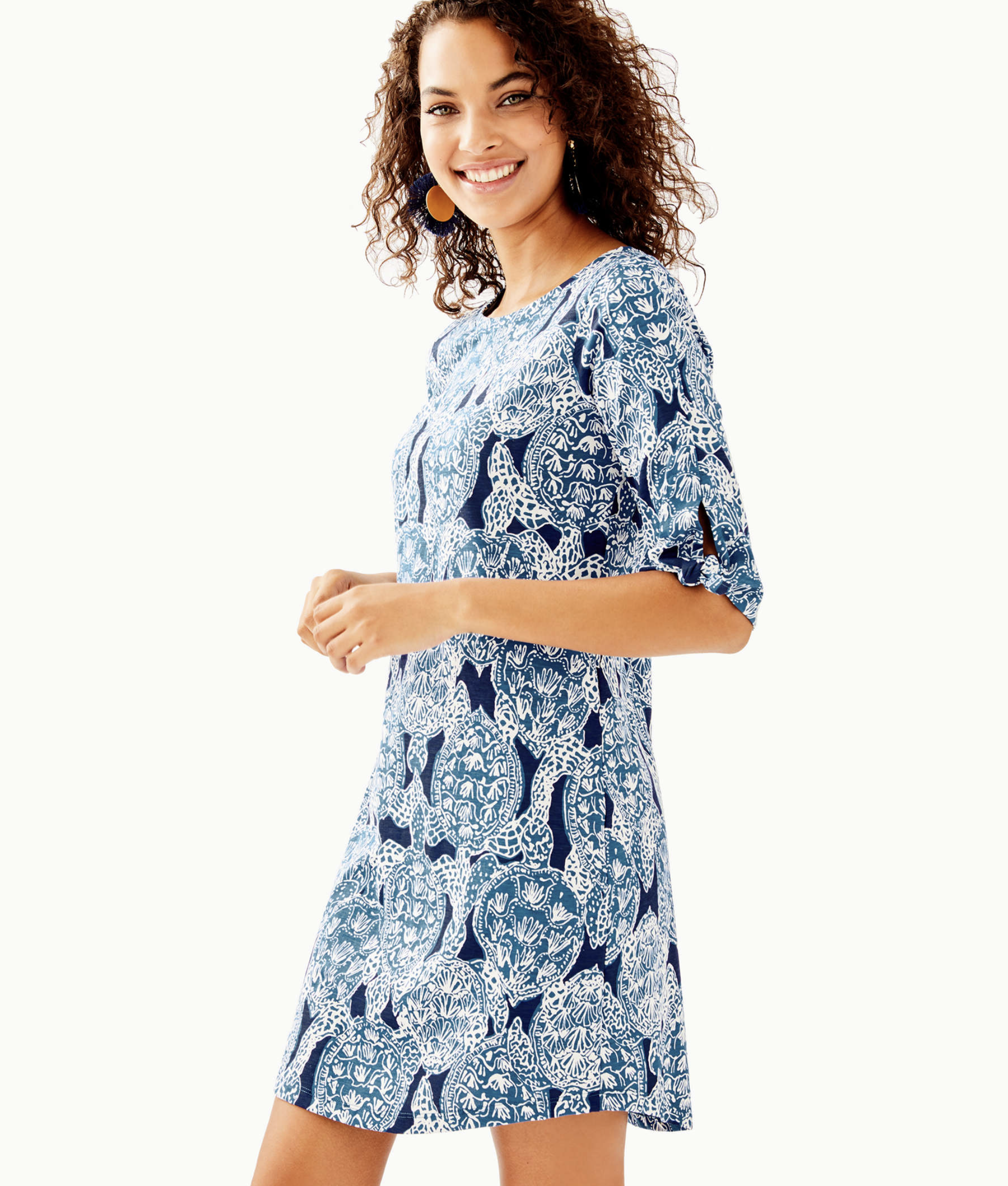 Preston Dress: Ugh. I was majorly disappointed that this was sold out in my size, haha.  Isn't it so cute?! There are a ton of different patterns, though. I keep checking back like it's going to come back in stock, haha. RIGHT.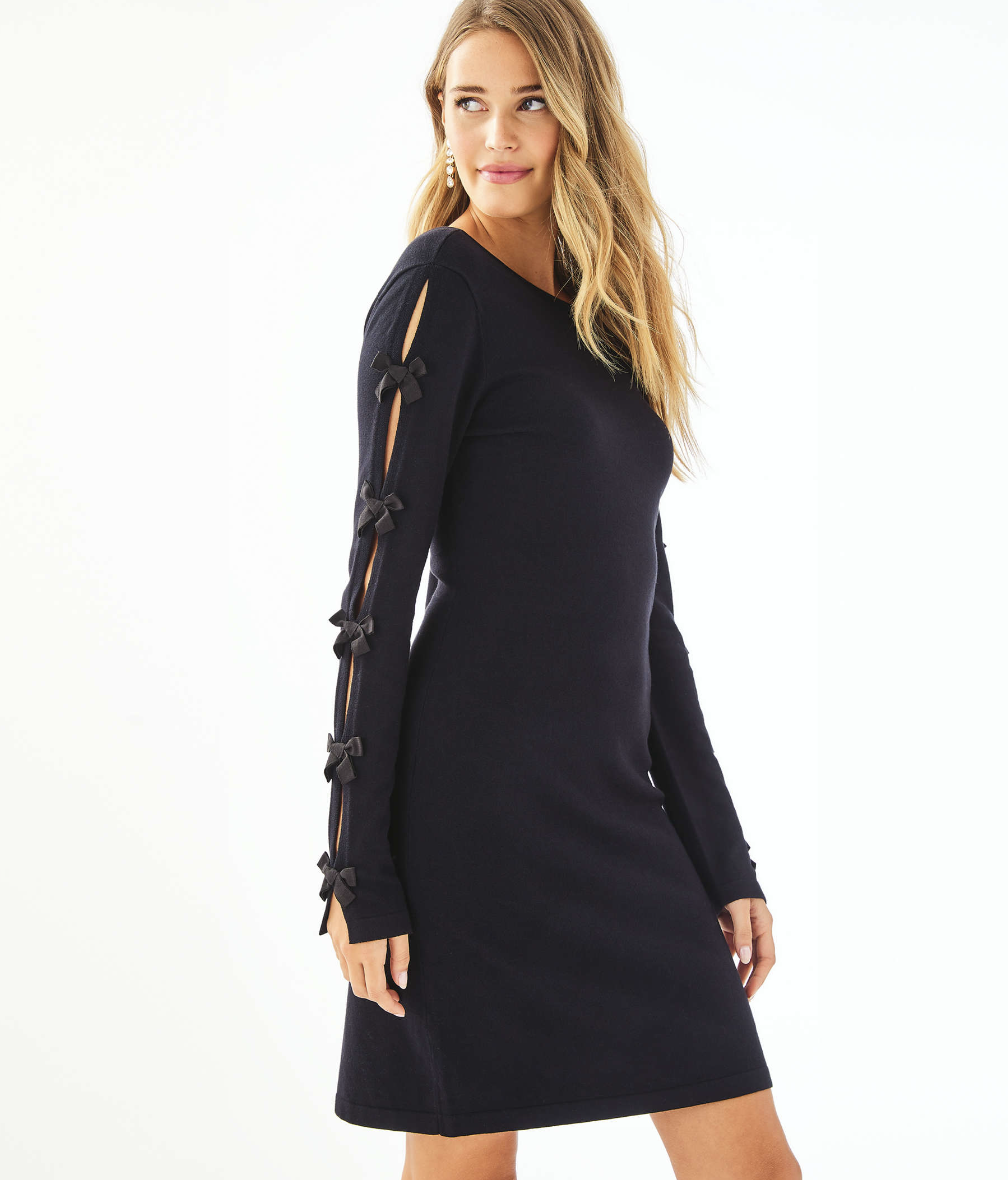 Edina Sweater Dress: This is stunningly beautiful. Not sure if I'd be able to handle the open arms during the winter here in Chicago, but if you live in a slightly warmer climate and are less of a baby, GET THIS! I adore the bows.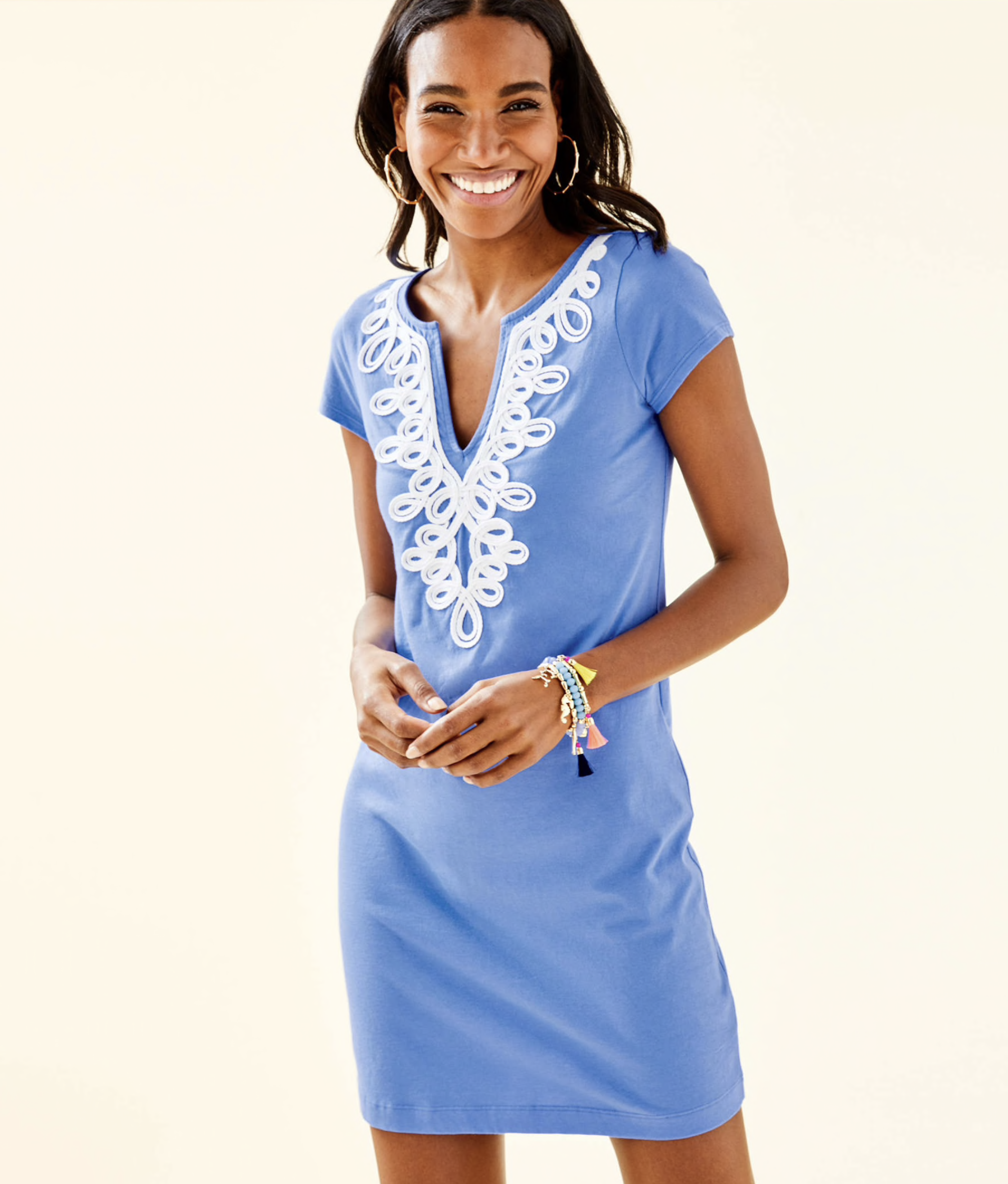 Brewster T-Shirt Dress: As I mentioned before, this is a go-to dress all summer. I have it in the light blue, but I'm thinking about getting the navy, too! Such a classic, and it's easily dressed down or up depending on what footwear you choose. :)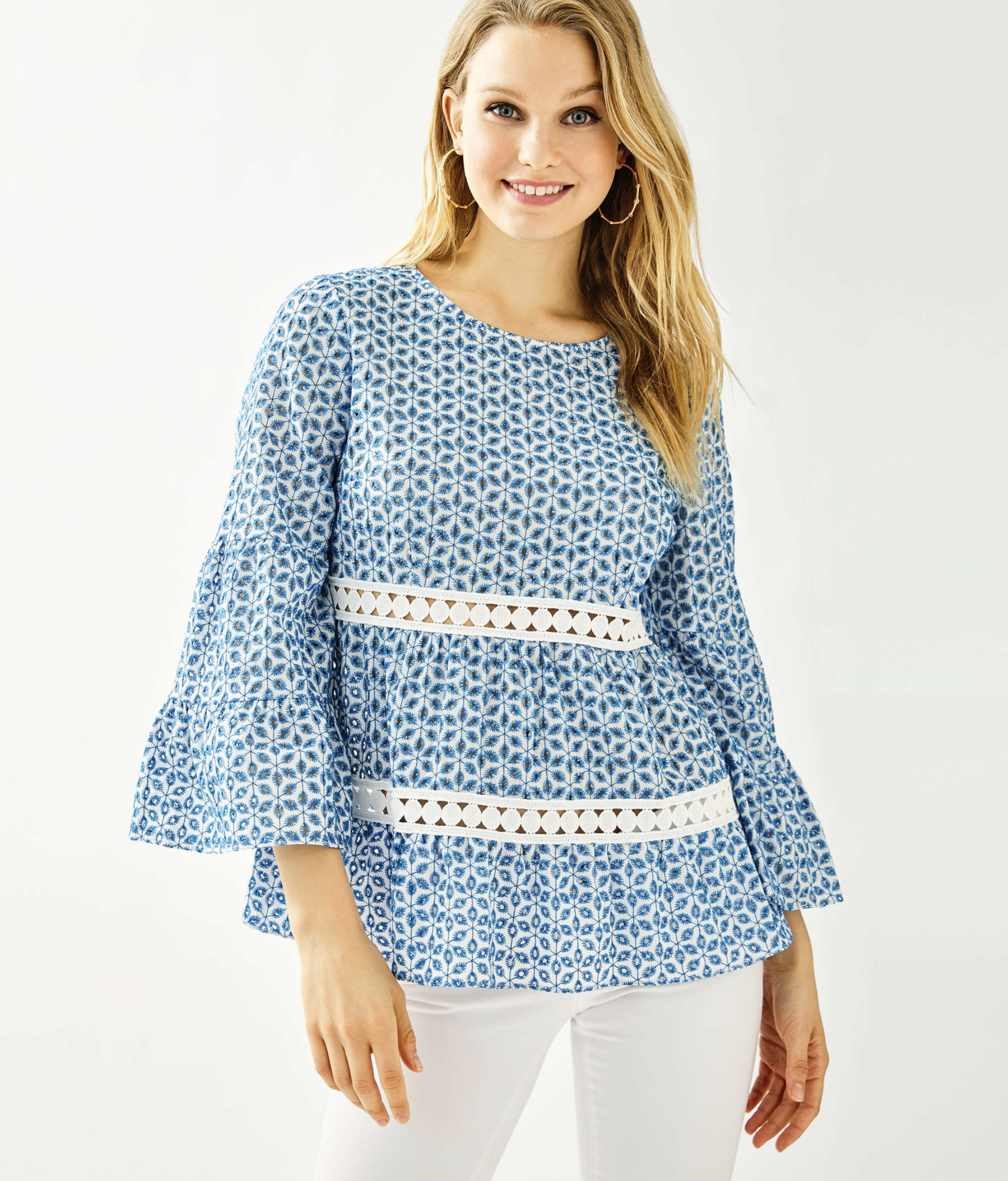 Zazie Top: I own this and love it! Because of all the stitching, it doesn't wrinkle and therefore travels very well. It's also super flattering and forgiving. Big fan!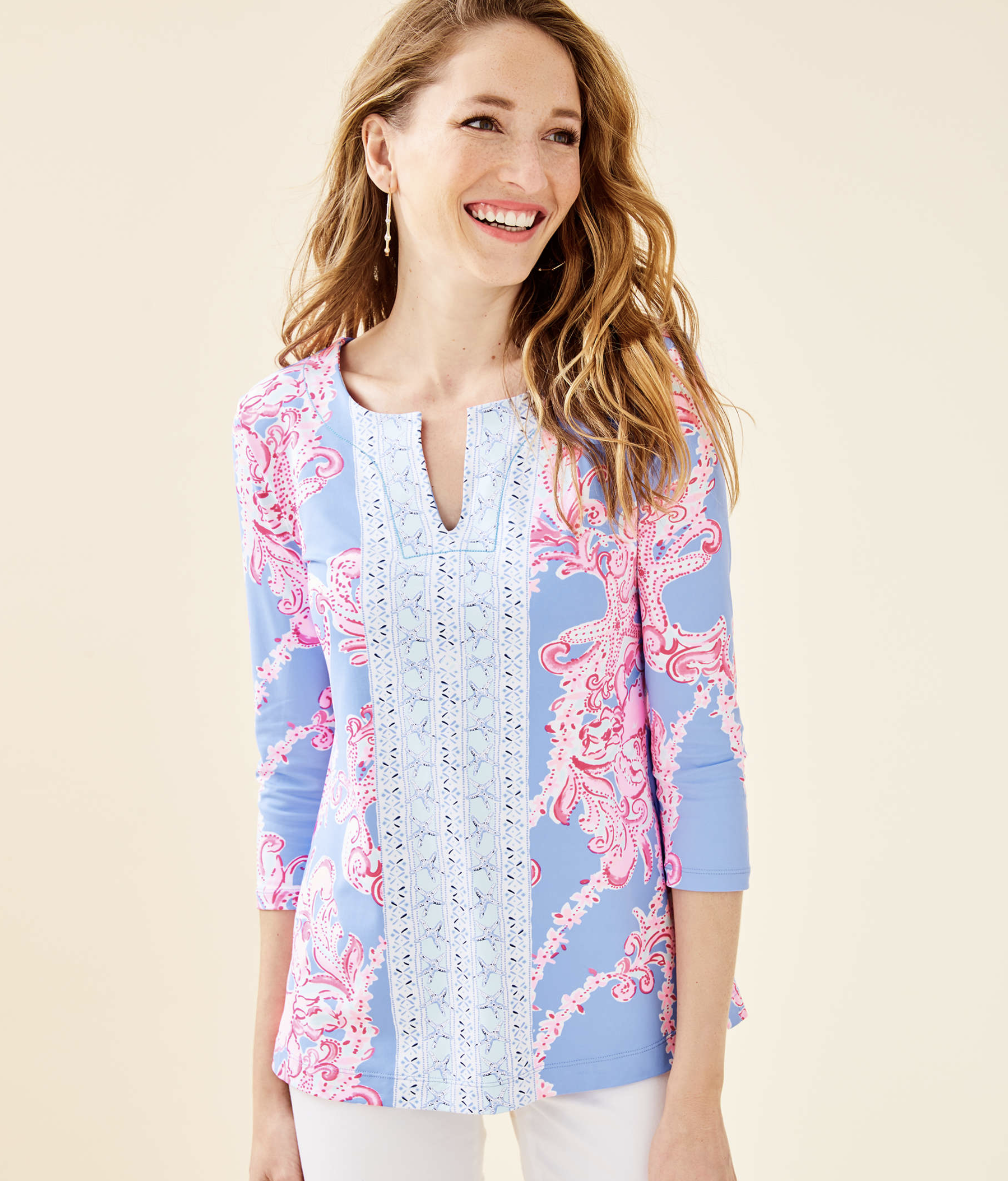 Karina Tunic: This looks AMAZING. I know I'm obsessed with wrinkle-free clothing, but this top is supposed to be the queen of that. It also features UPF 50+, moisture management, and anti-microbial properties so it never gets stinky. Idk, guys, I think this top is a no-brainer!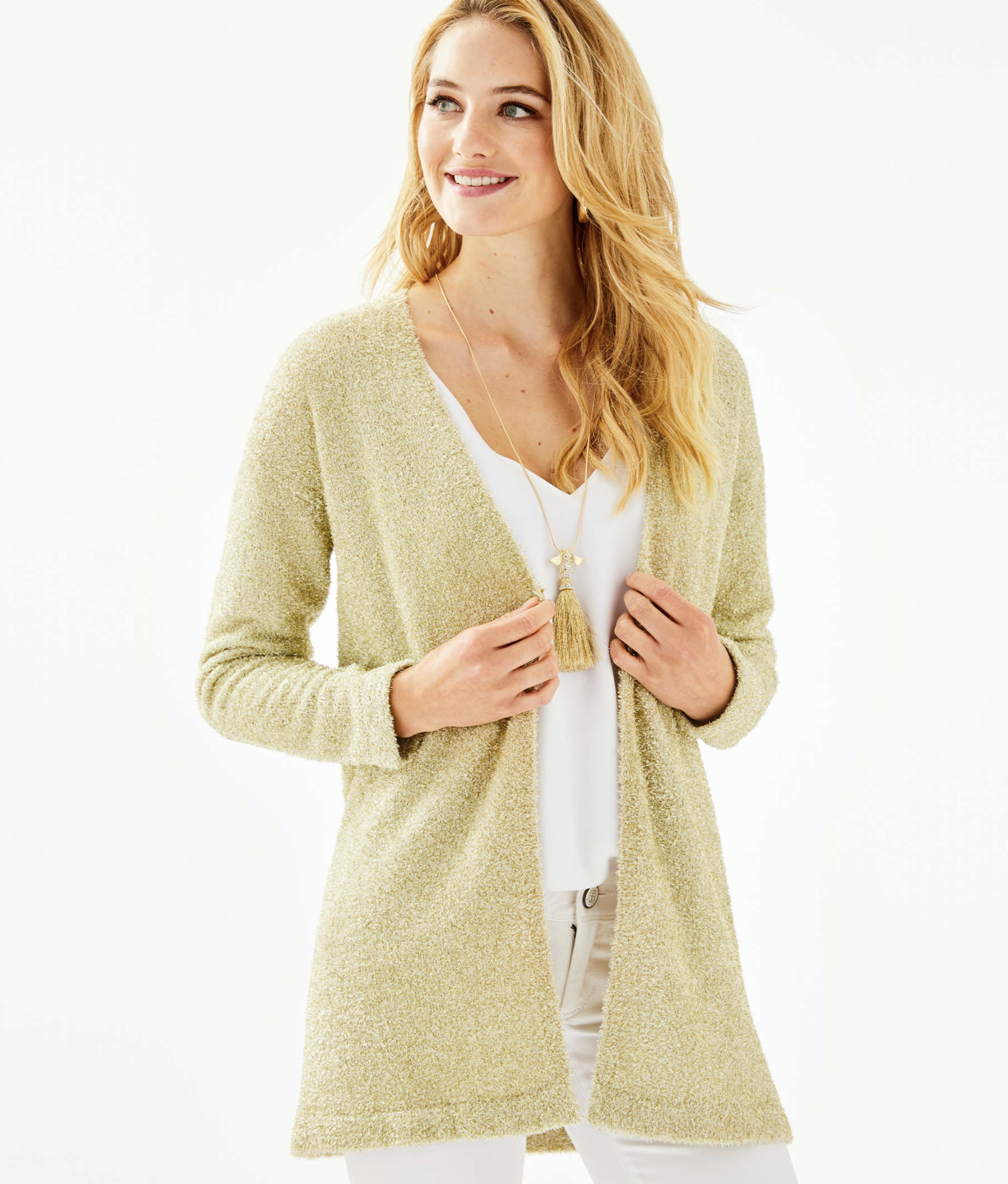 Woodbury Cardigan: Okay, so this is GORGEOUS. But note that it's much thicker than it appears in the photos. It's an ideal cardigan for a Chicago girl, but probably not so much for a Florida girl. ;) I love it, though. Perfect for going out during the winter!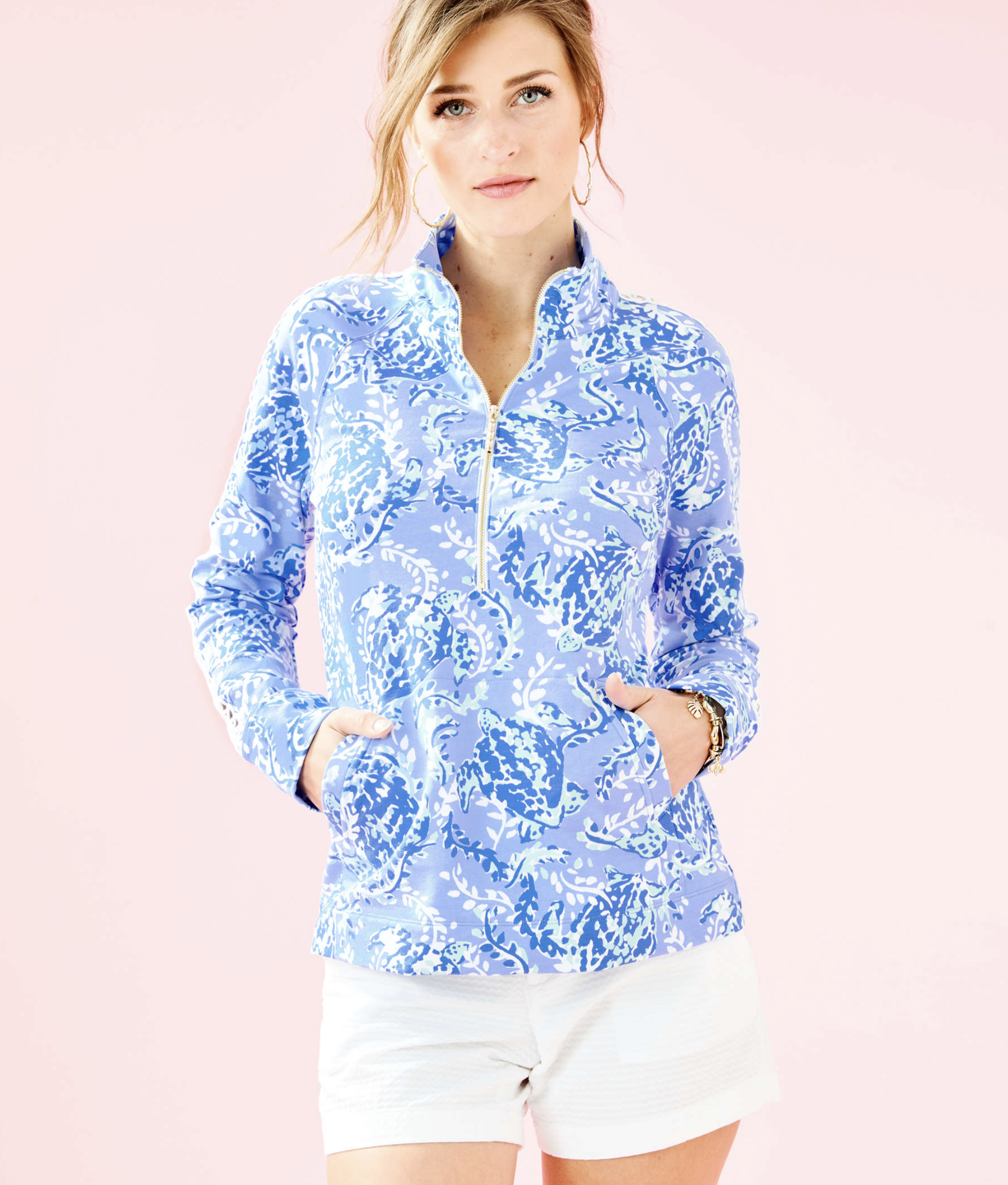 Skipper Popover: Can't get enough of this turtle print. Emma has it in a dress!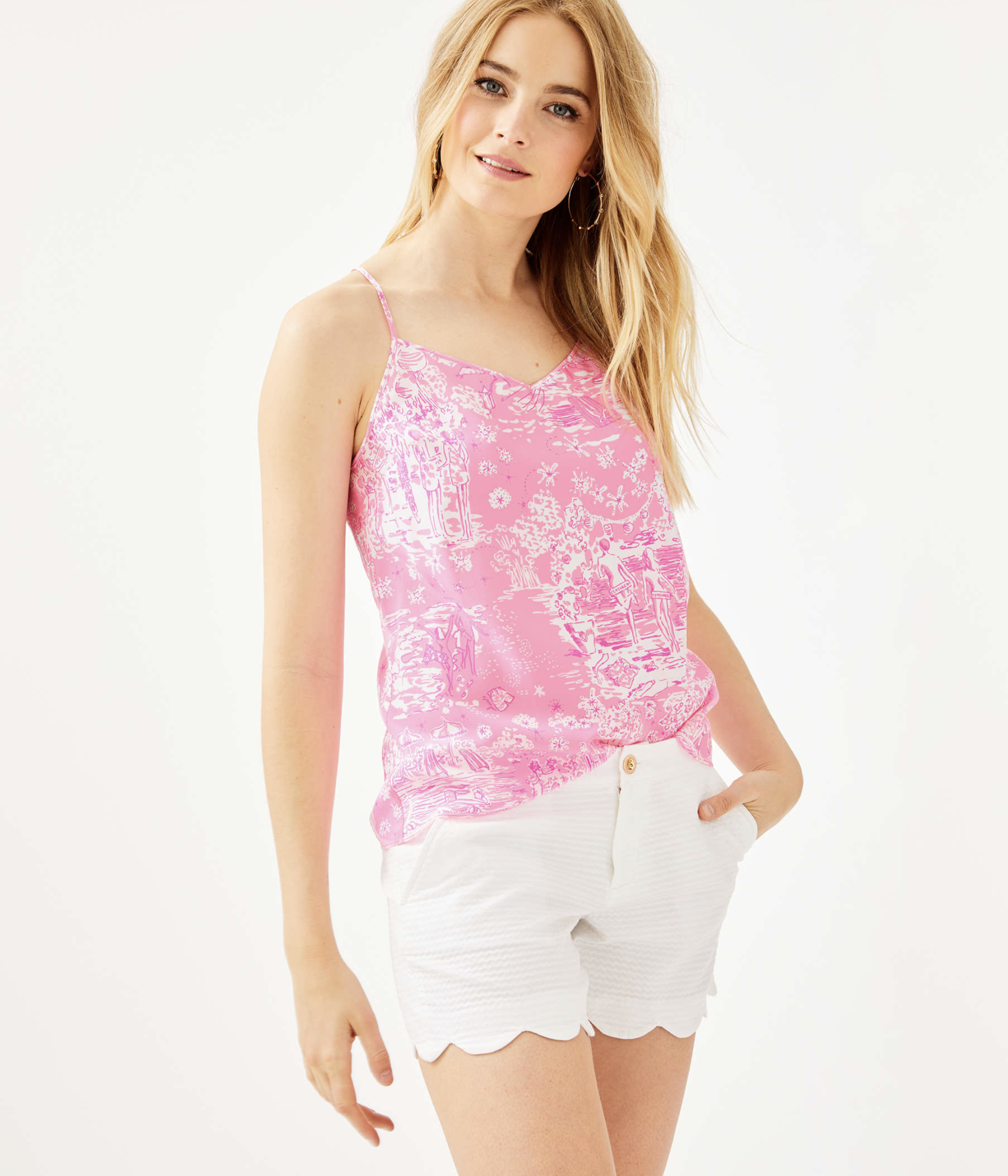 Dusk Silk Cami: And I can't recommend this silk cami more. It's SO flattering. Looks good on everyone. I order one size down in this number.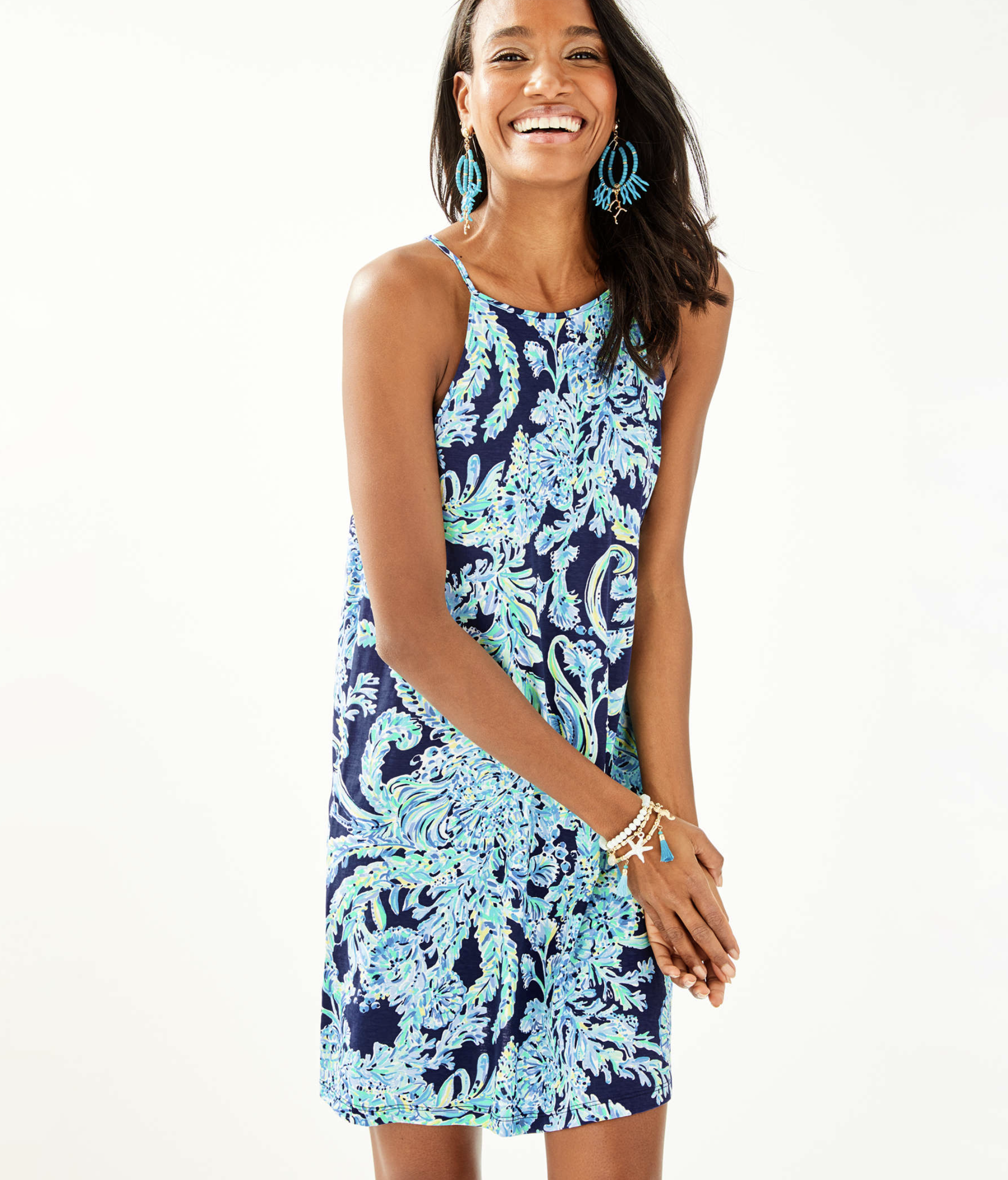 Margot Swing Dress: Very casual but because of the neckline, you can get away with dressing it up, too! Flowy but runs TTS.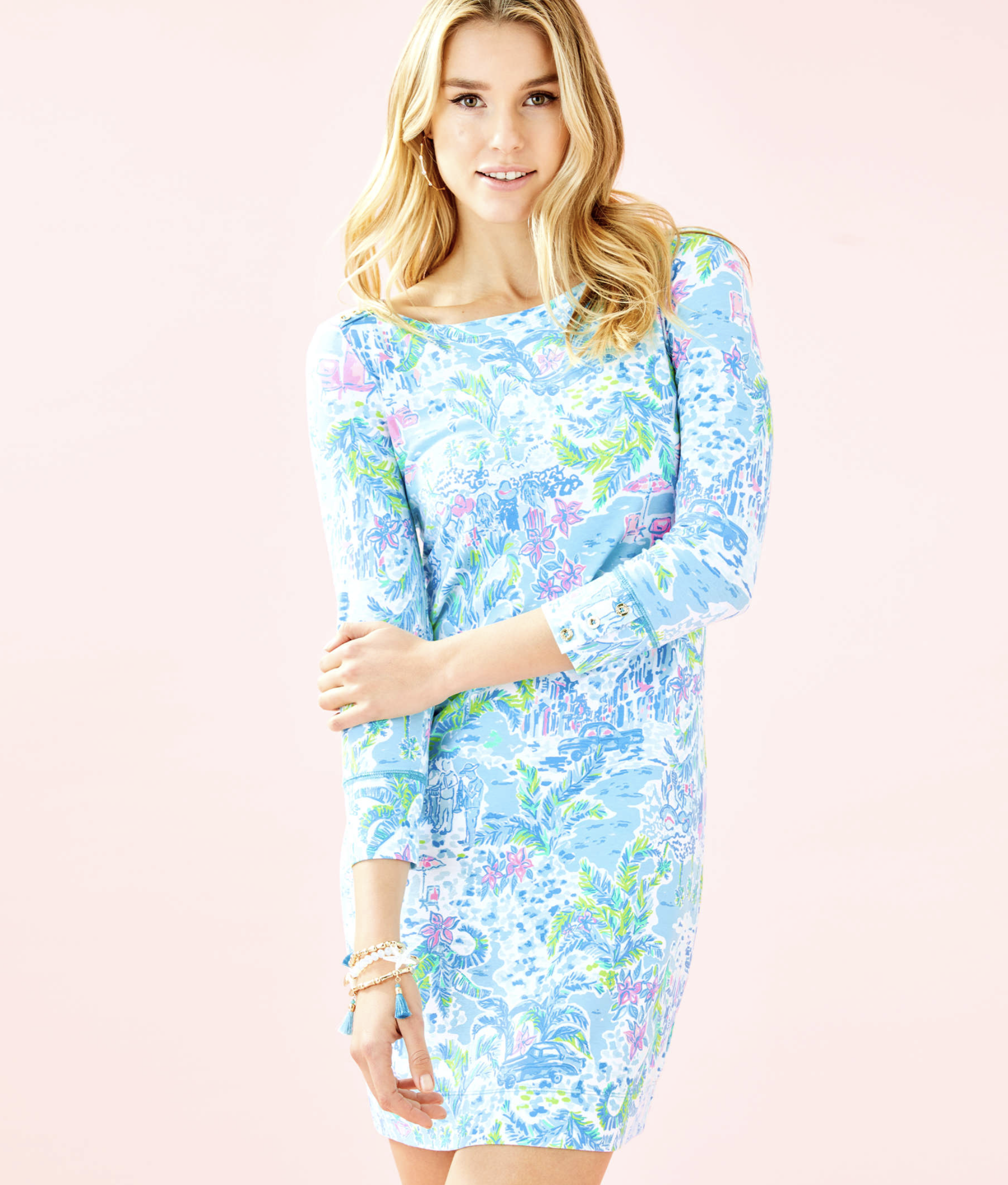 UPF 50+ Sophie Dress: If you're prone to sunburns, I'd highly recommend this one. It's saved me several times while boating with my dad! It runs TTS.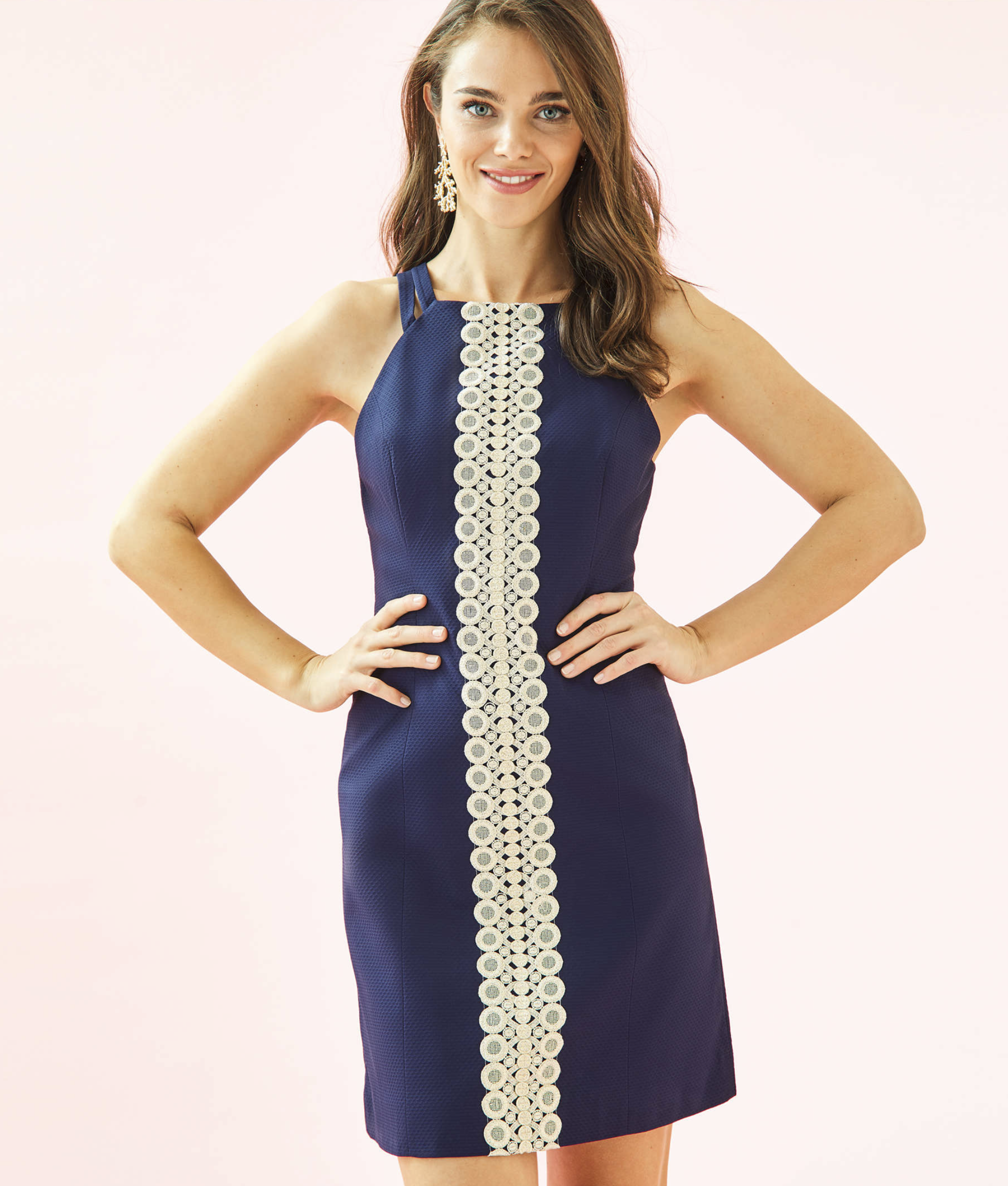 Pearl Dress: The Pearl Dress is super flattering, and my mom and I have worn variations of it to tons of events over the years. Here are all of them! Every girl should own one. :) I tend to go up one size.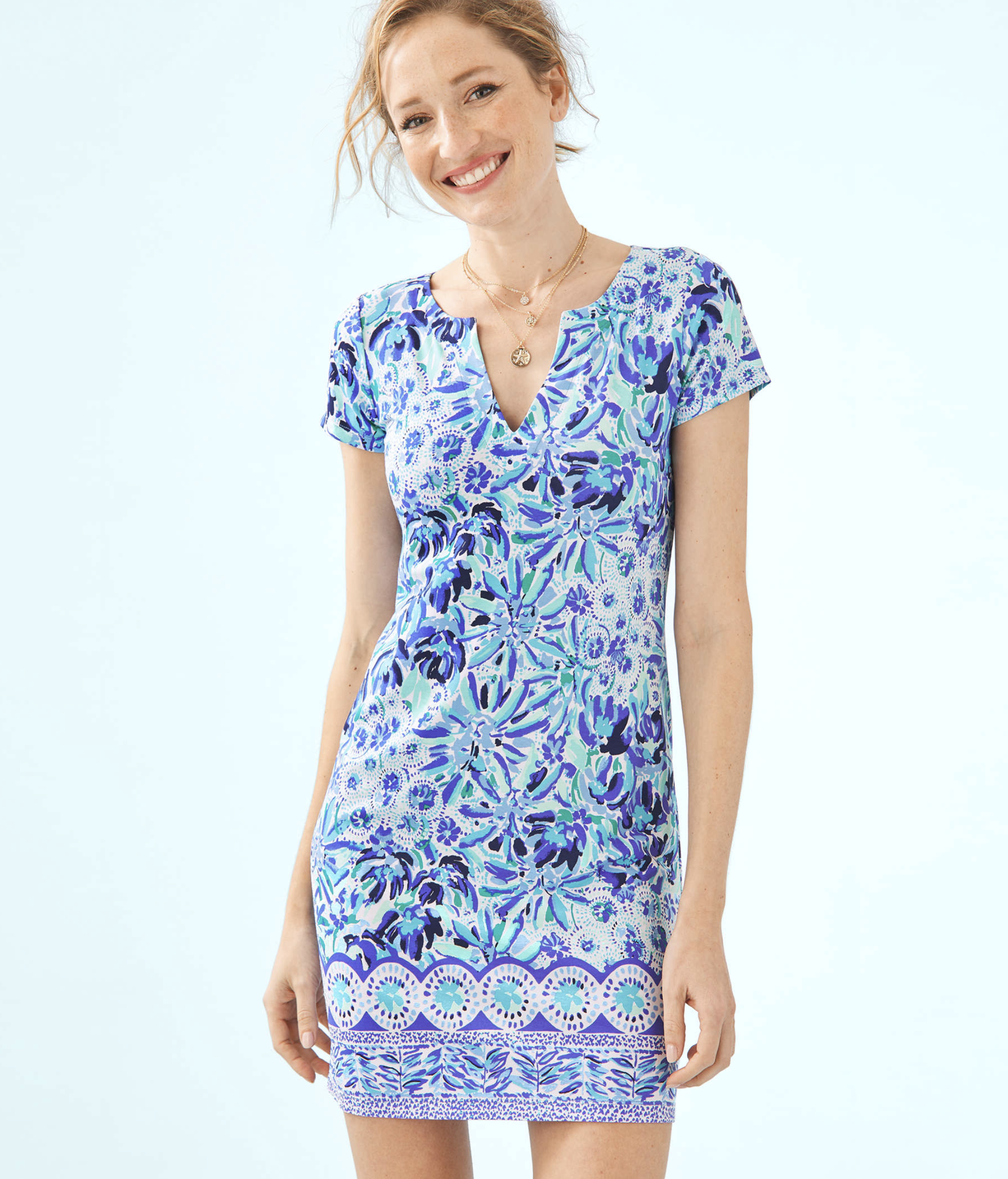 UPF 50+ Sophiletta Dress: It's 93% Rayon, 7% Spandex so another great wrinkle-free travel dress. It also protects from the sun, which is highly appreciated by this Irish gal!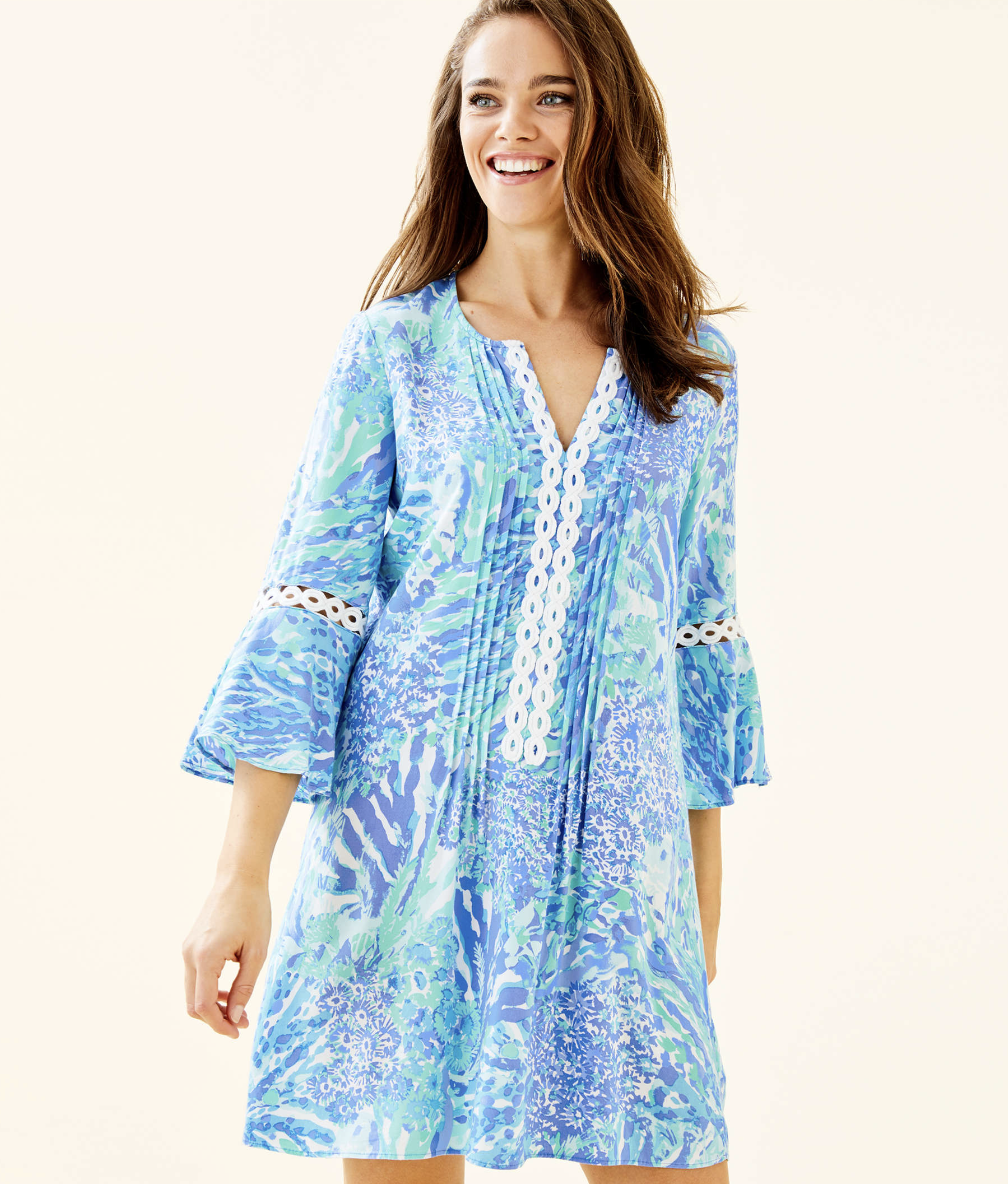 Hollie Tunic Dress: I own this! The awesome part about this dress is that it can be worn as a coverup to the beach but then also as a dress to dinner or an event. It's crazy versatile, and one of my most-worn Lilly dresses. It's flowy but very flattering because of those little pleats in the front. Gives you a bit of a figure but still allows you to eat a zillion crabs. Bahaha. I'm getting punchy.
Gabby Shift Dress: STUNNER. The cut is very similar to the Pearl Dress and I can't recommend it enough. The slightly puckered fabric is gorgeous, too.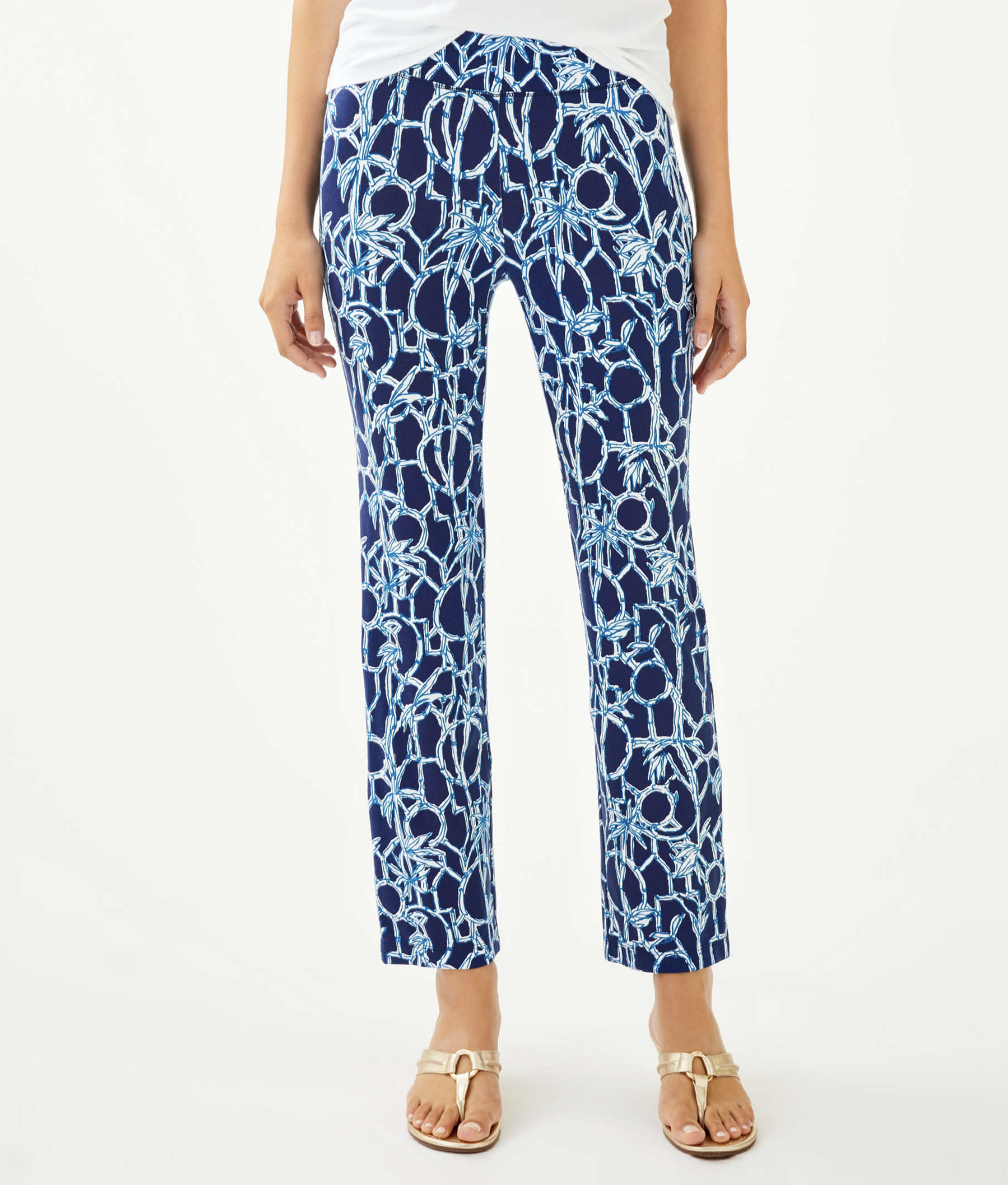 Loralee Pant: I ordered these for travel! They're pull on and super comfy and I'm SO EXCITED. I also think they'd look great with pumps and a silk blouse or cute sweater tucked into them.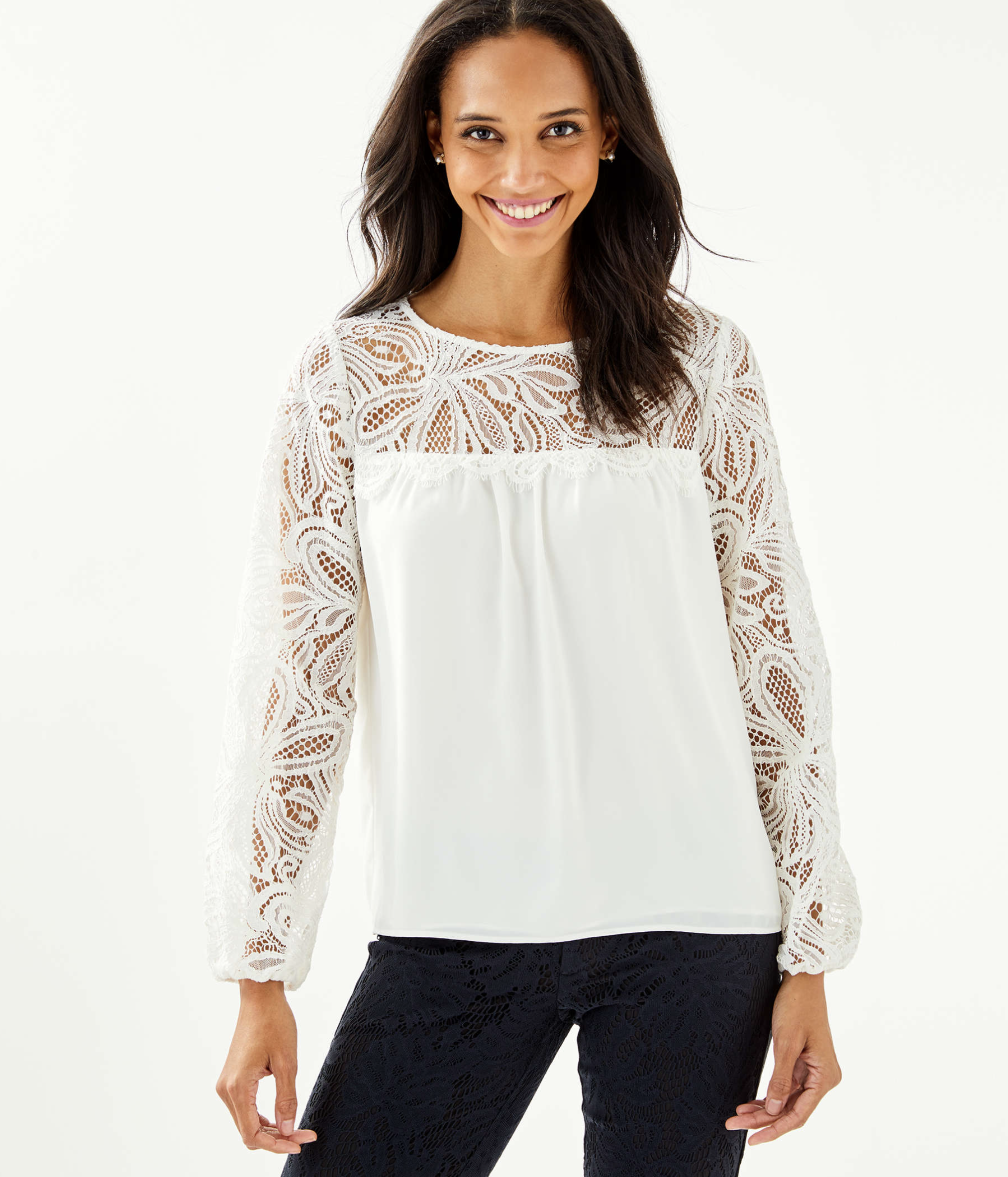 Keegan Lace Top: This is not on sale but at the top of my wishlist so I'm just going to include it here. ;)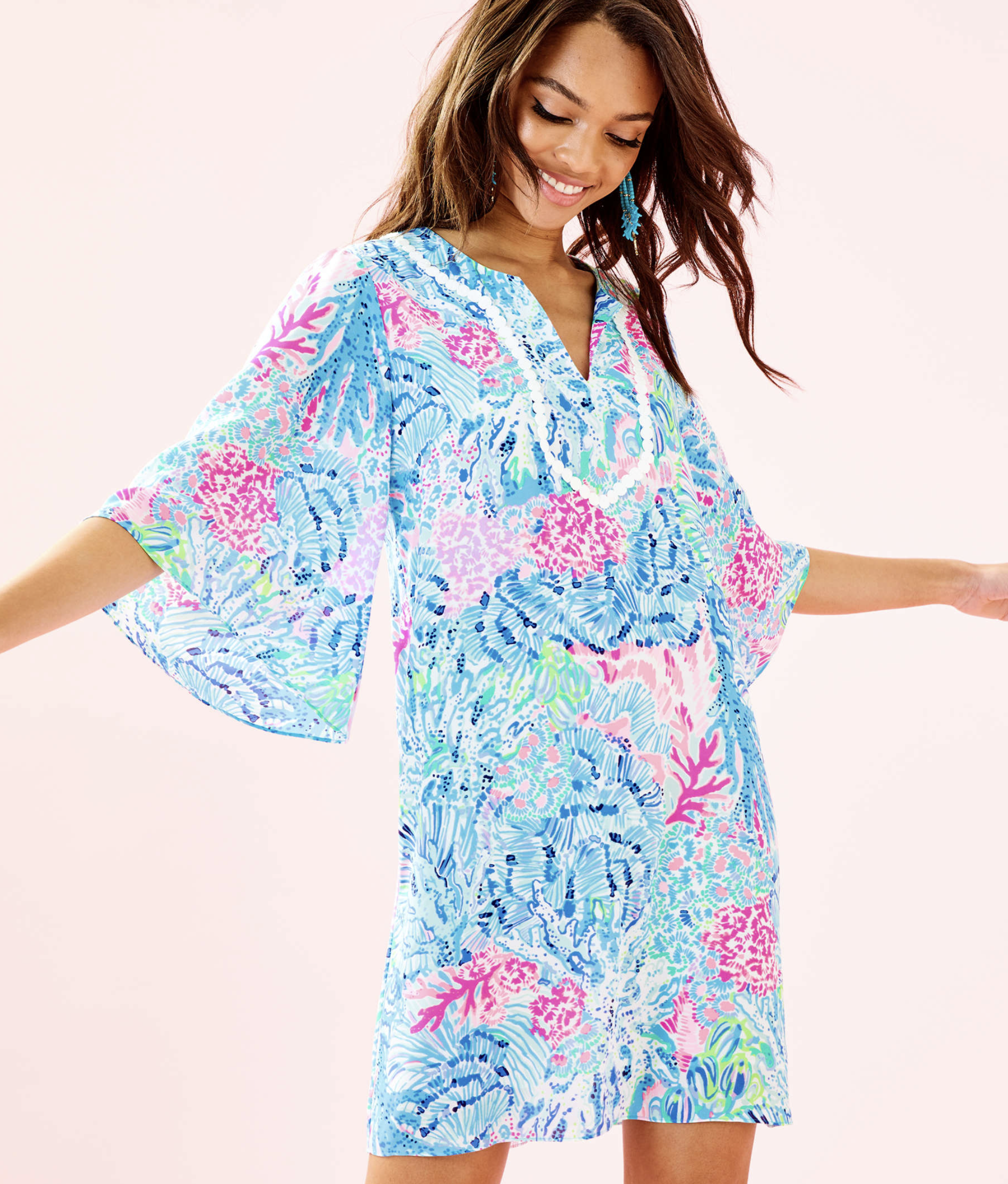 Delancey Dress: This dress is magic. It's part of Lilly's "Lileeze" line, which is 100 percent polyester, machine-washable, and wrinkle-free. It also resists fading. Yes, yes, yes.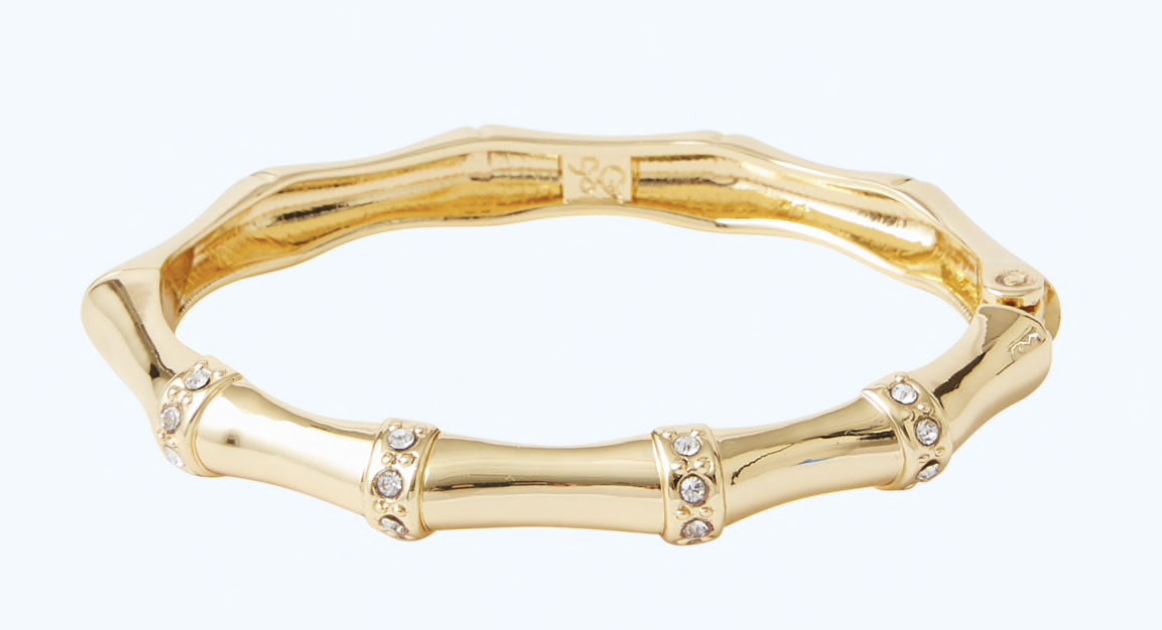 Bamboo Bracelet: Would make for a great gift!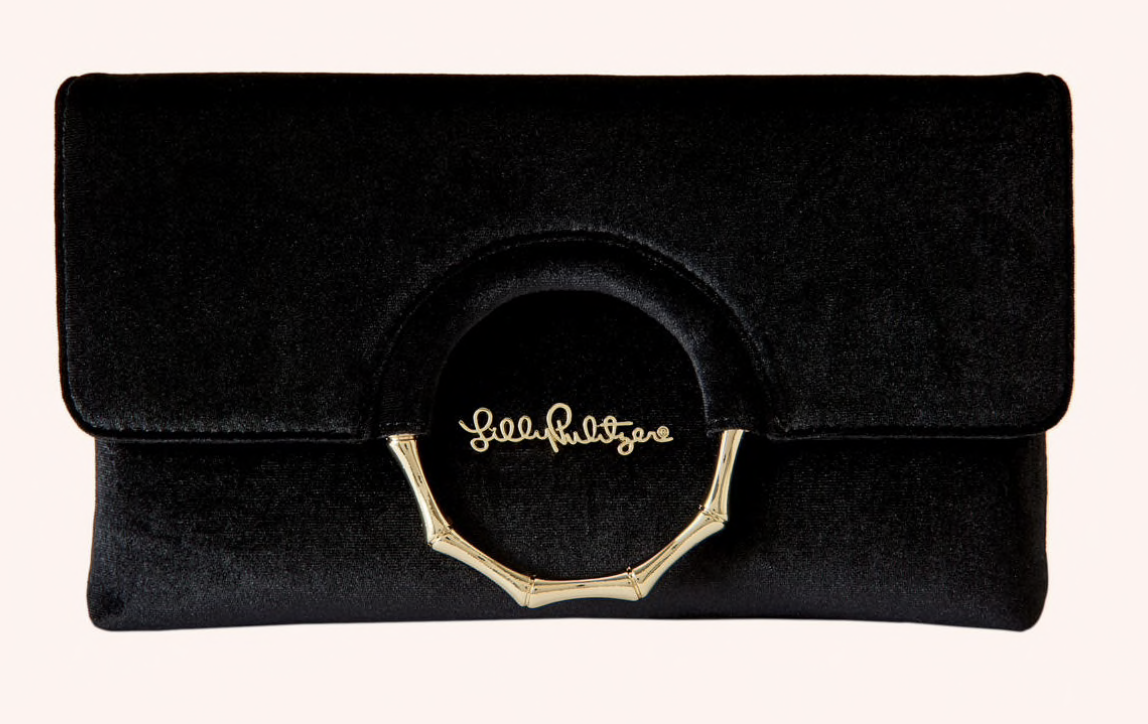 Velvet Clutch: Perfect for wintery weddings and events.

Sheena Slide: These are STUNNERS. I always walk out of slingbacks because I'm a child, but if you're a grown up and can handle things like this, I'd go for 'em.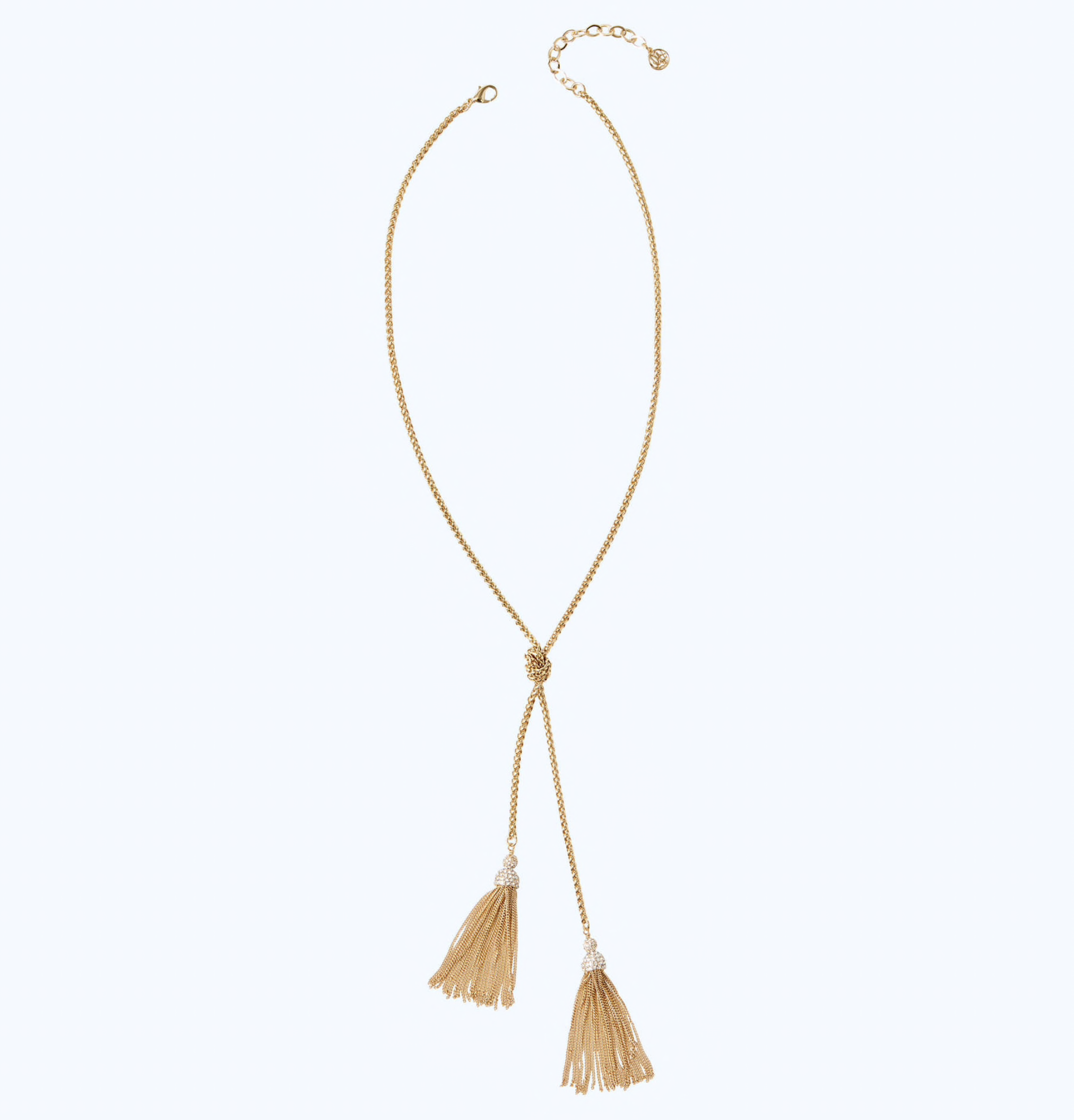 Shelly Bay Necklace: Another great gift!