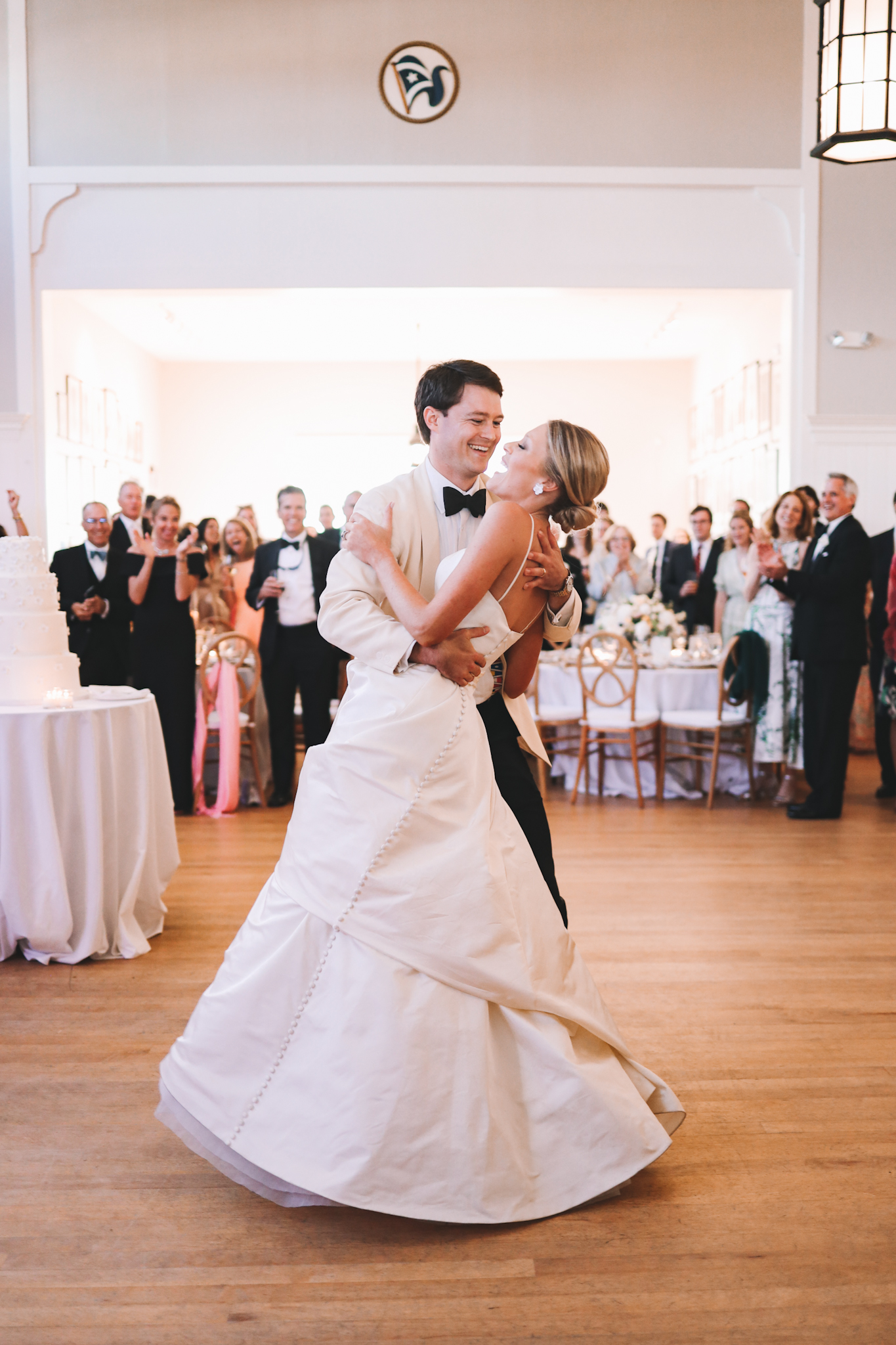 Hello! I'm bACK. 😜 Here's what's on my mind today:
My cousin Sammy married the love of her life on Nantucket this past weekend, and it was the most joyous and love-filled event. I really can't tell you how amazing it was! Sammy is the kindest, most thoughtful, and most generous person you will ever meet—and so is her now-husband, Charls. This—coupled with the fact that I think of Sammy as a sister—made it incredibly emotional. 😆 I pulled it together, though, as I really needed to focus on getting Emma and Lucy down the aisle. (More on that below!) The whole weekend was truly perfect, and I'm so grateful that we could all be together to celebrate Mr. and Mrs. Hurlock, even though it took some doing. 😉 That last night on Jetties Beach; gosh. It really reminded me of just how lucky we are. ♥️ Congratulations, Sammy and Charls! We love you!
My mind is blown: the Larkin Family had an extremely positive flying experience. So crazy! If you're new here, there's something called #larkinluck. For years, Mitch and I would get stuck in airports—often for days at a time—and experience ridiculous delays, cancellations and other disasters while flying. It became comical. I'm a tad traumatized from it all, haha, and I understandably get pretty anxious when flying these days, especially with kids in tow. But while nearly everyone we knew who was flying to Nantucket dealt with cancelled or delayed flights (and missed connections), the Larkin Family—of all people!—did not. WHAT DOES IT ALL MEAN?!
I am starting to edit my ACK photos. Yesterday was my recovery day. I got the girls off to school, unpacked, put the suitcases away, did all the laundry, put it away, cleaned, and went to bed early. Woke up this morning feeling much more put together! Do you read Shira Gill's blog? One of her best travel tips is to put everything away immediately upon returning from a trip, and I've taken this to heart. When I don't, I really feel that the travel chaos extends into home life, and that's no good! So now I buckle down and just do it, and it's made a big difference. Anyway, that was a longwinded way of saying that I'm so excited about sitting down at my computer today for a little while and going through my camera card! Can't wait to share what I find.
I forgot how much I utterly adore Nantucket. Because of the pandemic, it had been a while since we went out to visit my cousins. The last time was this trip! But wow. It's just such a special place. I have so many happy memories throughout childhood, my 20s with Mitch, and parenthood attached to it, and we seem to experience unforgettable magic every time we're there. It's definitely far, but I would love to make it a priority to get there once a year like we used to! (And if you haven't been, I can't recommend it enough! I highly suggest staying at our friend Drew's hotel, The Nantucket. He's the best.)
I wish I'd bought this extremely versatile dress sooner. I've had the black version for a while now and wear it all the time, and finally decided to invest in the blue striped one. So glad I did! I wore it several times on Nantucket because it can be dressed up or down, and I just feel that blue striped pieces are summer neutrals. ;) I took the dress in a size small for length, if that helps. It's tiered so it hangs beautifully!
I'm so proud of the girls for rocking their walk down the aisle! I'll be honest: I was stressed. 😜 I had nightmares of Lucy's silent temper tantrums (which honestly would have been pretty funny), and just wanted them to be happy and excited about it. But they LOVED it! When they first got to the island, my cousins Annie, Sammy and Paige pounced and made them feel so welcomed and special, and they had a total blast together, laughing the night away. I couldn't get over it. Because of this, they felt at ease the entire weekend, even though they were kind of the only kids there! On wedding day, Emma woke up and said, "I CAN'T WAIT TO BE A FLOWER GIRL!" And Lucy, per usual, followed suit. They were precious. Emma asked to keep her flower basket and baby's breath crown in her room so she could always remember it. ♥️
I spent some amazing quality time with my dad. My dad was able to fly in earlier than my mom, and we celebrated his birthday at both Auntie-M's house (they even got a cake! 😭) and Slip 14. It was so fun! And I loved that the girls really got to bond with Pa. He was in stitches the whole time with them. He even did Mr. Sock Man! (Have I told you about this? It's when you do a sock puppet with your hand but sans sock. Mr. Sock Man is not well-behaved and he has a thick Long Island accent, I suppose because my family is originally from LI. Try it. Kids love him.)
I bought a new Nantucket sweater. It's the best. I shrunk my old navy one so I decided it was time for a little upgrade. ;) Went with the salmon! I adore it, it's so soft, and it will always remind me of Sammy's wedding. I wear a size small, btw. It's a little oversized but I feel that that's the look! (Also got these for the girls since they grew out of their old ones.)
Have you checked out my Amazon Storefront?! I've been working so hard on it, and I have nearly 40 different "shops." Amazon makes our lives so much easier; it just requires a bit of digging to find the good stuff.
Lucy is killin' it with potty training! I'm seriously so proud. Lucy is a stubborn one, and I thought that it was going to be a long, long year. But she's totally doing it, and so proud of herself! I credit my mother-in-law for finding JoJo Siwa underwear. Thank you, Lisa!
We are having a JoJo Siwa-inspired plush doll made through Sew a Smile and I can't WAIT. Believe it or not, there is no such thing as a JoJo Siwa stuffy. Which has been problematic, haha. We found a teeny-tiny 5″ one, but it's just not cutting it. So I'm thrilled about this new idea and know that Lucy is going to be over the moon. The owner, also named Lisa, is even embroidering a unicorn on the doll's shirt!
I achieved my ENTIRE Gmail inbox and now have a truly clean slate. Listen, I was at the point where I wasn't evening checking email anymore because it had become so overwhelming. What a change! I've also committed to unsubscribing to nearly all promotional emails I receive from here on out. (Yes, I do realize that there are promotional tabs I could just use, but I really just don't want these emails in my life anymore.) I would guess I've already unsubscribed from 200+! Thank you to Carly for inspiring me to finally do this. I feel so much better already.
What's your wardrobe weakness? I've realized that mine is white tops and sweaters. I do a closet clean-out every time I switch it over to a new season. (Which is actually only twice per year since Chicago doesn't really have all four seasons, in my opinion, haha.) This time, though, I took it all out and took a good long look at what I owned and no longer needed/wore. So many white tops and sweaters! I said goodbye to a few and am now aware of this little problem I have. ;)
One Home Project Every Day:

We swapped out the girls' light fixtures in their bedrooms. For a little change, and because we took down the light fixtures in our bedroom/my office, we decided to change up the little girl chandeliers. Emma now has this one, and Lucy now has this one!
Kira's crew successfully repaired the walls/staircase after the baby gate removal. If you're in Chicago, I can't recommend Hal's custom baby gates more. They were PERFECT, and really blended into the design of our home.
I found a printer for my office. This is the printer that Mitch swears by. When you "select options" to buy from, be sure to choose Adorama, even though it's a little more from there. Adorama is a great retailer that I've been using since I lived in NYC! Highly reliable.
We laid down a new living room rug. If you remember, I ended up hating the last one I bought. Thankfully, the company took it back. I am the most indecisive! Fingers crossed I end up loving this one.
I did all the Nantucket laundry and put it away. I mentioned this before, but I'm really proud and felt it needed more celebrating, hahaha.
I cleaned all the bathrooms and vacuumed/steamed all the floors in the house. So much dust.
I said goodbye to extra hangers. Not sure why I was keeping them around. They were just taking up space!
Mitch moved all the toys down to the playroom post-construction. We normally keep all our toys in the playroom to minimize the amount of tidying both parents and kids have to do. (Though the girls still play make-believe and read/make tents in their rooms.)  It works really well for us. The toys had been moved up to their rooms during construction, though, and things had gotten out of control. It made going to sleep and getting ready really hard! Very nice to have them back in the basement. Emma and Lucy are happier, too!