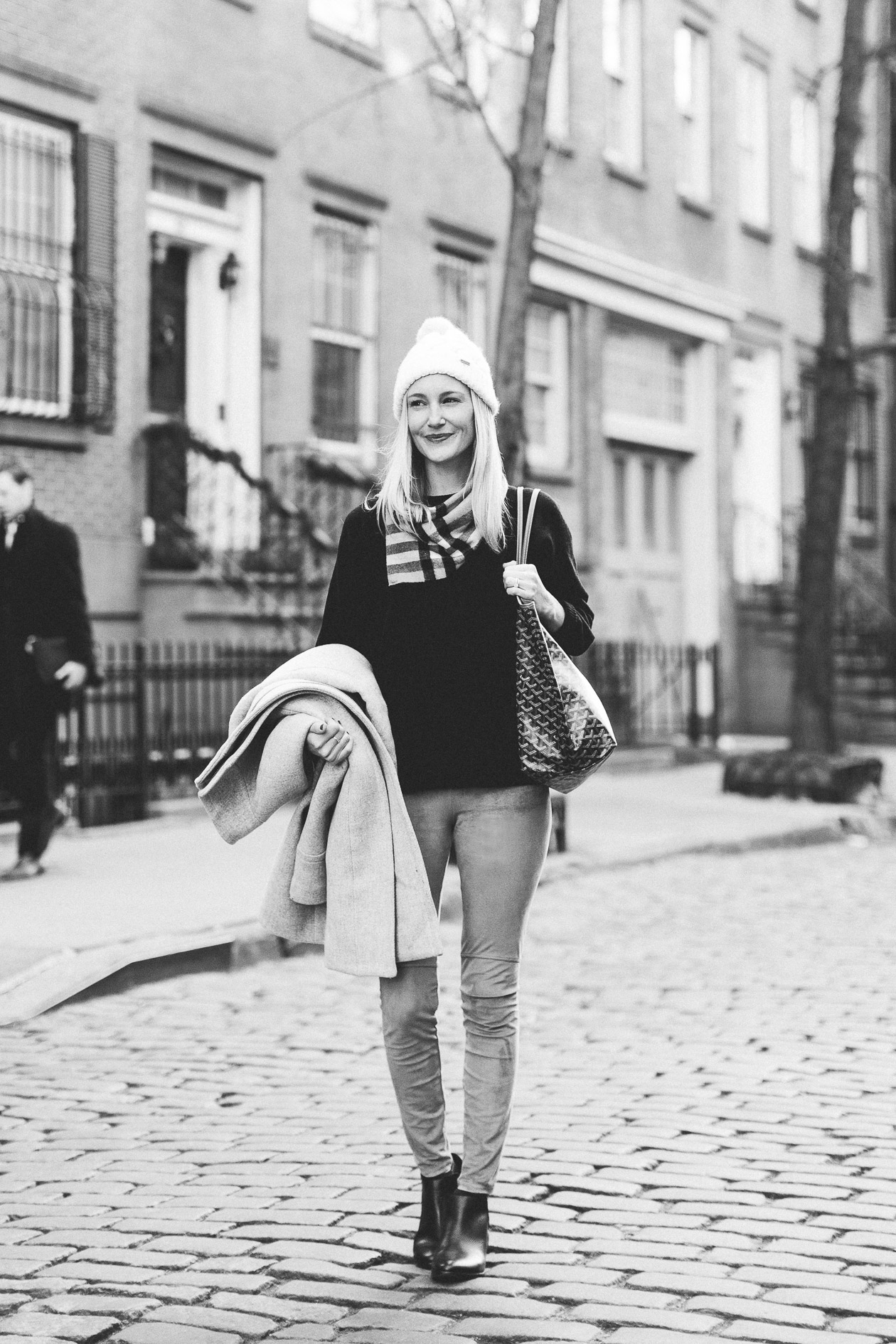 I'm sitting at a nearby coffee shop, simply staring at my laptop screen. (Have you ever done that before? Tried to sit down to work, but just ended up staring at your computer like it's a Magic Eye puzzle? *Pats self on the back for the stellar 90s reference.*) And then, suddenly, the tears start. Nothing too crazy; just a couple of 'em. But they're there, and I realize that I've been doing things… all wrong.
This was me last Tuesday, the 10th. I spent about an hour and half uploading photos and writing a few lines for some pre-scheduled content (this post, this post, this post and this post), and then published this post about taking a little break from blogging. I needed it. I'd been running at full speed for months and months and months, and my brain was fried.
During my break, I thought long and hard about why the coffee shop incident occurred, and I think, on a basic level, it comes down to this: I am not a good businesswoman. I'm not fishing for compliments; I think I have a lot of great qualities! But running the business side of Kelly in the City is not one of them. While I've come a long way, I don't like it, I'm not good at it, and I don't have the best judgment–especially when it comes to how much work I should take on, and how much that work is worth in terms of time and dollars. I'm quick to say yes because I'm excited about working with a company or because I hate taking risks and am nervous that the work will one day "dry up." But then, seemingly out of left field, all of those yeses become "ahhhhhhs!" and I have a mini meltdown, "High School Kelly"-style. (You know: I got dumped, my skin broke out, I didn't get into my dream college…)
Yes: money is a taboo topic to talk about on personal blogs. (Or, at least, that's what I've gathered. And perhaps the real "behind the scenes" aspect is a bit of a taboo subject, as well?) But it's part of my life, just as money is part of most people's lives. I'm not independently wealthy; I need it to live and pay the bills. ;)
(Side note: If you're not a blogger, it might be a bit confusing to see me wearing relatively expensive clothing, shoes and accessories when I say something like that. I've mentioned this before, but if Kelly in the City didn't exist, there's absolutely NO WAY I'd own what I own. Much like a business owner might invest in a new computer, a blogger might invest in a new pair of shoes. Sounds a little crazy, but there's a method to the madness, and if you'd like to read a post about how partnerships and sponsorships work as well as why many bloggers "invest" in their wardrobes, I'd be so happy to write one! Another somewhat related topic is that this blog isn't exactly a reflection of reality. My thoughts and my reflections and my stories are all totally "me," but my lifestyle would be a lot different were it not for this site and the opportunities it's provided me. You kind of have to suspend disbelief and be okay with that; it's why disclosures and c/o's are always included. Interested in reading about it? Let me know! Okay, moving on…)
I wish I didn't have to take on sponsorships, but I'm simply not in the position to do so at this point. I have things like mortgages to pay and college educations to finance and retirement funds to build and the sweetest little baby to provide for. Right now, I need to work. And, I should note, I want to work. (I truly enjoy it!)
Here's the thing, though: I can't continue working in the way that I am. It's driving me insane. Because I place Emma before all else (and want to truly enjoy my time with her), I only work when she's sleeping, or when Mitch is home and can help out. Could I hire a babysitter or a nanny? Yes, and my mother-in-law comes up on a fairly regular basis for a day or two during the work week. But I don't want a full-time babysitter or nanny. I want to be home with Emma. It kills me when I'm apart from her, and honestly, the biggest reason Mitch and I decided that I should blog full-time was because it meant I could be home with our little girl. I'm so lucky to be able to do that (thank you!) and I want to take full advantage. But I'm tired. I don't get enough sleep, I get almost no downtime, and my brain can't handle all the deadlines and requirements and correspondence. (When I have too much on my plate, I shut down and play the procrastination game, hoping it'll all go away. Probably not the best approach, but maybe you–or at least your high school self–can relate?)
I also miss being creative. I love, love, love blogging; that love hasn't faded. And while I think I'm still creative to some degree, I really can't remember the last time I wrote a post that wasn't tied to company. (Besides quick-and-easy outfit posts, which I put up when I don't have time to write something more extensive.) I have so many amazing ideas in my head, but because of all those pesky deadlines and requirements, they never come to fruition. It's hard for me to admit that this site isn't what I want it to be, especially considering how much time and work I put into it. But clearly, how I run it needs some revamping.
Thankfully, I'm lucky to have a husband who runs his own company and a best friend who's amazingly talented when it comes to the business side of blogging. (All other sides, too. But have you read Blogging for Keeps? It's a website she runs with Blair, and it's SO helpful for bloggers who are looking to take their sites to the next level.) Mitch and Jess helped me determine my true worth, how much work I'd actually like on a weekly and month basis, and how to dig myself out of the hole I currently find myself in. Thank you, guys. I love you both.
Huge spoiler: part of the way I'm digging myself out of the hole is handing some of the business and editorial responsibilities over to Mitch. He's an amazing writer, and has written some hilarious pieces for this site: On Becoming a Dad, Summer Fashion by Mitch, Mitch's (Really Funny) Valentine's Day Gift Guide, and Mitch's Glorious Gift Guide for Guys, to name a few faves. And he enjoys it! He sincerely gets excited when I ask him to write a post, and he puts a ton of effort into it. So thank you, Mitch! Get ready to see a lot of his work in the upcoming weeks. He's already written three pieces!
I'm also hiring some help, blog-wise. My cousin is essentially a social media wizard, so I'm hiring her to take over a few accounts that I majorly neglect. And I just committed to a site redesign! I'm sure you've noticed, but Kelly in the City is painfully slow. And while you likely haven't noticed this, the crappy interface makes everything a lot harder behind the scenes. There are frequent crashes and coding problems, and the whole thing just seems like a ticking time bomb to me, haha. Taking care of that over the next month, and I can't wait!
Finally, I'm saying no to work that isn't worth my time. I know it's going to be hard for me, as I'm not a risk-taker, and like I said, I much prefer to have too much work instead of too little. But I want work-free weekends and nights with my family. I want to hang with Emma and not have a ton of other stuff on my mind. I want to work before Emma wakes up, during nap time, and a day or two per week, but that's it. I want to write from the heart. I want to go to bed at a reasonable time. I want to live a balanced life! 
So this year, I'm not going to write a New Year's resolutions post. (Besides, pretty sure that ship has sailed.) I'm simply going to vow to live that balanced life. January is going to be my month of catching up on outstanding partnerships. (Tried to get 'em done before 2017, but that just didn't happen. I'm going to NAIL those remaining partnerships, though, and infuse myself and my life and my creativity with 'em as much as possible!) And after that, I'm pulling back.
Before I go, a little note: Thank you for sticking by my side through it all. Blending work with a hobby and real life has been challenging for me, and I've made my fair share of mistakes over the last year. I appreciate your kindness and understanding more than you'll ever know. I've learned so much, and I hope to get back to my "roots" as soon as possible. :) You're the best, and thank you for following along!
Wearing in the Meatpacking District, NYC: Goyard Tote (Here, here and here) / Suede Leggings (Also love these!) / J.Crew Coat (Also available here) / Bp. Sweater (Feels like cashmere but you can wash it! Also think this Bp. number is the cutest.) / Burberry Snood (So much more affordable! But love the classic scarf, too!) / Barbour Hat c/o (Similar here and here) / Sam Edelman Booties (Shearling-lined here)
SaveSave