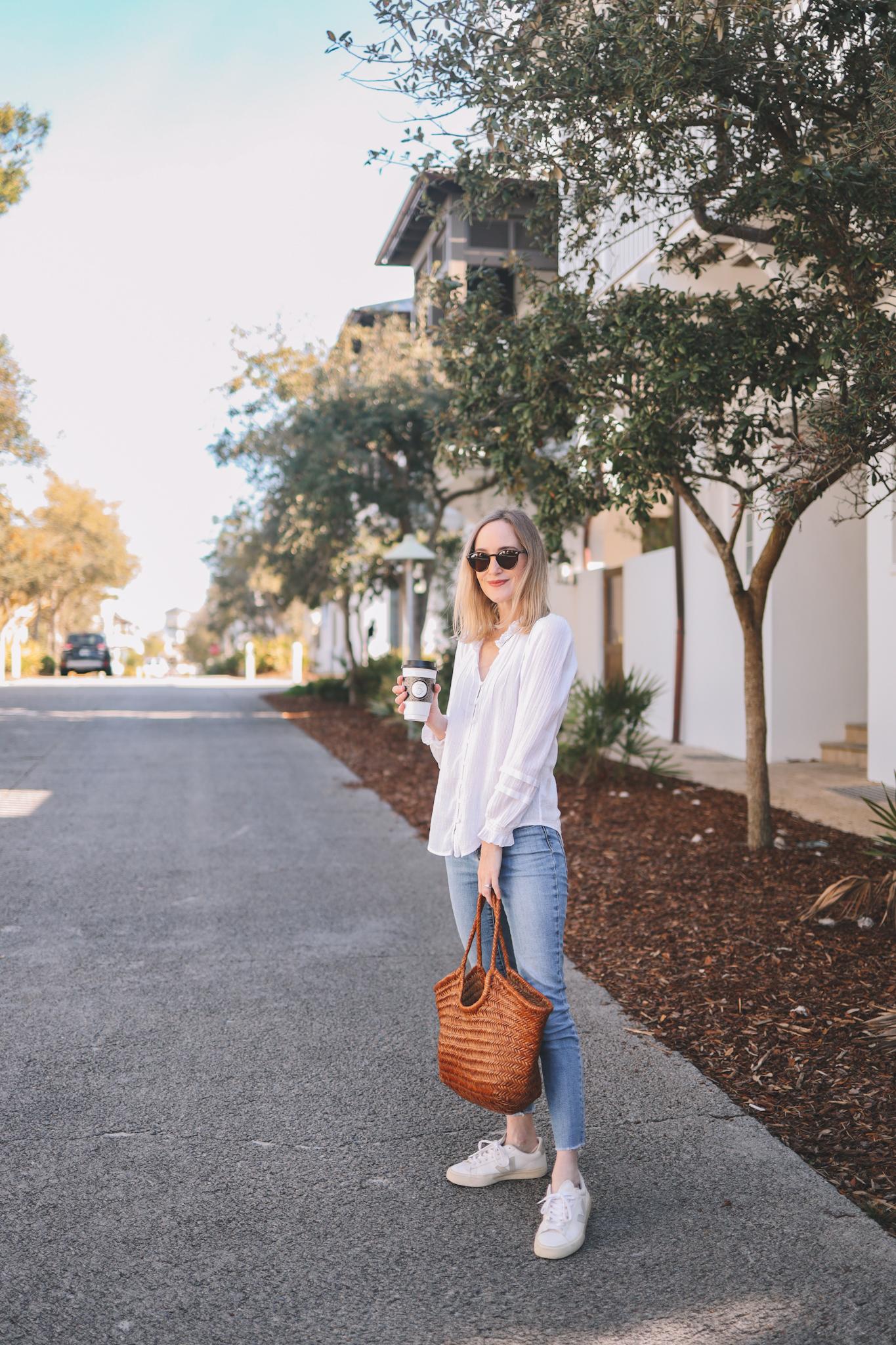 Textured Peasant Blouse (This is the Faherty one.) / Dana Rebecca Bar Necklace / Dragon Diffusion Large Nantucket Tote (Tuckernuck has a bunch, too.) / Veja Sneakers (You can also find them here and here.) / Newer J.Crew Toothpick Skinny Jeans (Check out this pair from Madewell, too! Great light blue wash.)
Have you heard of Quince? If not, let me make your day.
Quince is a manufacturer-to-consumer company that offers the same high-quality products that many designers do yet at a fraction of the price. And let me tell you: It's a game-changer. And Mitch agrees. He seriously was like, "Hmmm. So I guess this is the only company we buy from, from here on out, right?" 😜
But yeah. Whereas most people probably wouldn't spend ~$150 to ~$200 for a blouse, Quince makes these styles accessible to normal people. Which is fantastic! I also love that Quince carries mostly timeless essentials that can be mixed and matched, and worn for years. Like, if I lost everything tomorrow, I would 100-percent just buy a new basics wardrobe made up of 95 percent Quince products and be totally fine.
Quince also carries home, men's and a small selection of kids' clothing. Heck, you can even buy wedding rings through Quince!
Btw: I'm wearing a size small in the Textured Peasant Blouse. It's a winner. The charcoal is on my wishlist, too!
Enjoy exploring Quince. Apologies for taking up the next hour of your life. 😆
xoxo
Shop the post:
Textured Peasant Blouse (This is the Faherty one.) / Dana Rebecca Bar Necklace / Dragon Diffusion Large Nantucket Tote (Tuckernuck has a bunch, too.) / Veja Sneakers (You can also find them here and here.) / Newer J.Crew Toothpick Skinny Jeans (Check out this pair from Madewell, too! Great light blue wash.)