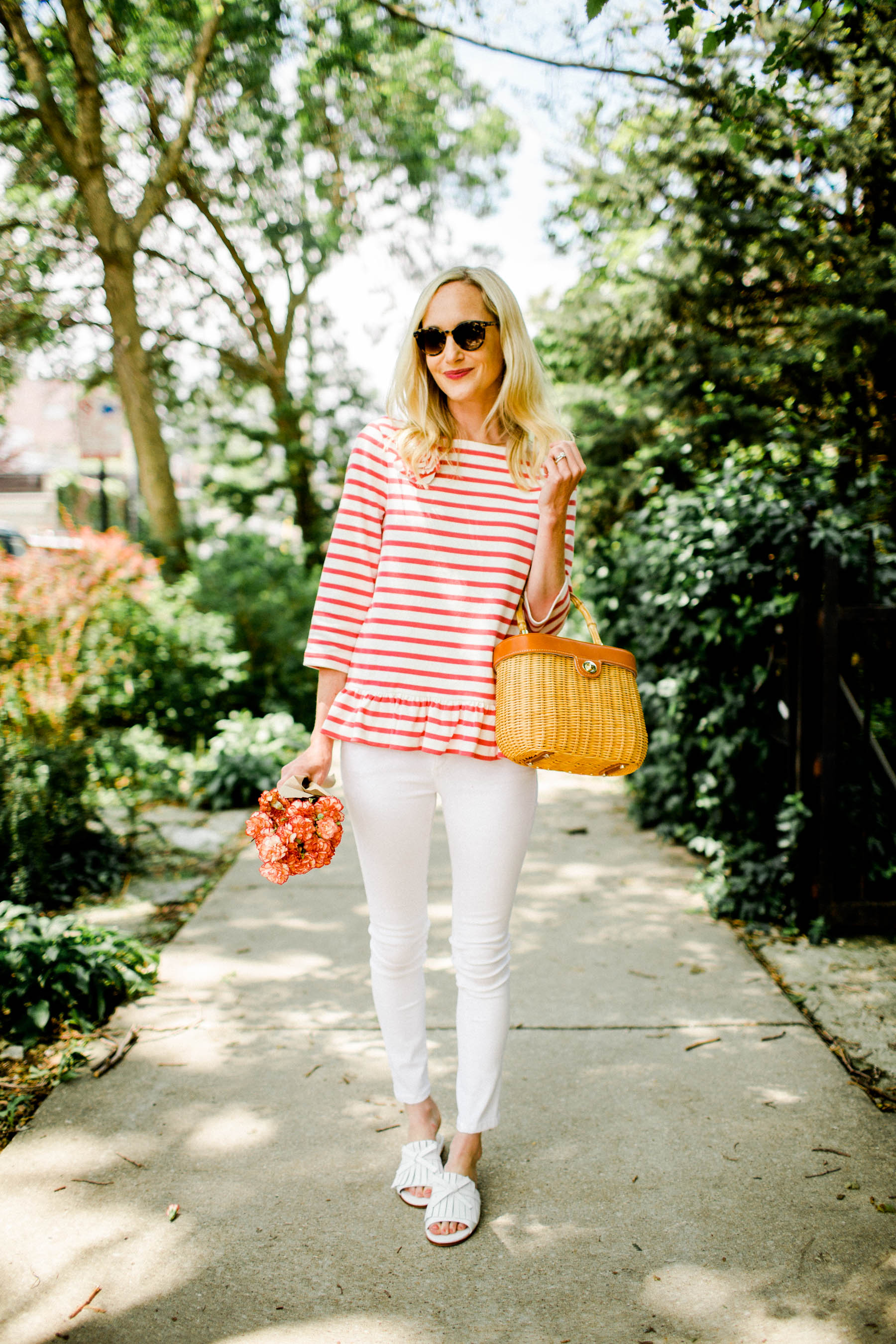 Striped Tee (On sale, also in both navy and pink here, and in black here and here! If it sells out, this site is also selling it.) / White Skinny Jeans (On major sale! Can't say enough about 'em. Also love this pair.) / Kiltie Slides (And we all know how much I love the bow mules!) / Nearly Identical Sunglasses (Have 'em, too, and love them!) / Woven Tote c/o
Well, Friends, the stomach flu has hit the Larkin Household. Hard. I won't get into the awful details of it, but the gist is that Mitch had it over the weekend at the bachelor party, and then I picked it up on Sunday Night/Monday morning. Sheesh. It's been a rough few days, but fingers crossed that Emma is spared! (And that her parents have a speedy recovery.)
So, yeah. Comin' at you from my couch today. ;) And talkin' about my favorite striped tees! I have five of them that I absolutely LOVE, and reach for again and again. Here they are:

Five Favorite Striped Tees
One (Also here) / Two / Three (Also here, here and here) / Four / Five (Short-sleeved here)
It's available at J.Crew or Nordstrom, and it's without a doubt the tee that I reach for the most. I loved it so much last year when I was pregnant that I bought it in a ton of sizes as I grew, haha. I like my shirts and tops slightly oversized, so I went up one size in this tee, but I would say it runs true to size!
Adore this top so much that I wrote an entire post about it. It's "one size fits all," which initially put me off, but it seriously looks great on everyone. I have a very small frame, but I don't feel like I'm swimming in it… and friends and family members with different builds also say how much they love it. It's a MUST!
How fun is this one?! I picked it up from Nordstrom last month because it was on crazy sale, but it's available from a ton of different places right now. It comes in both navy and pink here, and in black here and here! If it sells out, this site is also selling it. Runs true to size, and get ready for tons of compliments. Look at that little (removable) flower on the upper left-hand shoulder!
I can't tell you how often I wear this one. I wrote a blog post about it here, too, just in case you're looking for more photos. But it's such a sweet top. It's machine-washable and dries perfectly, and I can't get over how soft it is. A winner, for sure. (PS — There's a short-sleeved version as well!)
Love, love, love. I wore this navy striped peplum tee in this recent blog post, and it happens to be on major sale. I'm wearing a size small in the photos, btw. And definitely considering getting it in white! Too cute.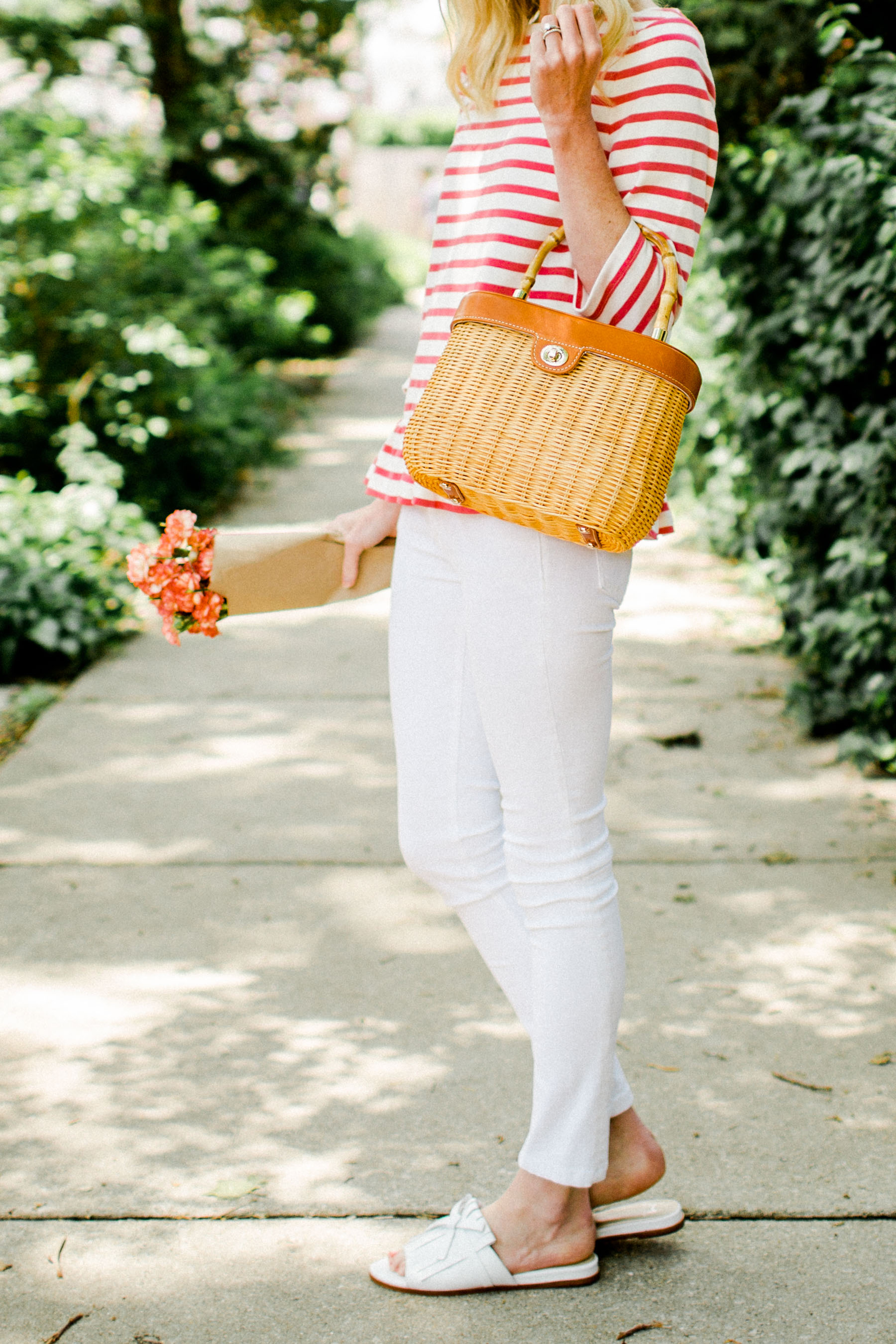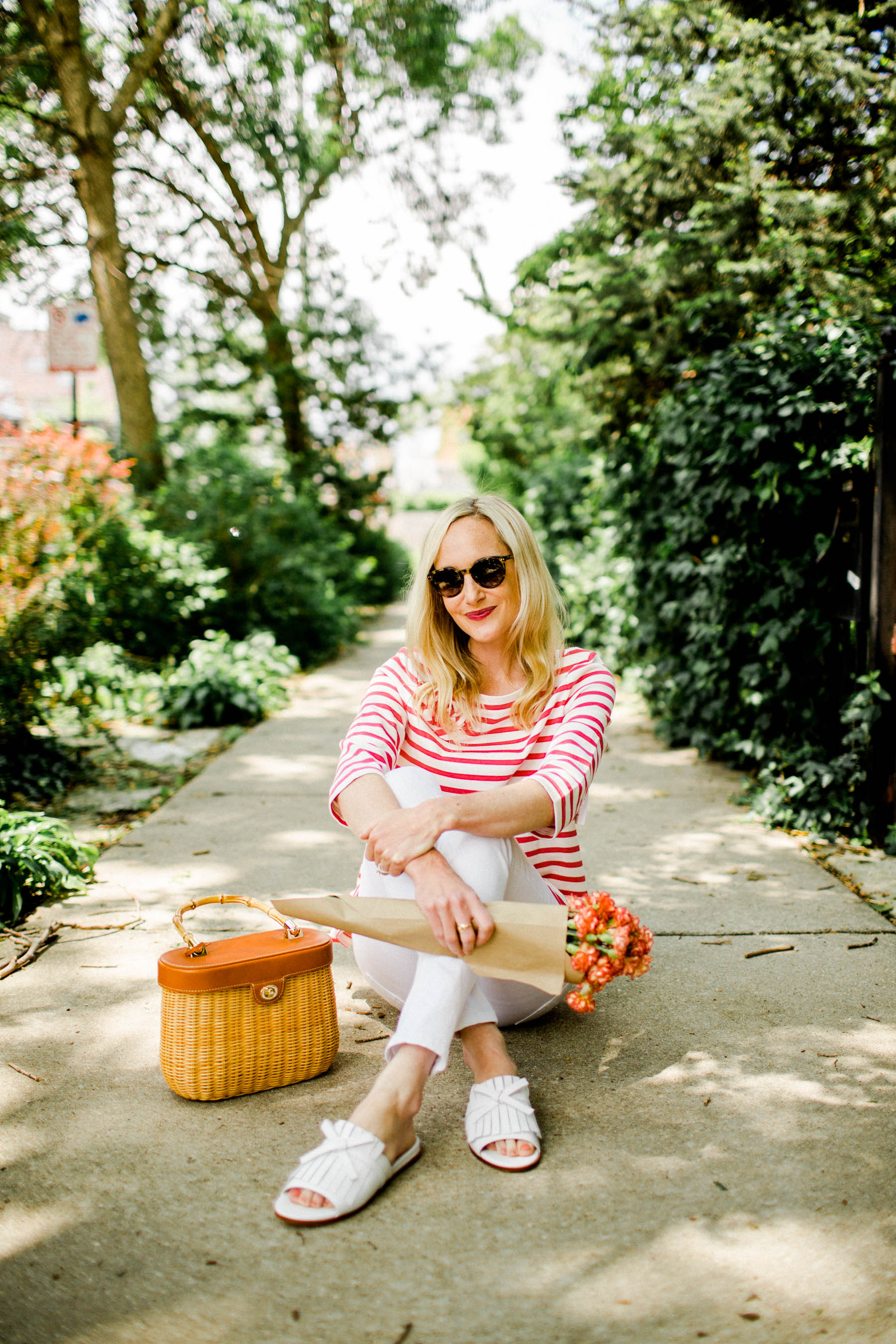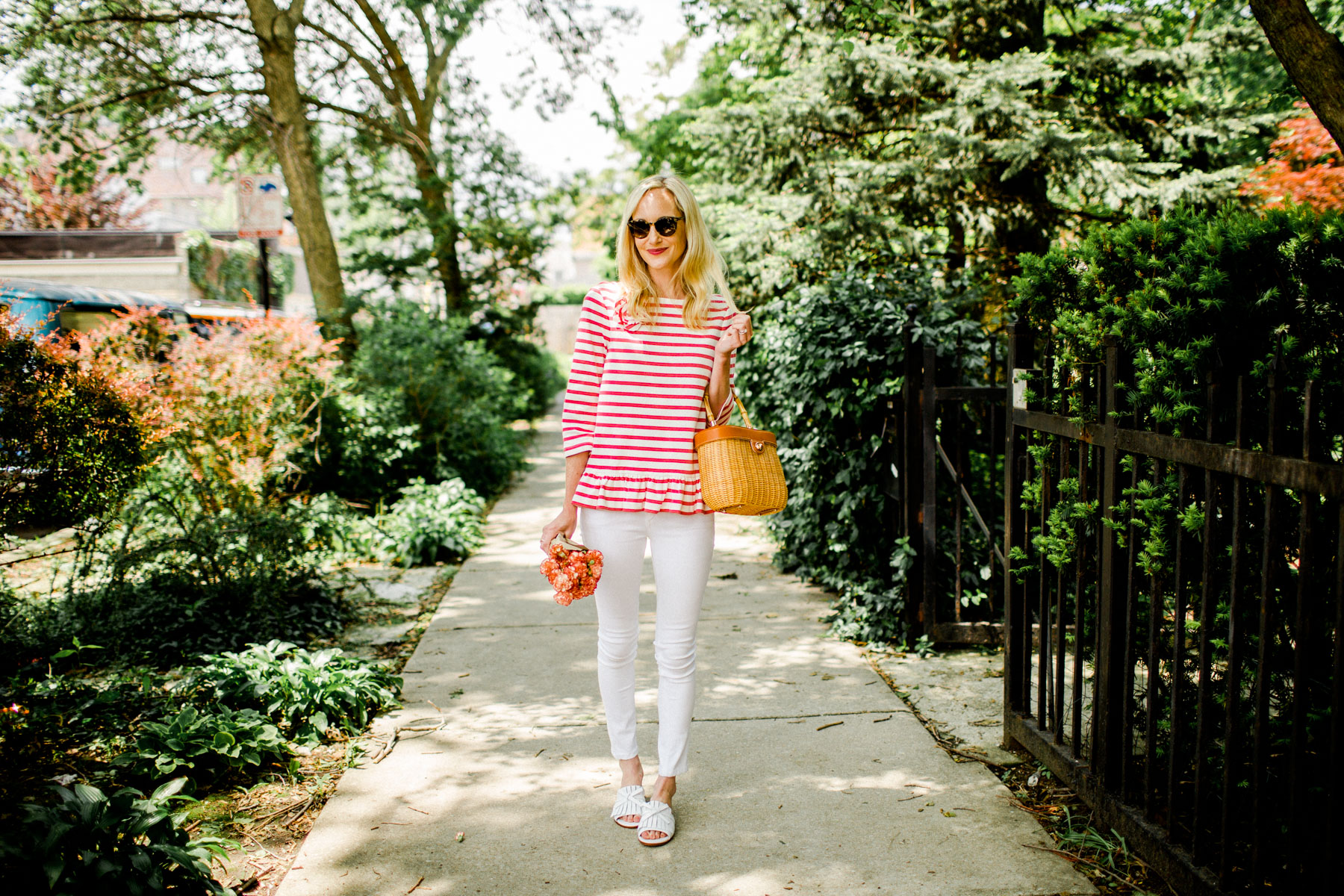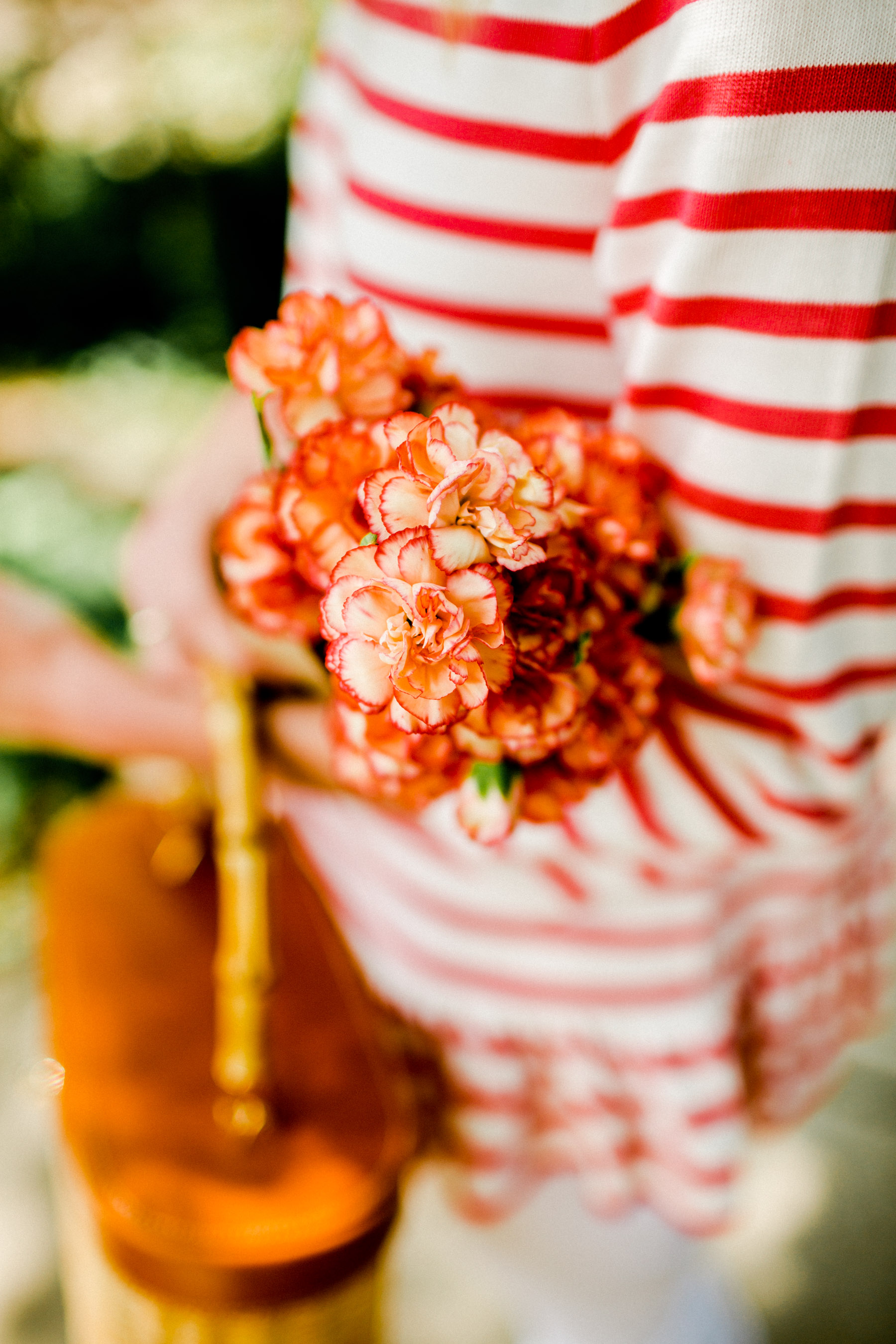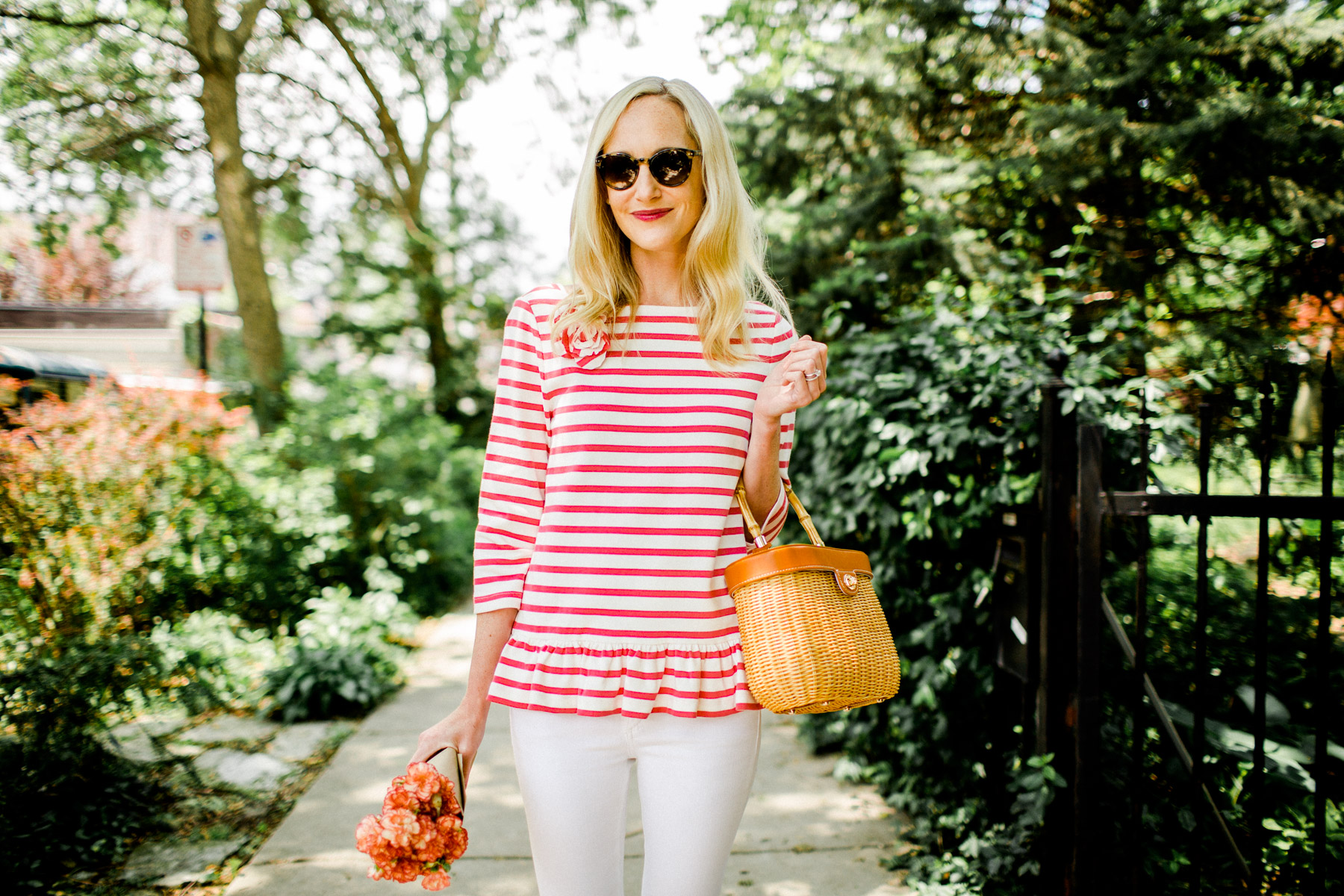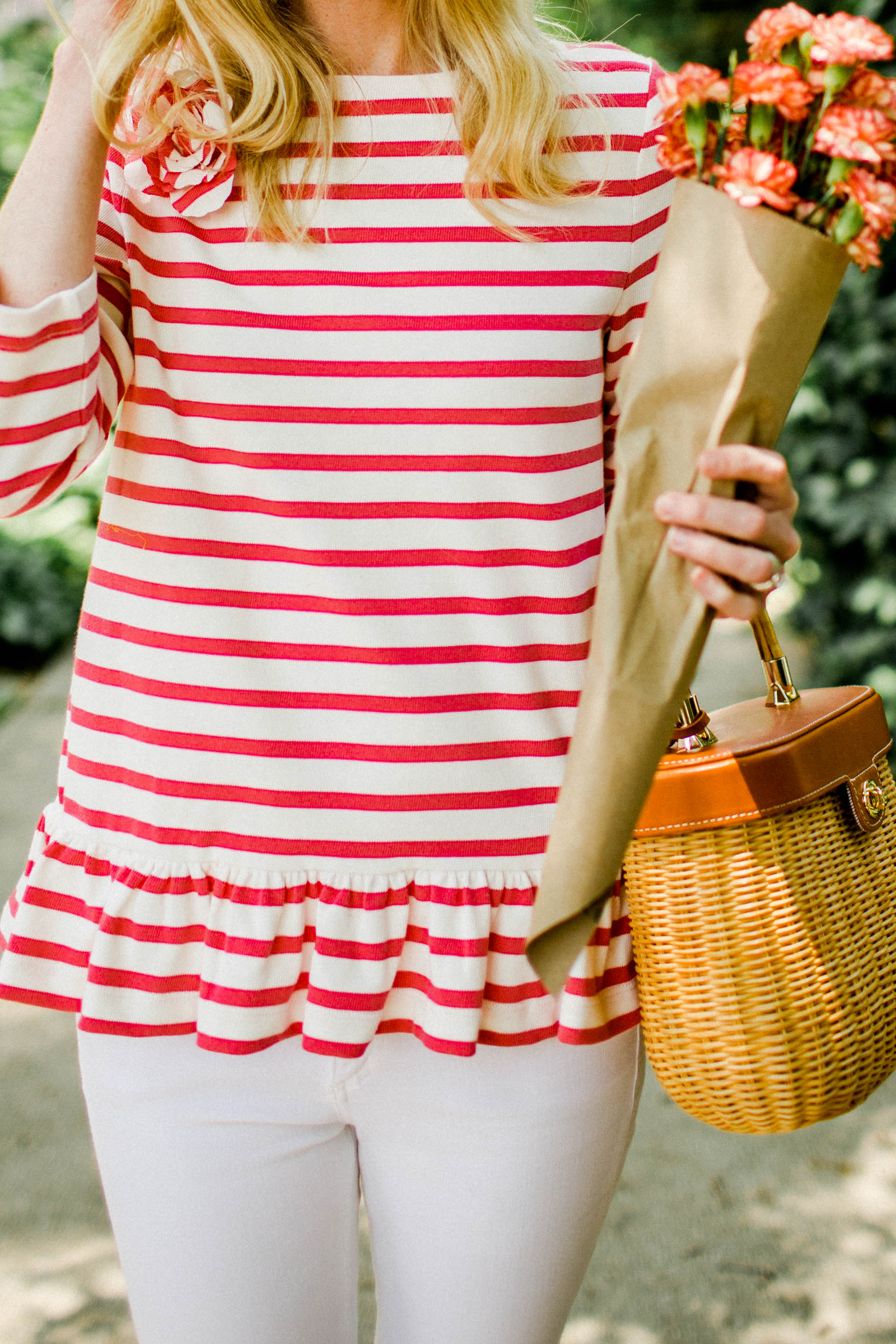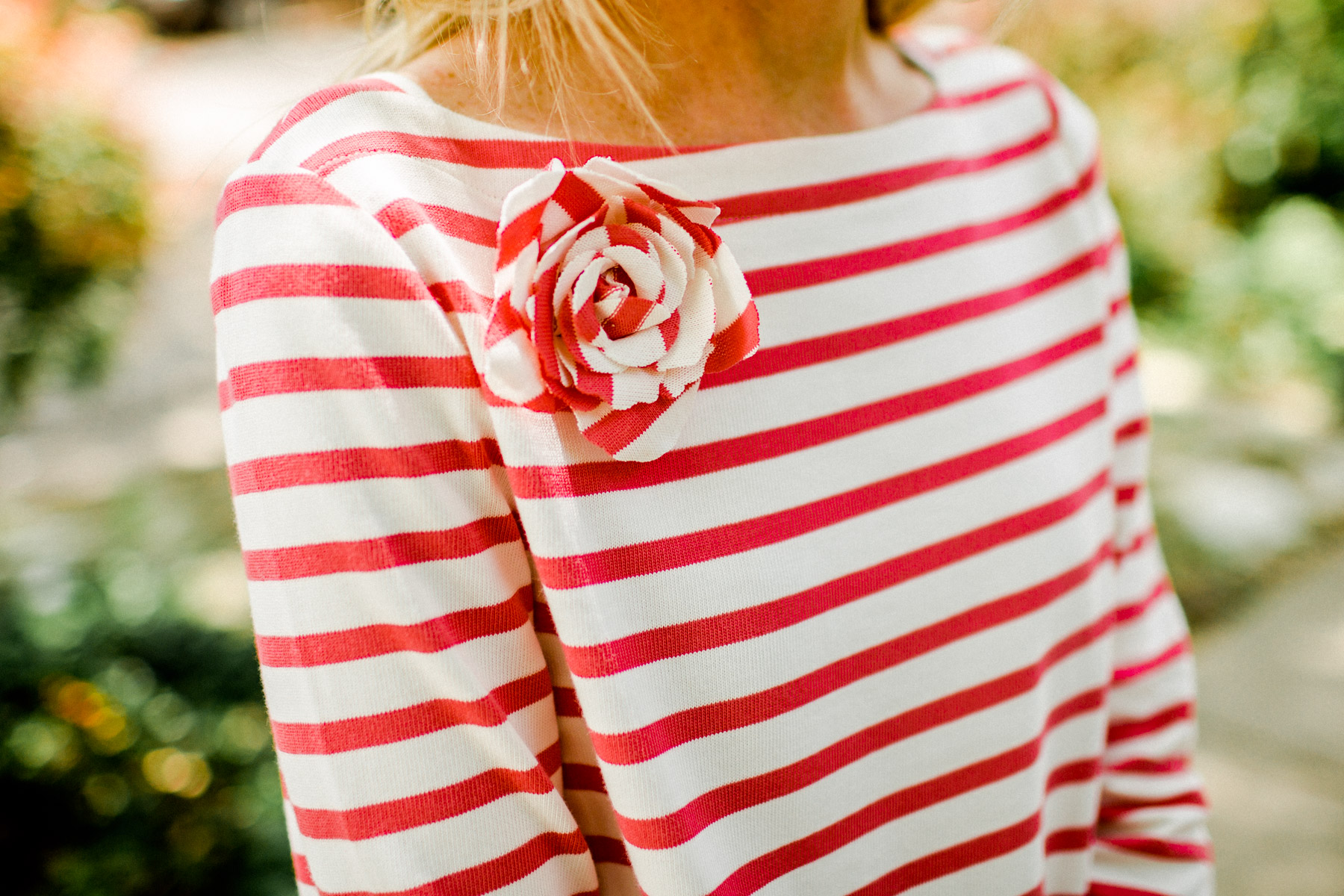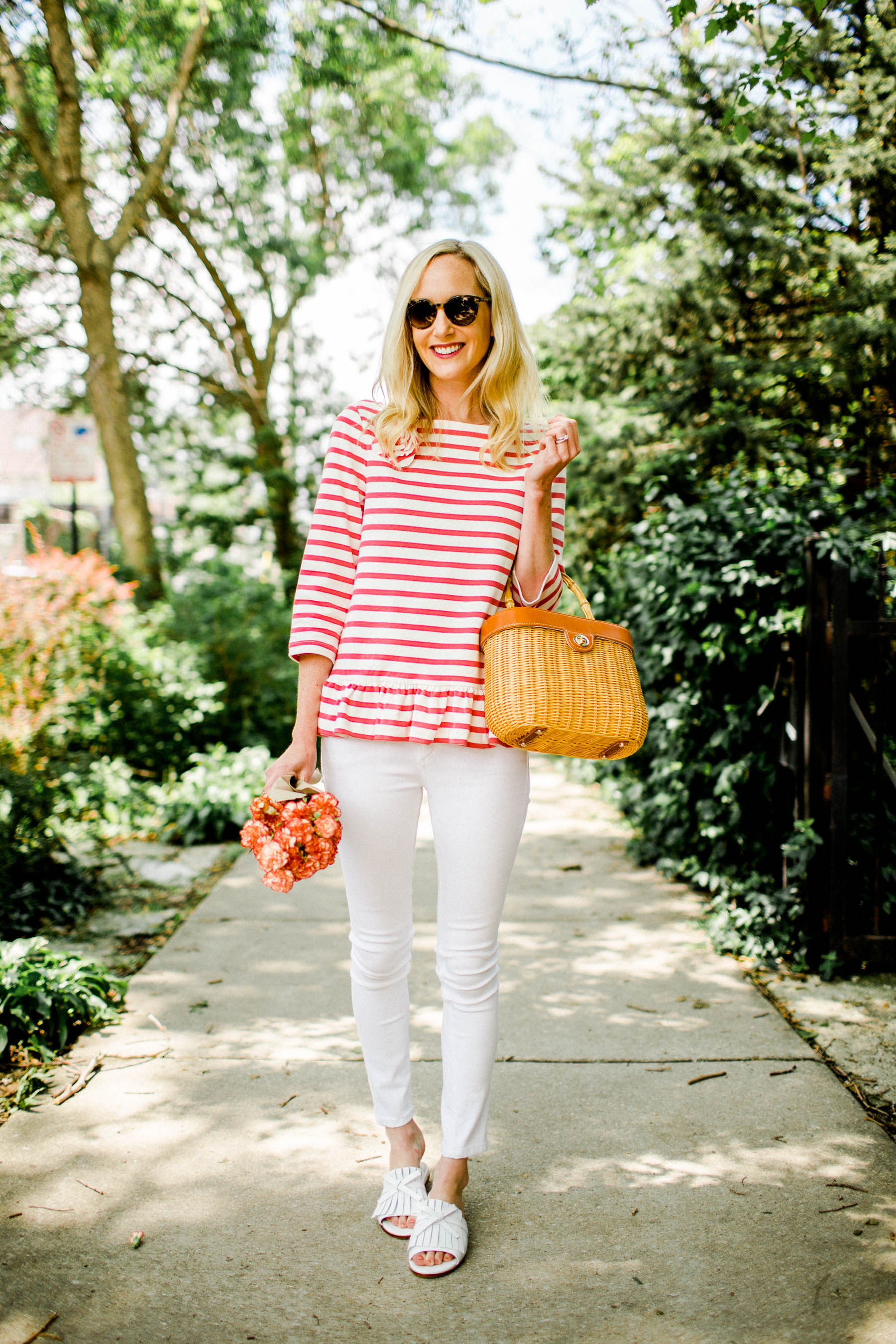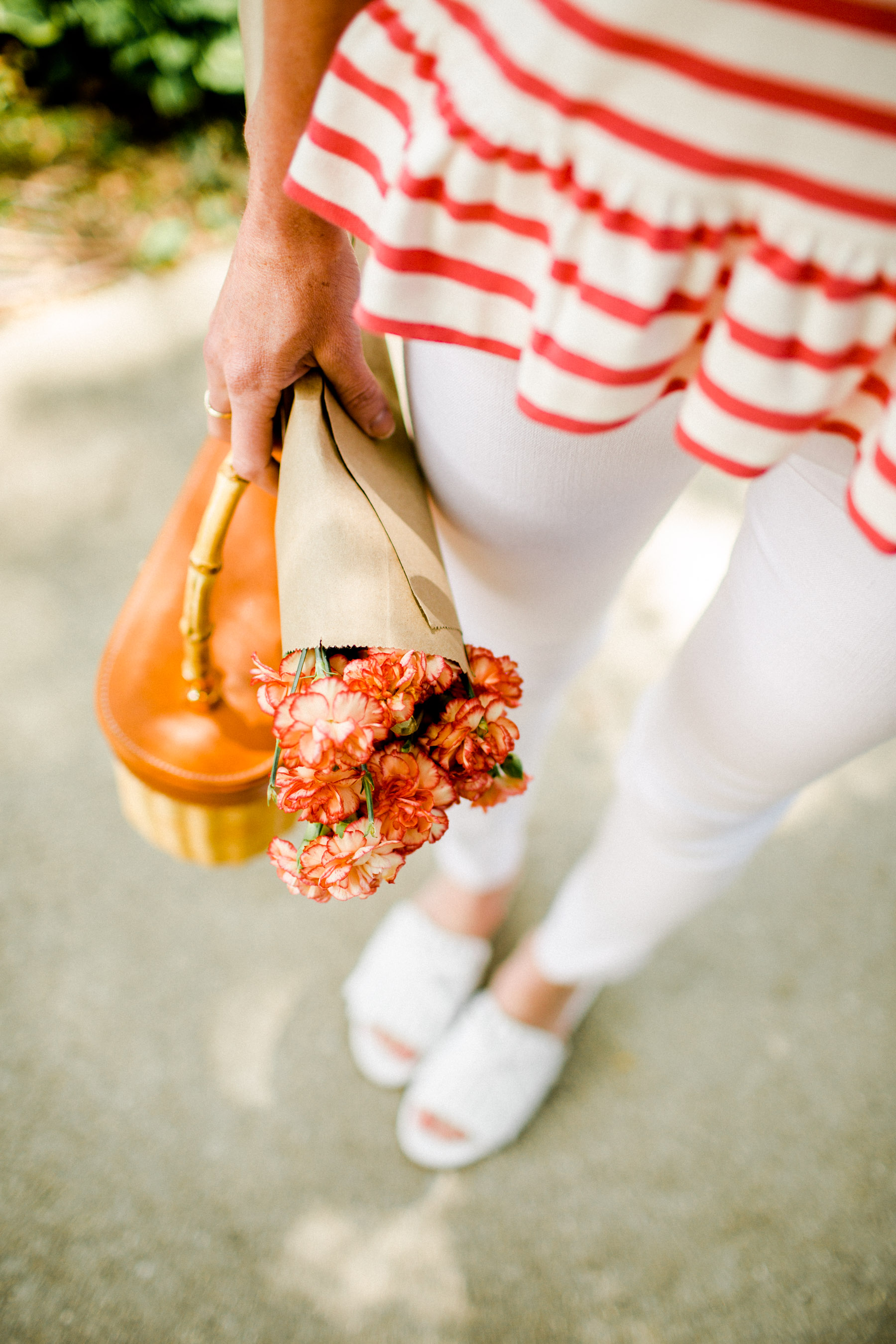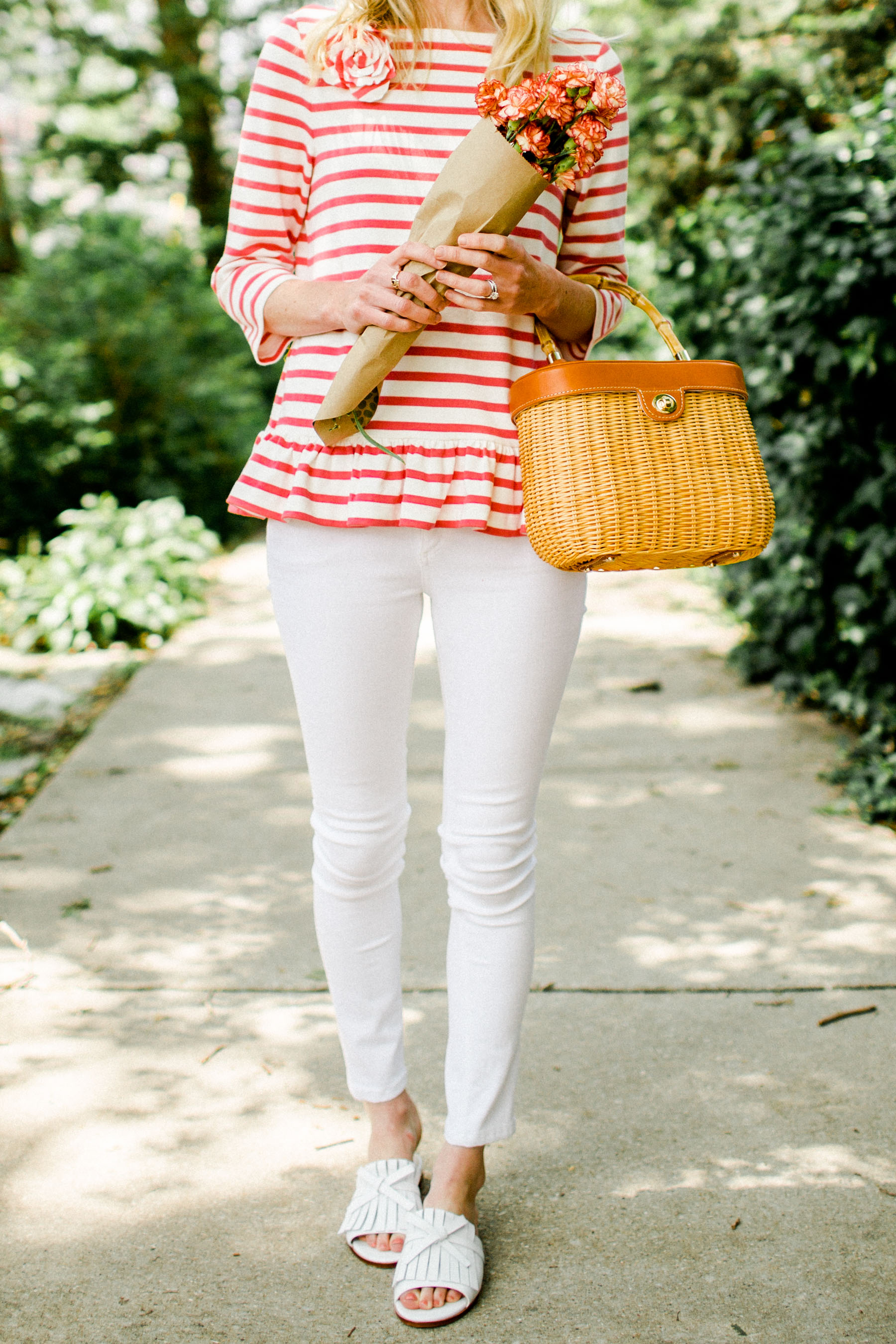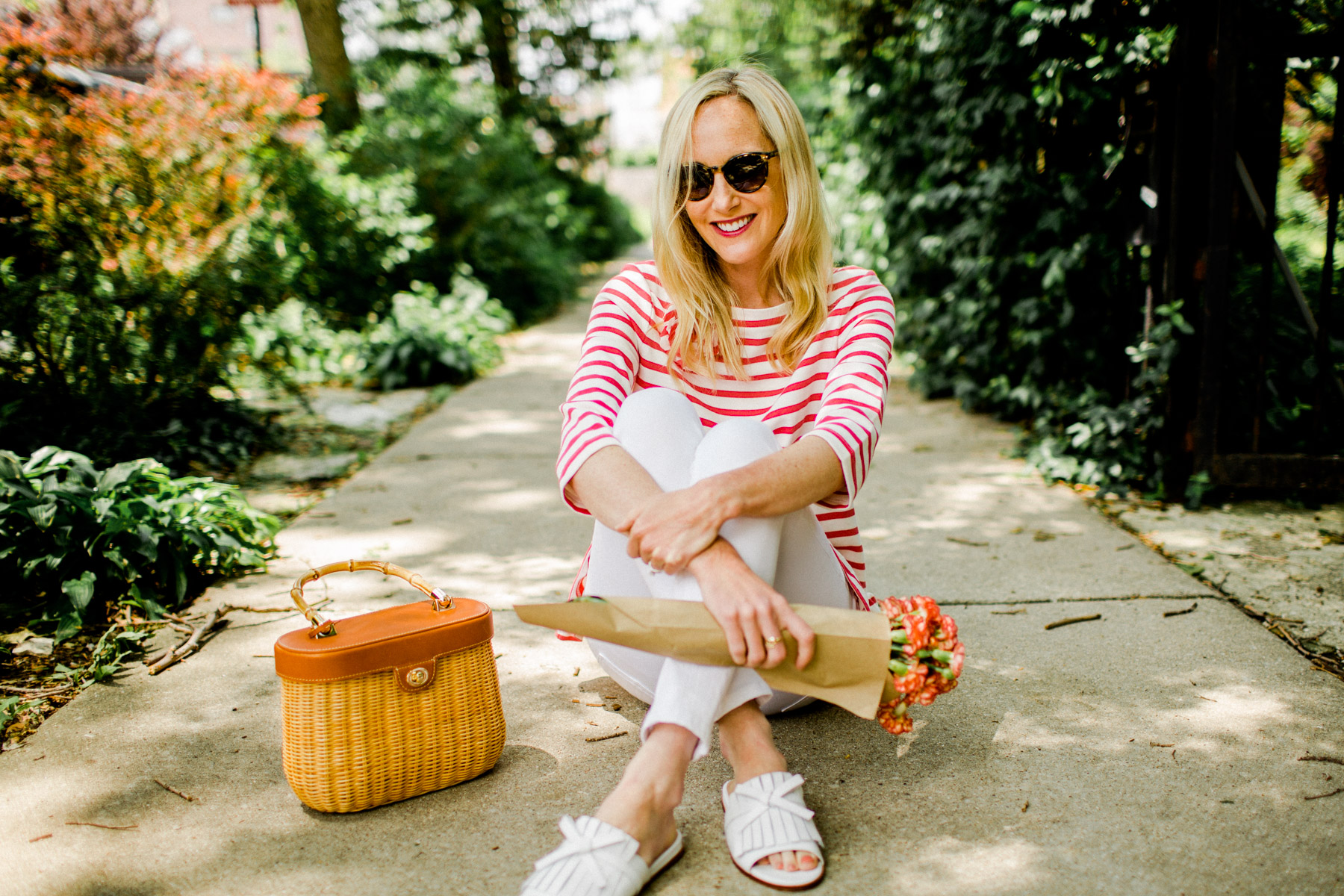 Shop the Post:
Striped Tee (On sale, also in both navy and pink here, and in black here and here! If it sells out, this site is also selling it.) / White Skinny Jeans (On major sale! Can't say enough about 'em. Also love this pair.) / Kiltie Slides (And we all know how much I love the bow mules!) / Nearly Identical Sunglasses (Have 'em, too, and love them!) / Woven Tote c/o

One (Also here) / Two / Three (Also here, here and here) / Four / Five (Short-sleeved here)