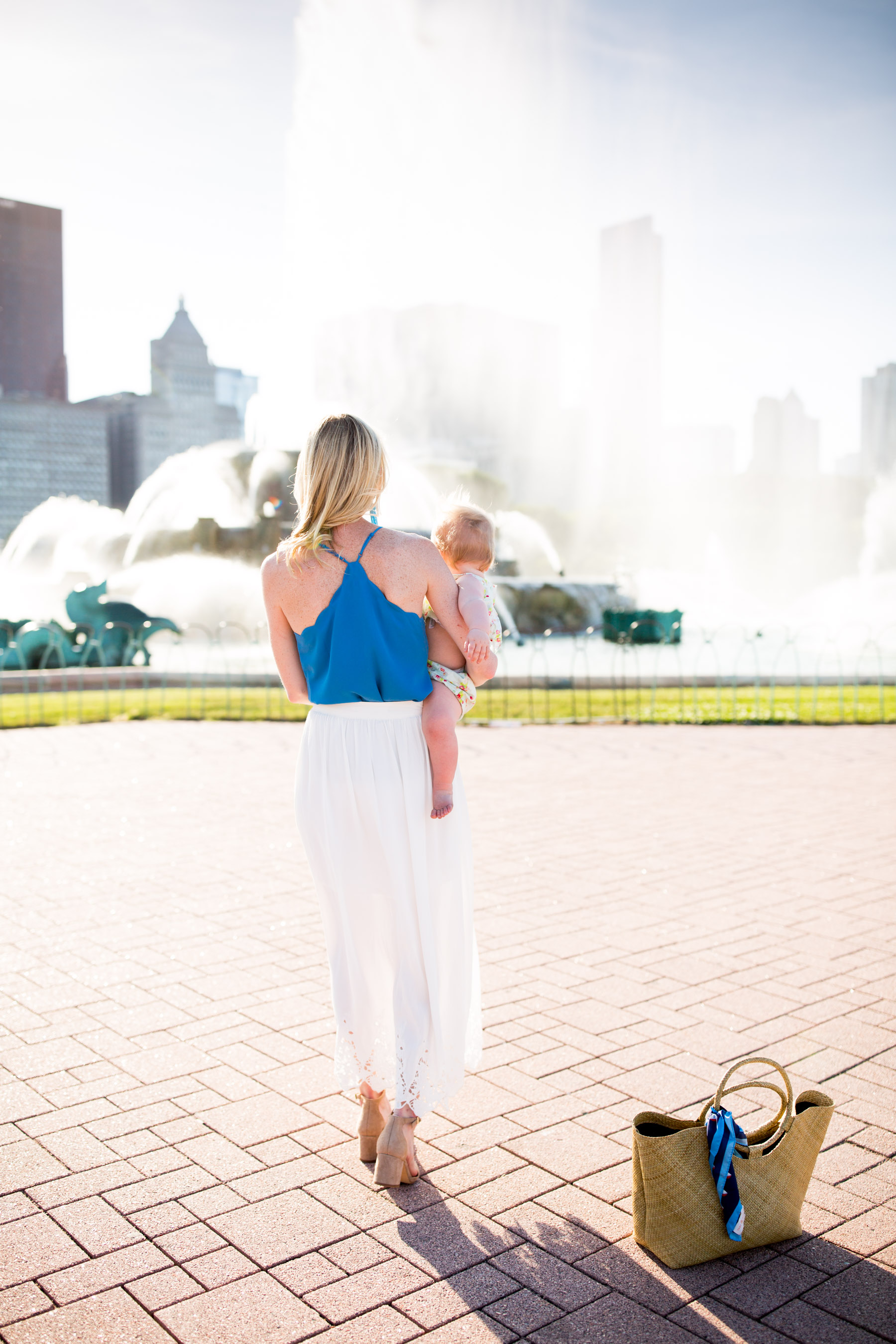 ^ Photo originally from this post
Lace-Trimmed Maxi Skirt (Here's the matching top! This jumpsuit is adorable from the same brand, as is this dress. Okay, and this one! This is another favorite maxi skirt.) / Tassel Earrings c/o (Love them in gold and silver, too!) / Scalloped Tank / Block-Heeled Sandals (Also love these and these, both of which are on sale!) / Woven Tote c/o / Sailboat Scarf (On sale!) / Newer Kendra Scott Bracelets c/o
I'll be the first to admit that I'm easily swept up in the chaos of everyday life–so much so that I often forget to pause and appreciate everything I've been blessed with.
Crap! Haven't done the laundry in three weeks and I literally have no clean underwear and we have a doctor's appointment in a half hour. // Emma! No! Don't throw my makeup into the toil–oh, it's fine. If it makes you happy, go ahead. // Has anyone seen Noodle in a while? Oh my god. I left her outside. OMGOMGOMG. No she's eating Emma's doll in the corner okay it's all good phew.
Things are a little nuts. But you guys have actually really helped me "do more appreciating." Because of you, I sit down to publish something in my little corner of the internet at the end of the day. And while it's not always as deep as I'd like it to be, it allows me to reflect far more often than I otherwise would. So thanks, Friends. :)
Today, I'm teaming up with Emily from Isn't That Charming (for our weekly motherhood series!) to write about three special moments with our children that we'll always cherish. You know: random moments, when we really paused and realized just how lucky we are as mothers.
Emily is another person who's encouraged me to do this, and I couldn't be more thankful. By the way, did you see her most recent post on her trip to Zion National Park?! Her photos are out of this world. But be sure to check out Em's post on her three special moments, too. Reading her stuff is always a highlight of my week!
Three Special Moments
Rocking back to sleep
Emma was having a particularly tough night, and she woke up hysterically crying at 3 a.m. or so. I ran into the room and picked her up, and she wrapped her arms around me and nestled her head between my neck and my shoulder. I danced her around the room in the darkness, and sang her favorite song. And soon, her cries became whimpers and then they faded all together, and I had the most perfect sleeping baby in my arms.
If you know Emma, you know that she's not a snuggler. This kind of kills me, as all I want to do is cuddle with her, haha. But she's just far too inquisitive to have time for this. She has exploring and discovering to do! ;) While she's a little more into hugging these days, this was definitely the first time she ever snuggled in against me, and my heart exploded. I think I must have stood in that nursery for a good hour–or at least until I couldn't feel my arms anymore.
Beach walk
Back in the fall, the Larkin Family took our annual drive up to the North Shore to spend the day walking around the picturesque towns. Everything was lovely. The weather was crisp, the bagels were somewhat edible, the seasonal coffee was incredible, the baby was happy, and the pumpkins and mums were everywhere.
Halfway through the day, we decided to head to the beach and walk Emma along the rocky shoreline. Getting down there was pretty difficult as the path was extremely narrow and steep. But finally, the trees parted and ahead of us was Lake Michigan, with its weirdly tropical blue water and the gorgeous city skyline in the distance.
We dipped Emma's toes into the water; Mitch held her up high and she giggled with delight. We skipped rocks; I danced Emma around and pointed out Chicago; we sat her in the sand and she played with it for the first time. At some point, two older gentlemen approached us and offered to take a family photo, and while we're completely out of focus and the background is perfectly crisp, the snapshot will always be one of my most treasured.
The big bed
Emma's always enjoyed being in our bed. We never allow her to actually sleep with us, since that's very dangerous… but there's just nothing like bringing her into bed in the early morning for a bottle, rolling around and laughing there together in the afternoon, or begging 😉 her for snuggles there before bedtime.
I have this one particular memory of Emma–she was probably a month or two–laying on one of our shams early in the morning. She was so tiny that she didn't even take up the whole pillow! But she and I were just cooing at each other, and then she closed her eyes and fell asleep. Yes, my bedroom was a disaster. The hamper was overflowing, there was clothing strewn everywhere, and there were a couple of old coffee cups on my nightstand.
But in that moment, I knew I had everything. 💙
The below photo isn't actually from this memory, but I thought I'd include it since it's a pic of Emma sleeping on that very sham!
Do you have a random special memory with your child? And if you don't have children, perhaps a family member, friend or significant other? We'd love to hear!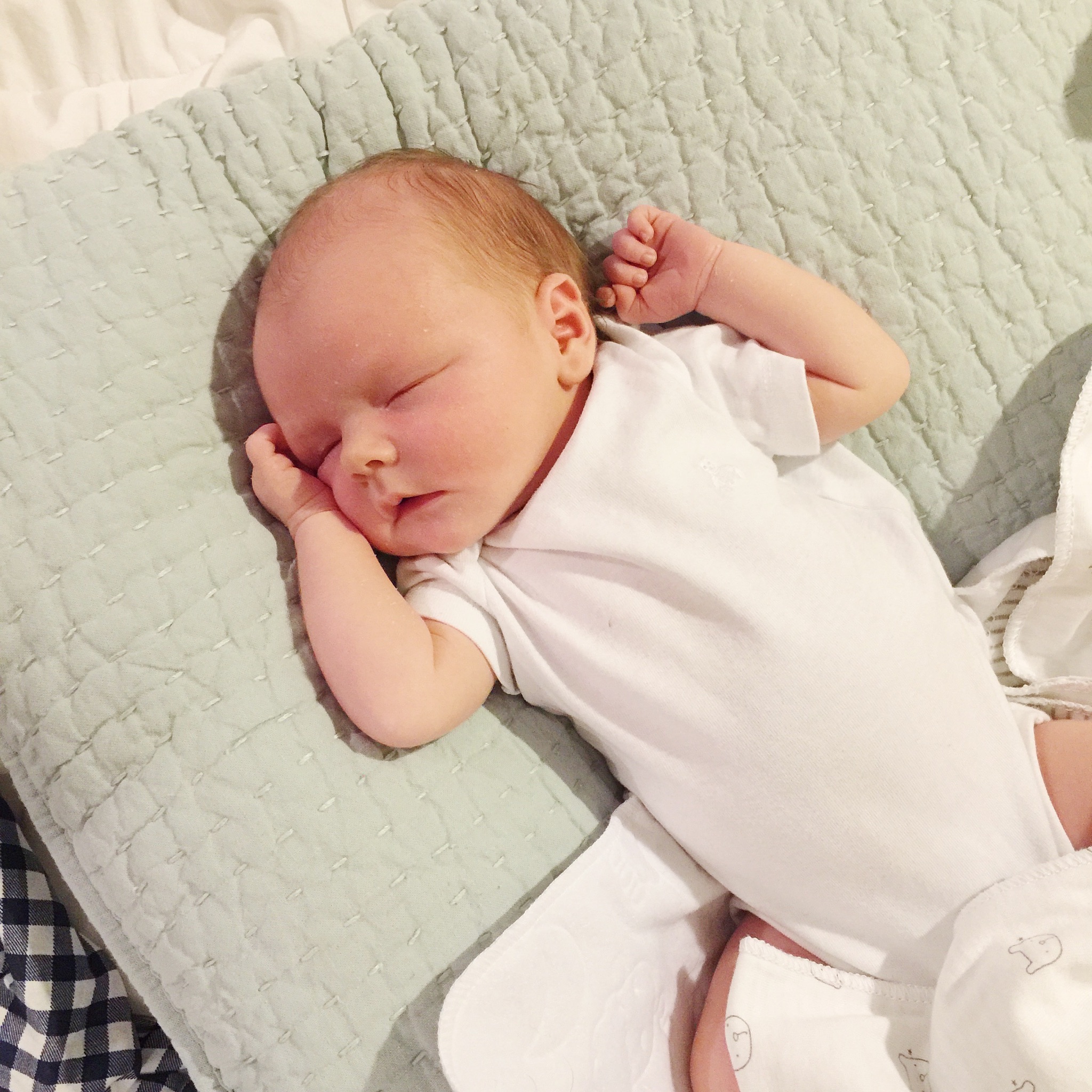 Remember to stop by Emily's blog to check out her post!