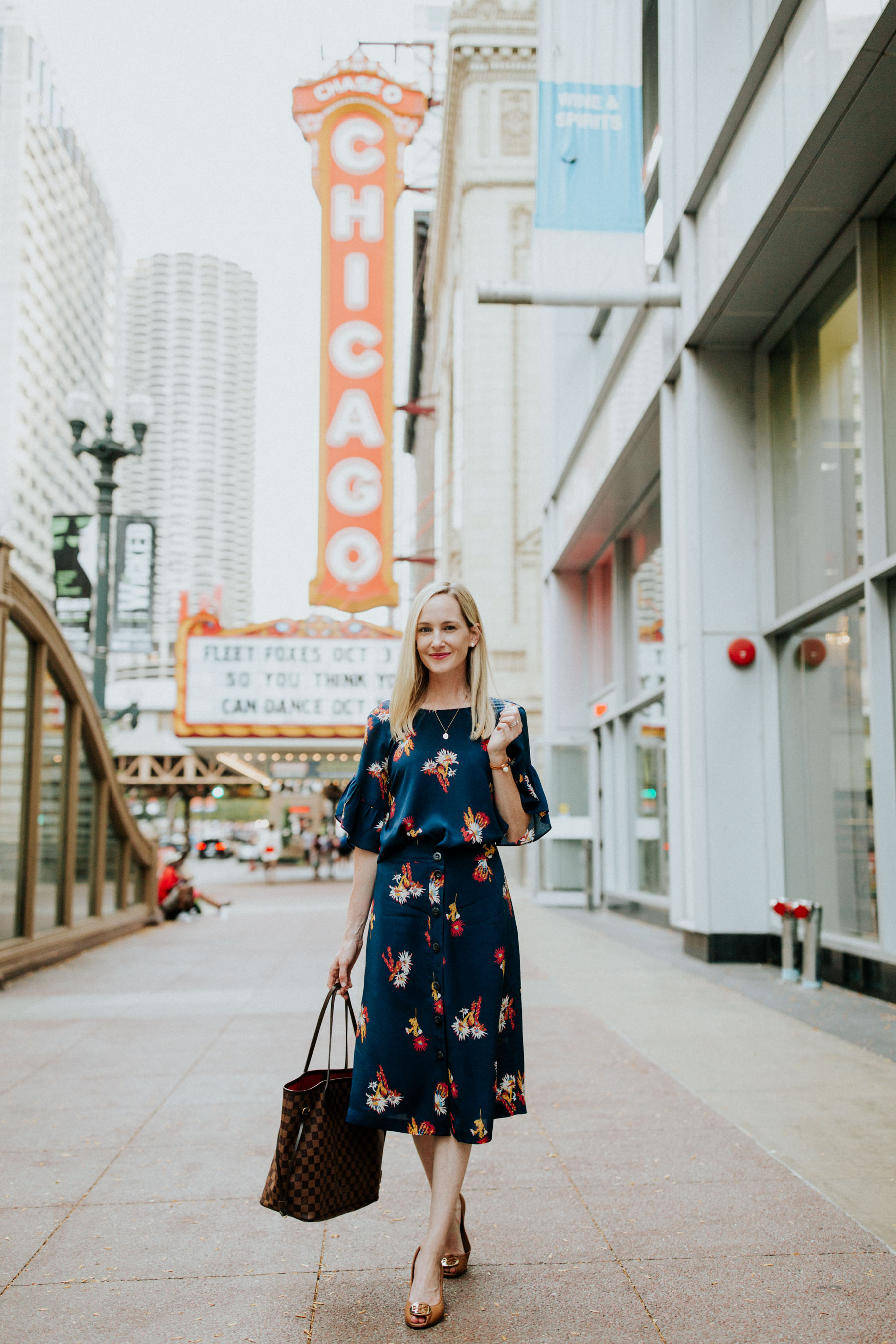 Madewell Skirt (Also here) and Top (Here's the dress version! Also here.) / Tory Burch Wedges / Louis Vuitton Tote (Available here, here and here. Looking for an affordable brown tote? I LOVE this one!) / KJP Bracelet c/o / Similar Initial Necklace
It's not exactly news that I didn't often leave Lincoln Park for my first couple of years in Chicago, haha. It was a point of contention for Mitch and me: he, understandably, wanted to explore other areas of the city, and I really preferred staying in our neighborhood. I loved the quiet townhouse-lined blocks and the bustling shopping streets; the restaurants I frequent and the parks I know so well; the ease of simply walking out my front door with Emma in her stroller instead of dealing with getting her in and out of her car seat four times for a single trip. (And packing everything she could possibly need in case of a disaster.)
But then I had a change of heart. I realized that the subway–called the "El" here, because it's actually elevated above ground in most parts of Chicago–is AWESOME when you have a baby in tow, as long as you know which stops are best for stroller navigation. I'd simply been getting off at the wrong stops! Now, I'm getting on at the Fullerton Red Line stop and getting off at the Grand Red Line stop… and it's so quick and easy with Emma. And that little packing issue? We now just have a "downtown bag," which we keep stocked at all times with toys, snacks, diapers, wipes, pacifiers and a change of clothing. We simply keep it by the door. Like I said, quick and easy. 
Anyway, I fell in love with downtown Chicago as a result of all this. And every time we venture down there these days, I discover something new. Emma loves it, too. She likes the people watching, the busy sidewalks, the giant buildings–everything, really. Downtown has so much to offer!
So today, Mitch and I are sharing 10 new discoveries we've made in downtown Chicago. You know: new-to-us stuff that we haven't yet talked about on the blog in much detail; things we hope might guide you during your next visit–especially if you decide to stay at the Cambria Hotel Chicago Magnificent Mile or the Cambria Hotel Chicago Loop-Theatre District. ;) I'm sure you'll be able to figure out which discoveries are written by me and which are written by Mitch (😂), but just in case it's unclear, each one will say "–Kelly" or "–Mitch" at the end. And here we go!
Eat a "Cheezborger"
Legend has it that many years ago, the owner of the Billy Goat Tavern was kicked out of Wrigley Field because his goat smelled really bad. Obviously offended, the goat's owner declared, "Them Cubs, they ain't gonna win no more." And they didn't… for 71 years. Cubs fans shook off our collective goat phobia last year when we won the World Series, but you can still visit the curse's namesake in the bowels of Michigan Avenue. I like to think it was the birth of my daughter that broke the curse. I'm not sure how it took us this long to finally go, but better late than never, right?!
If you have no idea what I'm talking about, watch this surprisingly unfunny SNL sketch from the 1970s. Just don't order fries when you show up, all right?
–Mitch
Because of this site, I'm very lucky that I get to visit hotels, whether through events or influencer getaways. A couple of my new favorites are the Cambria Hotel Chicago Magnificent Mile and the Cambria Hotel Chicago Loop-Theatre District because of the upscale experience; incredibly friendly staff; proximity to everything I've listed in this blog post, making Cambria Hotels ideal for travelers looking to maximize their time; and chic décor and interior design as well as spacious and comfortable rooms. The hotels even sport local food and craft beer!
I loved visiting recently, and I'm so excited to team up with Cambria Hotels to launch the brand new Cambria Connectors program to make sure that each guest feels like a local when they visit Chicago. Now through December 21st, you'll be given my contact information when you check into the hotel, and you can reach out to me via Instagram, Twitter and Facebook using #CambriaConnectors. Ask me anything: what to do with an hour of free time in the downtown area, where to go to dinner on your business trip, where to bring your kids–whatever you need help with, I'm here! And I'll respond with my recommendations. :) As part of the #CambriaConnectors program, you can also enter to win a $100 gift card when you include #Sweepstakes in your post, too. One gift card will be given away every week!
Also, fun fact: Cambria Hotels has properties all over the world! You can check them out here.
–Kelly
Elevate your day at the Signature Room
What would a trip to the birthplace of the skyscraper be without standing on top of one? A little-known secret is that you don't need to wait in line for 360 Chicago or Skydeck in the Sears Tower–that's right; the SEARS Tower–to get sweeping views of the city. The John Hancock Building's Signature Room will get you on top of the city in no time. Up there, you can have food and/or drinks with panoramic views–just don't tell anyone about it. We don't want the word to get out.
–Mitch
Rock out near the lake
Chicago's forefathers declared, "The Lakefront, by right, belongs to the people," and luckily, they meant it. Even downtown, where real estate prices push buildings up into the sky, Chicago has held to this ideal. As a result, both Grant and Millennium parks are designed to draw people out and entertain them on the shores of Lake Michigan.
If you're like me and you 1) Hate spending money and 2) Love saving money, I suggest checking out a free concert at one of the park's public stages. And if you're unfortunate enough to be visiting during the winter, there's always the Chicago Theater, I guess.
–Mitch
Rent a boat
All this lake talk reminds me that Chicago has a river. It's called the Chicago River (so original) and it's dope. I'm not trying to brag or anything, but the Chicago River was named the Civil Engineering Monument of the Millennium because engineers straight up reversed its flow from upstate to downstate. If Chicago's riverwalk isn't enough to sate your river lust, I recommend renting a boat and exploring the city's river branches both north and south. Just don't hit any otters on your way.
–Mitch
Take your kids to the Children's Museum
Navy Pier is okay. But it's not representative of Chicago. It's kind of like Times Square. Cool to see once, but then you never want to go back. However, if you are like me and have a little bundle of energy along for the trip, consider putting the Navy Pier blinders on and heading to the Chicago Children's Museum, which is right there. This place is a kid's daydream, and you just might find yourself joining in on the fun. (It's really awesome.) But don't buy a t-shirt or anything on your way out.
–Mitch
Eat and drink at Tiny Tapp & Cafe
One of our favorite places to visit is the Riverwalk, which runs along the Chicago River. It's amazing, and I almost feel like I'm in another country when I go. Until last weekend, my go-to spot there was City Winery, but I just discovered Tiny Tapp & Cafe, which has much shorter wait times–and live music! You can also sit on the bench or steps across from the restaurant if you want to eat and drink immediately… which is always nice when you have little ones with you. ;)
–Kelly
Get to Greek Town
Chicago is a proud city, and perhaps our greatest contribution to this country is flaming Greek cheese served table-side. A young Mitch Larkin nearly burned his parent's house down trying to recreate the dish. He even yelled "Opa!"
A short walk from downtown, and you'll find yourself in the middle of our city's Greek Town, a place where stomachs get filled and dreams come true. But be sure to bring cab fare along, as you'll be too full to walk back home.
–Mitch
See a show in the Chicago Theater District
Chicagoans defiantly thumb our noses at New York–ironic for me, I know–on the reg… in a joking manner, of course. And while our theater district might not have the scale or pizazz of that NYC's does, we have it where it counts. A dozen nationally renown stages fill the Chicago Theater District with world-class talent and top-flight shows. Who cares if the shows debuted in New York and the actors hope to get there some day? They're here now, and you should go see them. I just wonder when the greatest theatrical production of all time, Chicago, will have a revival… and all that jazz.
If you're a true fan, the Cambria Hotel Chicago Loop-Theatre District is literally above the Oriental Theatre! On a cold Chicago winter night, you can make it to your seat without even going outside!
–Mitch
Divvy it to the beach
A few things you might not know about Chicago:
There's a municipal bike rental system with super simple kiosks on nearly every downtown block.
Chicago boasts 28 miles of lakefront shoreline, replete with piers, harbors, parks and beaches.
If you're lucky enough to be visiting Chicago during one of our less oppressive months (weather-wise), I recommend Belmont Harbour and North Avenue Beach to get you started. If you're visiting during the rest of the year, I recommend the hotel bar. Cambria has some great ones with local craft beer!
–Mitch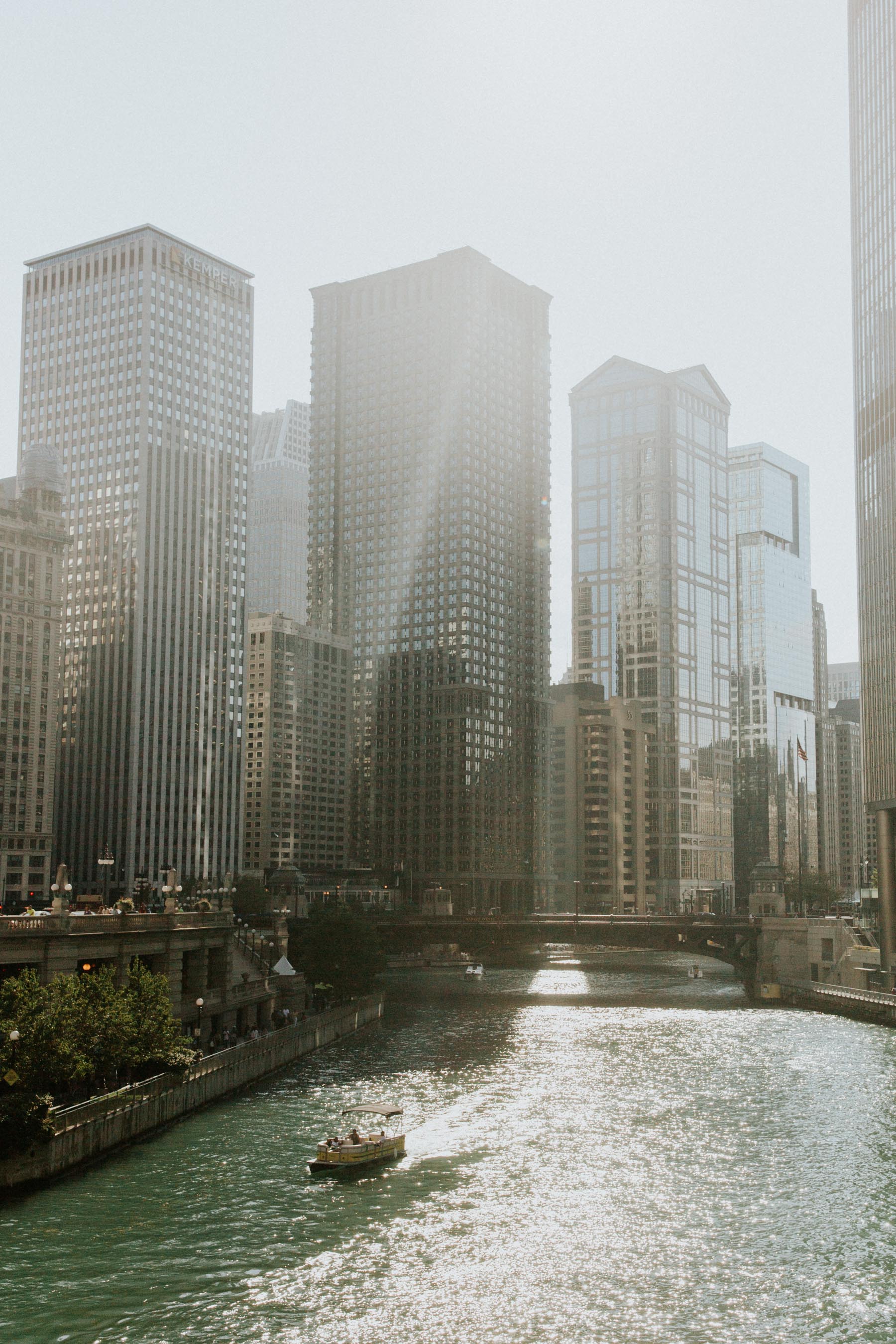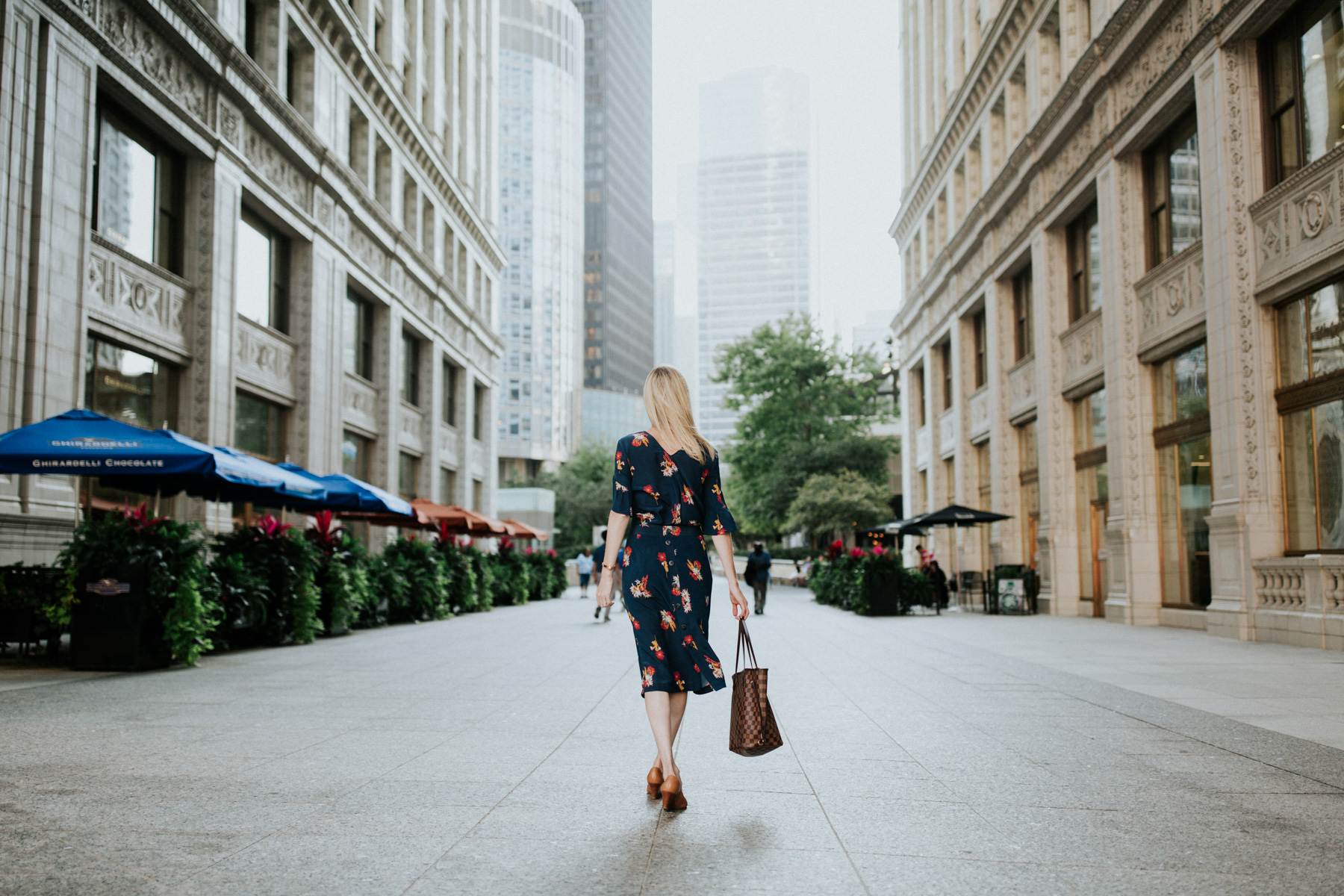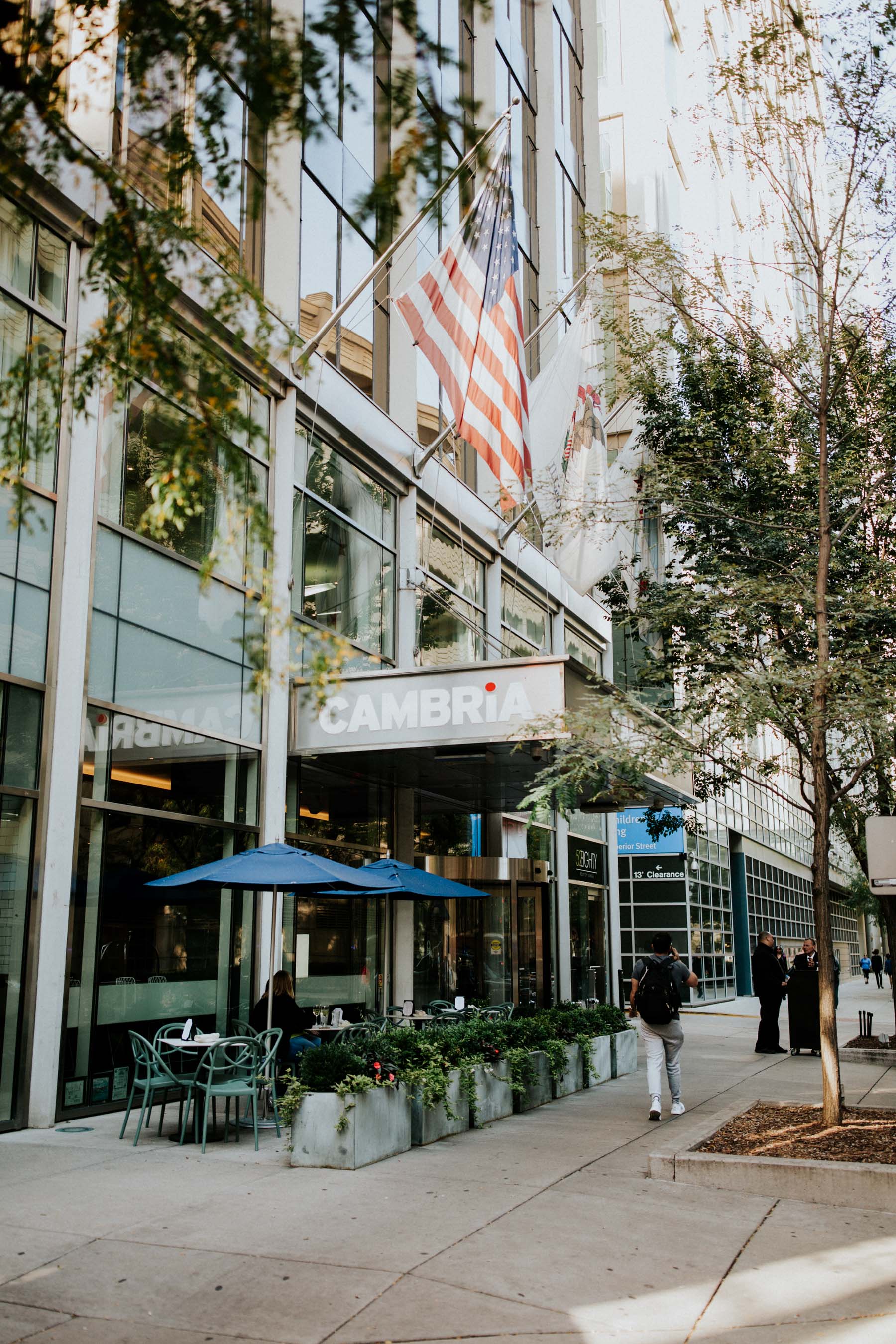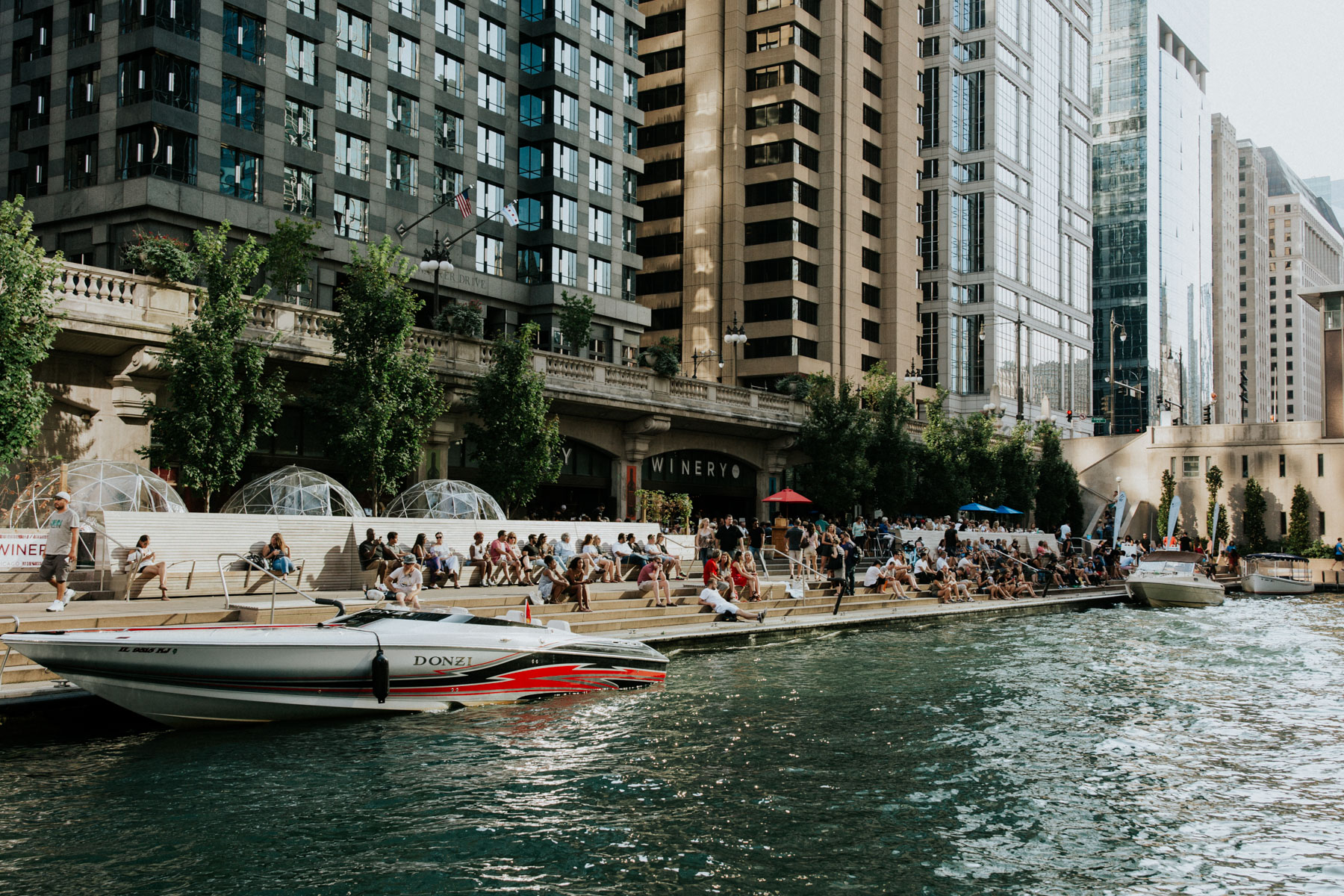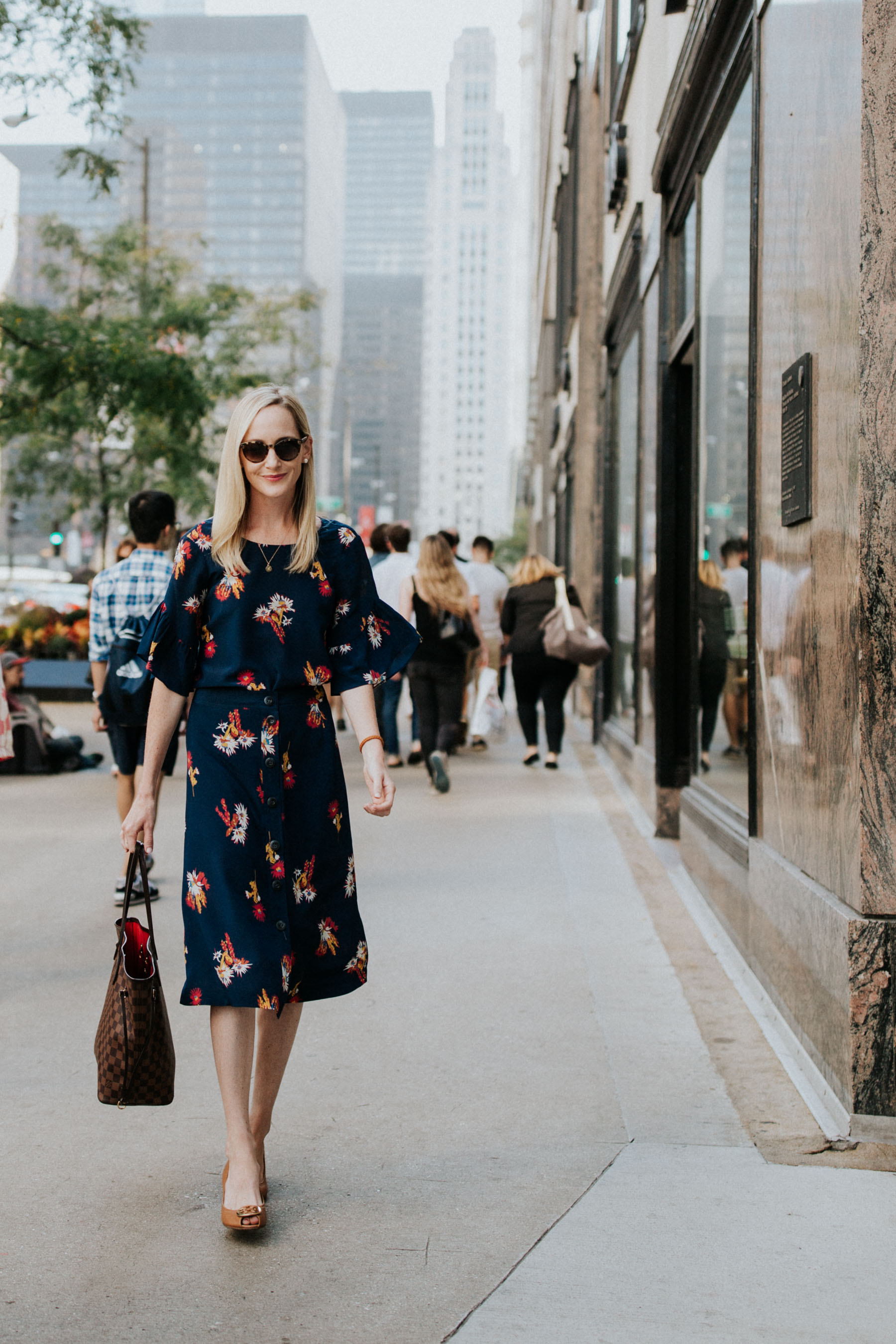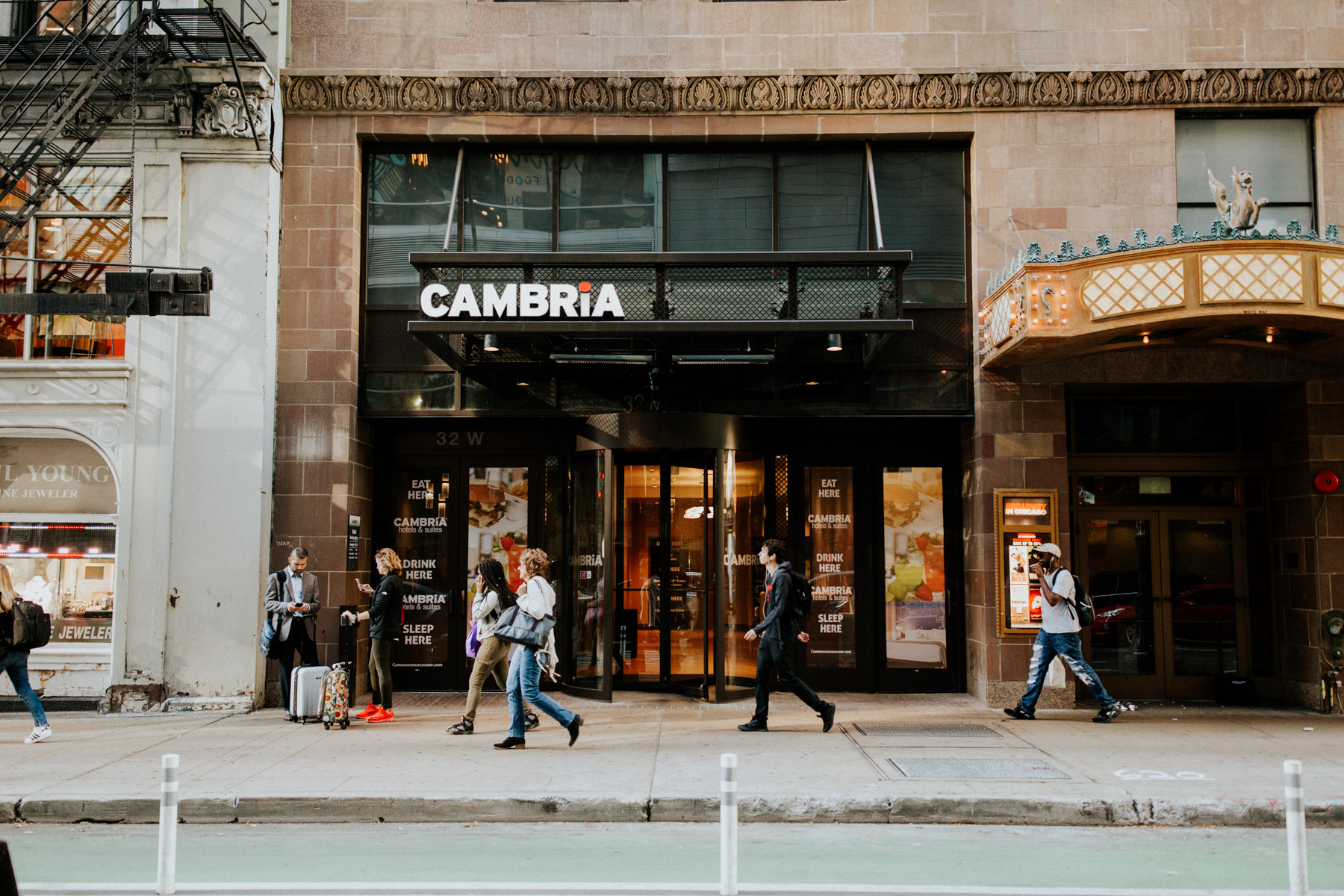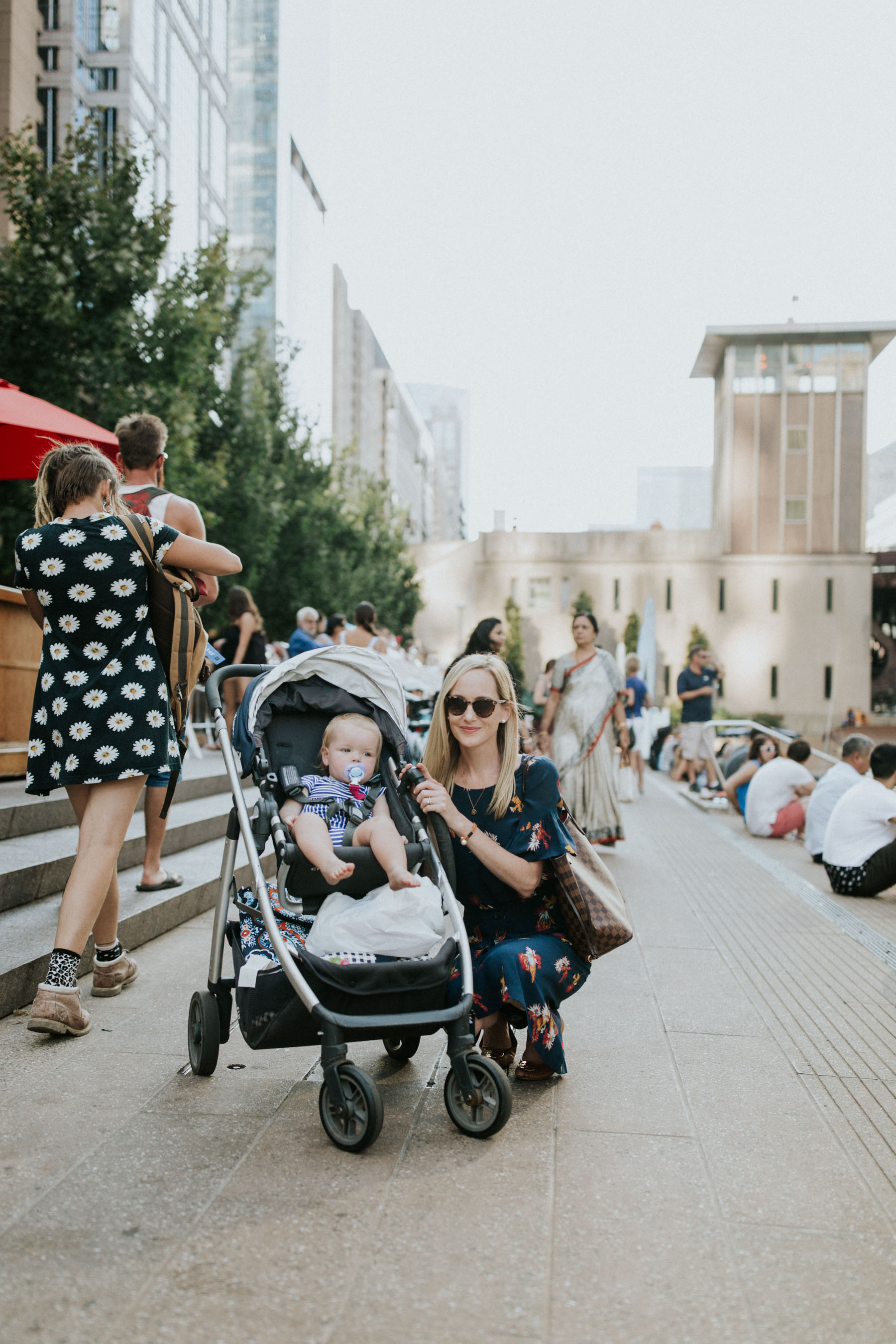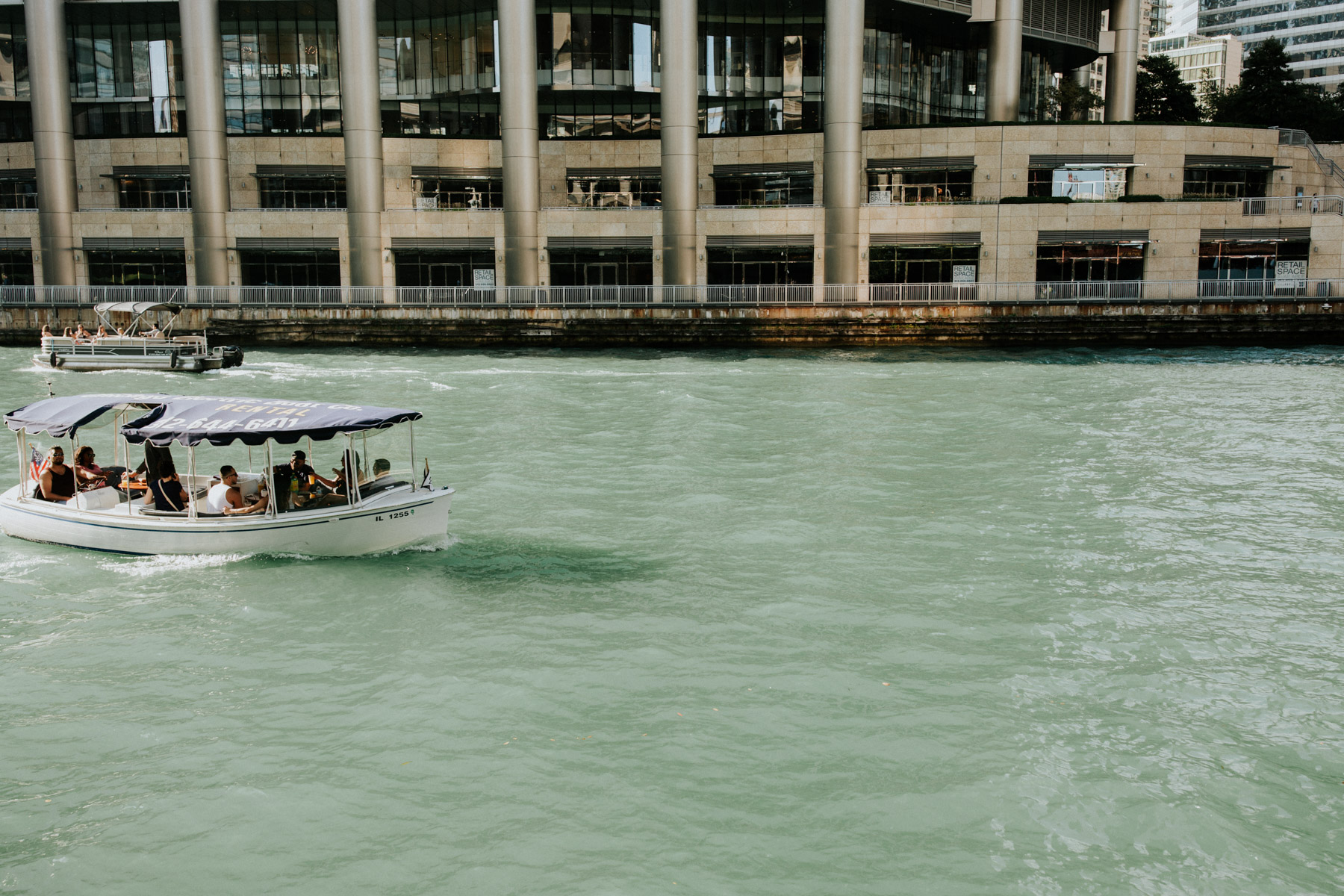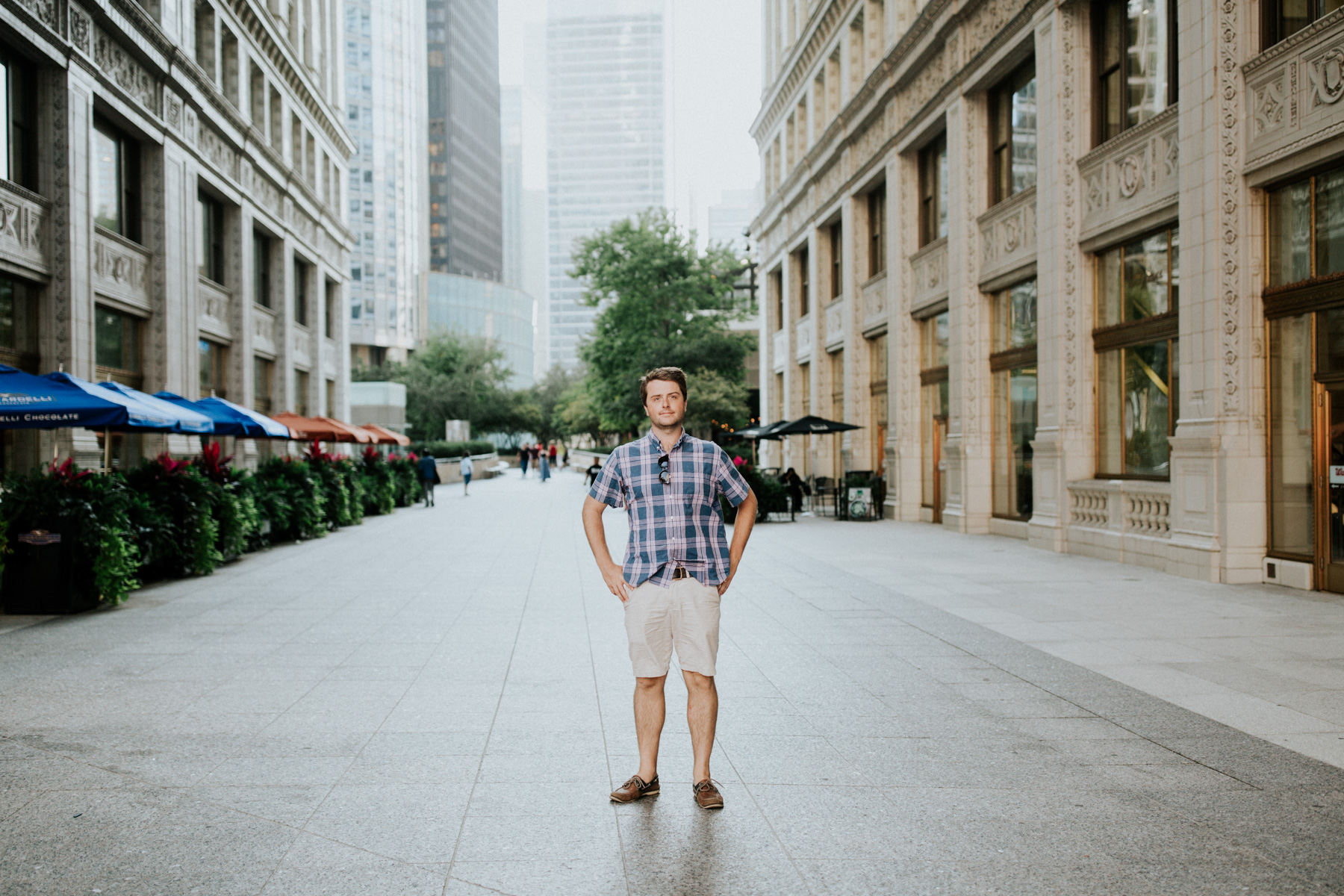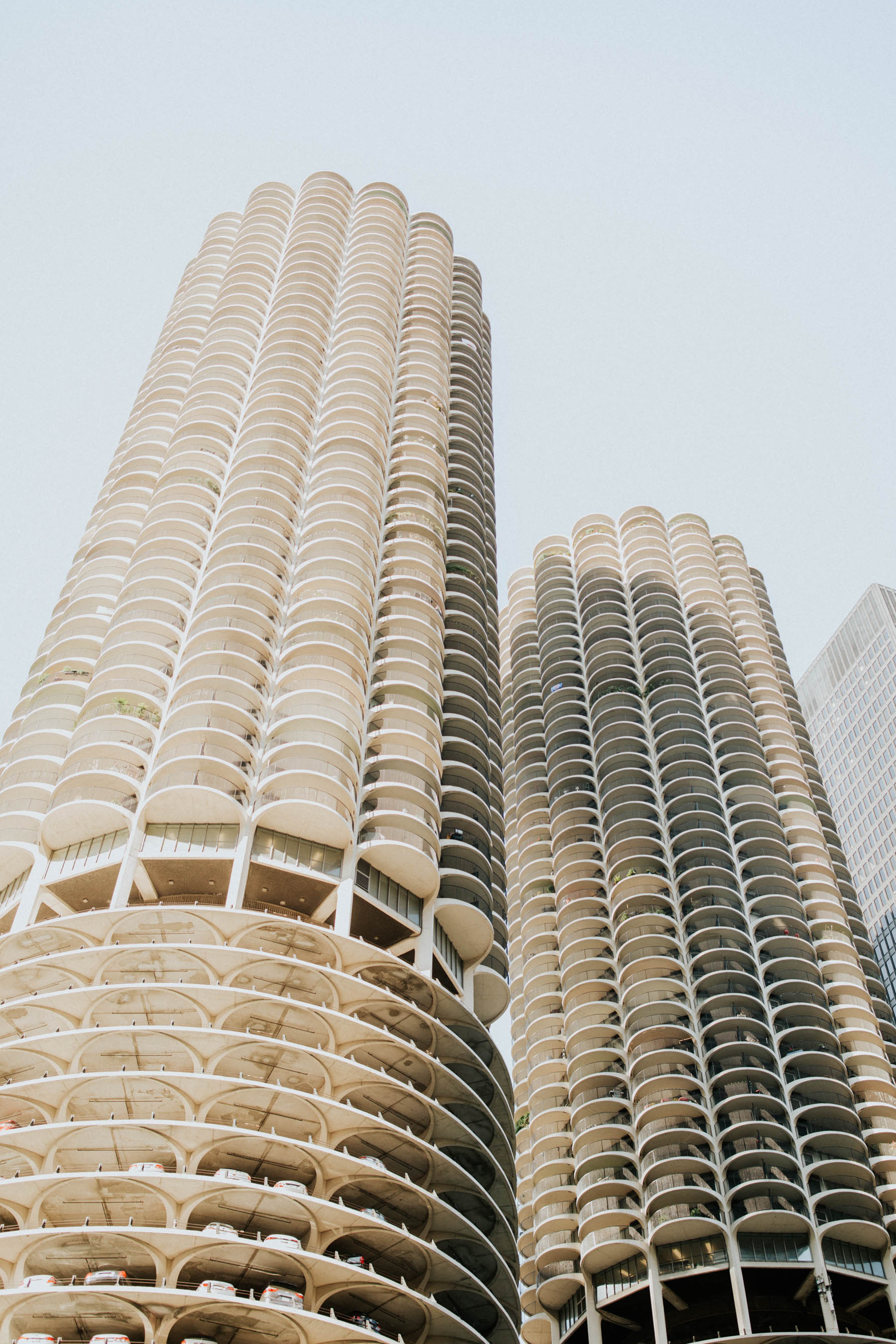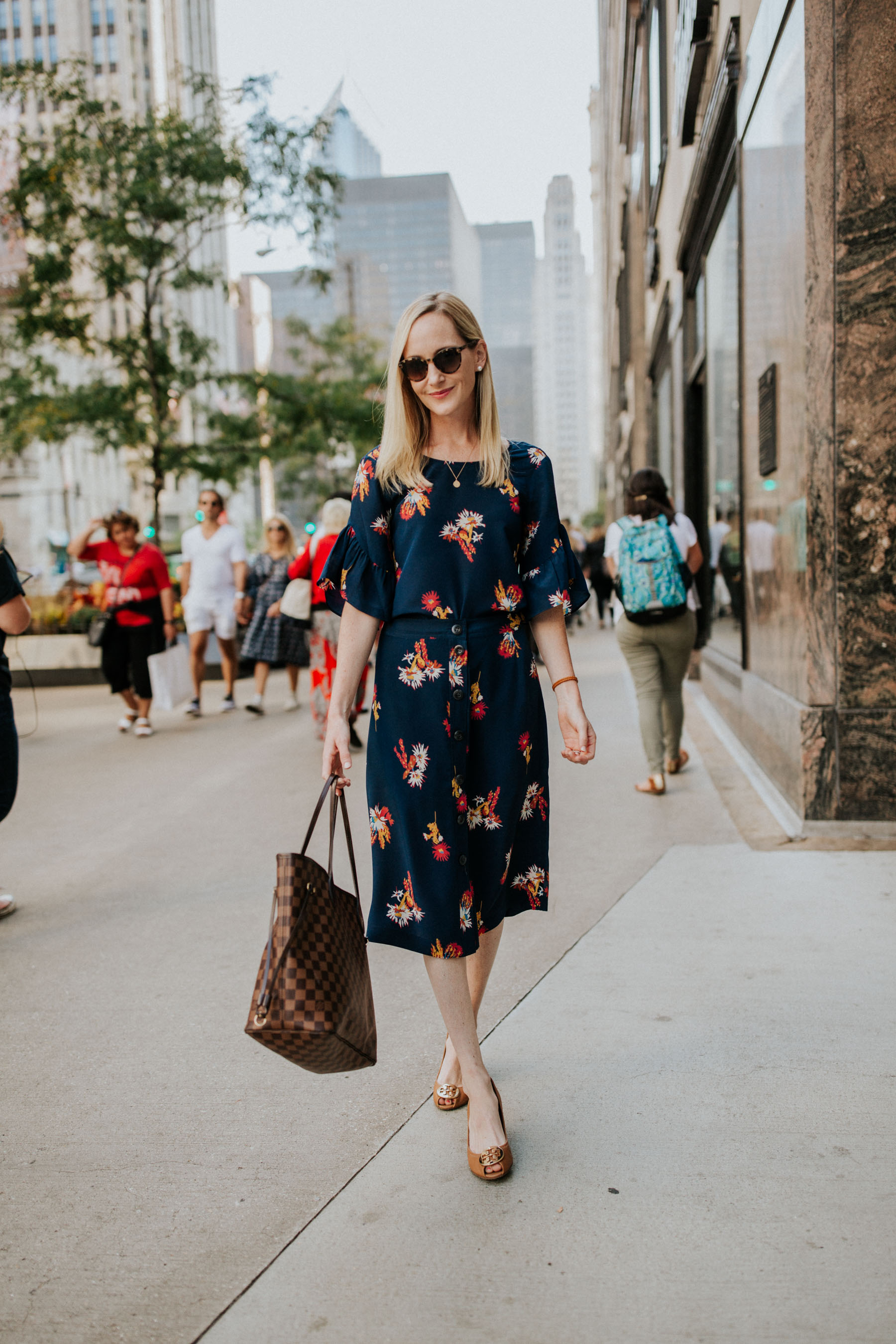 Shop the post:
Madewell Skirt (Also here) and Top (Here's the dress version! Also here.) / Tory Burch Wedges / Louis Vuitton Tote (Available here, here and here. Looking for an affordable brown tote? I LOVE this one!) / KJP Bracelet c/o / Similar Initial Necklace
This post was sponsored by Cambria Hotels, but all opinions are my own. As always, thank you so much for supporting the partnerships that keep Kelly in the City up and running!
SaveSave