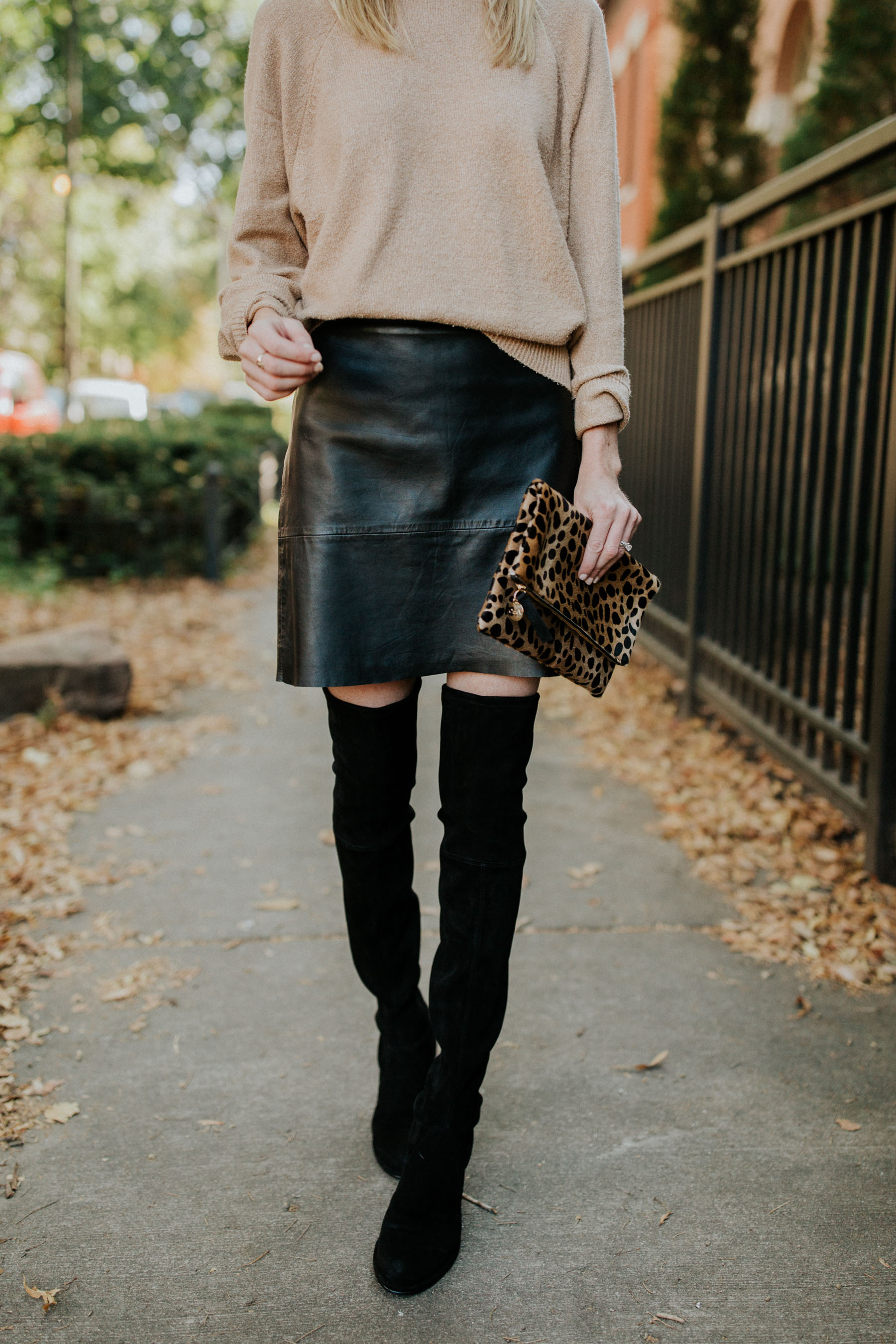 Leather Skirts Here, Here and Here (Some part of the Shopbop Sale! Use code "EOTS17.") / Stuart Weitzman Lowland Boots (On Sale with code "EOTS17"! See all SW boots on sale here. Also available at Nordstrom. Also, #omg. Hahaha.) / Almost Exact Sweater (Also love this one, this one and this one.) / Leopard Clutch (On sale with code "EOTS17"! Also at Nordstrom.)
I know, I know. I don't wear black. And I certainly don't wear leather skirts.
But sometimes I do, guys. 😂
I realize that this outfit is a little "off-brand" for me, but it's one of my absolute favorites during the fall. Some friends at French Connection gave me the leather skirt years ago, and I wore it whenever I felt like an imposter at events in New York. ;) It really got me through, haha, and it remains a go-to. (Similar leather skirts here, here and here.) Of course, it's short, so I only wear it with over-the-knee boots, which Mitch says are "basically pants and why not just wear pants?" But you know. Fashion, Mitch!
While I don't think I'll ever be in head-to-toe black, I love mixing black with camel, browns, tans and leopard during the fall.
Some black outfit ideas:
Classic and fool-proof and quick and easy.
Anyway, today's the last day of the Shopbop Sale, so be sure to place your orders before midnight. :) Use code "EOTS17" to take 20 to 25 percent off your order, and get free shipping. Stuart Weitzman boots are included, which is HUGE, considering their normal (ungodly) price tag. (But yes. They're THAT good. They don't fall down, and the quality is insane. Looking for something similar but a bit more reasonable? Try the Dolce Vita version, on sale as well with that code.)
I've had a particularly rough week here with projects. Everything somehow got pushed up or back, and it all ended up being due at the same time, which meant not so much sleep for me. (So tired, haha.) But I managed to put some makeup on and get dressed yesterday… and last night, the fam even went to Derby, a restaurant/bar near us for dinner. (Maybe you caught my Insta Stories, but it was Ladies' Night! Deals on wine and salad. Mitch loved it. 😉)
Tonight, we're staying in and watching "The Big Sick." I'm SO excited. We haven't had a night alone together in a loooong time, and we keep hearing that the movie is awesome. What are you doing this weekend?!
Be sure to tune in tomorrow for a fun post that Mitch and I wrote together!
Shop the post:
Leather Skirts Here, Here and Here (Some part of the Shopbop Sale! Use code "EOTS17.") / Stuart Weitzman Lowland Boots (On Sale with code "EOTS17"! See all SW boots on sale here. Also available at Nordstrom. Also, #omg. Hahaha.) / Almost Exact Sweater (Also love this one, this one and this one.) / Leopard Clutch (On sale with code "EOTS17"! Also at Nordstrom.)
SaveSave