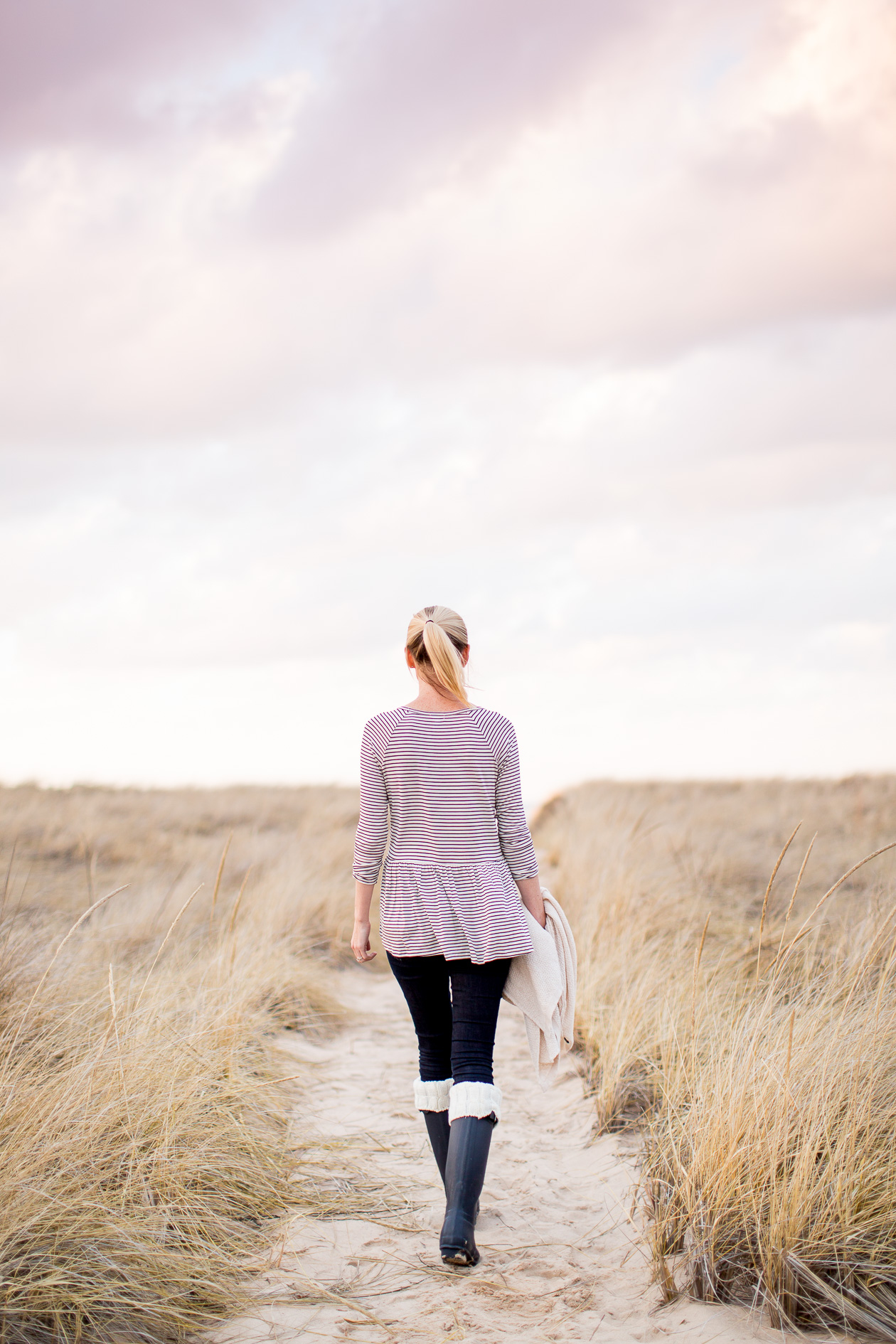 Peplum Top (And LOVE this similar top! This one is really affordable, too! And this one! <–Wow. Finally, I recently acquired this one and I'm so obsessed. Need to stop buying peplum.) / Hunter Boots and Socks (Also available here. Dying to try these and these!) / Rag & Bone Jeans (Also adore this cut.) / Similar Cardigans here, here, here and here
Here's what's on my mind today:
I got yesterday's post up ridiculously late, but it's a very personal and honest one that–if you're a new mom–might resonate with you! Read the disclaimers, though. ;) It can get a tad graphic at times.
I took a LOT of photos while at Kira's lake house on Lake Michigan last weekend, but these were some of my faves. Can you get over that sky?! Ocean City is amazing, but since it's the Atlantic Ocean, we don't get to see the sun set over the water. Ah, Michigan City. You are magical. I wore this peplum top but I love this similar top, too. This one is really affordable, as is this one. Finally, I recently acquired this one and I'm obsessed. Need to stop buying peplum! (Also, here's the other super casual outfit I wore while there. And yes: 99 percent of my friends in Chicago are bloggers or are married to bloggers. Whatever; I embrace it! ;)
My friend Lauren just launched her new website, and it looks incredible! Congrats, Girl! So proud of you!
Yesterday was a bit of a disaster, but it was a really good day. Mitch accidentally took the stroller to work with him in the car, so Emma and I were stuck inside for the most part. We had the best time, though. She was just so giggly and smiley, and we had some great playtime sessions. I love my little girl so much that I'm not sure I'd ever be able to put it into words.
WE ARE STARTING TO PLAN OUR KITCHEN RENO. I know: we just went through a massive round of renovations, and one might think that we'd like a break. (You can see most of our renovations here.) But our (very yellow) kitchen is really only in need of a few updates, and I'm excited to turn the eyesore into something that's more aligned with our style. Also, Mitch wants to do this in the kitchen. I say no. Opinions?
Speaking of projects, I'm almost done with our bedroom! I need to pull the trigger on artwork and get a few more decorations, and then I'm doing a final reveal on the blog. I'm so excited, guys! Thanks for all your advice.
Emma and I are going shopping with Jess today, and then pounding out some work back at her place. Noodle will be in tow, since it's Cleaning Lady Day at our little house. This should be an adventure…
Over and out!
Shop the post:
Peplum Top (And LOVE this similar top! This one is really affordable, too! And this one! <–Wow. Finally, I recently acquired this one and I'm so obsessed. Need to stop buying peplum.) / Hunter Boots and Socks (Also available here. Dying to try these and these!) / Rag & Bone Jeans (Also adore this cut.) / Similar Cardigans here, here, here and here