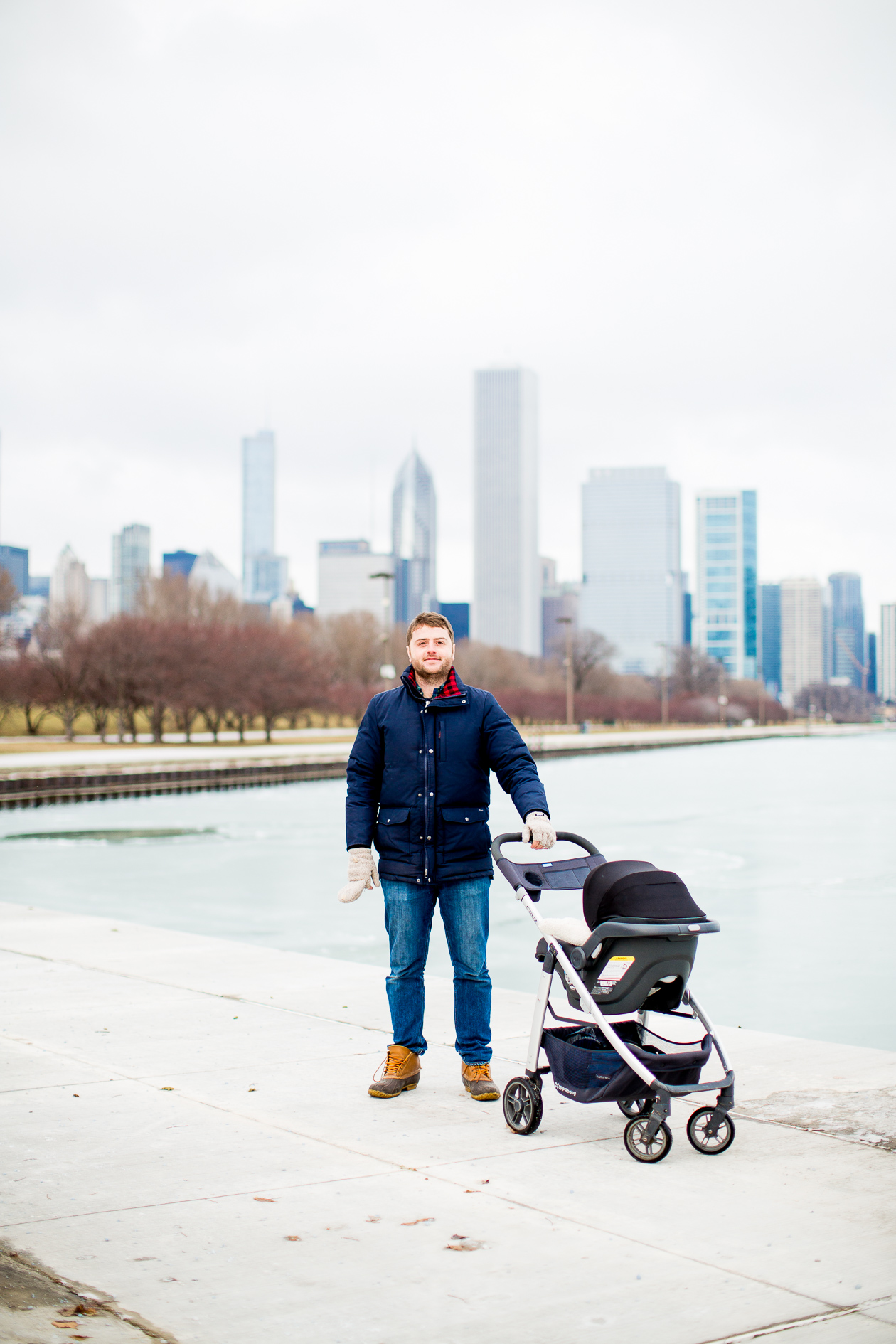 Cruz Stroller (Also here) / MESA (Also here) / Parent Organizer (Also here) / Toddler Car Seat Rain Shield — all c/o UPPAbaby
Mitch here!
I'm writing this post on my phone while laying on the floor in Emma's nursery. Raffi is on the Sonos. The floor is strewn with discarded Sesame Street stuffed animals, and the toy of choice (for the moment) is this thing. Sorry in advance for the typos and grammatical errors. Writing for my wife can be intimidating. She loves grammar.
Wife here, jumping in. This is simply not true. If it were, you'd see far fewer mistakes on this site every day. ;)
As you may have gathered from Kelly's posts lately, things are a little hectic around here. The reason I'm laying on the floor in the middle of the day is because I'm currently on Paternity Leave, or at least I was when I was writing this. Paternity Leave started as holiday travel and morphed into a monthlong crash course in all-day childcare. I've learned quickly that I can no longer write a blog post–or do anything, really–in the same amount of time that I used to.
CRAP! (Literally.)
…
OK! Emma is changed and napping now :) Let's get back to it. But before I start, I should mention that the Sonos Play 1 is a great Valentine's Day gift for your guy, if you're looking. Here's my Valentine's Day gift guide from last year, and my next one is going live this weekend!
Anyway.
The image I held of the dad I wanted to be has changed quite a bit in the 14 months since we first heard about Emma. I expected to be the dad who dropped "life lesson knowledge bombs" regularly while nurturing my child both physically and mentally and enjoying every moment to the fullest. The first year was an OPPORTUNITY to challenge the norms of parenting and bring my baby up the right way.
In reality, I am the dad who is running around frantically looking for something to clean up puke because the bibs are in the downstairs hamper and the damn paper towel thing is out and WHY CAN'T WE KEEP PAPER TOWELS WHERE THEY ARE SUPPOSED TO BE IN THIS HOUSE?!
Long story short, I think Kelly and I are doing a really good job, and we're truly loving it. But things are crazier than we expected they'd be. While each day is a joyous adventure, each day is also filled with a ton of challenges, and anything that makes those challenges a bit easier is greatly appreciated.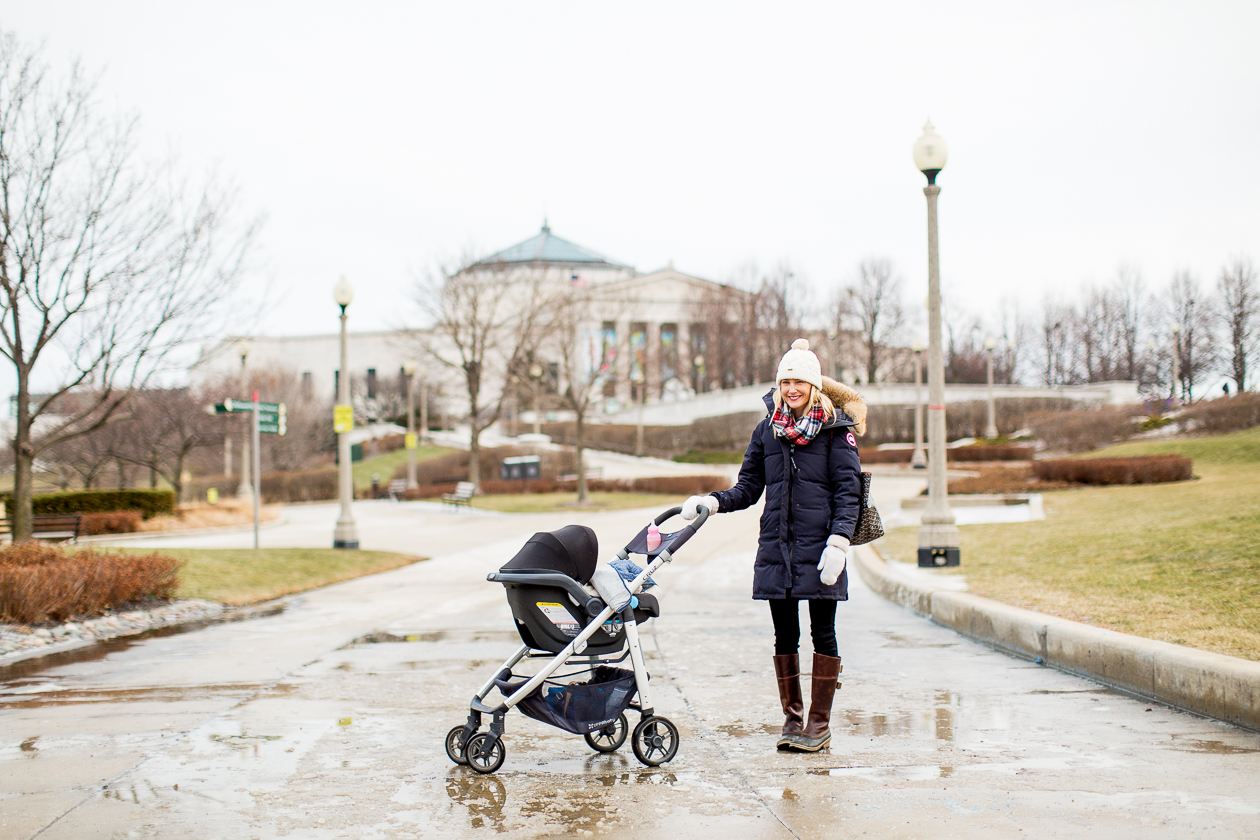 Kelly's jacket, similar scarf, another similar scarf, jeans, mittens, boots (on sale! but here, too) and hat (in gray, too.)
At least once a week Kelly and I are stopped on the street to discuss the stroller situation. Why did we chose UPPAbaby? (Also available here.) Is it worth the price? Why the Cruz? (Here it is.) What are the advantages and disadvantages of travel systems versus standalone units?
All good questions.
We chose UPPAbaby because our friends did. Doug and Emily are our parenting advisors and saviors. It's a rare gift to have parenting friends with their heads on straight and a willingness to tell it like it is, so when they told us to go Cruz, we went Cruz. (That said, we want to be as transparent as possible: Kelly contacted the UPPAbaby team once we'd made our decision and they did send us our gear in exchange for an honest review. This is not a sponsored post in the traditional sense, though.) And I have to say: Doug and Emily were RIGHT. More on that in a few.
In terms of the price, yes, it's worth it. Despite the fact that I've only been a father for 5.5 months, I've been an uncle for over eight years, and I've used a few different strollers in my time. Some were good, some were okay, and some were sad excuses for transportation systems and flat-out ruined my day. Our UPPAbaby stroller takes the cake, and has ruined zero days. It's the kind of stroller you tell your buddies about over beers at the bar. Just kidding. I don't go to the bar anymore.
Whomp, whomp. ;)
Anyway, after a solid five months of strolling, Kelly and I have found that the Cruz–coupled with the Mesa travel system (also here)–hits on every one of our needs: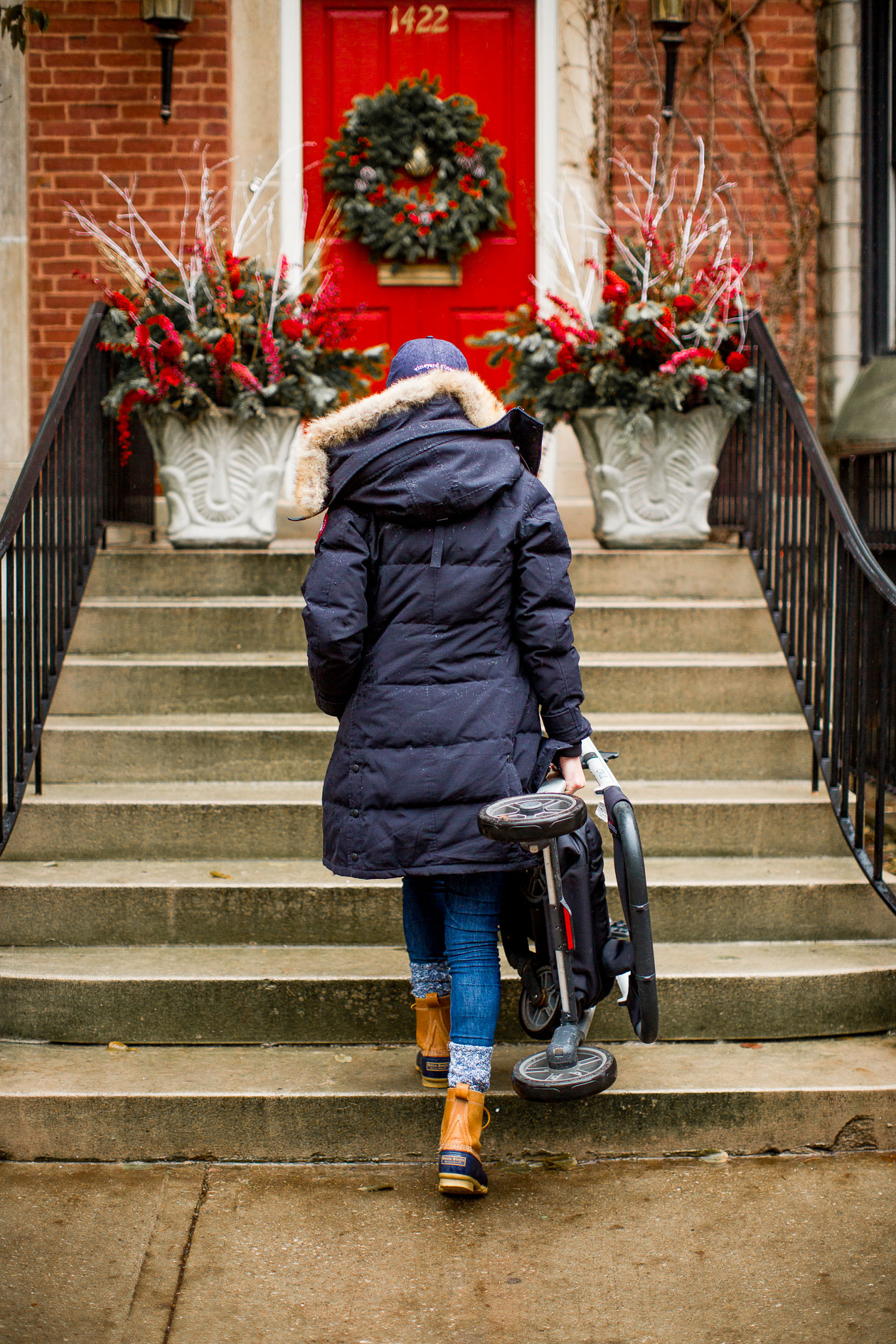 Kelly's jacket, boots (love these, too), jeans, hat and socks: one, two, three and four
It's light enough that Kelly can get it up and down stairs easily and on her own.
Kelly is a small human being. You might not be able to tell by photos, but she's not strong. Heck, she struggles to carry Noodle–who weighs all of 12 pounds–around for extended periods of time. (Granted, Noodle is very long and pretty unwieldy.) However, Kelly can masterfully transport both the carrier and collapsed stroller up and down stairs, on her own when I'm at work, like she's some kind of Lincoln Park sherpa. The Cruz collapses easily by simply pushing on two little levers on the handlebar, and I've seen her dismantle the whole system in about 15 seconds.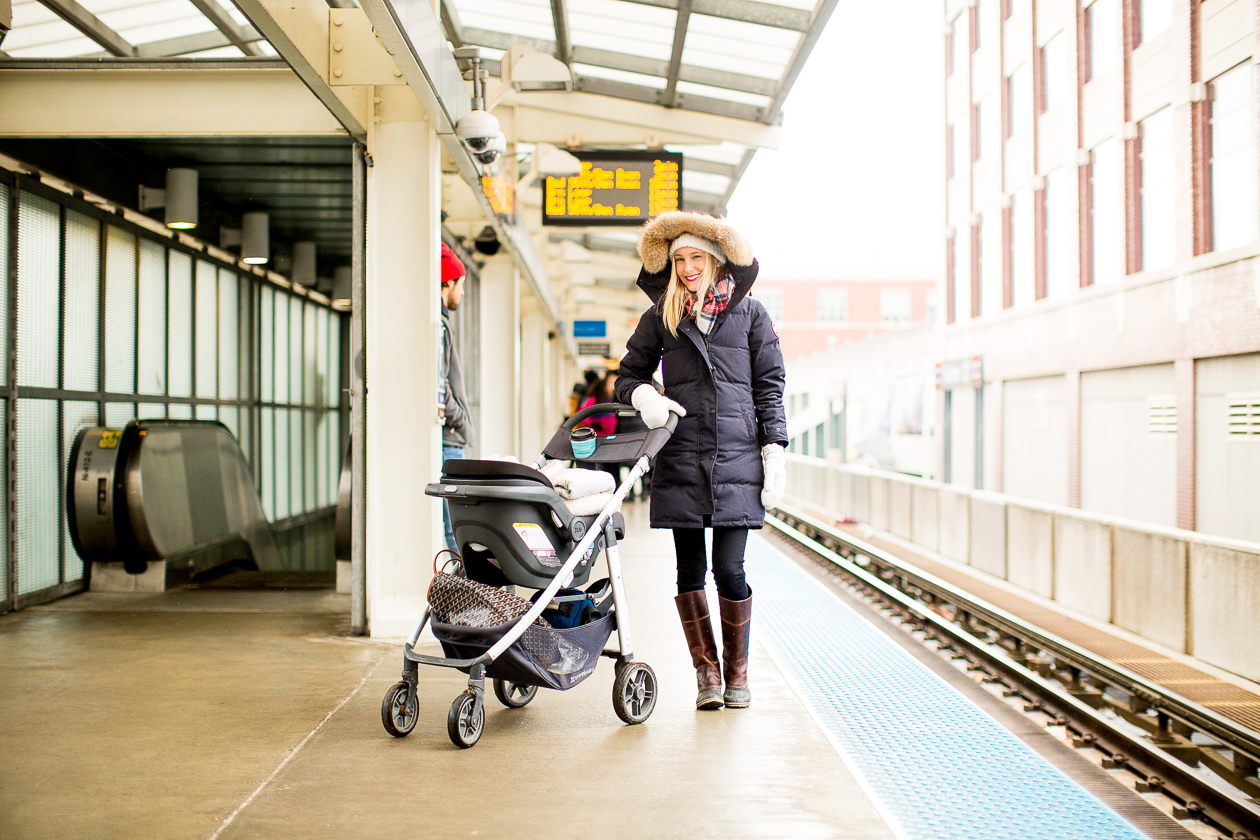 It easily and effortlessly squeezes through crowded stores, city streets, subways and restaurants.
My waistline can report that we haven't skipped a single opportunity to go out to eat since Emma was born. In all seriousness, though, the Cruz is the only stroller I've used that allows me to maneuver our way around the city without wanting to jump into the Chicago River.
And just look at how little subway space Emma is taking up in the above photo! Also, in case you're wondering, the Cruz has an amazing break system which is activated by simply tapping a pedal. Oh, and its footprint once collapsed is pretty small, too. (We don't have a mud room in our house and have to keep the stroller right next to the door–we put it in the guest room or basement when we have company–so we love that it's small enough that we can tuck it behind or next to the couch.) Finally, its wheels never get jammed or stuck. That's HUGE.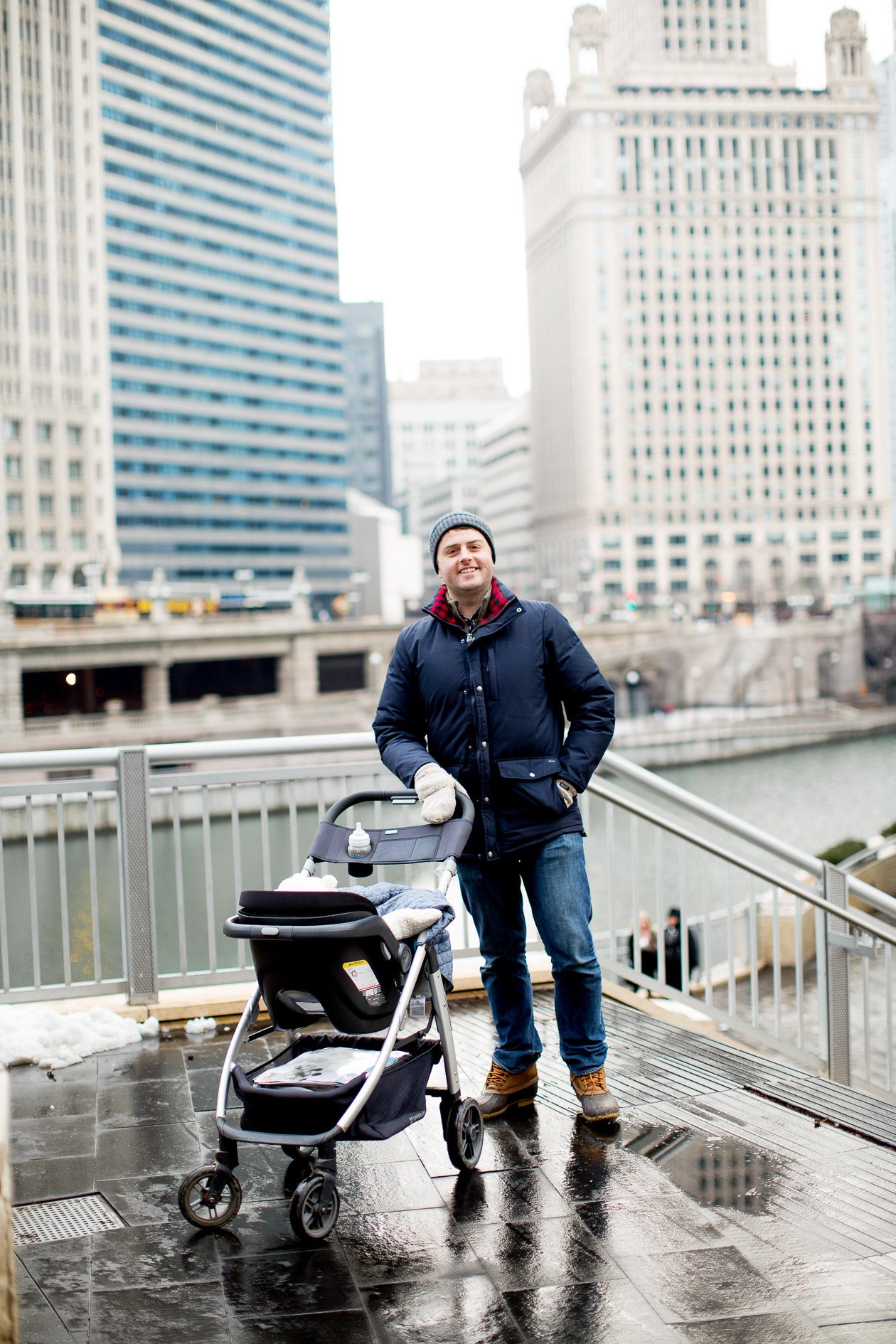 Kelly's jacket, similar scarf, another similar scarf, jeans, mittens, boots (on sale! but here, too) and hat (in gray, too.)
It's simple and reliable.
Let me just clue you in on what it is like to get this crew out of the front door while solo:
Locate diaper bag.
Get Baby dressed in bear snowsuit and hat.
Get Screaming Baby in carrier. (Baby always screams when being put into bear snowsuit. I wonder why…)
Catch Dog and attach leash.
Get my boots and coat on.
Get Dog, diaper bag, stroller outside.
Hook Dog up to fence so she doesn't try to kill the bunnies.
 Move coffee outside.
Move Baby/carrier combo outside to front porch.
Lock door.
Set up stroller system and put diaper bag in storage compartment.
Unhook Dog from fence.
Tie Dog to belt loop so I can carry coffee and push stroller. (And yes, the coffee is essential.)
Make Baby laugh.
We're off!
There just isn't room in this routine for any messing around with a janky stroller. The Cruz is simple, it's easy to move around, it sets up and collapses quickly, and it's never once malfunctioned or broken.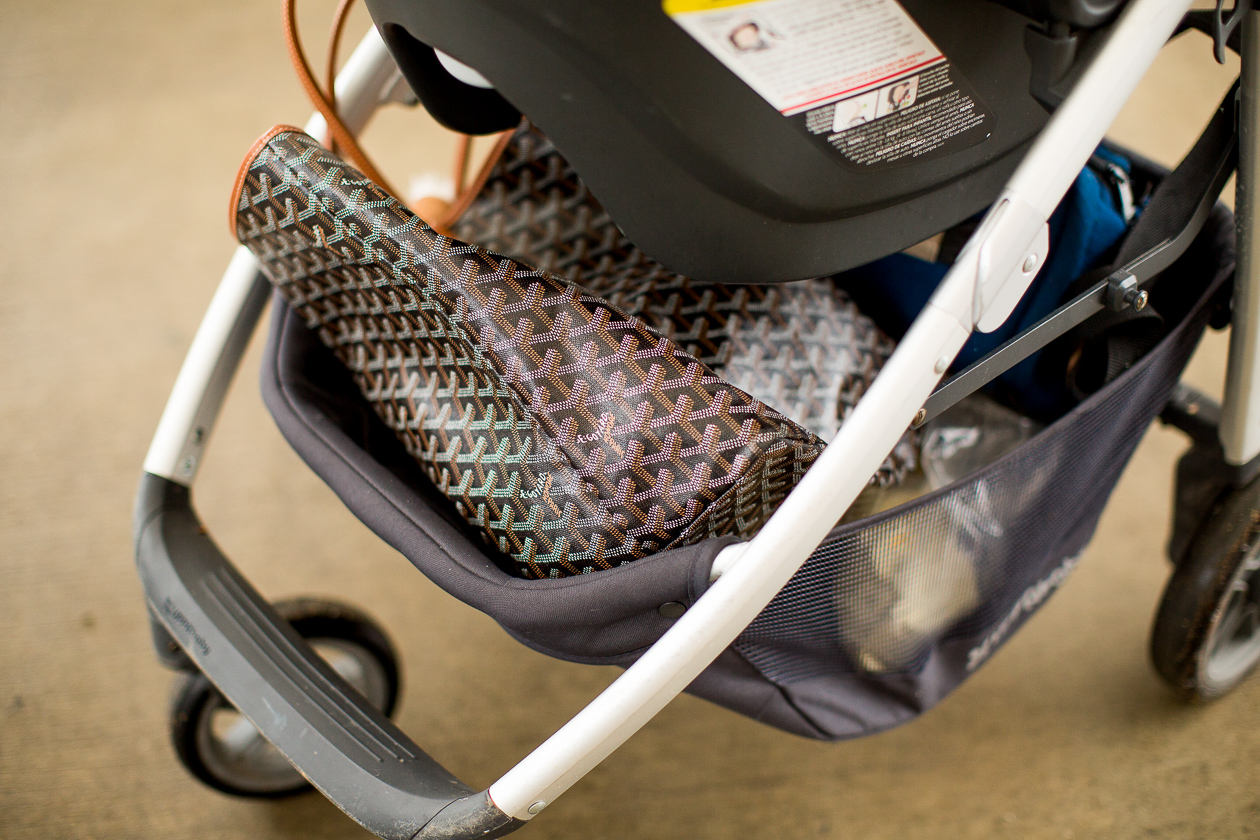 It offers ample storage.
We like to spend weekends on the go. At any given time, our Cruz is carrying six diapers, a pack of wipes, a puke rag, two used bottles, two good bottles, hats and gloves for the whole family, a changing pad, a large baby blanket, toys, formula, bottled water to mix with the formula, thousands of dollars of camera equipment, sometimes a 15-inch MacBook Pro, and, of course, Emma. (I'm also 100-percent sure that there are like 30 other things in our diaper bag that I don't know about but are CRUCIAL.)
But it somehow all fits in the Cruz's storage compartment underneath the stroller. We also have a stroller organizer because we are super fancy people.
Jokes. We shop at Aldi and our idea of date night these days is a frozen pizza and a bottle of Three Buck Chuck.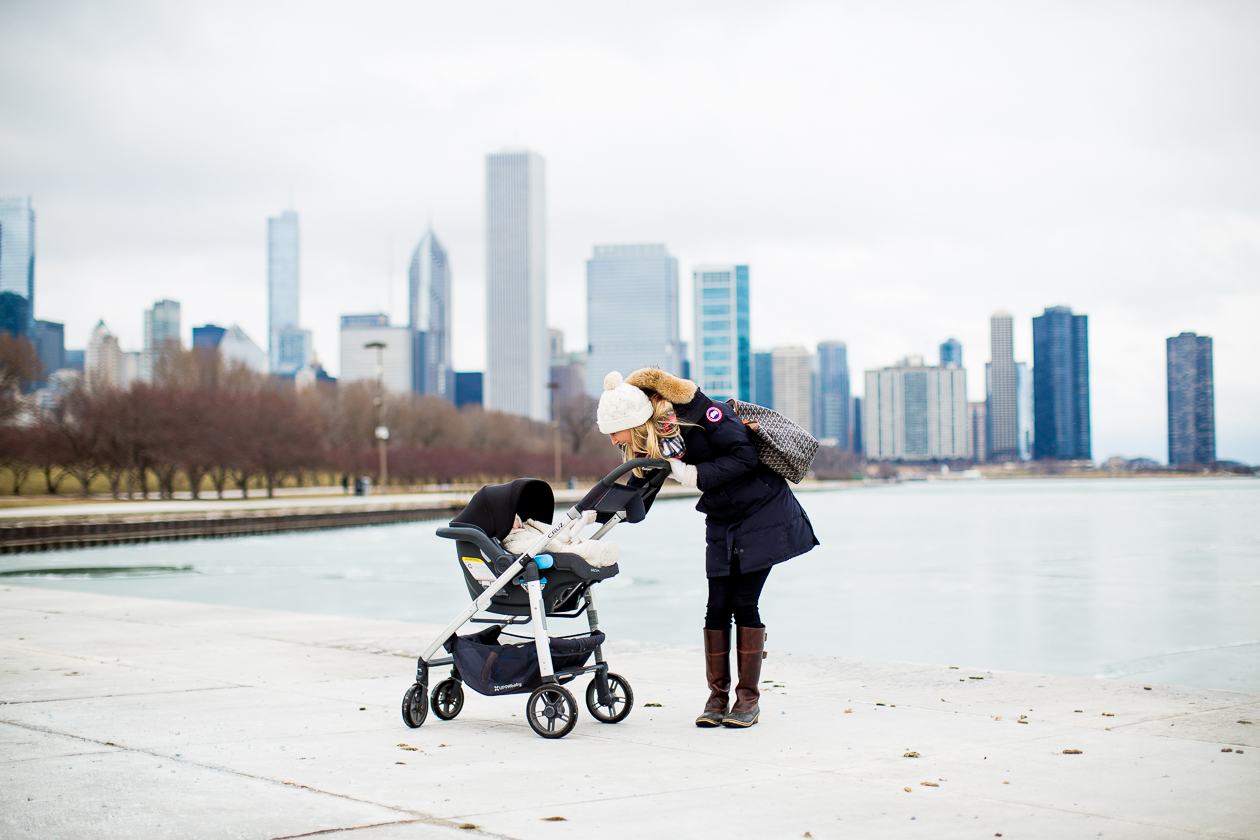 Kelly's jacket, similar scarf, another similar scarf, jeans, mittens, boots (on sale! but here, too) and hat (in gray, too.)
It's pretty.
Kelly and I drove this car (in orange) for many, many years and we both thought its appearance was hilarious. Because of this, I assumed that when we were picking out a stroller, Kelly wouldn't care what it looked like as long as it was functional.
NOT.
SO.
She cared very much.
It was probably a combination of being pregnant (sorry, Kelly), being excited about baby gear, and the fact that she knew she'd never leave the house without the thing and that it would be in a ton of photos. But she was–and is–very happy with how it looks. And Happy Wife = Happy Life.
This one recently came out and I know Kelly's been drooling over its blue outter and leather handles. Not happening, Love.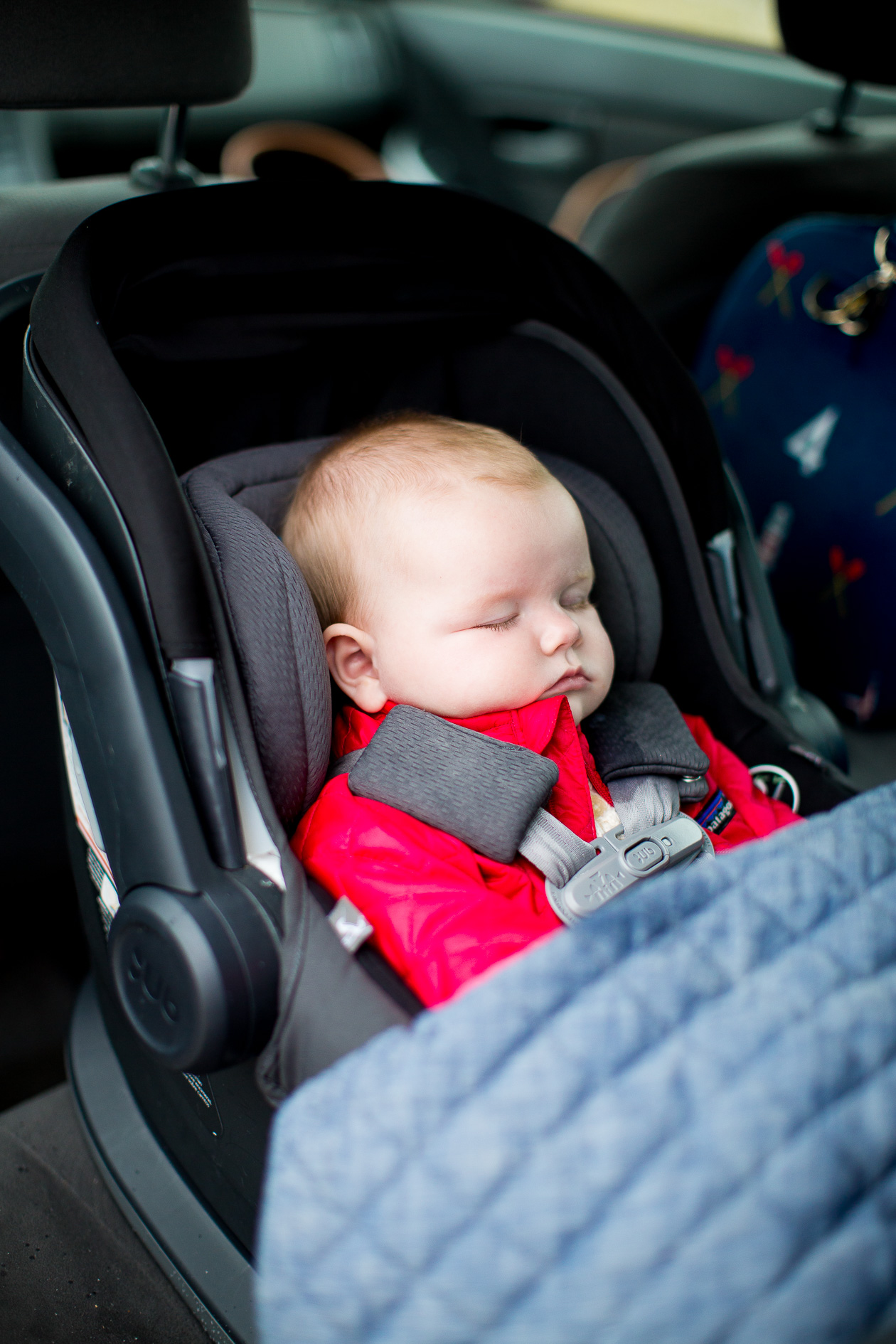 It's comfy, and we can transport Emma from house to car to stroller without waking her up.
Emma prefers napping in her Mesa seat over her bouncy seat, crib, Pack-n-Play, and any of the nine other plasticy pieces of (joyous!) nonsense that are in the middle of my living room right now. She's actually slept in it during road trips from Chicago to Philadelphia and back again (twice), so it definitely passes the comfort test!
And due to the Mesa's awesome design, Emma's seat pops out of the car and into the stroller without ever having to wake her up. It's probably my favorite part of the stroller, and it's why travel systems, in my opinion, are better than standalone units. UPPAbaby also offers adjustable seating options for maximum comfort as Emma grows. (We haven't used the seat that the stroller comes with yet, as Emma still sits in the Mesa, but we're excited to transition her once she gets a little bigger.)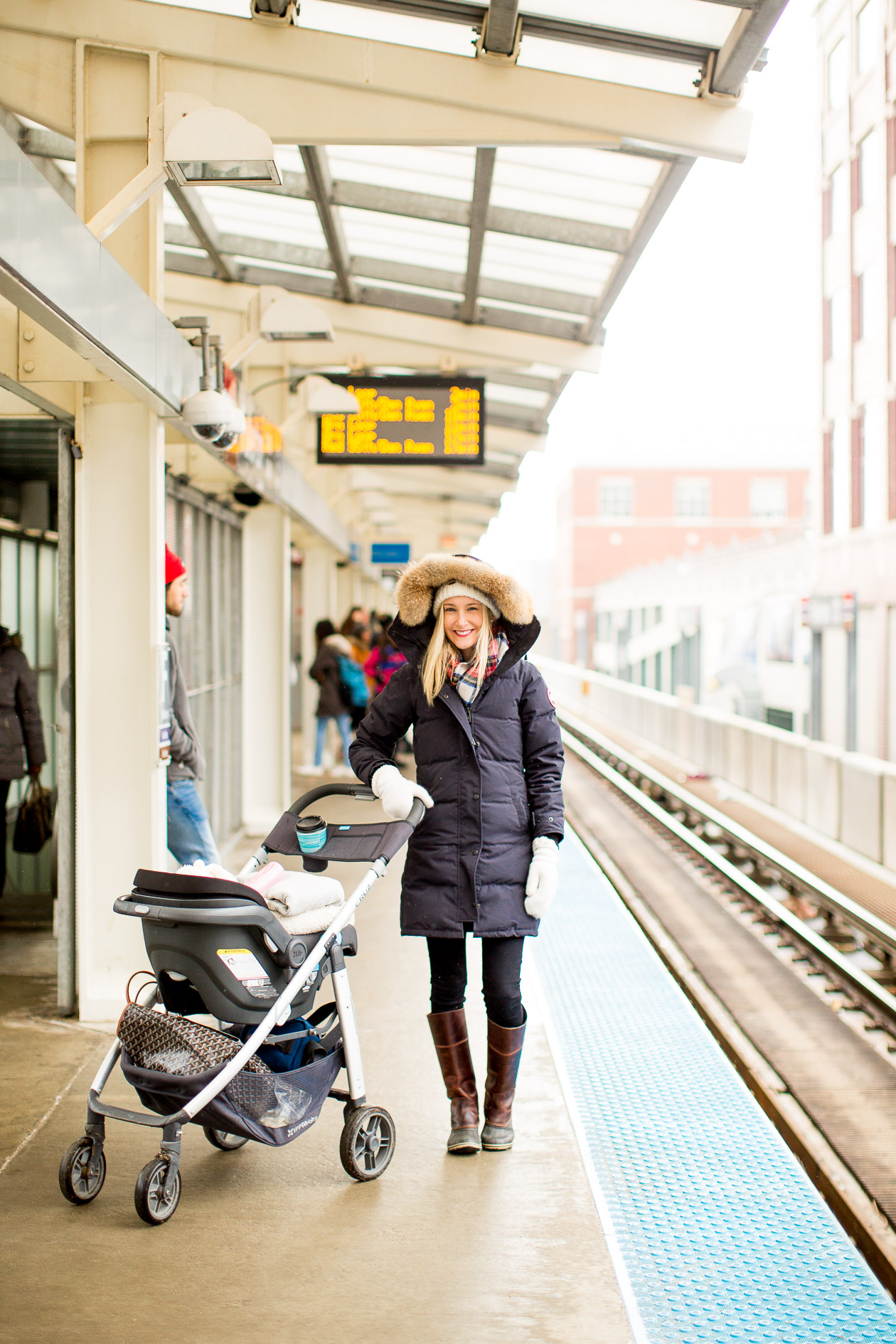 It handles problems we never saw coming.
UPPAbaby also helps with the problems I never would have expected. Unlike my wife who gives me constant updates on her comfort level–too hot, too cold, hungry, thirsty–Emma can't tell us anything. So we'd better be prepared… or else. Here's a sampling of problems we have encountered and UPPAbaby's solutions to them: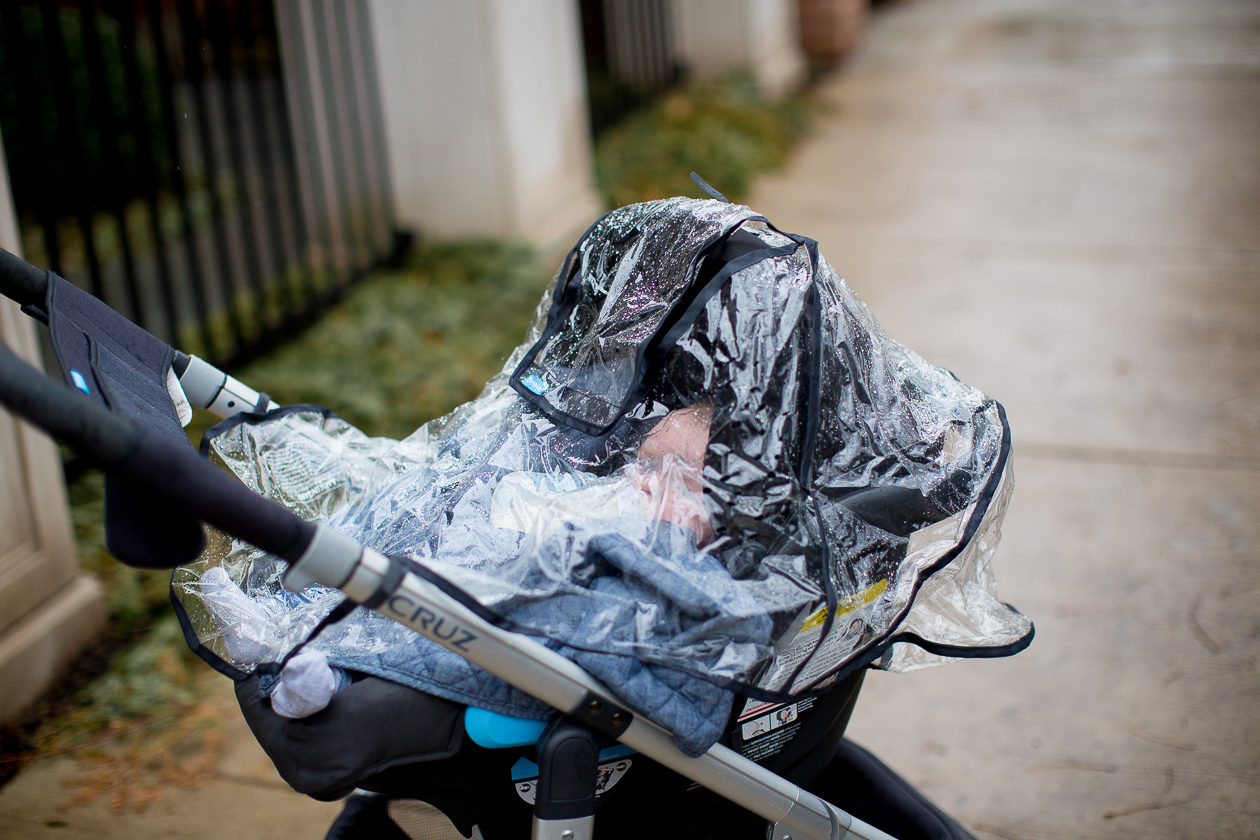 Insane rain and wind: UPPAbaby's Toddler Car Seat Rain Shield takes all of 30 seconds to attach to the stroller top, and it doesn't fly off because of the velcro ties you see right above the "CRUZ" lettering on the side of the stroller. There are air holes and a little flap that lets you reach into the stroller when the baby needs you.
Crazy bugs: Just use the Bug Shield! Duh!
Polar vortexes: Live in Chicago, or in another place where the weather is so cold that it's difficult to sustain life? The 'Cozyganoosh' Water Resistant Stroller Footmuff will keep your baby toasty when you have to leave the house.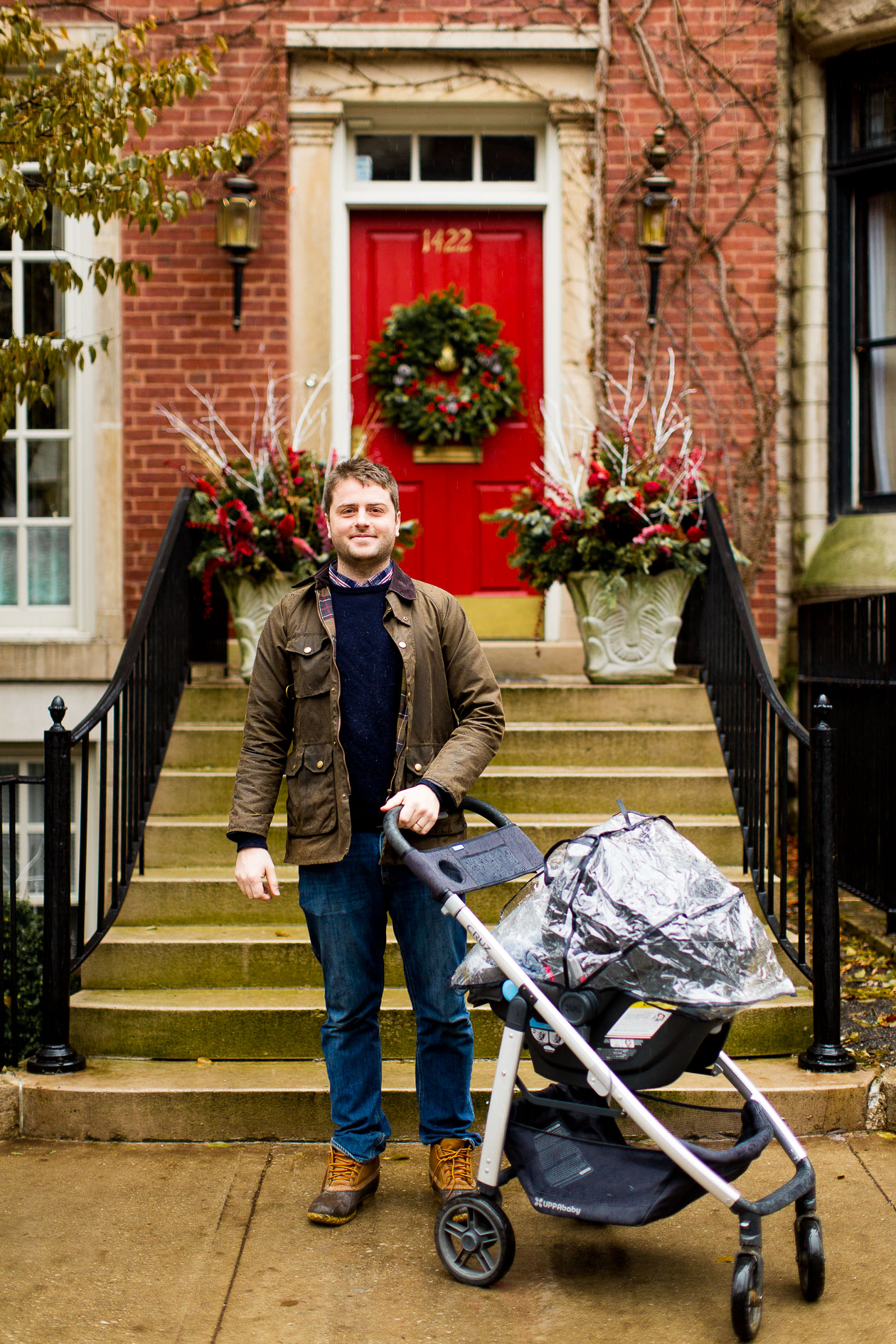 Oh, shoot. Emma is waking up now. Off to the land of Tummy Time, baby Taylor Swift covers and Elmo. And the best adventure I've ever been on.
Mitch. Out.
This is a sponsored conversation written by me on behalf of UPPAbaby. The opinions and text are all mine.