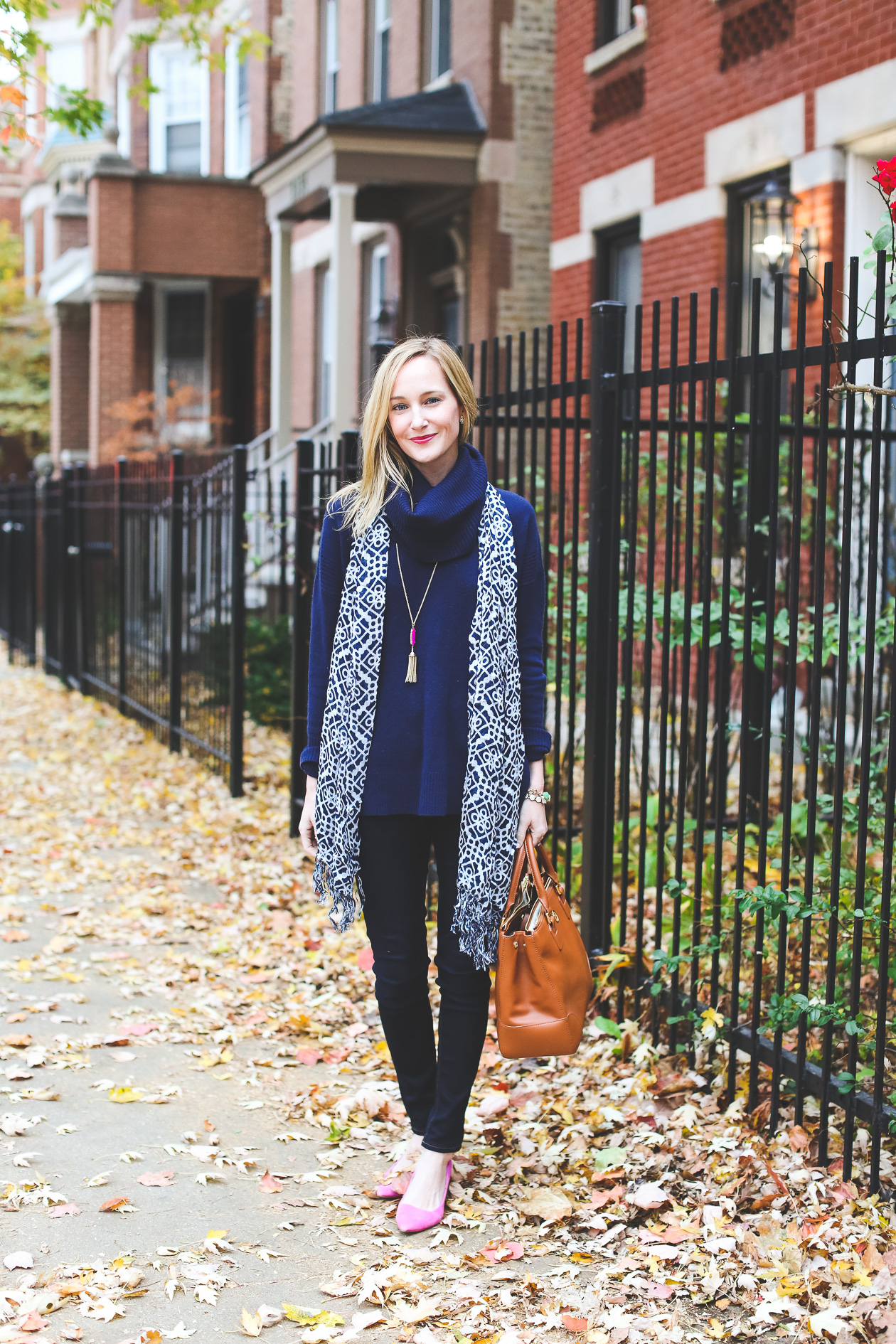 Diane von Furstenberg Sweater c/o /Hudson Jeans c/o / Tory Burch Tote (This one? Swoon.) / C.Wonder Pumps (Old, but similar here, here, here, here and here — and #omg, I just got these suede beauties and am SO in love!) / Spartina Scarf c/o / Kendra Scott Necklace c/o / J.Crew Factory Bracelet (Old, but love this one!) / Moon and Lola Earrings c/o
[dropcap]B[/dropcap]ecause I've been sharing some pretty dreary-looking photos over the last month or so, I thought I'd share an outfit that never made it to the blog this past fall.
Just kidding; I totally forgot I hadn't posted these.
Found 'em while cleaning off the iMac yesterday… in leggings and and an old sweatshirt, of course, 'cause that's how I roll when it's fuh-reezing out. But, like, #flashbackfriday, right? ;)

What's on tap for the weekend:
Visiting Interior Define and picking out a chair designed by the founders of The EveryGirl! We're SO excited. Not sure exactly where it'll go yet–living room, guest room or master bedroom–but I can't wait to explore the store and settle on a fabric. Have you heard of Interior Define? They're a Chicago-based furniture store that ships all over the United States. Just look at the Rose collection. Swoon!
Going on a date. Any restaurant recommendations? We'd like to walk, so something in Lincoln Park would be ideal!
Hanging out with our friend Eric. Not sure what we're doing yet, but it's been way too long since we saw him last! Eric, how do you feel about sushi? Also, see you on Snapchat in a few. ;)
Heading to Wisconsin (again!) for my nephew's Star Wars-themed birthday party. It'll be the cutest thing, for sure, and I can't wait to share photos. :)
PURGING. More on that in a few.
What I've been up to this past week:
Experimenting with blog layouts and photography editing. Okay, I actually only did that yesterday for an hour or two. But Jess recently decided she wanted to get creative with editing, and I decided to jump on the bandwagon. While I'm normally pretty set in my ways when it comes to shooting and editing, the bitter cold (and being cooped up inside) have me aching for change–of any sort. What do you think about today's photos and layout? Fun? Weird? I'd love to hear your thoughts!
Handling some setbacks. I know I talk about our house saga all the time, but somehow things got worse this past week. Wait. Did I tell you about what happened over Thanksgiving?! Our kitchen flooded as a result of clogged pipes. (Upstairs neighbors accidentally put a few too many potatoes down the garbage disposal.) And then we hired the worst plumber in the world because it was an emergency and pickings were slim on Turkey Day, and the basement flooded, too. (Yes–again. Though not as bad as the first time!) And this past week, our one remaining bathroom flooded as a result of another faulty pipe, and then, because water has to go somewhere, we got more water in the basement. (Or something like that. I stopped listening because I was trying so hard not to cry in front of contractors, haha.) We're cursed, right?
Celebrating progress. Last night, the bathroom was fixed! No more brushing our teeth and washing our faces in the kitchen sink. I'm overjoyed. And earlier this week, the drain tile and sump pump system was COMPLETED! I truly can't believe I'm typing those words, because it feels like it's been ages since I didn't have contractors here every day. Of course, now we're starting the rebuilding process, but that's a bit more fun than 90-pound drills excavating our house. Pretty floors, pretty tile and pretty trim. And going back to normal life. So exciting.
Gathering inspiration. Every night this past week, Mitch and I have been surfing Pinterest for design inspiration, trying to come up with a plan. There's so much we love. How will we ever decide?! It's kind of like picking a wedding dress…
Catching up with old friends. I've been trying hard to stick to my 2016 goals because, you know, it's not even February yet. I'm trying to call a friend every night or so, and it's been so lovely. There's nothing like nice chats by the fire while snow falls outside…
Doing some accounting. I'm the worst at bookkeeping, but when you're self-employed, it's pretty important. So I'm catching up on the last couple of months. Exciting stuff, my friends. Exciting stuff.
Completing freelance projects. I'm almost caught up! #miracle
Purging. Am I the only one who constantly battles clutter? Lately–and this is probably because I no longer have a closet and have been living out of suitcases for the last five months–I've really wanted to just give it all up and just create a capsule wardrobe. Like I said, part of it is because Mitch and I are sleeping in our tiny guest room, surrounded by boxes of clothes, and it's overwhelming. And I realize that before the flood happened, I had a super organized closet, and never felt like there was stuff everywhere. But then another part of it is I've realized that despite having a style blog, I simply don't need said stuff. And, admittedly, I don't value it anymore. Don't get me wrong: I absolutely appreciate the gifts that I've received over the years because of this blog. But at the end of the day, it's stuff, and stuff isn't important. So we've been sorting through it and getting rid of it. While this is going to take some time, I'm excited to have fewer possessions. Ideally, I'd like to have my closet look something like this or this when we move back into the master bedroom! Do we think I can do it?!
Wedding planning! Two of my very best friends are getting married this summer, and there are showers and bachelorettes to plan, and dresses and flowers and registries to discuss. I'm loving it. :)
Saying no to photo shoots. It's just too cold, guys. And I just can't, haha.
Highlighting my hair. I'm back to blonde! And wait until you see the extensions, hehe. Maybe next week if the weather improves? It's the new me.
Okay, sorry to take up all your time with my babbling. I get so chatty late at night.
HAPPY WEEKEND!