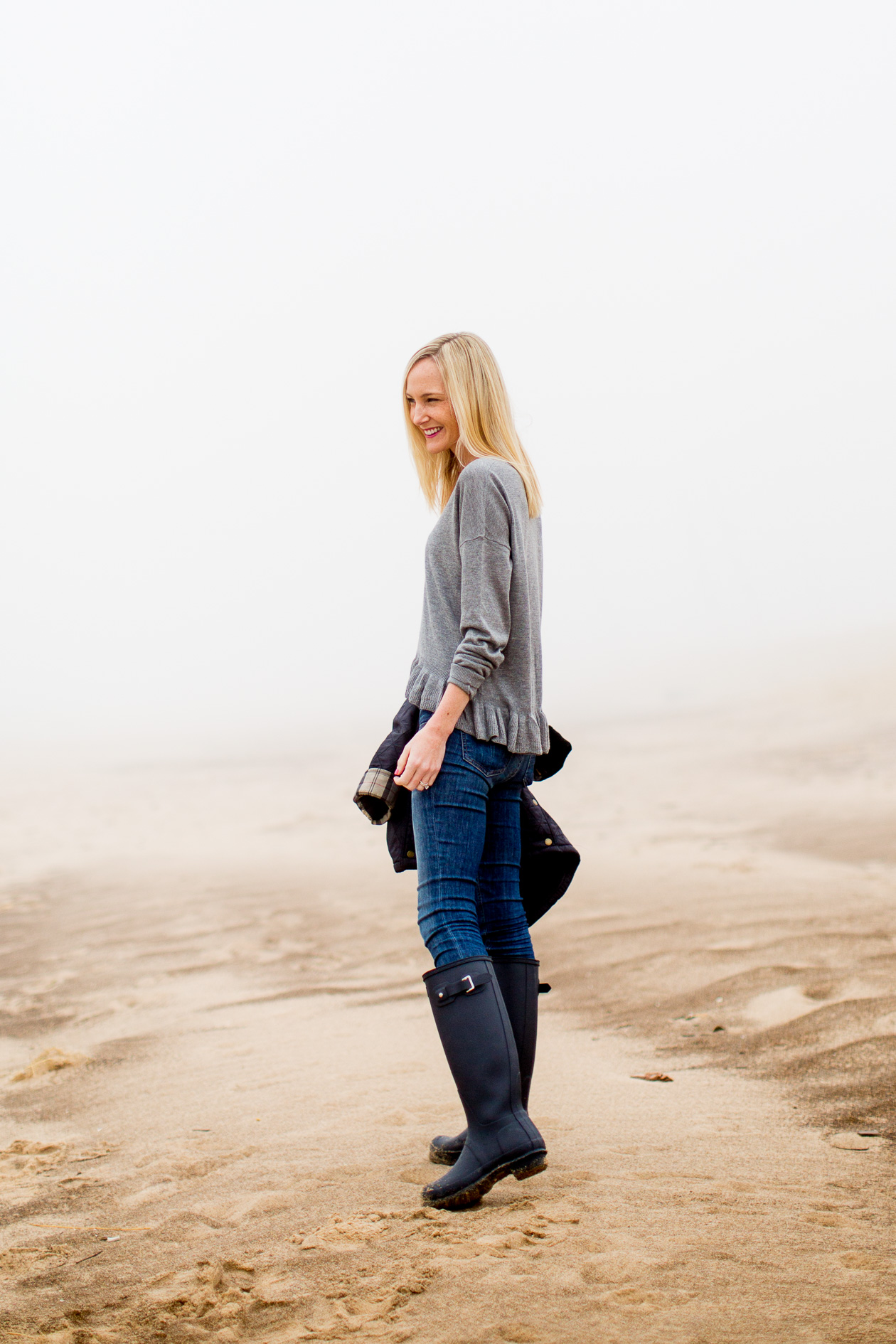 Ruffled Sweater (Wearing a size small.) / Rag & Bone Jeans / Hunter Boots and Socks (Also available here. Dying to try these and these!) / Barbour Jacket (I wear a U.S. size 4, btw. Also available via Tuckernuck. Here's my full review of the jacket! It's the BEST.)
In case you didn't see it on Instagram or Facebook, we went to Michigan City, Indiana this past weekend to hang out with our friends Kira and Tom at Kira's family's lake house. It was the best. (Thank you so much for having us, guys!) At some point this week, I'm going to do a full post on our little trip as well as another "outfit post" from Michigan City, but long story short, Kira and I met back in March of last year when she and her adorable mother attended a Last Call Studio event I was hosting. (I was hugely pregnant already, haha.) It goes without saying that I'm so glad they did, and I'm feeling oh-so-lucky today that Kira and I made "Operation Make-Our-Husbands-Become-Best-Buds" a hug success this past weekend. ;)
Anyway. With the exception of the three times I visited my brother in South Bend during college and that one time I got a flat tire there while driving back to the East Coast, I'd never been to Indiana before. I wasn't sure what to expect, but I truly couldn't get over how beautiful the Lake Michigan lakefront was. It looked and smelled just like the ocean to me, and I could have sworn we were in the Outer Banks. Oh, another thing: it was insanely warm while we were there. Temps were in the 60s on Saturday, and while the weather wasn't quite as warm on Sunday, I was totally fine in my favorite quilted Barbour. And goodness: I can't tell you what a little warmth and beach time did for my soul! I feel like a new girl today.

While it was a super casual weekend, Mitch and I couldn't help but snap a few pics yesterday, as the fog was stunningly beautiful. And can we just talk about how cute this ruffled sweater is? Totally casual, but adorable enough that I can get away with wearing absolutely no jewelry with it. Love pieces that can stand completely on their own!
Stay tuned for a couple more posts about our weekend, as I'm clearly living in the past. ;) Hope you guys had a wonderfully relaxing weekend as well!
Ruffled Sweater / Rag & Bone Jeans / Hunter Boots and Socks (Also available here. Dying to try these and these!) / Barbour Jacket (I wear a U.S. size 4, btw. Also available via Tuckernuck. Here's my full review of the jacket! It's the BEST.)