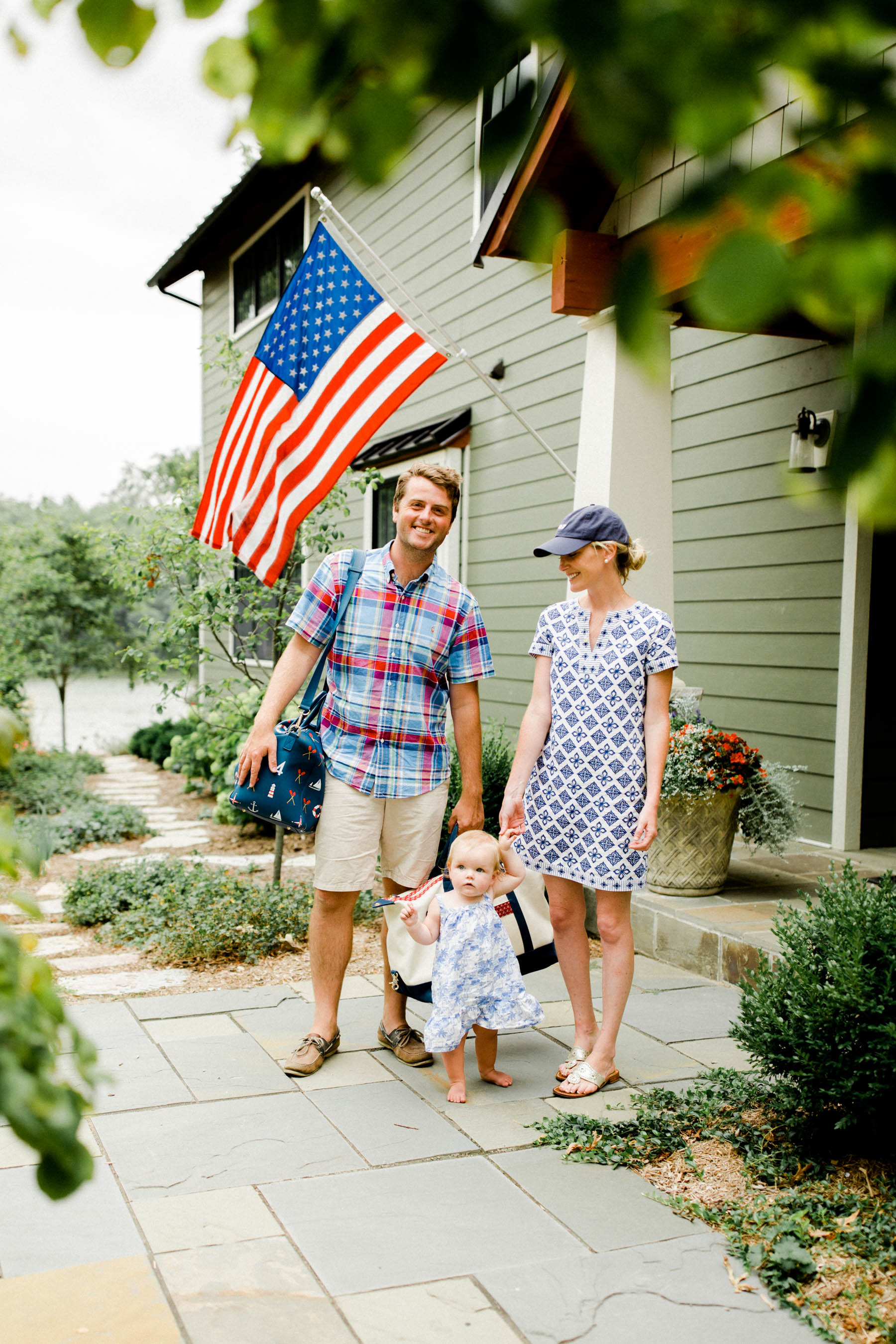 Kelly and Emma are both wearing Vineyard Vines / Kelly's Hat / Kelly's Sandals / Toddler Vineyard Vines
Mitch here!
I consider myself a lucky man. I have a beautiful wife, a healthy daughter, an adorably tiny house and … a dog. Not only do I live in my favorite city, but I also get to live in my dream neighborhood within said city. Life is good! If I'm not careful, I could spend the rest of my days poking around Chicago, eating at my favorite restaurants, playing with Emma at the park, and sleeping in my own bed. It certainly would be easier than dealing with the baby on a plane situation!
But Kelly, Emma and I have worked hard to get out and see the country this past year, even though it would be far easier to simply stay put. In the time before she turned one, Emma had been to Los Angeles, New York City, Philadelphia, Michigan City, the Jersey Shore, Long Island, Central Illinois and Memphis. Baby on the go!
But that's not all. Next week, we're packing our bags and enduring a full day of airports, connecting flights, and rental carseats–don't worry; I've scheduled two extra hours for installation–to take on our next adventure. We're taking a family trip to Portland, Oregon!
Edit: We're going to be staying in the Brooklyn neighborhood of Portland at an Airbnb.
This super exciting because:
Jess Keys is marrying Neal Loftus!
The Pacific Northwest is where Twilight takes place and I'm still, all these years later, decidedly #teamjacob. (Sidenote: If you faceswap Edward and Bella it looks exactly like me.)
We've never been! Portland is one of those places that everyone raves about in conversation and I usually just stand there looking like an idiot nodding my head like I know what they're saying… but no more! I'm about to get Portlandified.
In our family, Dad plans the trips and Mom documents them. The only issue is that I'm absolutely clueless about planning a family trip to Portland. I mean, like any good tourist, I want to visit the top of the Space Needle and see the original Starbucks. Or maybe I could find a local grunge concert after perusing a flannel shirt store? I'd also like to procure some fresh Microsoft and Amazon products while in the area. But those are just the obvious things!
Hold up. I'm being told that those things are in Seattle.
I clearly need help planning this trip. ;) So if you have any suggestions, please leave them in the comments below. And if you're a true-to-life Portlander, sorry about all that Seattle stuff.
Thanks in advance!
Mitch. Out.