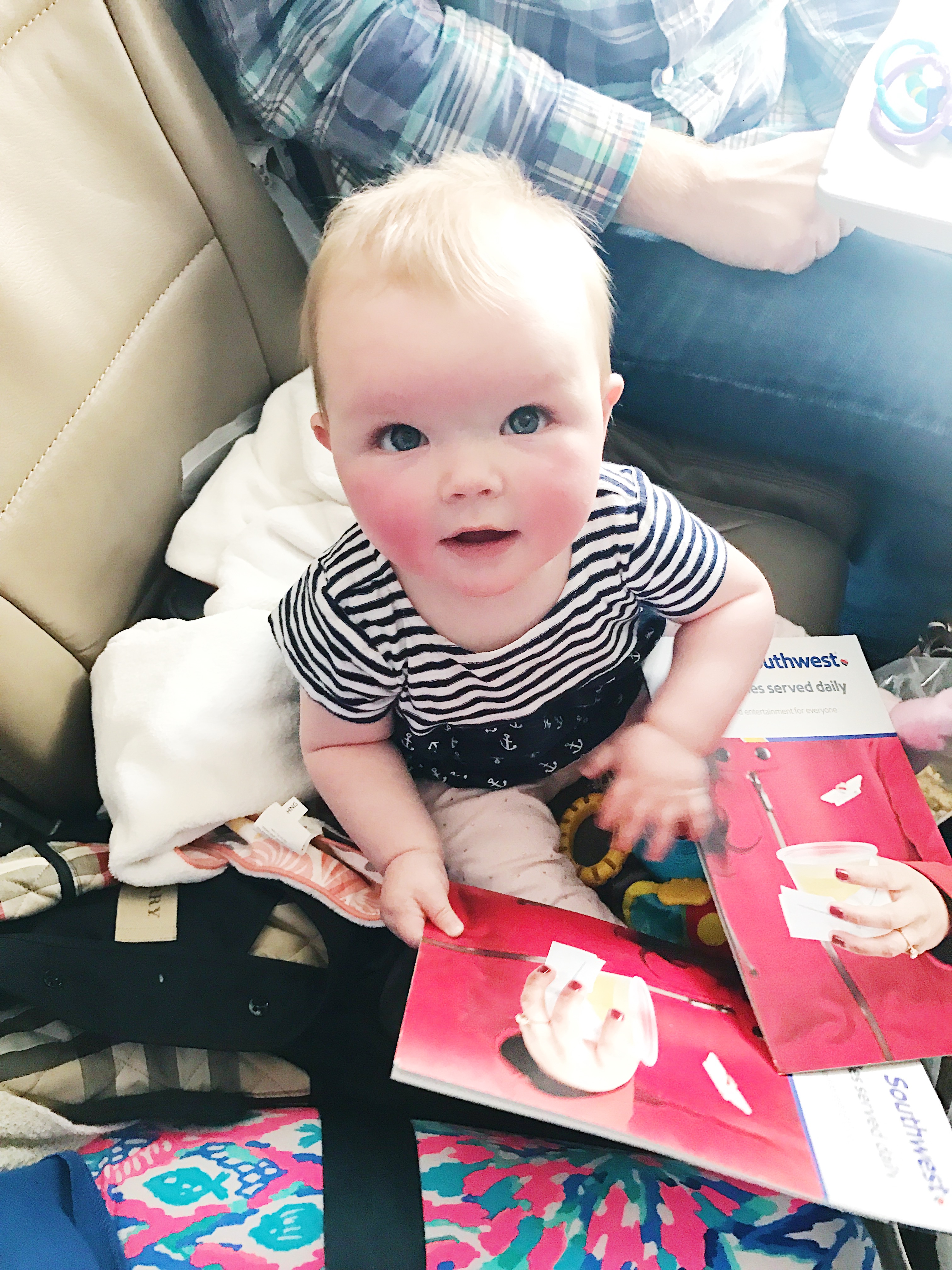 Mitch here!
If I were writing a Mitch Larkin personal ad, I'd describe myself as–in addition to an affinity for Trader Joe's bourbon, dirty Cubs hats and fashion blogging–a travel lover. Is that not the perfect way to brag about oneself? (I'm adventurous! Not only am I going places, but I also go to places!) But the reality here is that going on trips can be hard; very fun, but way harder than the pretty photos often depict.
Why do we all have this collective obsession with traveling? Believe me: I'm part of it. But honestly, at this point in my life, the closest I usually get to traveling is keeping those 30 unwatched Rick Steves episodes on my DVR. I'm getting around to them, okay?
So, without giving it much thought, I screwed over my future self (and my family?) on the coldest day of winter by booking spring break tickets to Los Angeles. As a guy from the Midwest, I was surprised to find that LA is actually a real place. You can fly there and everything! Those movies that show blue skies, surfers, palm trees, sandy beaches and dancing raisons? All real life. Flip flops in April, people. FLIP FLOPS!
The best part of any trip are the weeks before departure, spent in joyous anticipation. Emma and I must have read "Goodnight Ocean" about 100 times in a row. (Her choice.) It wasn't until the night before takeoff that we seemingly realized the enormity of the task we were about to undertake.
"Oh crap! We're flying with a baby for the first time tomorrow!"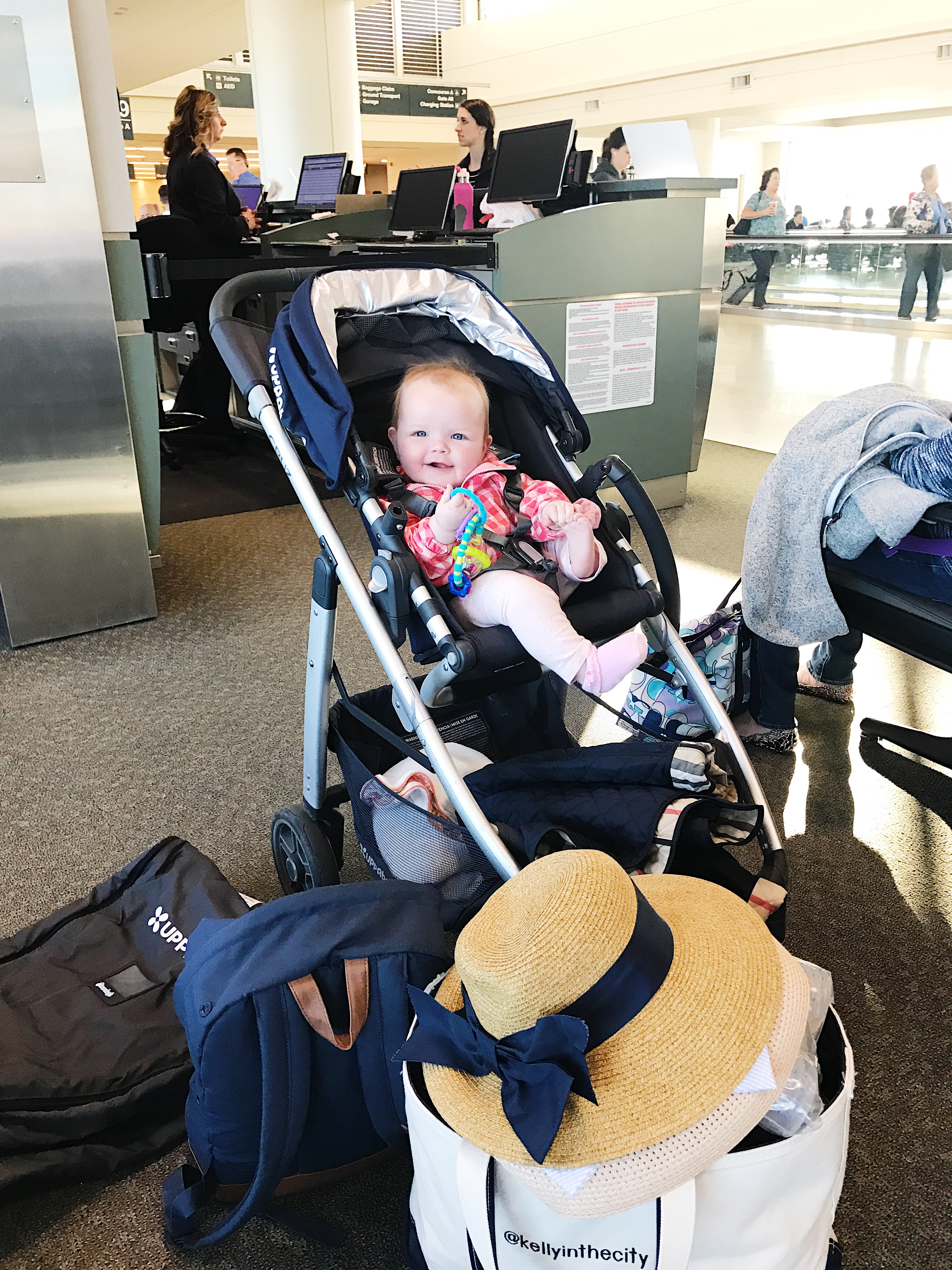 Putting Elmo in a Suitcase
Packing for an eight-month-old is tough! We've carefully crafted life for our daughter at home, which kind of works. There are dozens of perfectly prepped bottles in our cabinets, the occasional disgusting spoonful of apple sauce, and nightly family "Noodle walks" around the block. We have routines and activities; and there's a bouncy seat and high chair that serve as last-ditch efforts. We knew we couldn't take everything to California, but we set out to pack as many of Emma's creature comforts into her adorable tiny suitcase as we could.
Kelly is a wizard at motherhood. In the time it takes me to find my shoes, she can pack a day's worth of baby nutrition, clothing and entertainment for Emma. But even Kelly struggled with packing for California. What is LA like and what are we going to need there? How does one pack for all eventualities? A couple of outfits per day and a backup outfit for the plane just in case of puke, spills and leaky diapers. A new toy within arm's reach for when Emma gets bored. Prepared bottles with backup formula scoops at the ready. Enough diapers and wipes to get us there but not too much to overtake a carryon bag or suitcase. Noise machines and sleep suits; baby monitors and sun hats.
We–or perhaps I should say I–decided that our goal was to just get to California. We could scramble and buy everything we needed after landing, right? Call it procrastination, but I figured it would be easier to realize what we'd forgotten while there instead of thinking too hard planning ahead.
(Kelly disagreed.)
Moving on.
How do you parents out there do taxis with a baby? Are we just not supposed to use taxis? I like using taxis. But how does one take a taxi without hauling around a giant carseat (which takes 30 minutes to install) all day? I live my life in constant fear that I might be a horrible parent. Previously held travel rules like "never park at the airport because it's too expensive" or "never check a bag so you don't have to wait for them or risk losing them" always lead to accusatory looks from my wife and passersby. This time, though, I succumbed.
We packed three giant suitcases, two "Mary Poppins" baby bags, a backpack, a stroller and two incredibly delicate straw hats. Kelly and I have four arms in total. I'm a math teacher, for crying out loud, and this is how we packed. Long story short, we drove to the airport and I paid for the stupid parking. I don't want to discuss the negotiations that led us to this conclusion, but I lost.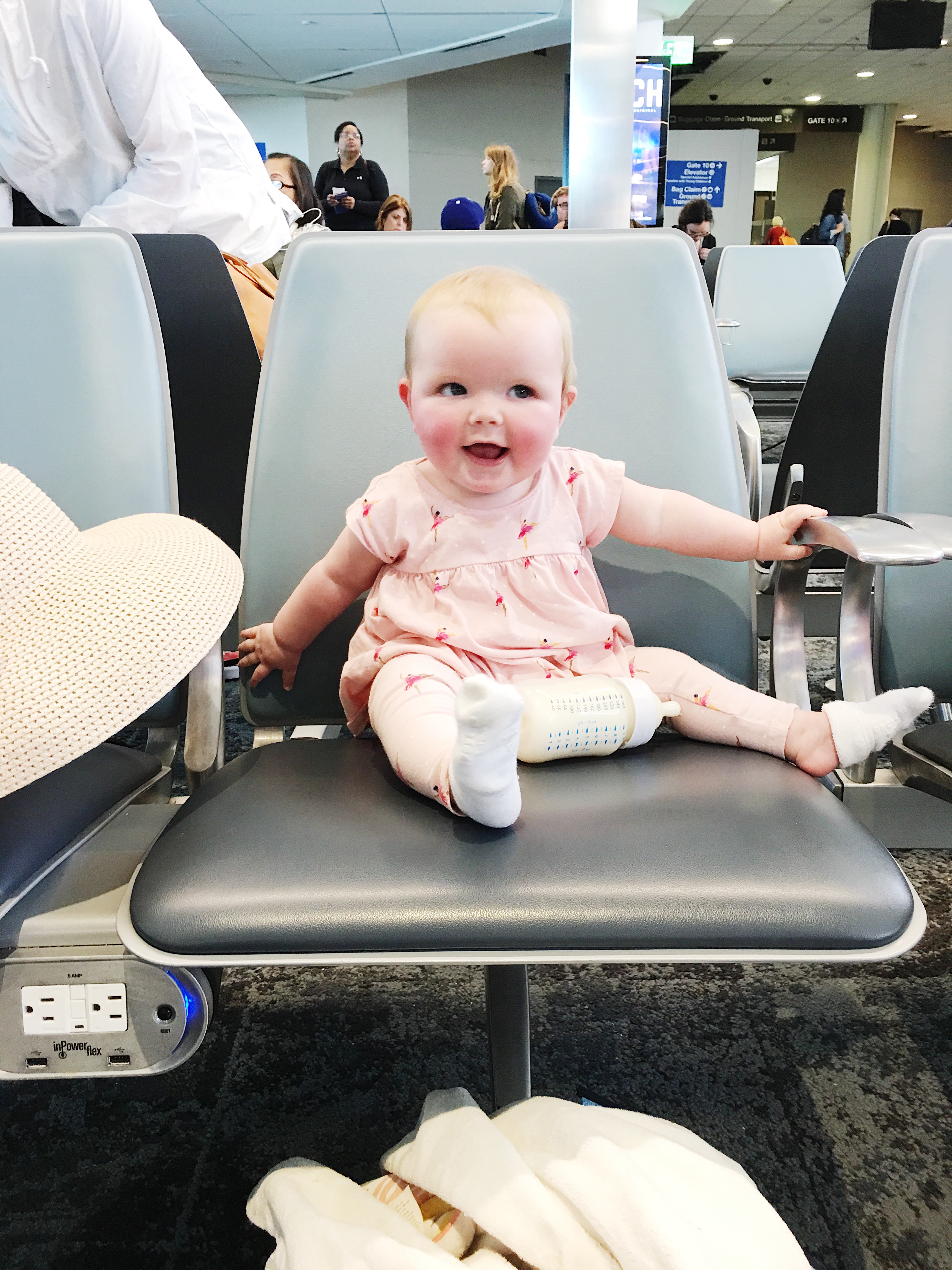 Mistakes Were Made
Emma was such a good baby on this trip. We got her up at 5:00 in the morning and she was all smiles. A frantic drive to the airport amidst teetering luggage: not a problem. Idiotic parents who brought a baby (and six pieces of luggage) to the parking lot instead of dropping everything off at the terminal: Emma didn't blink an eye. (Though she may have fallen asleep.) Security lines, TSA agents ("The baby can leave her shoes on" "Thanks a lot…"), scary metal detectors, hungry parents and airport restroom changing tables: nothing. We're talking about an all-star baby here, people.
Still, I kept my head low at the terminal. I tried not to look at the people whose trips my gorgeous little daughter was about to ruin.
The Plane! The Plane!
We'd heard the horror stories. Emergency landings. International incidents. That the whole Sully thing started with a hungry six-month-old in coach. But really: we weren't prepared for this. Thank god we weren't flying United.
All jokes aside, it wasn't that bad.
Emma was apparently unaware of the torturously tight, turbulently tumultuous trip we were about to subject her to. She insisted on greeting every single person on the plane with a hugely gummy grin, a confident wave, and her ever-present pointer finger. (Loves touching things and people with her pointer finger. Especially when you say, "E.T. phone home.") Everyone loved her. But I couldn't help but think about how violently everyone's opinions would change once we took off.
Southwest Airlines saved our lives. Shortly after we got seated, the flight attendant whispered in Kelly's ear, "There's a vacant seat on this flight. Take it." I felt like we'd won the lottery. We set up a little three-seat-wide baby entertainment assembly center filled with stuffed Elmo toys, iPhones, iPads, shreds of paper napkins, discarded bottles, and crumpled in-flight magazines. When Emma tired of one activity, we instantly presented her with another. Of course, her favorite toy on the plane ended up being the puke bag. But she played with everything in sight.
And then we took off, and Kelly and I looked at each other in terror. Infants have a hard time clearing their ears during takeoff and descent, but our plan of giving her a bottle to get her to swallow totally worked. Yes, her eyes grew wide when the noise started, but clearly the girl loves food more than anything. She was fine!
Emma napped briefly laying with her feet on Kelly's lap and her head resting on mine. I'm not sure if this means she is getting big or if it's just evidence of just how small airline seats are. Where, exactly, does a person put his arms when he has an easily disturbed, rather large baby sleeping on his lap? Just hold them up in the air?! Heck, Emma was too thick to put the armrest down! In the end, I decided to just sort of dangle said arm over the top of my head for the whole nap. When Emma woke up, she opened her eyes, sat straight up, and turned her head to look me in the eyes. Emma didn't know how to sit up at the time. I was terrified.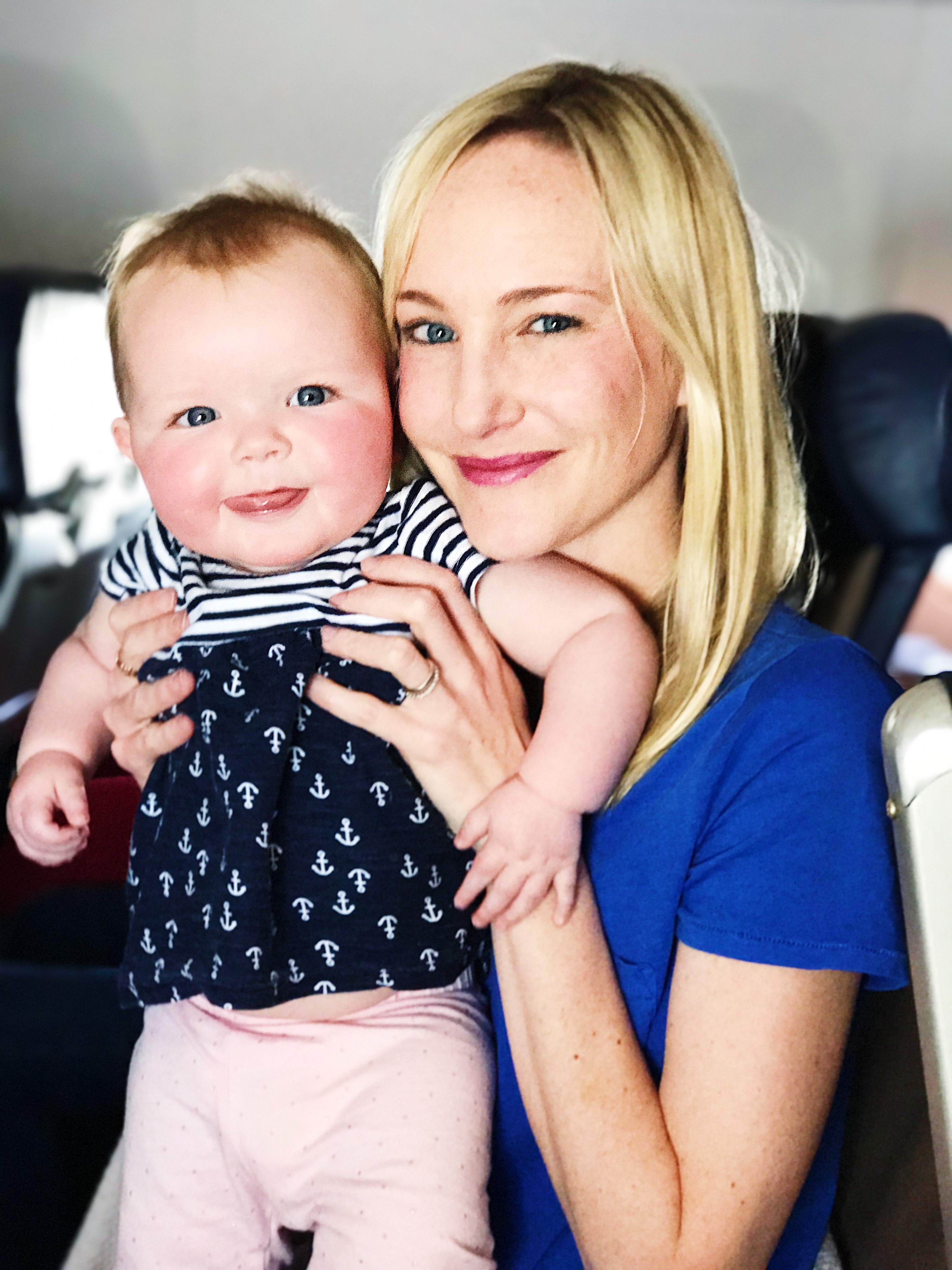 Arriving
I just love the first moments of stepping off the plane and into a new airport. Look at all the cultural differences! Oh my god, the time has changed! This airport is so much nicer than ours! Wow, that coffee place totally has a different name than the one Kelly wouldn't let me get coffee at in Chicago because she was afraid I'd spill it on the baby! It's sunny outside! PALM TREES!
We skipped our way out of the terminal. "Wow! It's that cool LAX air traffic control thing! Where's the the camera? Oh my god, do we still have the camera oh yeah it's here nevermind let's take a picture." We caught the rental car shuttle–again, idiotically bringing the whole pile of luggage and baby instead of just sending me to get the car. But life was good. I got my sunglasses out; I knew we'd be on the beach in moments.
Reality hit hard. It took us an hour and a half to install the rental carseat because the rental car place claimed they legally weren't allowed to get involved with carseat installations. I tried every possible configuration of weirdly knotted seat belts and latch cords. I got upset; Kelly awkwardly encouraged me. It was just so frustrating that I was stuck in the middle of a problem that happened to be the one thing I couldn't just give up on. I honestly proposed the idea of driving to the nearest fire station at 5 mph for help. We finally secured the seat thanks to a kindly rental car agent, though. (I think she just wanted to go on her lunch break and we were the only people left in the place.)
We finally pulled away from the airport and started our vacation. But wait, where are the hats? WE LOST THE STRAW HATS! Those perfect hats. They were so strawy and haty with the ideal amount of dainty fragility you'd want in the middle of a family taking their first vacation with an infant. They were just the perfect fashion accessory. Ideal for the cornfield or the runway. Whoever is responsible… you deserve them. Enjoy looking incredible in the cool shade, you jerks.
We had a great week in Los Angeles. If you're a fan of this blog–which, if you made it this far down in the post, you might not be anymore–you will be seeing hundreds (if not thousands) of photos of our trip over the next couple of months. I will try not to spoil Kelly's posts for the coming week, but thanks for reading and enjoy a little LA music.
Mitch. OUT!