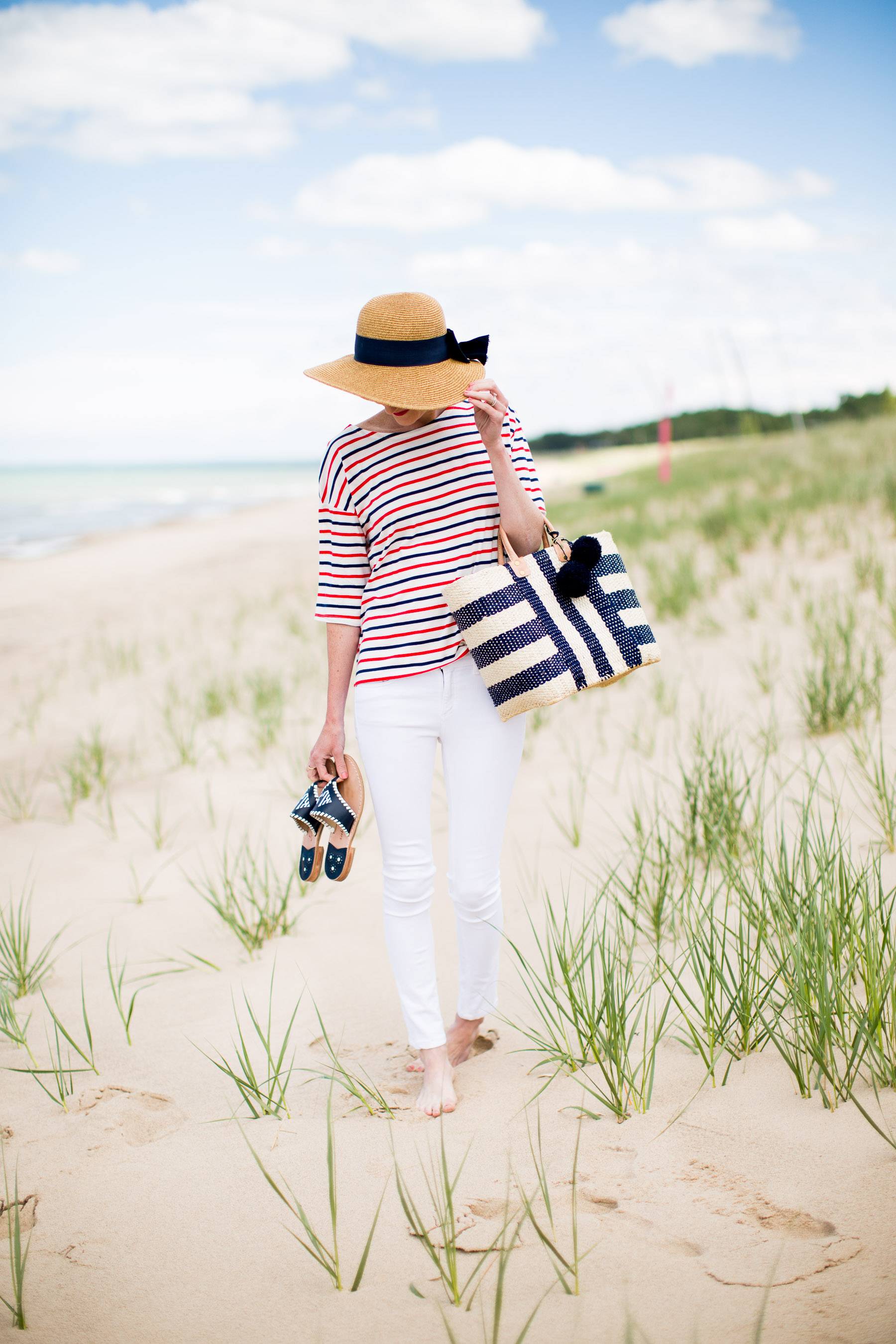 Mar Y Sol Tote (Also available here. Similar styles here, here, here, here, and here.) / Barbour Jacket c/o (Also love this one, which is the same cut but way warmer. And this one is a bit more affordable.) / Hudson Jeans (On MAJOR sale! This is my other go-to pair.) / Red & White Striped Top (On sale! This one is great, too!) / Monogrammed Jack Rogers c/o / Tuckernuck Hat (Back in stock!) / New Sunglasses! (It's a miracle!)
Mar Y Sol is available at Nordstrom, Tuckernuck and Shopbop
If you read Mitch's hilarious post yesterday, you know we were in Michigan City over the weekend with Kira and Tom. It was beyond nice. Guys, we had dinner at a table in the sand outside the house. Pottery Barn-style. Sure, it started pouring in the middle of it all, but I'll never forget it.
Last night, I started laying out photos from the dinner for a post, but I didn't quite get everything done in time to publish today. So that's still in the pipeline. However, Kira showed me this WordPress "Editorial Calendar" plugin over the weekend, and I honestly can't believe how much it improved my productivity in the span of ONE DAY. (I do think some other friends might use it, because it kiiiind of rang a bell when she pulled it up. Bah! Always last to the party, which is of my own doing, haha.) Seems like such a little thing, as I totally kept a paper calendar before. But I've been dropping my posts into my new online editorial calendar left and right, and I dare say it's possible I'll be able to line up a week's worth of stuff so I can fully enjoy my time back home next week. If you're a blogger, definitely try it! I'm impressed. And hey: because of the calendar, maybe you'll see those dinner photos this century instead of next. ;)
Apologies for that tangent, especially if you're not a blogger. But back to today's topic: Mar Y Sol. (Also available here and here.)

Favorite Bags
I'd been seeing brand's totes everywhere this year, so I thought I'd order one to review on the blog. Summer is right around the corner, and I was also in the market as Noodle ate mine a couple of years ago. Though I'm almost glad Noodle ate my old beach bag. Because how CUTE is this one?! (Also here.)
Yes, it's sold out in navy right now, but I actually love the pink even more. (It's just that I felt a little bad buying a hot pink tote, as I'll be stuffing baby gear into it this summer… which means Mitch will sometimes end up carrying it. #dadstruggles) But I've included a ton of Mar Y Sol bags above that are super similar, in case you're 100-percent sold on blue. (I get it. I gravitate toward blue, too, in case you haven't noticed.)
More about it: It's incredibly sturdy and it features leather handles. It also carries a ton yet isn't massive-looking. And I love that I can get away with only bringing one bag along with me on vacation, since it works as both a beach bag and an everyday bag.
Another benefit? Emma LOVES the pom poms, so the bag kind of functions as a toy as well!
Other quick notes about my outfit:
Over and out, Friends. Hope you have a great Tuesday!
Shop the post:
Mar Y Sol Tote (Also available here. Similar styles here, here, here, here, and here.) / Barbour Jacket c/o (Also love this one, which is the same cut but way warmer. And this one is a bit more affordable.) / Hudson Jeans (On MAJOR sale! This is my other go-to pair.) / Red & White Striped Top (On sale! This one is great, too!) / Monogrammed Jack Rogers c/o / Tuckernuck Hat (Back in stock!) / New Sunglasses! (It's a miracle!)