One / Two / Three / Four / Five / Six / Seven / Eight / Nine / Ten / Eleven / Twelve / Thirteen / Fourteen / Fifteen / Sixteen / Seventeen / Eighteen / Nineteen / Twenty
There's so much more! Scroll down!
Mitch here!
Below I've gathered some excellent Cyber Monday finds from my favorite stores. In case you missed it, though, Kelly has thus far published Cyber Weekend Clothing Sales, Cyber Weekend Steals & Deals, and Shop Small posts. They're all good guides for gift-buying and treating yo'self.
But on to mine! 😜
Deal breakdown
Amazon: Amazon is discounting tens of thousands of products. I'm eying their cheap Kindles, Nintendo Switches and Eero Mesh Routers but it's probably a good idea to check on your cart to see what's dropped in price.
J.Crew and J.Crew Factory: These (favorite) brands are discounting their entire sites all weekend with deals as high as 70 percent off. You'll see my favorite men's picks in the gift guide below.
Nordstrom: Now through 12/1, Nordstrom is discounting thousands of items up to 50 percent with new deals added daily. It takes some effort to find the best ones, but serious discounts are all over the place on Nordstrom.com.
Target: Target has deals across all categories including a $230 65″ TV, cheap Amazon Echos, our favorite Hoover vacuum line, and $150 off Dyson vacuums. And did you know they sell that super cheap Bullseye's Playground stuff online now?!
Best Buy: I spent way too much time on Best Buy's hundreds of pages of deals. If you're mindlessly clicking around the internet, I recommend you do the same. Highlights include a $250 65″ TV and $70 off iPads.
Walmart: Walmart is my go to Black Friday spot. They have a $478 70″ TV, a $197 inflatable hot tub, and a $129 Apple Watch.
Mitch's Top Cyber Weekend Finds

One / Two / Three / Four / Five / Six / Seven / Eight / Nine / Ten / Eleven / Twelve / Thirteen / Fourteen / Fifteen / Sixteen / Seventeen / Eighteen / Nineteen / Twenty
5. Chemex Coffee Maker: Take it from a guy who owns seven coffee machines: the more involved in making your coffee, the better it tastes. This Chemex is a great gift for anyone who drinks coffee… which is everyone. I hope.
14. Fancy Masks: I just upgraded my masks and I'm a little embarrassed to say how happy I am with the new look. I mean the thing is literally clinging to my face so I guess it makes sense.
15. Leatherman Tool: You've probably never heard of a Leatherman, but I can guarantee your guy has. On super sale today, it's a quick and easy, and it's a sure-fire winner of a gift.
18. Trampoline: Earlier this year, people were paying any price for trampolines as the 2020 nightmare set in. Seeing them discounted this weekend is truly surprising and also uplifting.
19. AirPods Pro: It's no secret that AirPods rock. I carry mine around with me all day just in case I have a minute to pop one in. If you're lucky enough to be shopping for someone who doesn't have AirPods yet, just stop the search and buy these. Also, shoutout to the older and cheaper AirPods original.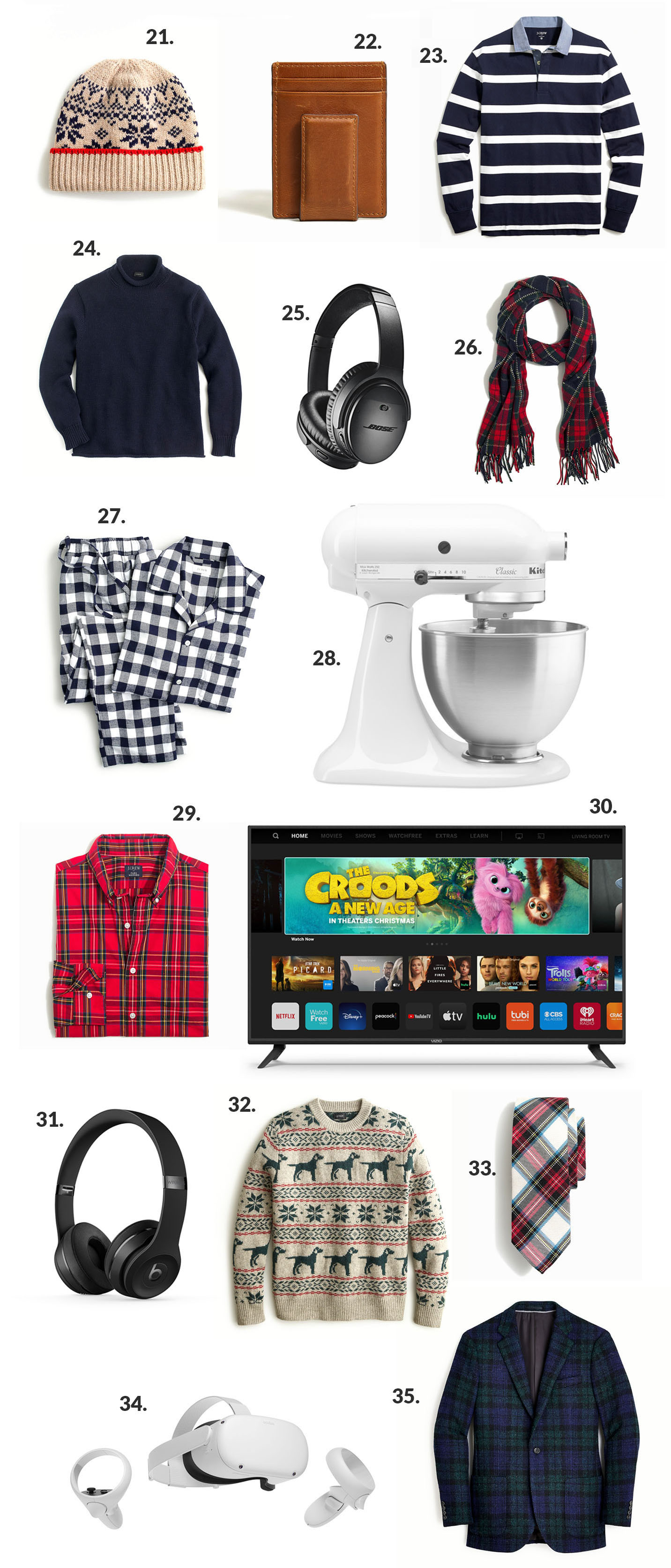 Twenty-One / Twenty-Two / Twenty-Three / Twenty-Four / Twenty-Five / Twenty-Six / Twenty-Seven / Twenty-Eight / Twenty-Nine / Thirty / Thirty-One / Thirty-Two / Thirty-Three / Thirty-Four / Thirty-Five
23. Rugby Shirt: There's a chance I'll look like I'm 13 in this rugby shirt, but it's a risk I'm willing to take.
24. Fisherman's Sweater: I've been lusting after this roll neck fisherman's sweater for a year. I included it in last year's post, but didn't grab one for myself and it brutally sold out on me. But it's back now! I'll probably do nothing about it and end up back where I started because I am the EveryMan.
28. Kitchenaid Stand Mixer: Believe the hype! The stand mixer reigns supreme over all other kitchen gadgets. They rarely go on sale for this cheap.
32. Dog Sweater: The newly famous dog sweater has been a hot topic of debate in our house this season. Is it inappropriate to wear a lab sweater as a dachshund owner?  I say no. The wife says yes. And thus I own this Labrador sweater now.
35. Plaid Jacket: It's Kelly in the City, so we're ending things on a big plaid jacket. I love it, but I'm married to the plaid queen of the world. Maybe you and yours will love it too?
Mitch. OUT!