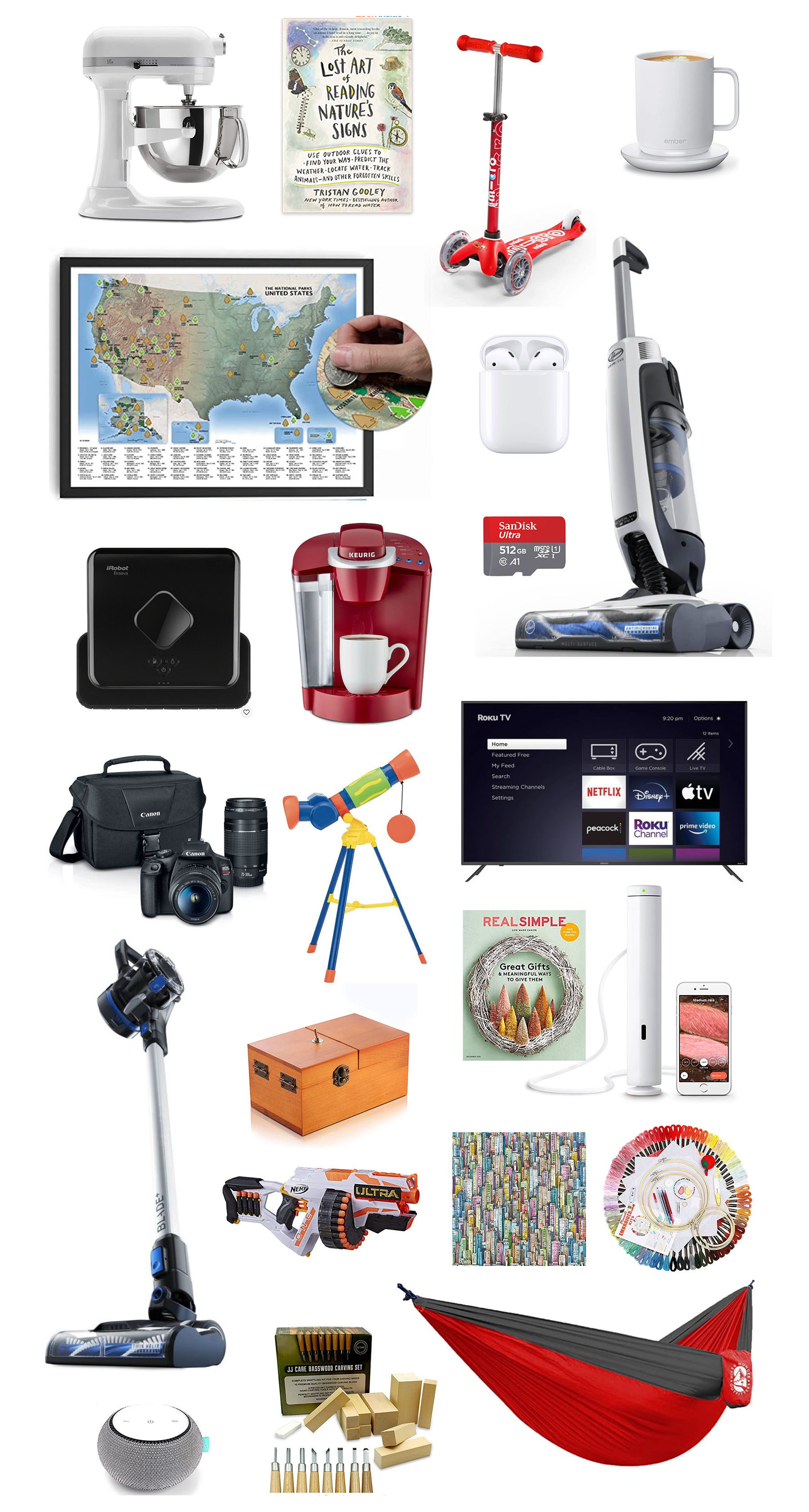 Cyber Mitch here!
You can't keep me away from the Cyber Week deals. So I'm back for another round!
Keurig: Kelly pounds that Keurig button like it's a whack-a-mole throughout the day, so it must be good. $50 is about as cheap as they come for Keurigs, too.
Ember: Now that you have a Keurig, it's time to never let your coffee go cold again.
$280 65″ TV: Remember when getting a giant TV was life-changing for the whole neighborhood? Well, now they're $280. Crazy!
My First Telescope: If I got this telescope, it would be my first. But this one's for kids and I'm a grown man.
Hoover ONEPWR Blade+: In practice, this vacuum does not suck. Well it sucks, but exactly as it's supposed to suck. All other vacuums blow; this one sucks.
Canon EOS Rebel: Want to get started in photography? Do it! It's a lifelong hobby that brings my wife so much happiness on the daily.
iRobot Braava: Do you like to mop? If so, can you come over? If not, this is a robot mop thing straight out of the Jetsons.
Micro Kickboard: The single best toy we have in the garage. Emma whips around the neighborhood on this thing. It's the best scooter in the world.
Useless Box: I'm not sure what's going on here.
National Parks Scratch Off: I wouldn't have much to scratch off this year, but as soon as I can, I'm going to scratch this thing like I'm a DJ in the Bronx from the mid-80s.
Hammock: The other day I fell asleep sitting up while both of my children destroyed the house. Someday I'll blissfully sway between two trees and not have to worry about anything. Someday. And then I'll be sad and want to go back to my destroyed house. Life is cruel.
The Lost Art of Reading Nature's Signs: Nature Signs aren't really my thing, but if they were, I'd be reading about them in this book.
Embroidery Starter Kit: Shoutout to Carly's Stitch Club! My wife refuses to stitch but I think she'll come around.
Wood Carving Starter Kit: Can we nominate wood carving as Carly's next cool hobby?
Impossible Puzzle: Why in the world would someone ever participate in this activity?
Hoover ONEPWR Evolve: Second or seventh shout out to Hoover OnePWR on this blog in one week so you know it must be good.
Nerf Ultra Blaster: Nerf blast your family right in the face on Christmas morning. It's the American way.
KitchenAid Stand Mixer: I consider myself a bit of a stand mixerologist. I wear a vest and a beanie to pancake on Saturday mornings and I dramatically shake the dry ingredients in a specialized metal cup to the delight of my wife and children.
Breville Sous Vide Cooker: Of course Breville makes the best Sous Vide cooker in the world. Works great with the Sous Vide Sinker, too! ;)
Apple Watch SE: The SE is brand new and contains most of the fancy Apple Watch tech everyone raves about. And they do rave about their watches, don't they?
Super Cheap Magazines: Magazines are still happening! And they are apparently incredibly cheap on Amazon.
Apple AirPods: I've owned both and these are the AirPods I'd recommend. This is life-changing tech at a cheap enough discount that you won't care when they die in a year. Because they will die.
512 GB SD Card: This is a bit of a long shot, but if your wife is a photographer and you left her SD card in your bag and it, uh, broke itself and she went and got all upset because she lost irreplaceable photos, this is the gift for you!
Pro-Level White Noise: We bought the cheapest white noise machine we could find and have been listening to it for 5 years. So if you're like us and love the sound of suspended explosions going off while you rest, it might be time for an upgrade.