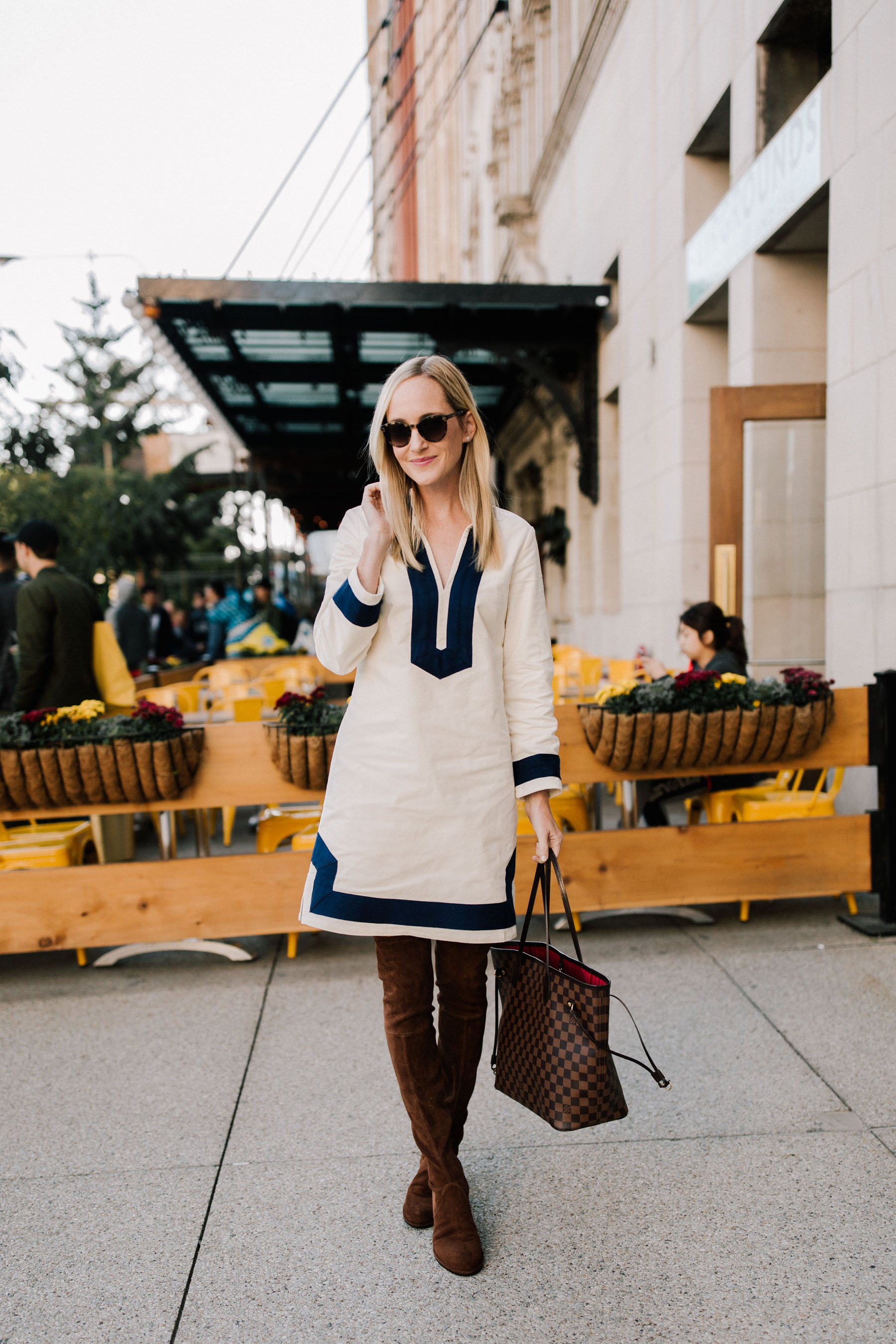 Sail to Sable Dress c/o / Stuart Weitzman Lowland Boots (In brown here. More affordable here.) / Louis Vuitton Tote (Available here, here and here. Looking for an affordable brown tote? I LOVE this one!)
Mitch and I had a somewhat low-key weekend, and it was just what the doctor ordered. Yes, it took us a couple of tries to actually get through the "Big Sick" on account of exhaustion and a bad internet connection, but we watched a movie (first one in months!); grabbed dinner with new friends; took part in a Moana singalong with our six-year-old next-door neighbor; got a solid eight hours of sleep one night (huzzah!); took a couple of long walks with Noodle; and went on a date night at the Chicago Athletic Association. (Thanks for babysitting, Chelsea!)
While Mitch will be sharing a full post about our date this coming Saturday, I thought I'd share what I wore beforehand. ;) When temps drop, I have a very hard time wearing dresses because I'm just so cold. (I'd blame Chicago, but I've always been liked this.) Sail to Sable's new velveteen dress, though, kept me nice and cozy throughout the night!
My boots (here in brown) provided added warmth, and I couldn't recommend them more. (I talk about them in this recent post, too.) But if you're looking for something a little more affordable, try this pair. And if you you're after something with a little more height, try this pair!
Over and out, Friends. My mother-in-law is headed up to Chicago today to help with Emma, and I'm SO grateful. I'm going to try my best to annihilate my to-do list!
Have a great Monday!
Shop the post:
Sail to Sable Dress c/o / Stuart Weitzman Lowland Boots (In brown here. More affordable here.) / Louis Vuitton Tote (Available here, here and here. Looking for an affordable brown tote? I LOVE this one!)
SaveSave