Guys, this is the coolest thing ever. Click and hold down on the above photo, and then drag your mouse around. (Or if you're on mobile, simply move your phone around.) It's a 360-degree picture, snapped when Mitch and I attended Chicago Gourmet with American Express in Millennium Park over the weekend! At the very bottom of this post, there's a 360-degree video, too. Doesn't it make you feel like you're there?!
(The photo and video were taken with this Ricoh Theta camera. A big thank you goes out to the husband for learning how to use it, haha. Thinking about doing some home tours with it. Thoughts?)
Anyway, I can't even tell you how much I had at Chicago Gourmet, a celebration of food and wine showcasing more than 200 of the city's finest restaurants and chefs as well as hundreds of renowned vintners, spirit makers and premium breweries from around the world. Can you spot me dancing in the video at the very end of this post? Perhaps I had a little too much fun! ;) Presented by Bon Appétit, Chicago Gourmet is without a doubt the most enjoyable large-scale event I've attended in Chicago so far.
I wore this dress and this vest (similar here and here) to the event, in case you're wondering once you get down to the photos!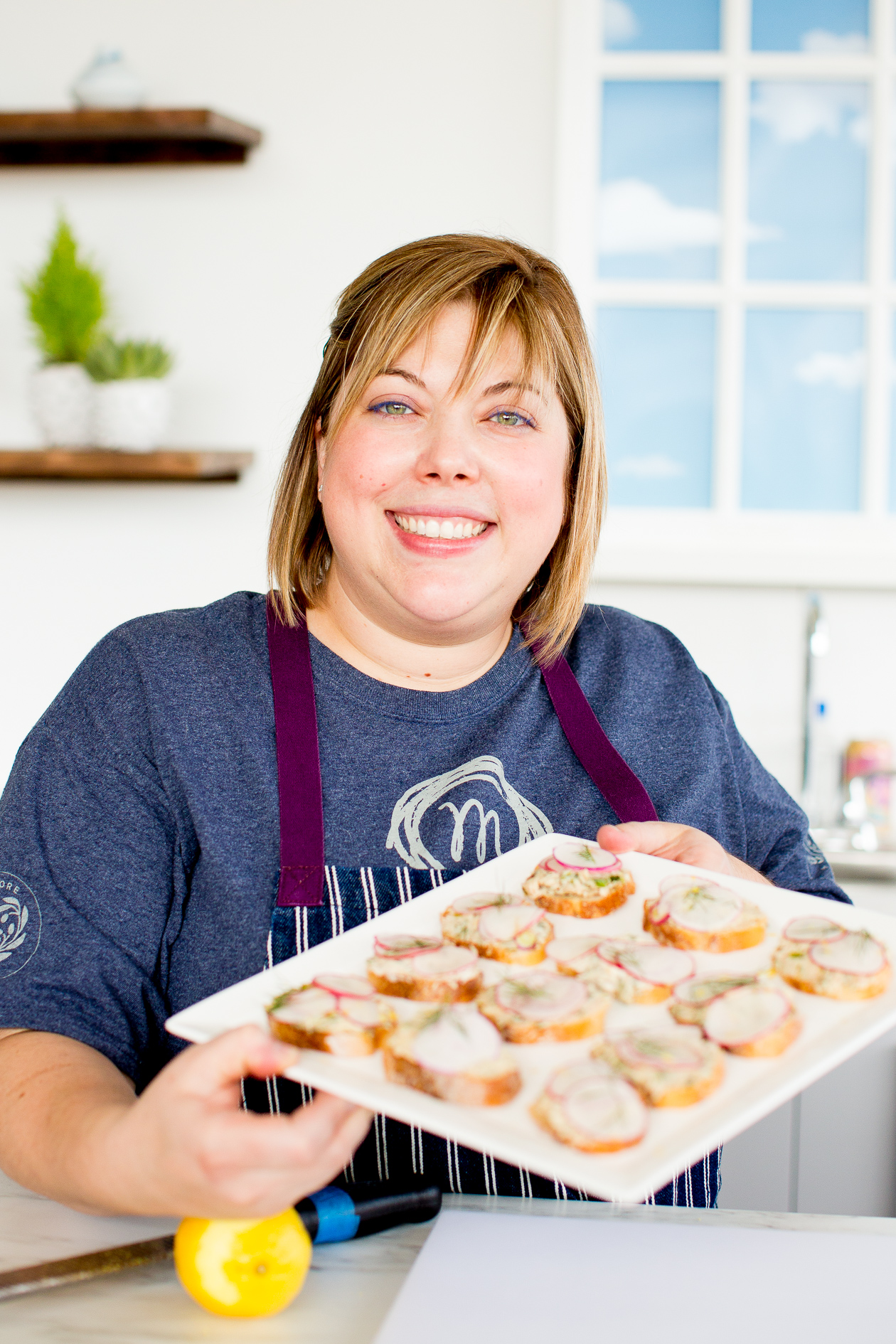 If you remember this post and this post, you might recall that our family recently partnered with American Express and became Blue Cash Everyday Card Members. A huge perk that comes along with being members? Access to amazing events around our city, like Chicago Gourmet!
Our Blue Cash Everyday Card also landed us an on-site meet and greet with Chef Sarah Grueneberg, Top Chef finalist and owner of Monteverde Restaurant & Pastificio. (Pictured above.) We loved being able to watch her prepare dishes, hear her tips for entertaining, and ask her questions. So fun. Clearly, the Blue Cash Everyday Card from American Express adds a little more "epic" to our everyday lives! Not only does it provide us with access to great events, it gives us cash back rewards, which allows us to stretch our dollar further in Chicago. (Three percent back on groceries, two percent back on gas, and one percent back on everything else.)
You might be wondering where Emma is in all these photos. ;) My parents were in town last weekend, so they watched after her while Mitch and I attended the event. It was our first "date" without Emma since she was born, and I have to admit that I texted my parents a zillion times because I'm apparently crazy. (I wasn't worried; My parents have way more experience than I do. I just couldn't stop thinking about her!) But somewhere around my second or third wine tasting, I started to relax, and I ended up having SO much fun.
And while I've always been more of a wine person, I had such a great time trying out all the amazing food! My favorite exhibitors included Old Crow Smokehouse, Gibsons Restaurant Group, Blue Moon Brewing Company, Chloe Wine Collection, Meiomi, Turano Baking Company, Supreme Lobster & Seafood Company, ShopHouse Southeast Asian Kitchen, PRE Brands, Gelato World Tour, The Duck Inn, and Big Green Egg.
If you weren't able to attend but would still like to take home the taste of Chicago Gourmet, enter the "Epic Night In" sweepstakes, presented by the Blue Cash Everyday Card from American Express. You (and up to seven of your friends) could win an epic dinner party hosted by Sarah Grueneberg!
Interested in attending Chicago Gourmet next year? It's being held September 22nd through September 24th, 2017. You can learn more here!
This post was sponsored by American Express, though all opinions are my own. As always, thank you so much for supporting the partnerships that keep Kelly in the City up and running!