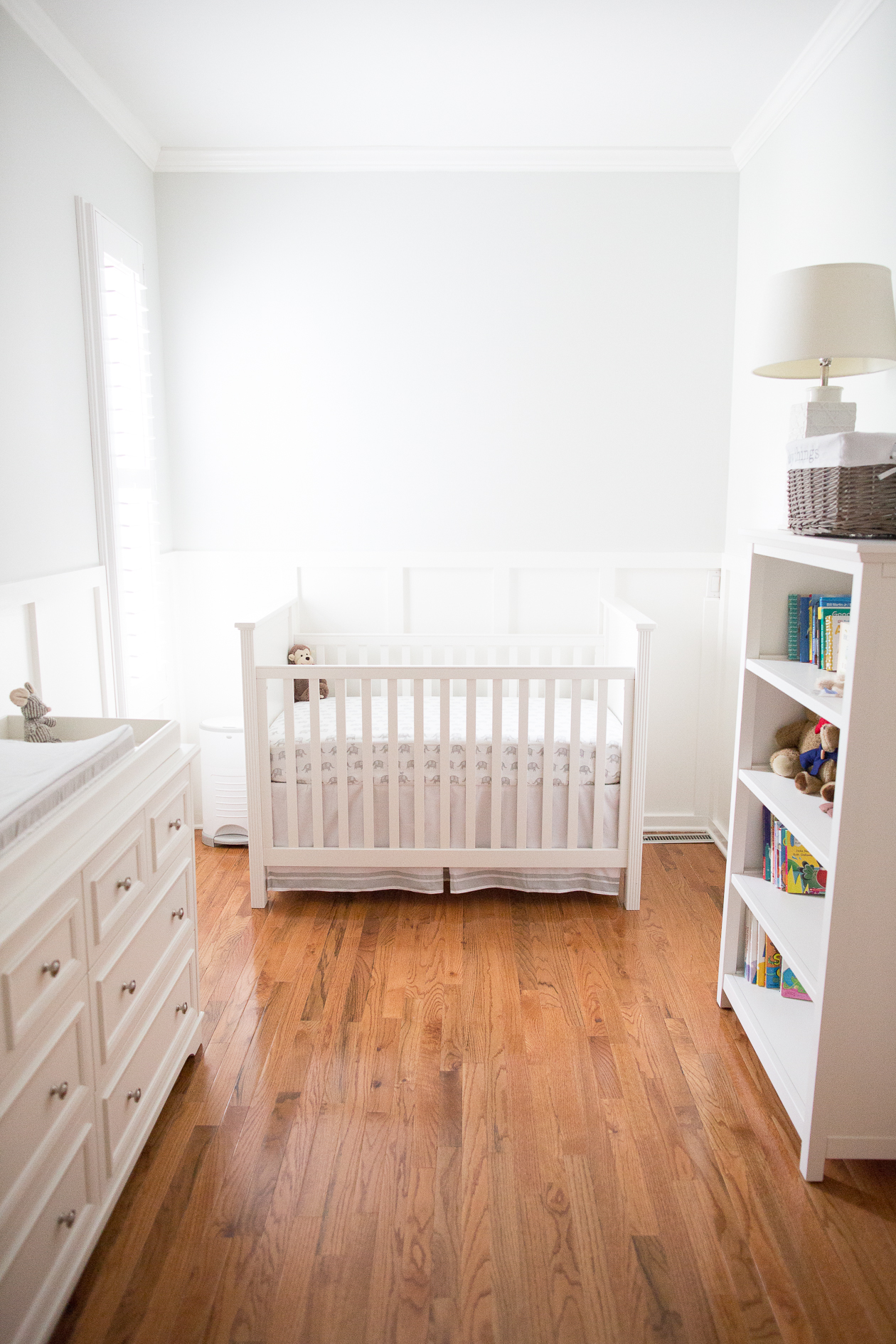 Nursery in progress! Up next: picking out art, a rug, a chair and decor!
This past year has been expensive. Honestly: more expensive than any other time in our lives, including our wedding year. Last July, we purchased our first home and put down the majority of our savings as a down payment. A few months later, our beloved little (half) townhouse flooded, and we installed a ridiculously pricey (and invisible… whomp, whomp) drain tile system. After that, we started rebuilding and remodeling. And now, we're about to have a baby.
It's all so exciting, and looking back, I have zero regrets. But I cannot even tell you how much money we've spent in the last 12 months. I mean, I could… but I don't want to add it up and send myself into a tizzy. ;) Either way, Mitch and I are so thankful that renovations are over. It's really nice to not "bleed money" anymore, as we've been referring to it. But we're also being realistic: Having children is expensive, as is life in the city. Especially when half of our family is in the Midwest and the other half is on the East Coast! We're likely always going to have a lot of expenses, and that's okay.
Today, though, I'm excited to announce that our family is partnering with American Express and becoming Blue Cash Everyday Card Members. Last year, when things were getting kind of intense for us, I actually wrote a post about how to save money while living in the city. Something I didn't realize could make a huge difference is the credit card we choose to use. Up until recently, I simply used the same credit card I always have for the last 10 years. It was one that I was used to but one that also didn't come with any perks or rewards.
Becoming a Blue Cash Everyday Card Member was an easy decision. There's no annual fee, and members get three percent back at U.S. supermarkets, up to $6,000 per year in purchases (then one percent), two percent cash back at U.S. gas stations, two percent cash back at select U.S. department stores, and one percent cash back on other purchases. (Cash back is received in the form of reward dollars which can be redeemed as statement credit.) Finally, a current special offer gets you $250 back after you spend $1,000 in purchases on your new card within your first three months of membership. Pretty great, right?!
For us, so great. As you can see from the photos in this post, we're currently finishing up the nursery. We used our Blue Cash Everyday Card to buy the painting materials and all the little extras we decided we needed at the last minute. Knowing we would get a good deal of money back from those purchases was awesome! (Also, we clearly still need to hang artwork, get a rug, decide on a chair, and decorate. So think of this as a "nursery in progress" post!)
Over the next few months, I'm going to be showing you guys how Mitch and I use our Blue Cash Everyday Card to get the most out of our money. From summer entertaining to events around Chicago and holiday parties, the Larkin Family (soon to be a family of four, including Baby Larkin and Noodle!) is planning on having a lot of fun in the second half of 2016. And we're super excited take you on some of our adventures and show you how our Blue Cash Everyday Card helps us stay on budget and enjoy life.
Our first post? An entertaining-at-home feature! We had more house guests in the month of July than we've had in the past two years, so it's something we've become quite good at. ;) I can't wait to show you how we entertain and show our friends and family a good time without going broke. Tune back in next week to read the post!
This post was sponsored by American Express, though all opinions are my own. As always, thank you so much for supporting the partnerships that keep Kelly in the City up and running!
Room details: Pottery Barn Kids Fillmore Collection, Harper Bedding Collection, and Taylor Fitted Crib Sheet