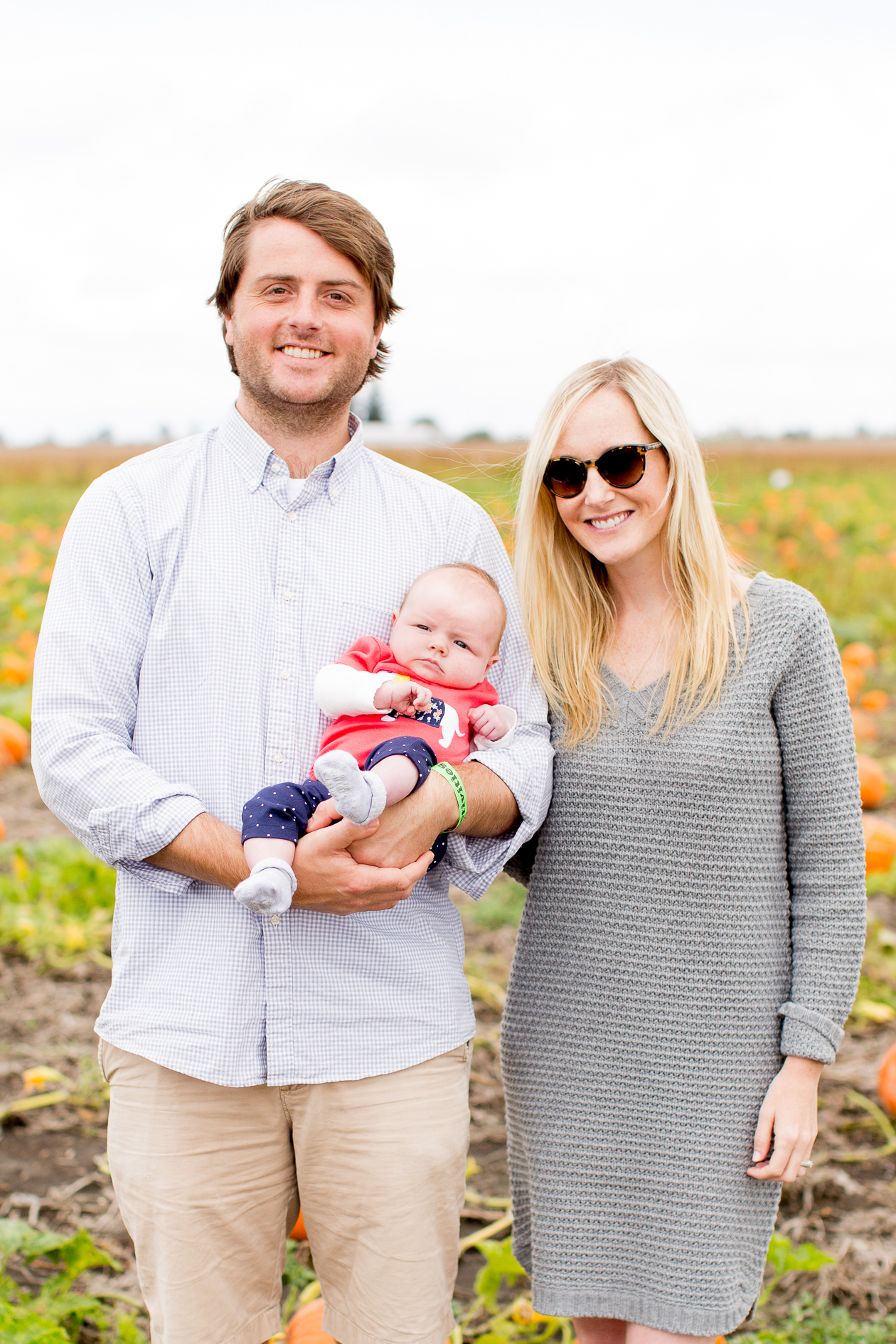 Wearing: Sweater Dress (Also available here, here and here) / Booties / Similar Necklace
I had another post that was supposed to go up today, but I unfortunately came down with laryngitis over the weekend, and thus couldn't shoot it. But I'm (silently) on the mend, and my hope is that I'm better before we embark on our car ride back to the East Coast this weekend! (If all goes as planned.) And here's the silver lining: I now get to post about Larkin Family Fall Fest, which happened about a month ago. (How have I not shared these pics yet?!)
Looking at these photos, what I can't get over most is just how tiny Emma is. I mean, this is her now! So many more seasoned parents have told us to cherish these days, as they'll be gone within the blink of an eye. And it's true: it's hard to believe that this was only three months ago.
Little Girl, please slow down!
While I'm quick to tear up when Emma outgrows an outfit or no longer fits into a particular size of diaper, each phase is absolutely wonderful and magical. Just recently, for example, she started looking and laughing at toys, and working really hard to roll over. (She's not quite there yet, but I feel like it's going to happen any day now!) She can almost hold her Sophie on her own, and she's a tummy time champion–which is saying a lot considering she used to scream bloody murder during it. ;) She loves making noises at herself in the mirror, taking long walks, having her toes tickled, hanging out on the play mat, making fists and staring at them, and watching Elmo from Sesame Street.
Emma constantly amazes me, as she changes every day. Cue the lyrics to Van Morrison's "Days Like This." Okay, I'm stopping before I make myself tear up again, haha.
Below are a few snaps from a day we spent at Rader Farms in Bloomington, Illinois during the annual Fest. I can't believe that next year when we go, Emma will be walking! But for now, we're snuggling on the couch today, guzzling milk (Emma) and orange juice (me). ;) Counting down the days until next week, when my brothers and extended family are meeting Boo Bear!
Have a great one, guys!