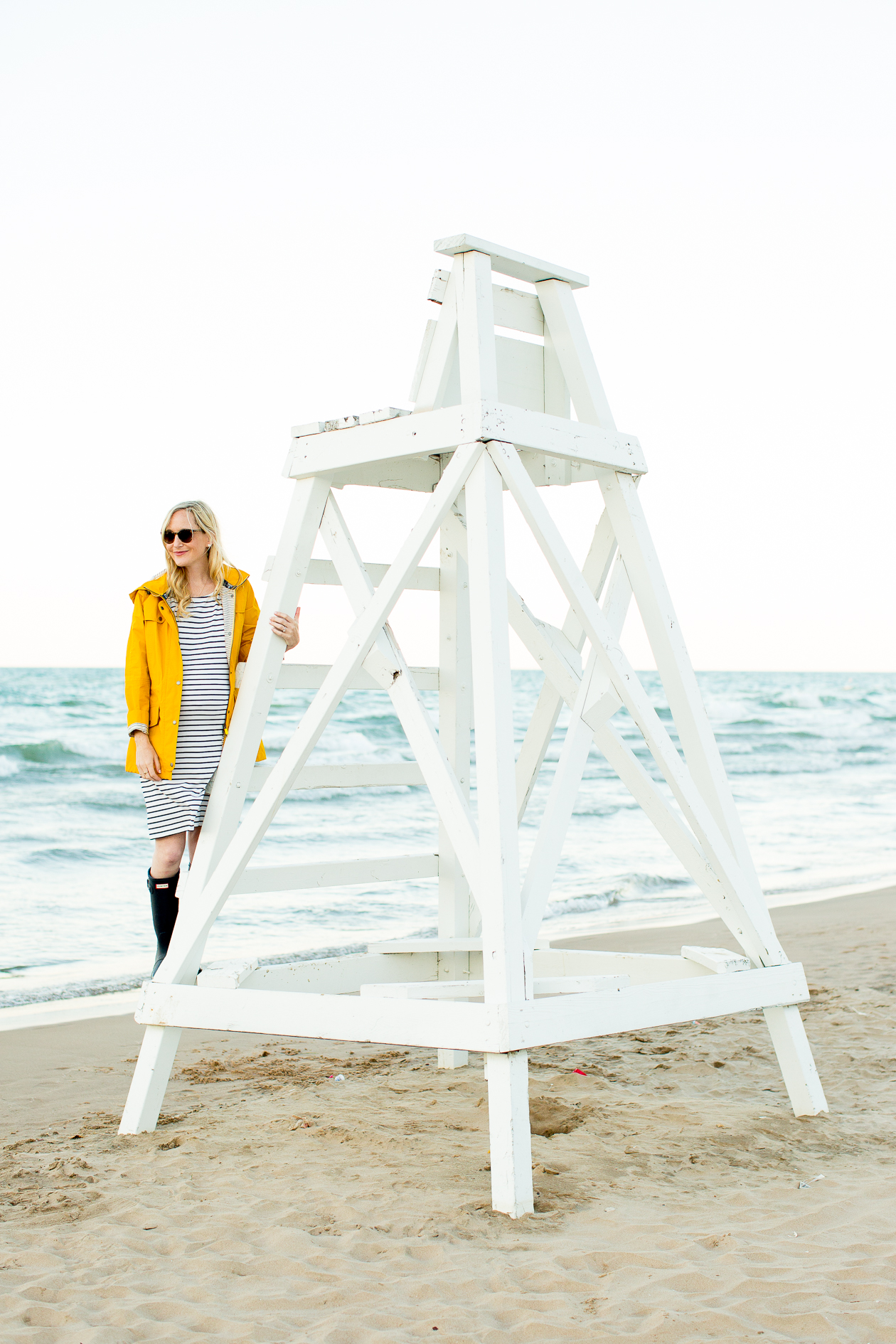 Barbour Trevose Raincoat (Available here, too. In navy here; also love this yellow one!) and Dress (Also available here and here, and in light blue) c/o Barbour / Hunter Boots c/o (Glossy, short and packable versions. Even more here! Need help with sizing? Read my Guide to Buying Hunter Boots.) / Similar Sunglasses

If you saw Friday's post, you may have seen that Jess and I were recently featured on Barbour's blog! So today, I thought I might share a few photos from my second-to-last shoot with the bump. Yes–I've completely stopped taking outfit photos, mostly because I want to start anew once the baby is born, but also because I'm kind of done with being pregnant. ;) Hey, Baby. Make your debut, already!
While the 40th week has proven to be a little rough, I have to give it up for Chicago in regard to the change in weather. Walking around in the sweltering heat was killing my preggo self, and I was therefore often confined to air conditioned spaces only. But we received a nice little break when these photos were taken, and a jacket was necessary! So nice to be outside.
All right, guys. Off to vacuum the house for the zillionth time…
OH! Huge Patagonia sale going on right now. Time to stock up for the fall! :)

Shop the post:
Barbour Trevose Raincoat (Available here, too. In navy here; also love this yellow one!) and Dress (Also available here and here, and in light blue) c/o Barbour / Hunter Boots c/o (Glossy, short and packable versions. Even more here! Need help with sizing? Read my Guide to Buying Hunter Boots.) / Similar Sunglasses

Patagonia on sale: