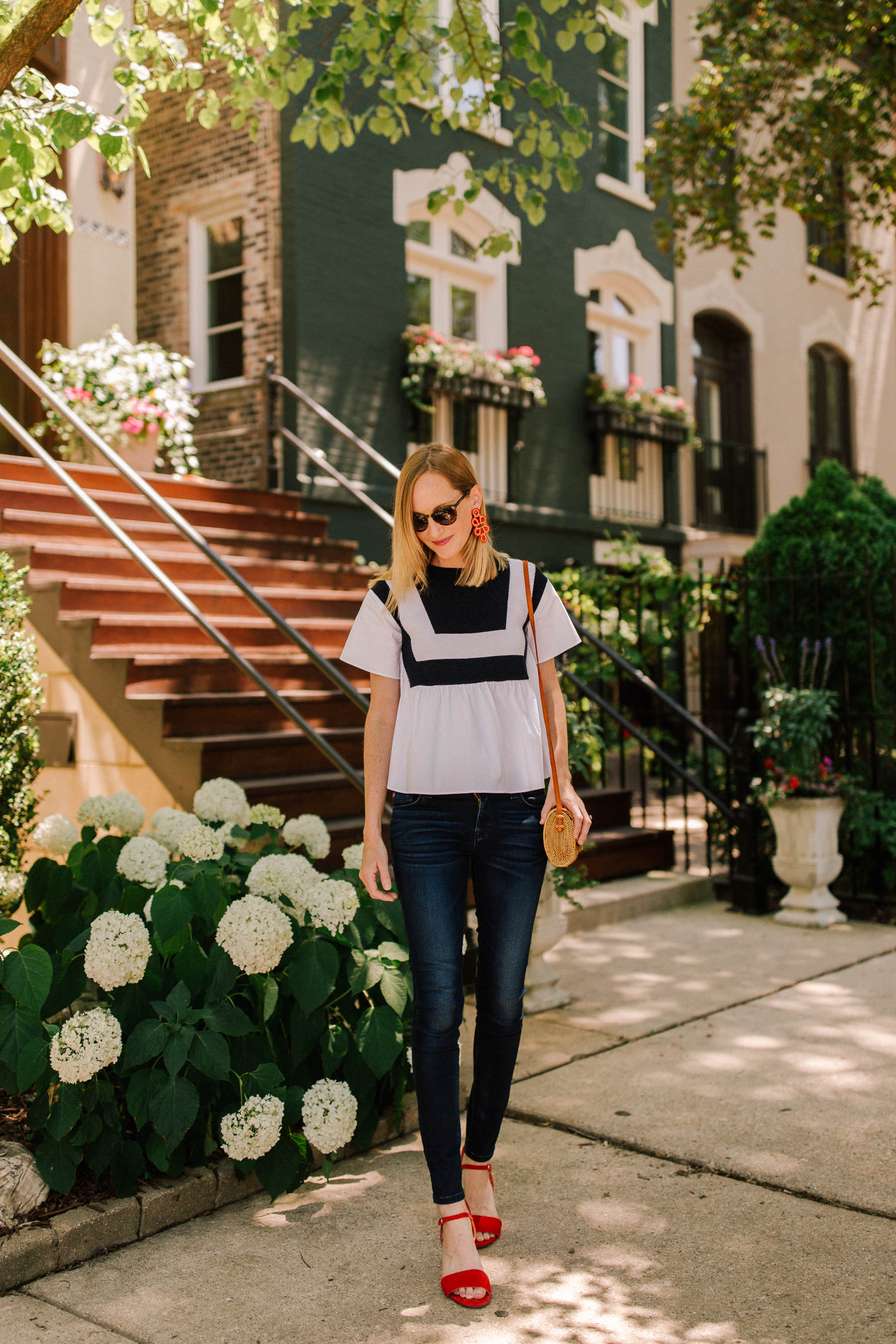 English Factory Top (Shop more English Factory here!) / Hudson Jeans (This super similar pair is part of the Nordstrom Anniversary Sale!) / Strappy Block Heel Sandals (Also at Nordstrom.) / Poppy + Sage Bag c/o / Similar Sunglasses / Lisi Lerch Earrings c/o
*Today's Question of the Day is in red at the end of this post. Answer to be entered to win $50 to shop the Nordstrom Anniversary Sale!*
I'd like to interrupt all the fall outfits with a favorite summer one! I've been wearing this top really often because it's so flowy and easy, and makes a statement even if wear it without red accessories. ;) In terms of sizing, I'd say that it runs TTS up top but the style itself is peplum-like, so the bottom is roomy. I'm wearing my usual size here, and it's generous.
I wore this number a few weekends ago when I was still under the impression that we were staying put in Chicago for the rest of the summer. 😂 We spent the day cruising around the east side of Lincoln Park, popping in and out of stores, coffee shops and playgrounds with absolutely nothing on the agenda. Love those slow-moving weekends. I can't really complain about not getting that "at home" Chicago summer, though, as I'm currently on Nantucket having the best time with my cousins. ❤
A few other quick style notes:
They're certainly an investment but I love them so much that I actually ordered a second pair because I was wearing them so often. They're stretchy and soft but maintain their shape throughout the day, and they're ankle-cut, which means I don't need to hem. (I'm between 5'4 and 5'5, btw. So if you're taller, they'll obviously be shorter on you.) Run totally TTS.
FAVES. Couldn't recommend them more. I've walked miles in them without so much as rubbing. They also run TTS, but they're kind of hard to find in stock. I'd pre-order if you can; certainly shoes that I'll be wearing in the fall, too! You can find them here and here.
Adorable, right?! Full disclosure: it's doesn't fit my iPhone 7 Plus, so keep in mind that I need to be sporting pockets if I'm taking it along with me. But it fits my keys, makeup and sunglasses without issue. Love that bow closure!
Shop the post:
English Factory Top (Shop more English Factory here!) / Hudson Jeans (This super similar pair is part of the Nordstrom Anniversary Sale!) / Strappy Block Heel Sandals (Also at Nordstrom.) / Poppy + Sage Bag c/o / Similar Sunglasses / Lisi Lerch Earrings c/o
Answer the Question of the Day to be entered to win $50 to shop the Nordstrom Anniversary Sale: What's on your wish list? (This question is courtesy of my cousin, Paige! Hehe. Doesn't have to be clothing, bags or shoes! Can be anything.) On mine is a new computer because my current one is on its last legs, but I just haven't been able to pull the trigger on it.
Remember to leave your e-mail address in the following non-spammy format: kelly [at] kellyinthecity [dot] com.
Congrats to the winners thus far:
Lauren V.
Maggie P.
Kaitlin M.
Grace M.
Jeanne C.
Cindy G.
Nicole N.
Sophia K.
Alexandra N.
Grace L.
Holly S.