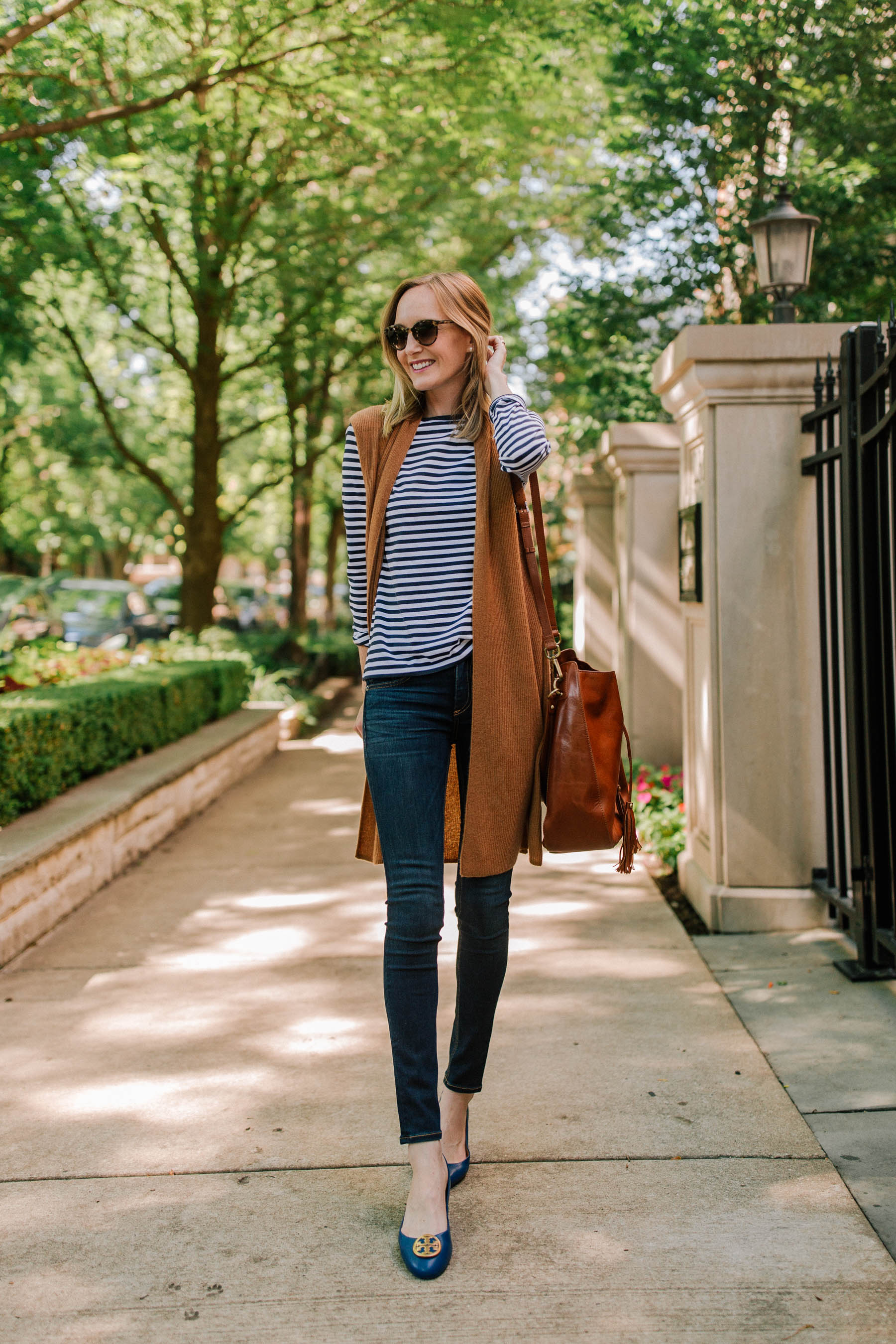 Halogen Ribbed Cashmere Vest / 1901 Striped Tee (Runs small. Go up at least one size.) / Rag & Bone Jeans (Run TTS. I always wear a 25 in designer denim, and took a 25 in these, too. For reference, I usually wear a 25 in J.Crew jeans, too.) / Tory Burch Benton Ballet Flat (Comes in three colors and runs totally TTS!) / Bucket Bag (Madewell version on sale!) / Similar Sunglasses
*Today's Question of the Day is in red at the end of this post. Answer to be entered to win $50 to shop the Nordstrom Anniversary Sale!*
I'm back with another easy fall look: one that I know I'll wear again and again next season. From coffee shop visits and casual office settings to playground dates and brunch with friends, it works for so much! :)
So I wanted to highlight this. It's such a statement piece, yet it's cozy and totally something you'd wear multiple times per week in the fall (and winter). It's one-size-fits all, and I love that.
Other notes: It's super soft. Ironed it once, but it remained lovely and totally wearable for the remainder of the week, even though I wore it a couple of other times. The ribbing is tiny, and you can hardly notice it, but it is ribbed, which makes it a bit sturdier than other cashmere sweaters I own. A definite plus!
Okay. It's off to bed for this one. Just arrived in Nantucket and SO excited to be here with my fam! <3 Updates to follow; thanks for bearing with me during our travels. :)
xx
Shop the post:
 Halogen Ribbed Cashmere Vest / 1901 Striped Tee (Runs small. Go up at least one size.) / Rag & Bone Jeans (Run TTS. I always wear a 25 in designer denim, and took a 25 in these, too. For reference, I usually wear a 25 in J.Crew jeans, too.) / Tory Burch Benton Ballet Flat (Comes in three colors and runs totally TTS!) / Bucket Bag (Madewell version on sale!) / Similar Sunglasses
Answer the Question of the Day to be entered to win $50 to shop the Nordstrom Anniversary Sale: Tell me about an article of clothing that you used to LOVE but is now out of style. For me, it has to be those argyle sweater vests from the 90s that I wore with pretty much every outfit. (I think most of mine were from the Limited Too and the Gap, haha.) Today's sweater vest is a BIT better. ;)
Remember to leave your e-mail address in the following non-spammy format: kelly [at] kellyinthecity [dot] com.
Congrats to the winners thus far:
Lauren V.
Maggie P.
Kaitlin M.
Grace M.
Jeanne C.
Cindy G.
Nicole N.
Sophia K.
Alexandra N.
Grace L.