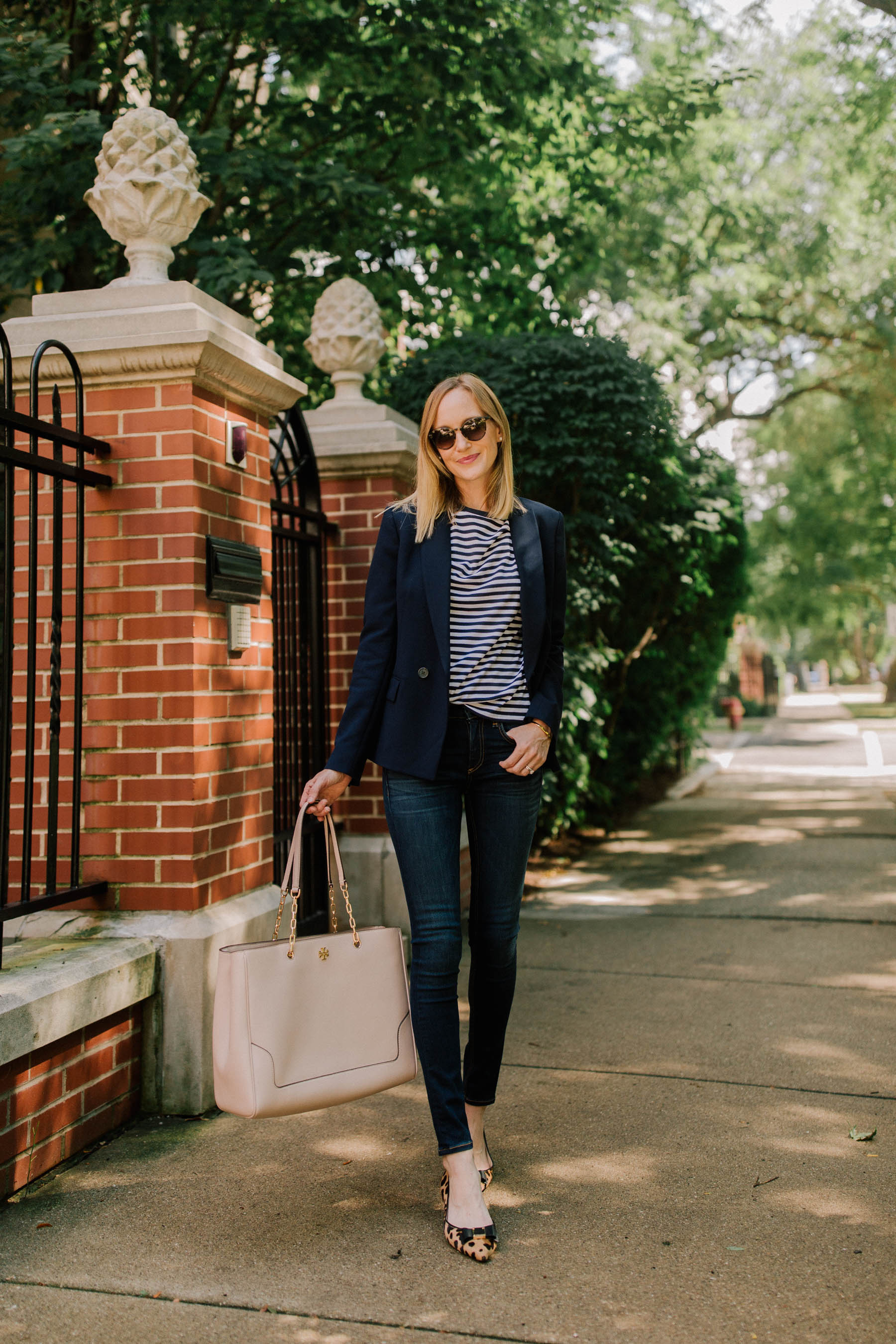 J.Crew Dover Blazer / Cole Haan Tali Skimmer Flats (They come in a solid version, too. And here are the pumps!) / Tory Burch Benton Pump (Here are the Sale Flats and the Sandals) / Rag & Bone Skinny Jeans / Tory Burch Marsden Tote (Here's the mini!) /1901 Striped Tee / Monica Vinader Bracelet / Similar Sunglasses
*Today's Question of the Day is in red at the end of this post. Answer to be entered to win $50 to shop the Nordstrom Anniversary Sale!*
We made it! We're on Martha's Vineyard as I type this, and I'm oh-so-happy. We're staying at the Winnetu Oceanside Resort with Vineyard Vines in honor of the VV's 20th anniversary, and everything is perfect. ❤ While we haven't had much luck with flights as of late, this has made it all worth it, and I truly feel lucky to be here. High School Kelly–clad in her VV patchwork stuff, which is BACK because of the anniversary–would have been like 😮 if she'd been told this would one day occur. A "pinch me" experience, for sure!
Our first (half day) here was wonderfully memorable, and I can't wait to share. For now, though, I'm crawling into the most gorgeous hotel bed I've ever seen, with the doors open to the balcony that overlooks the ocean. (iiiiii know! <– said in the Monica from Friends voice.) Service is somewhat spotty around the island, but we'll be taking videos throughout the day and posting to Instagram Stories. Be sure to follow along! (And I'll obviously be publishing blog posts when we get back.)
Anyway, I feel like I've already reviewed a lot of my favorite products from the Nordstrom Anniversary Sale, but here are a few that I haven't covered quite as extensively. Links to products I don't mention are above or at the very end of this post!
Thanks for bearing with me this week. <3
Hello, cuteness. Every girl needs a great pair of leopard flats for the fall, as leopard is essentially a neutral. ;) Any other Jenna Lyons fans out there?!
Anyway, I love these shoes. They're padded on the inside, which provides extra comfort, and they fit wonderfully. Walked a mile in them this past week and they were great! They also fit TTS. I always wear a 7.5 in flats, and I took a 7.5 in these as well.
They come in a solid version, too. And here are the pumps!
My favorite jeans from the sale. I don't love high-rise jeans, but low-rise jeans give me trouble at the playground. ;) These are the perfect compromise! They are incredibly soft, they fit like a glove, and I didn't have to get them hemmed. As you can see, they are just right for my height. (I'm between 5'4 and 5'5.) Another bonus is that they don't bother me at the waist, as most jeans do.
Another amazing find! I have an older navy J.Crew blazer, but I'll admit that I don't love it because it has shoulder pads and has a boxy look to it. This one is great, though. It's 64 percent polyester, 31 percent viscose, and 5 percent elastane… so it's wrinkle-resistant and flattering. I love that it dresses up a casual outfit and provides some warmth, too. Great for the fall, but also year-round. I find that J.Crew blazers run a little small in the shoulders so I went up one size. I'm wearing a 2 here.
Shop the post:
J.Crew Dover Blazer / Cole Haan Tali Skimmer Flats (They come in a solid version, too. And here are the pumps!) / Tory Burch Benton Pump (Here are the Sale Flats and the Sandals) / Rag & Bone Skinny Jeans / Tory Burch Marsden Tote (Here's the mini!) /1901 Striped Tee / Monica Vinader Bracelet / Similar Sunglasses
Answer the Question of the Day to be entered to win $50 to shop the Nordstrom Anniversary Sale: What do you love most about fall? OR: What's one of your favorite fall memories? (Inspired by this fall outfit, haha. Can you guys tell that I'm exhausted? Heart you.)
Remember to leave your e-mail address in the following non-spammy format: kelly [at] kellyinthecity [dot] com.
Congrats to the winners thus far:
Lauren V.
Maggie P.
Kaitlin M.
Grace M.
Jeanne C.
Cindy G.
Nicole N.
Sophia K.